Broken Spectacles
Rose coloured spectacles have always been the lens through which I have viewed the world. Thus far in my life, I am not someone who has the ability to see the world with crystal clear clarity. I am, for better or worse, a romantic at heart.  And, this pastoral perception is not something I can get away from, it has been this way for as long as I can remember, it is, I think, a part of who I am. Unlike most teenagers, I spent my adolescent years wearing long skirts from other centuries. I carried a leather bound collection of Keats' poetry around with me and I played my guitar in fields of daisies singing century old ballads.  When everyone else was thrashing in the mosh pit to Nirvana, I was at home watching period dramas and dreaming of  a dapper fellow with a lovely accent to sweep me off my feet, to look deep into my eyes with loving adoration and to call me Lady Nao forevermore ( hardly the sort of suitors that were lining up in my small hometown in British Columbia's Interior).  But, I digress.  I suppose you wonder where on earth this confession has come from and how it fits into a farm blog…well I will explain and it goes like this: You see, from time to time (as the nature of being of alive would have it) my rose coloured spectacles sometimes fall off, and when they do, they shatter into a million pieces, and it is some time before I can put them back on.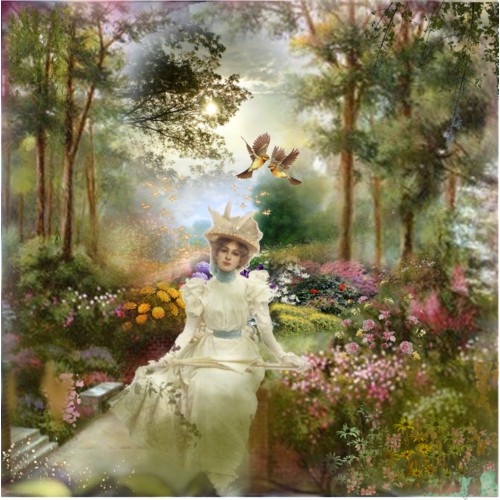 This week, my pastoral perceptions of farming where shattered and I debated long and hard about wether or not to blog about it, but Mark has encouraged me to share our experience as it is a real part of the lifestyle we have chosen.  Yesterday, in the early morning I went to feed and water and adore our baby ducklings. I do this every day while Gus pees on trees nearby and I listen to the song of the birds in those trees he is peeing on.  What I found when I opened the door to the coop I was not prepared for, and, it brought me to my knees.  In the night while we slept, through a hole ( 1.5 inches in diameter)  in the bottom of the coop floor, a mink got into the coop.  And, he did what minks do, he killed every one of our baby ducklings.  He drained their blood and left their bodies scattered on the coop floor.  There is no need for more details, except to say that the heartbreak that has followed is deeper than I can articulate.  We buried them in a ceremonial way. We tucked them into the earth with layers of their favorite grasses and clovers.  I sang an ancient song to them that I have done since the first day that they arrived.  I cried long and hard and I am still weeping.  The local people, the farmers who know about these things, they are not surprised, but even in their seasoned way, they extend their deepest compassion.  With humble words they explain that one cannot raise livestock without experiencing things such as this from time to time.  In my mind I know what they speak is truth, in my heart, it does not make me feel better.  I just keep seeing my baby ducks swimming in their pool and wondering what I could have done better.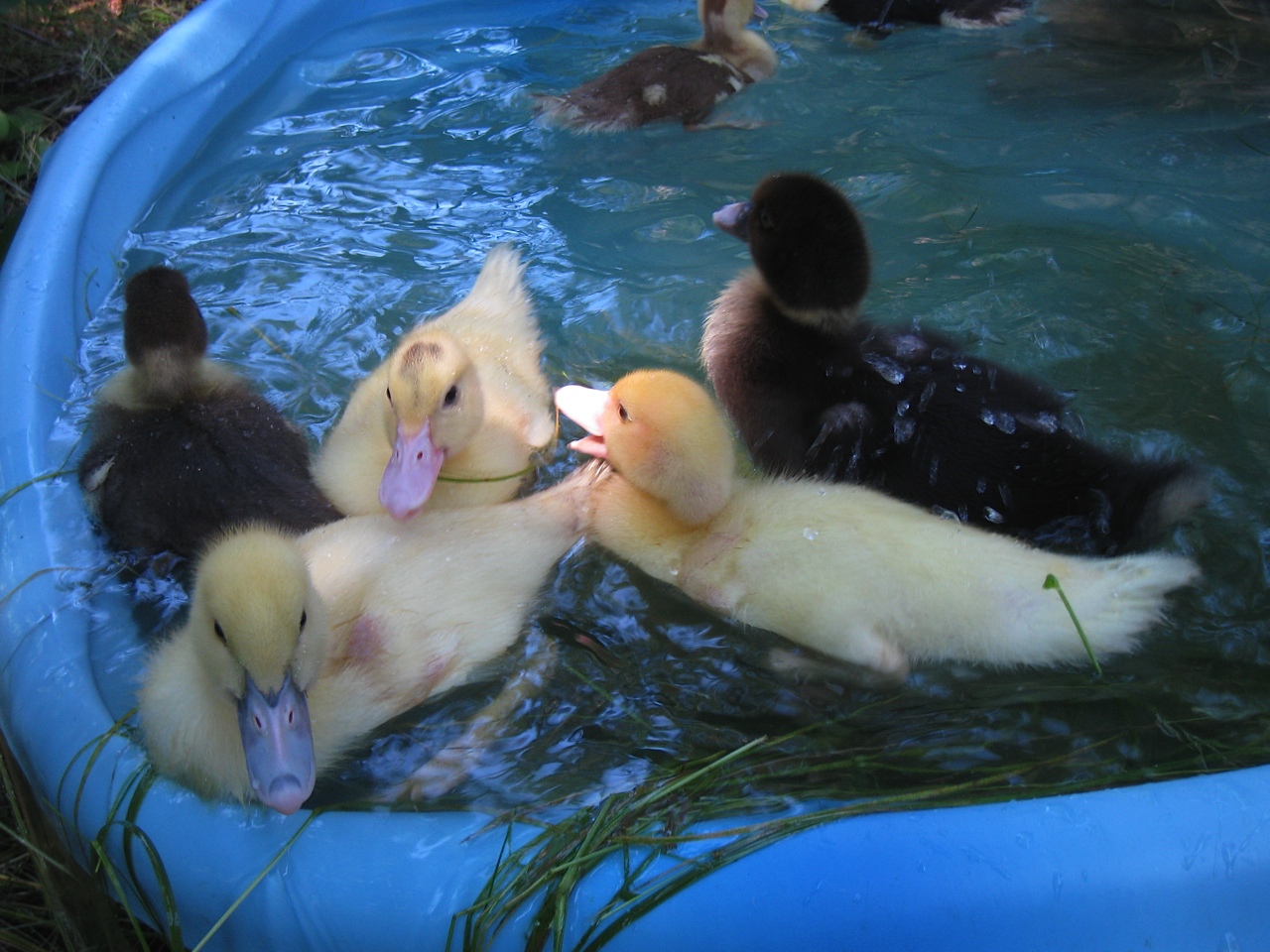 And while I work through my heart-break, Mark is doing what men so often do.  He is figuring out what to do so that this "never happens again."  He is buying live-traps and renovating the coop.  He is making notes and learning from mistakes and making sure the other animals are more than safe.  He is being rational and strong despite his own sadness.  He is being honerable and I feel blessed to have him alongside me on this farming journey.  And still, while we grieve, there are other things happening on Honey Grove too.  Although there is death, there is also life, everywhere you look things here are glowing with life force. The flowers in the garden are blooming and the bees are bringing lots of nectar home.  One hive of bees decided to swarm 50 ft up a tree 4 days ago…but that's another story.  I will say this though, it's a good thing for neighbors with tall ladders and a good thing for all that tree climbing experience gleaned from a childhood spent on a forests edge.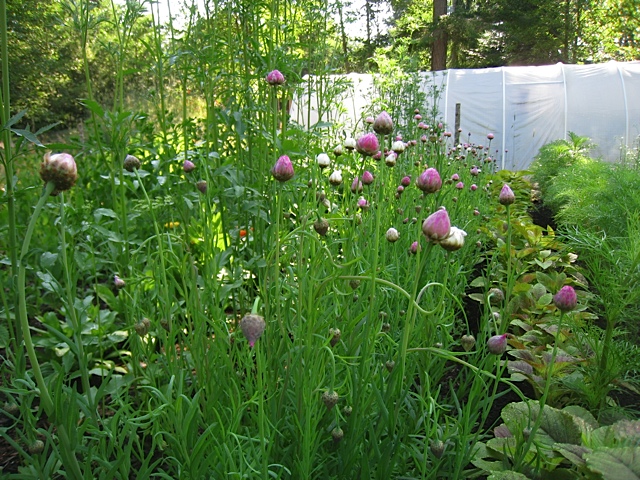 Otherwise, entire dinners are being eaten from the garden and sometimes salt shakers are taken down to the veg plot so that we can eat cucumbers right there on the spot, because taking them all the way back to the house seems too long a time between vine and belly.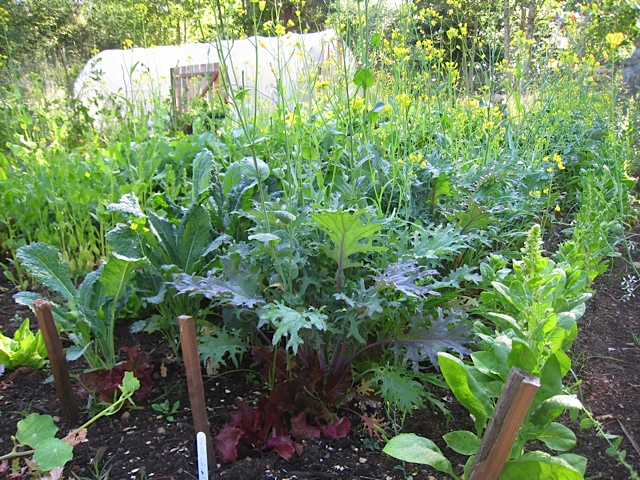 And there have been apiary tours with shining fascinated children.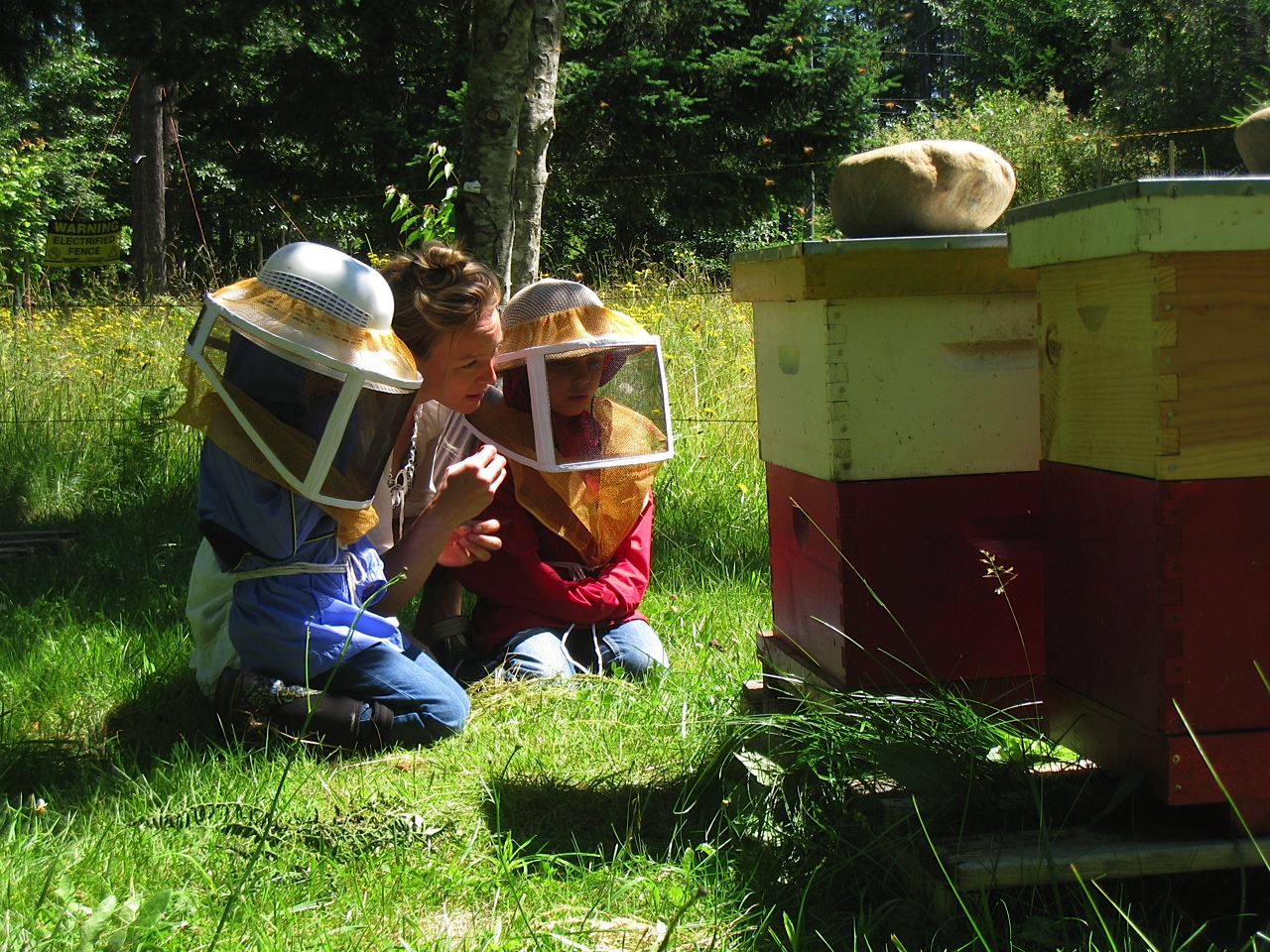 Oh and Hobbit Hill is in full bloom.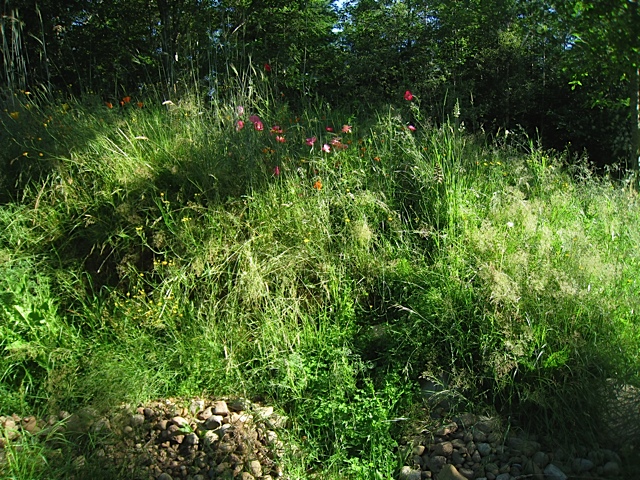 Now I must go, my sprinkler needs changing.
Thank you for being there, it is a blessing to know it.
In Gratitude and Sadness not yet turned Acceptance,
Nao, Mark and Gus~