And so another season has tapped upon the door of Honey Grove, or perhaps I should say that it has blown the door wide open, for a storm did come and rage it did against our eastern coastline for a good many days, causing all sorts of unpredictable things to happen. Rivers began to rise high above their banks and roads were washed out in all sorts of places. People's homes were flooded and farmers fields turned to lakes before their very eyes. Bridges were closed and power went out, and citizens were advised to stay home and to boil their water before drinking. Our local town of Courtenay was officially declared a State of Emergency and I am embarrassed to say, that from our hilly position here on Honey Grove, we had no idea any such thing was going on. For rains there were, but being situated on a rocky slope, miles from a river, the only water that pooled on our land, was the pathway that leads to our back door.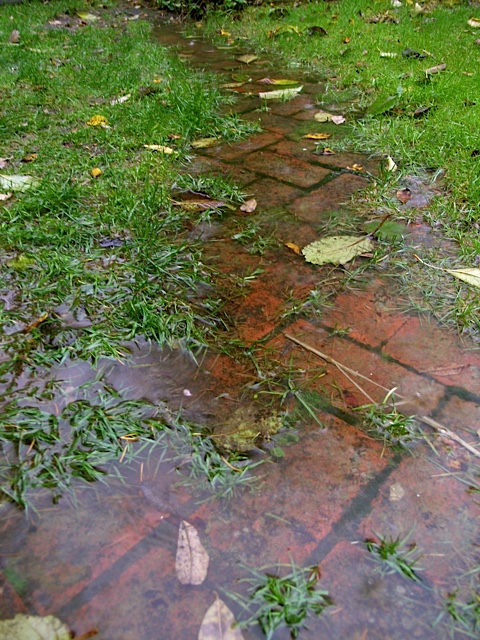 It was not until an e-mail arrived from a friend, that we even realized our poor town and it's people were under a good deal of water. And so, we had to cancel our trips to town, but otherwise, for us, here on Honey Grove, it was a rather romantic set of rained-in circumstances. We have, as you well know, stores of food; summers bounty squirreled away in jars and cupboards and hanging from the rafters. And there is nothing quite like the pelt of hard rain on a tin roof when you have a pot of squash and apple soup on the stove-top, and a cup of chai tea in your hand. Add to this good company, a warm fire, and a basket of this years nuts to crack, and well, it quickly becomes a poetic chapter in an old-fashioned tale. Something to be read by the fireside on a cold winter's eve. We are also happy to report that our local town of Courtenay is no longer in a State of Emergency and that all the residents are safe and well, although some people have been very much affected by the rains, and to them our hearts go out.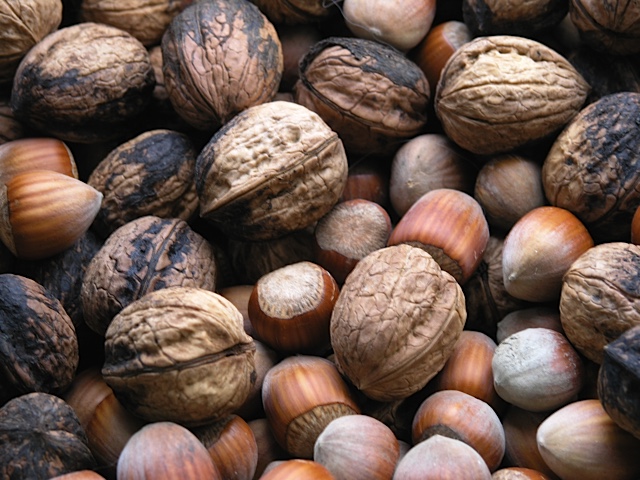 So that was our good luck, we did not find ourselves in a flood of any kind. Our bad luck happened three weeks ago, when we lost all of our beloved ducks to a mink, and my heart broke into one hundred pieces. I cannot say much more about this, for it brought me to my knees. Lets just say that I am a long way from becoming the seasoned farmer who knows the cruelty of nature and does not flinch in it's wake. I can hardly go past the duck pond without tears streaming and my throat closing. Some would say that this is not the sort of sensitivity that bodes well for raising livestock or keeping bees, or living close to nature, and yet, when I look into the very center of my being in search of another way, I can only find another question:
What other way is there?
The first time I realized how much I loved my dog, I worried. I went straight to my wise and beloved teacher and I asked her:
"What I am going to do, I am fearful that I love this animal too much? How will I cope when it comes time for us to part ways?"
And to this, she replied: "The only thing worse than loving him too much, is not having loved him enough."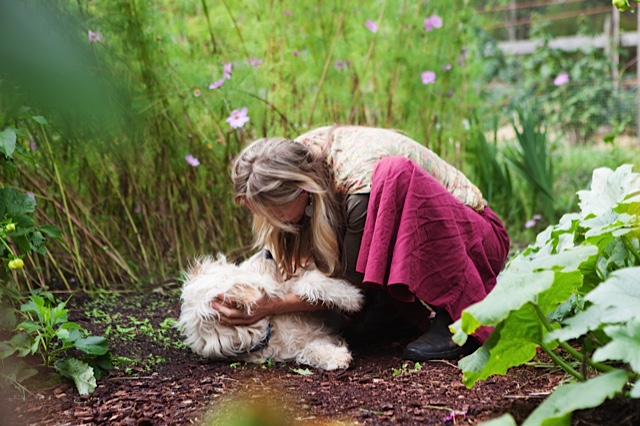 And so, thus far on my human journey, I have not found a better way, and until I do, it seems to me I will never be a seasoned farmer, for I will always be the one who has loved her ducks, her chickens, her bees and her dogs~ too much.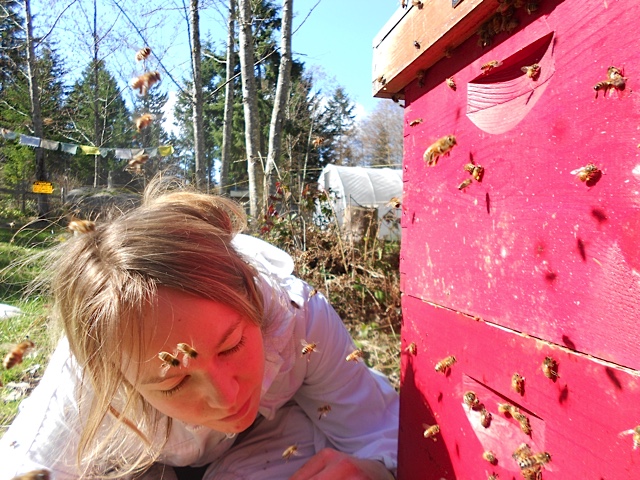 Speaking of dogs, Gus is still charming the guests with his dazzling style and zen wisdom and it is a good thing for all of us, lest we go about life taking things too seriously. He is still offering his secret of the universe in exchange for a few pets. If you throw a stick for him, he might even direct you towards enlightenment.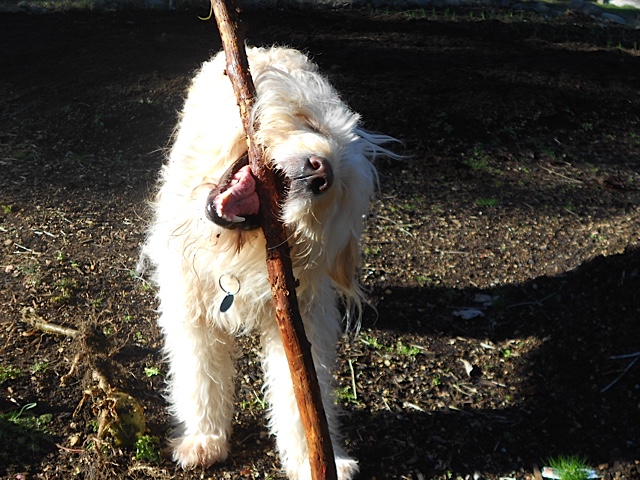 And while Guru Gus reminds us of the beauty and the joy of each new day, other notable and wonderful things have been happening here, like the fact that we have at long last welcomed Cohen's fiancé Katie to Honey Grove. She has officially arrived from Ireland to work with us here on the farm and we are all brimming with excitement for the greater Honey Grove vision. Yes, Katie has come ready to begin her new life in Canada! She was hardly over her jet lag before she was rolling up her sleeves and putting on her wellies to join me down in the gardens, turning compost and building new beds in the polytunnel.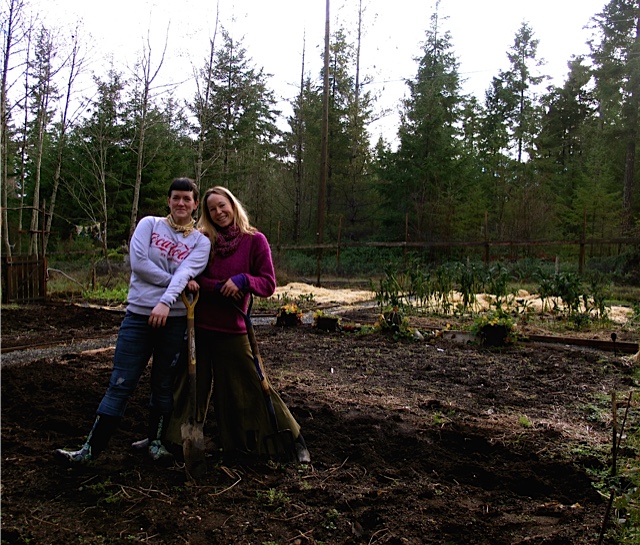 And while we dug organic steer manure into the winter beds, we talked of all the things that Katie would like to offer in the spring. I shall not reveal it all just yet, but I will say that there are some incredible workshops and tastings on the horizon, slow food/wine/honey and otherwise. Katie has a staggering background in the realm of Food Culture, including her MA in Food Culture from the University of Gastronomic Sciences founded by Slow Food in Turin, Northern Italy.  For the past 7 years she has been living in Italy and working as an Educational Director at Spannocchia and as a teacher (along side my brother Cohen) at the Sienna School of Liberal Arts. Together, Cohen and Katie offered courses regarding environmental sustainability and food systems. Katie also teaches hands-on-workshops in food production including: pasta making, oenology (the study of wine) honey tastings and much more. All of this said, you can see why we are so very excited to have her on board here at Honey Grove, and how we all might become very fat over the next few years, eh eh.  Speaking of food, there are still turnips to eat from the garden and kale for salads and smoothies, everything else is stored away in the new cellar that Cohen and Mark built.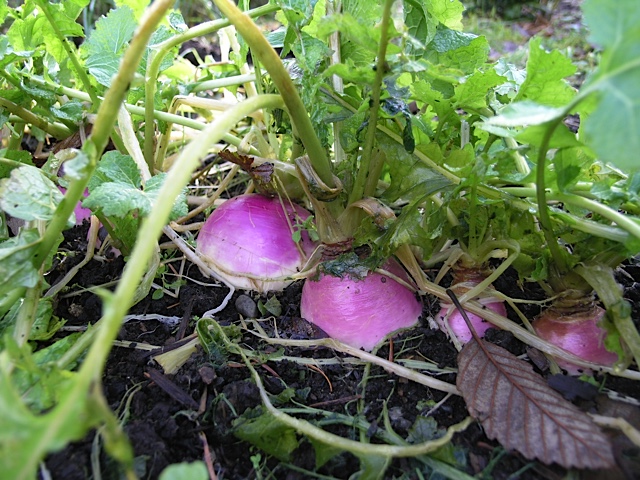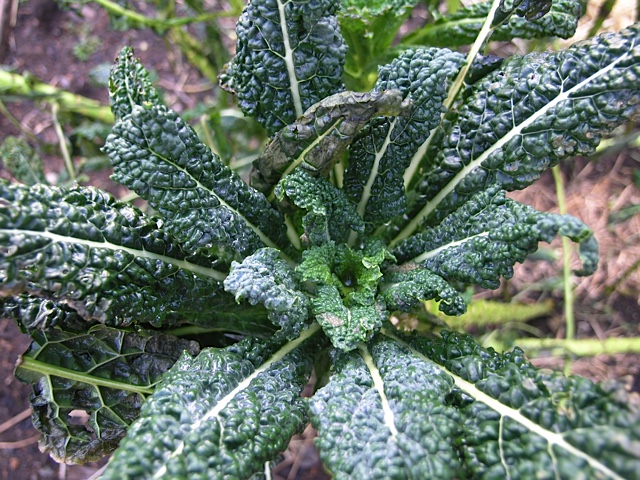 And when all the digging is done for the day, there is always inside work to be done, like wiring bee frames for example.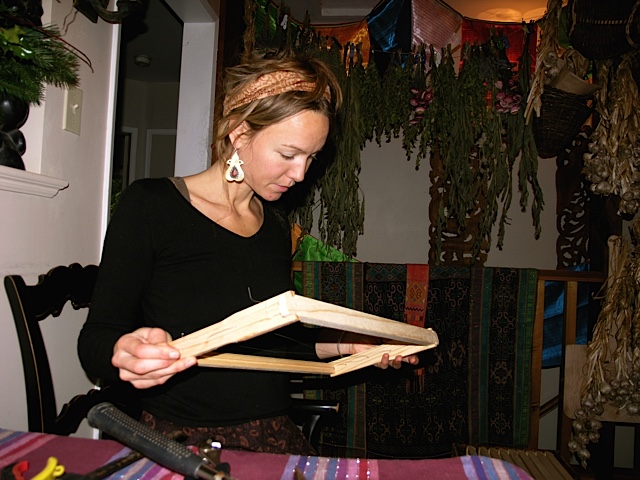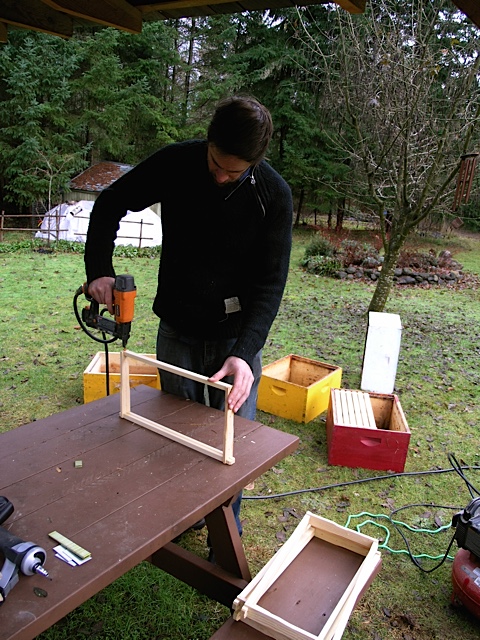 Or making holiday wreathes.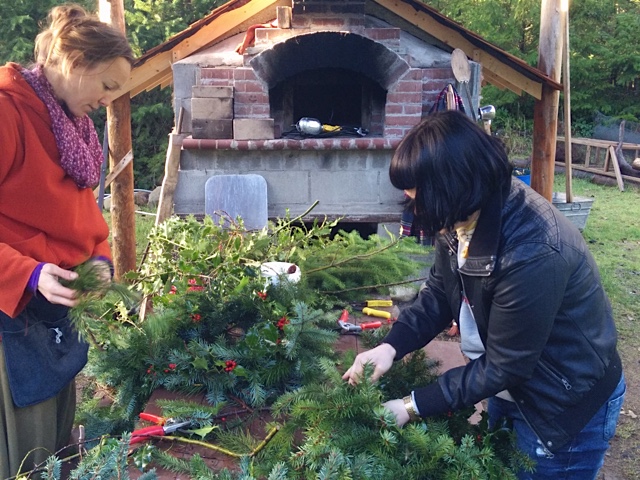 Or going fishing, if you're Mark.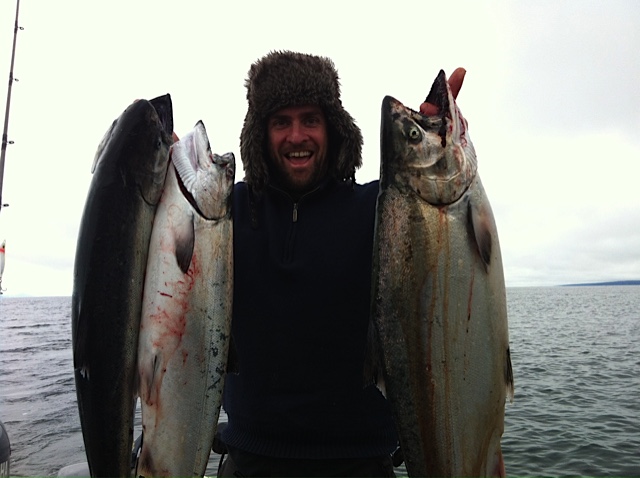 And now I must go and stoke the fire before Gus and I take our afternoon stroll through the woods (too much work, for anyone, is never a good plan).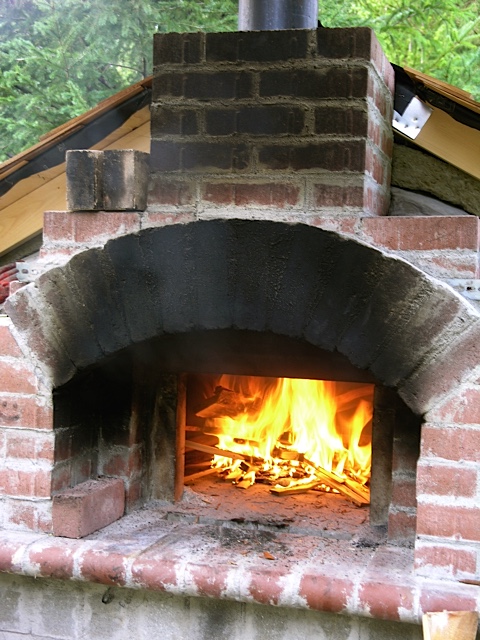 For now I bid you farewell. May you be warm and dry and surrounded by the ones you love.
Wintry Blessings from the Honey Grove Hearth~
Nao, Mark, Cohen, Katie, Gus and All at Honey Grove.