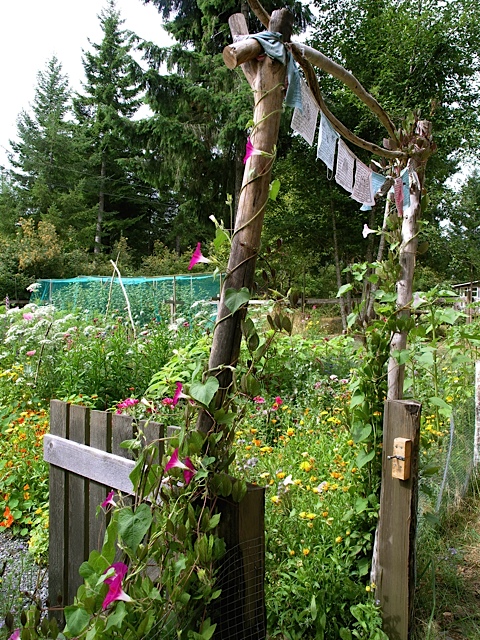 Come up the pathway lined with trees, come see the flowers and the bees…
Come, step through the garden gate,
And forgive this blog for being late.
There is you see, much to be done,
for harvests come with summer sun.
And lazy days come in the fall,
when firelight flickers upon the wall.
and dry the herbs for winter teas!
Pull the garlic when the sky is blue,
and don't forget the firewood too!
Give praise to the greens that keep you going,
give praise to the garden and all things growing.
And so, this blog is "deep-thought-free"
my ponderings have gone to sea.
For now we gather like the bee,
willing slaves of July's bounty.
(I am afraid the poem ends there, but perhaps this is a good thing, eh eh. The photo's however continue, as I thought you might like to see the wonderful things happening in and around Mark's oven…)
This, and I cannot wait to share the exciting news that my brother Cohen has moved to our neck of the woods! Yes, after living in Italy for the past 5 years teaching
sustainable food
and
animal welfare
in
Sienna
, he has come to work together with us here at Honey Grove. Cohen and his fabulous fiancé Katie will be joining forces with Mark and I in the realm of sustainable food and farming. (There will be a good deal more on this topic coming soon.) For now though, I invite you to picture a sweet summer evening by the wood-fire oven. Imagine homemade mozzarella cheese and freshly picked tomatoes and basil. Imagine wood-fire-sourdough- pizza and the taste of Honey Grove.
Oh, and do not forget to add a pint of Mark's Farmhouse Ale to your imaginings, for there is nothing quite like it!
Now, I must be off, for there is honey to extract and a winter garden to plant.
Sending Summer Blessings to All. Thank You for your company, it means more than we can properly say.
Nao, Mark, Gus and all at Honey Grove.
PS-We do get the occasional rest/daydream in too. Although I must admit that Gus seems to be able to squeeze in more naps than the rest of us. Still though, we do our best;)