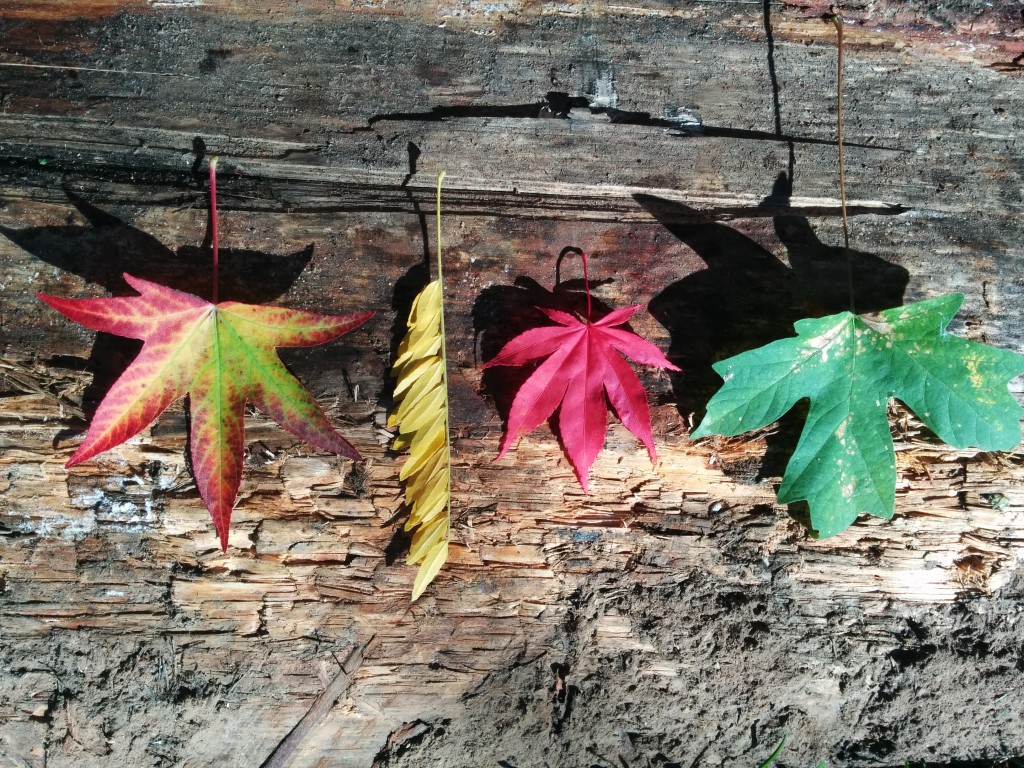 October, the month when homesteaders everywhere take stock. Now is the time when you find yourself in your root cellar counting sacks of potatoes and jars of tomatoes. This is the moment when you open the freezer, just to see how many berries you actually managed to freeze, amongst all of that July eating you did.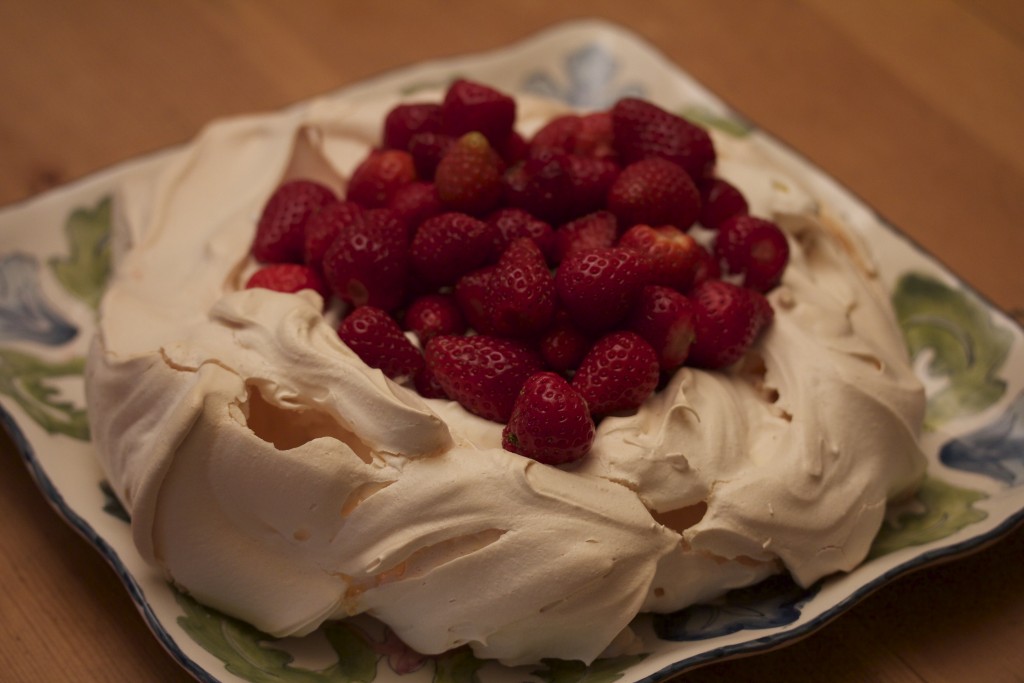 Now is the time when you look upon your woodpile, and wonder, can we really keep the home-fires burning all winter long? And before you admire your hard-work, before you appreciate your dedicated efforts and pat yourself on the back, the first question that arises is, did we do enough? Did we chop enough wood and grow enough potatoes?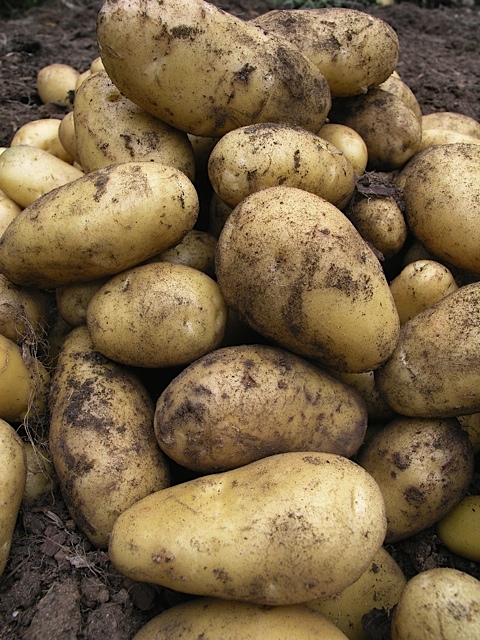 Enough garlic?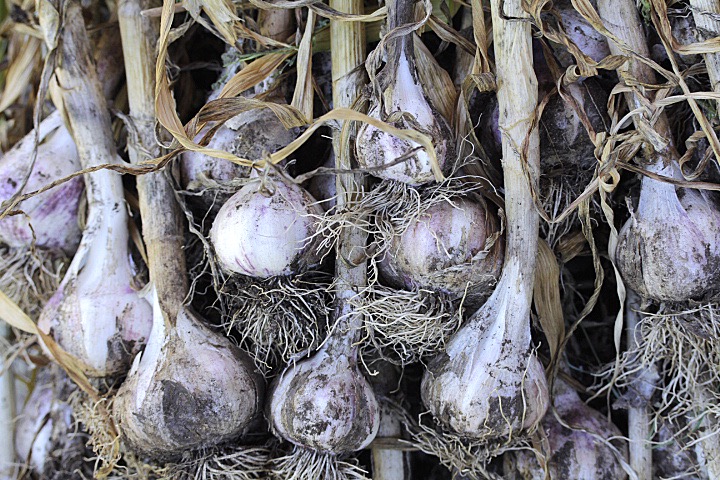 Did we preserve enough pickles, make enough jam, dry enough herbs? And when no answer comes (because one never seems to) you simply have to be okay with what you did, and you have to say to yourself, we did what we could, and, it is enough.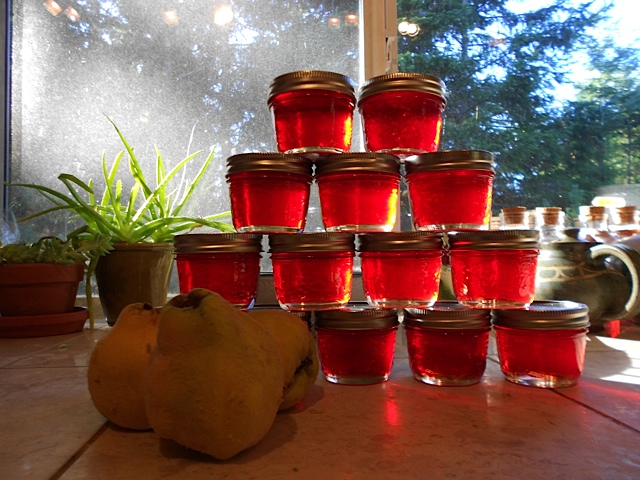 And later that evening, when you are sipping your tea and warming yourself by the wood-stove, you have to feel grateful that you live in a place where there are grocery stores just down the way that will have potatoes for you to buy, when your own supply runs out. And then you marvel at the incredible strength of those who do not have this option. Because there are still places in the world where 'doing enough' has a very different meaning. And suddenly you recognize what a privileged life you do live, and you find yourself on your knees with gratitude for all that you have, and there is nothing left to want or need, except the same for every soul living on this good earth, and then you utter a silent prayer: Let there be enough for everyone, everywhere, always.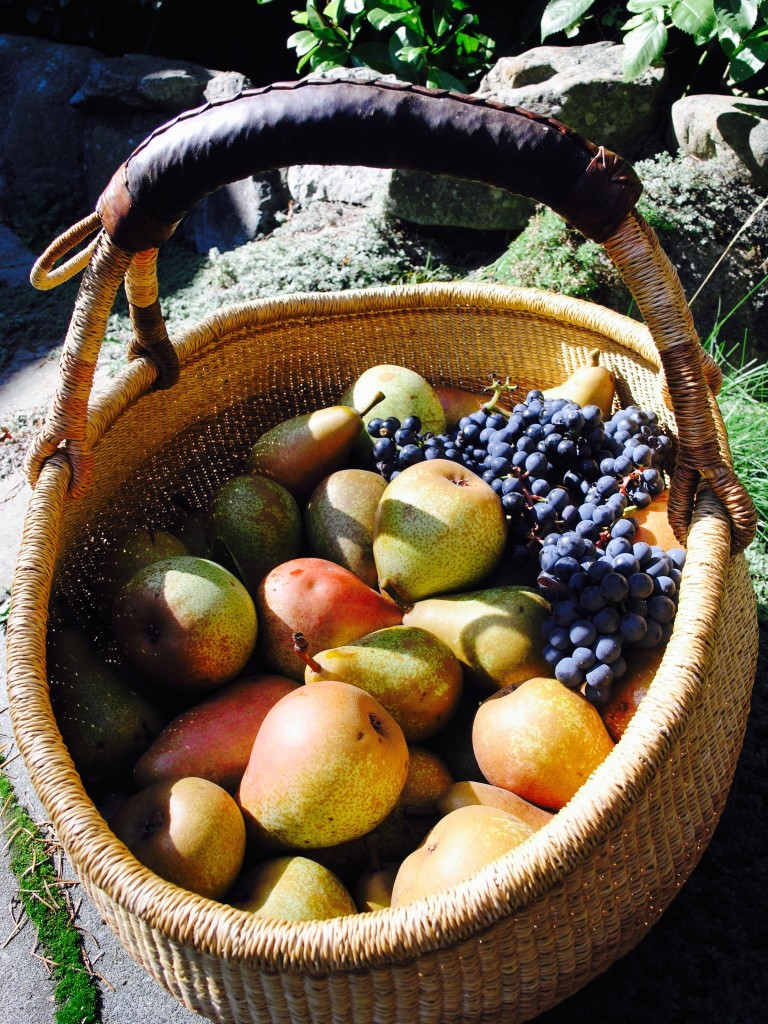 Yes, this good earth, she is still offering us so much bounty, even as the days shorten and the nights lengthen and there is a chill in the morning air, the garden is still growing. And every evening when I am down in the garden, collecting greens for our dinner, I find myself singing my gratitude to this land.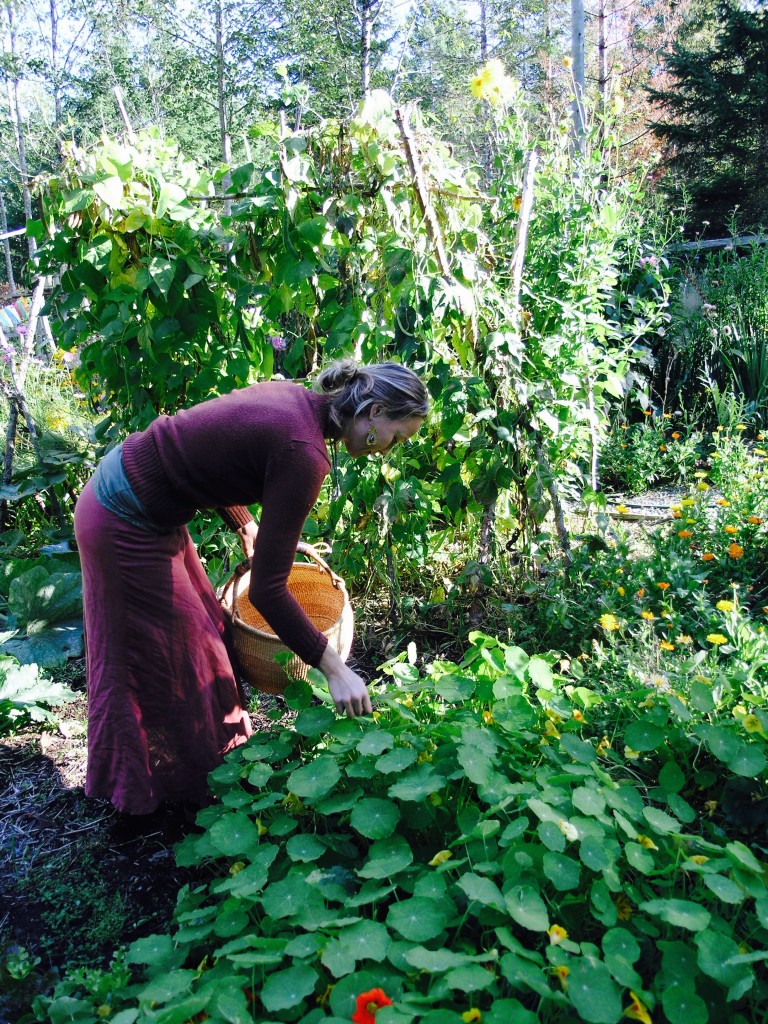 Whispering my thank you's to the nasturtium and the lettuce leaves.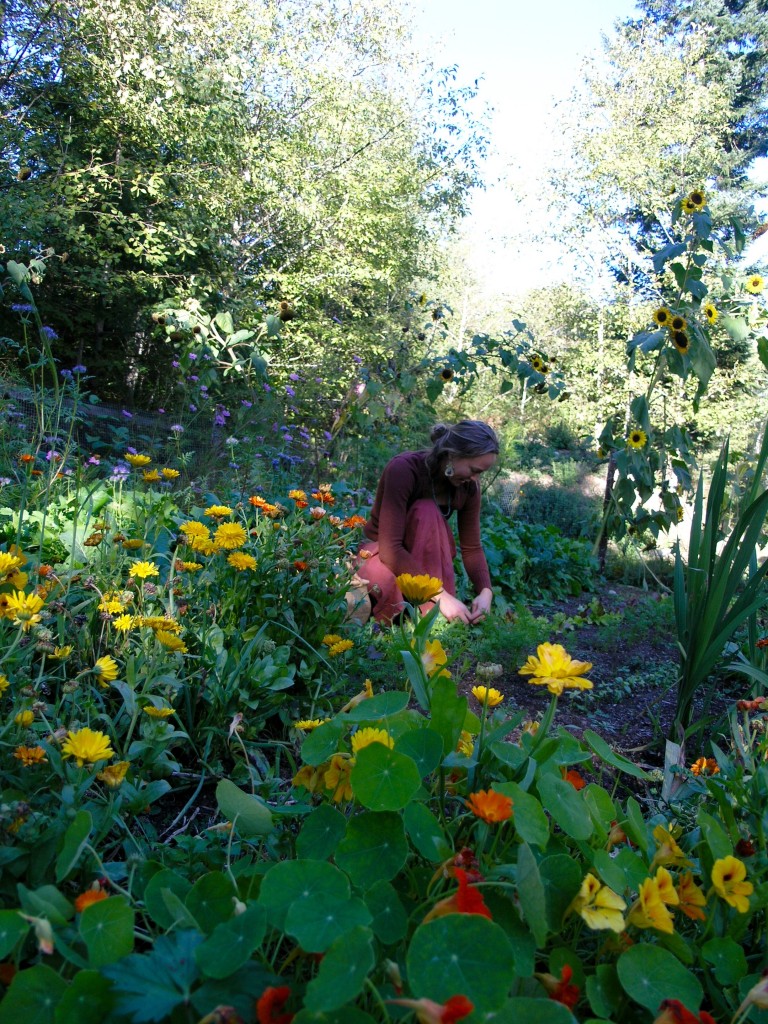 And celebrating their green goodness in my cupped hands.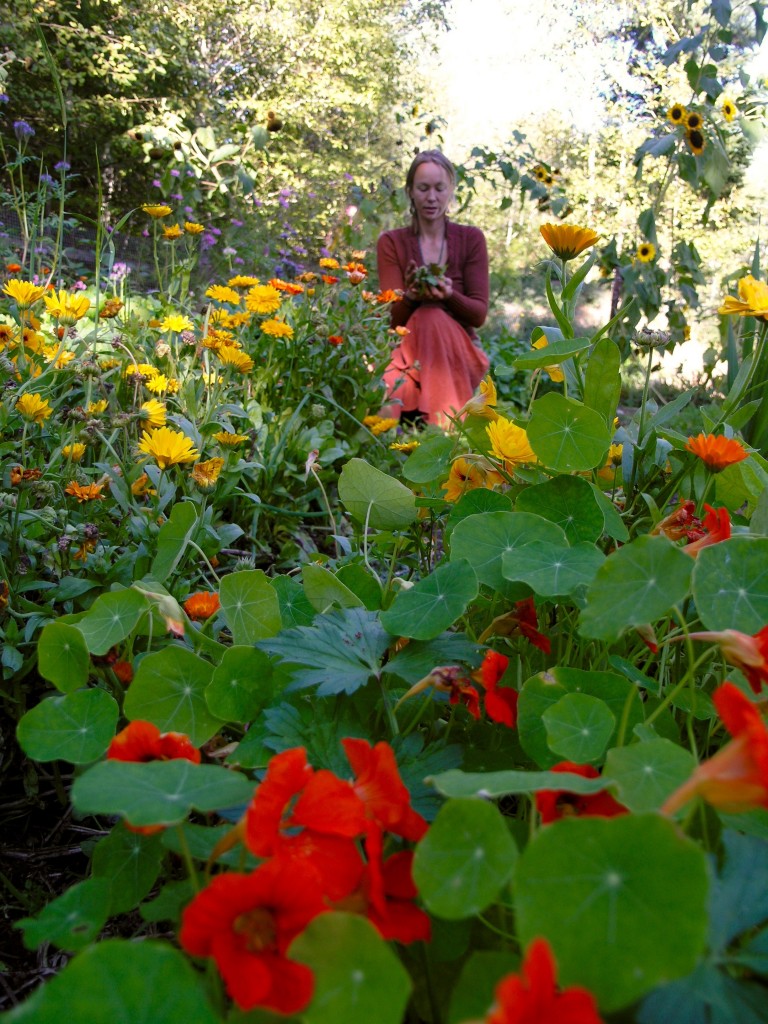 And while I am picking greens and giving thanks to the stemmed and petaled ones, Mark and Cohen are out in the forest collecting basketfuls of chanterelles.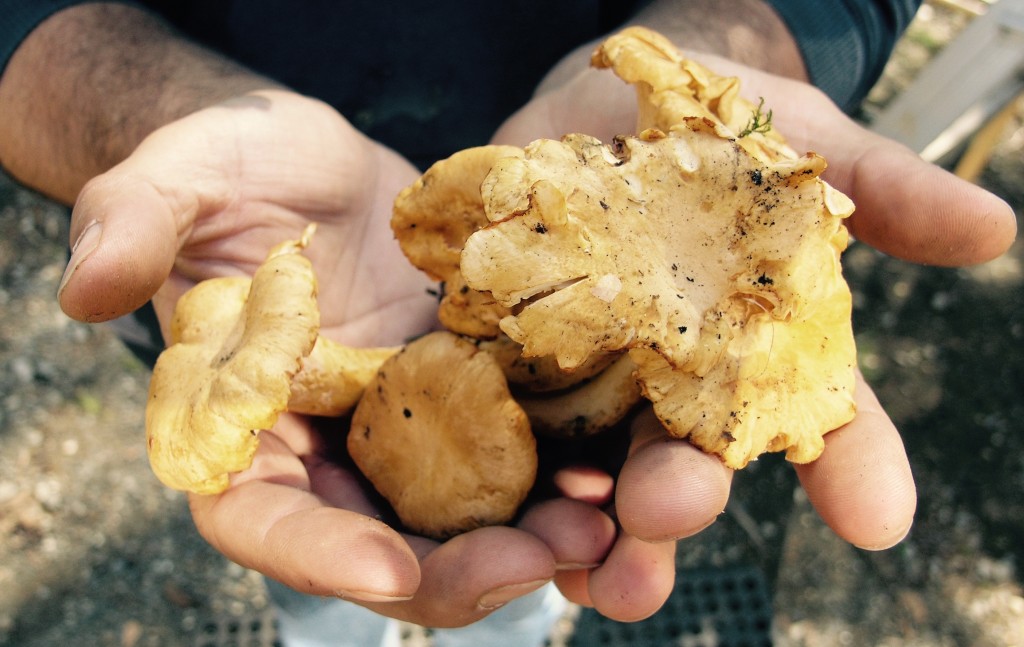 And when Mark is not wandering through the deep woods alongside Cohen, with a basket full of mushrooms and our trusty hound, he is baking bread.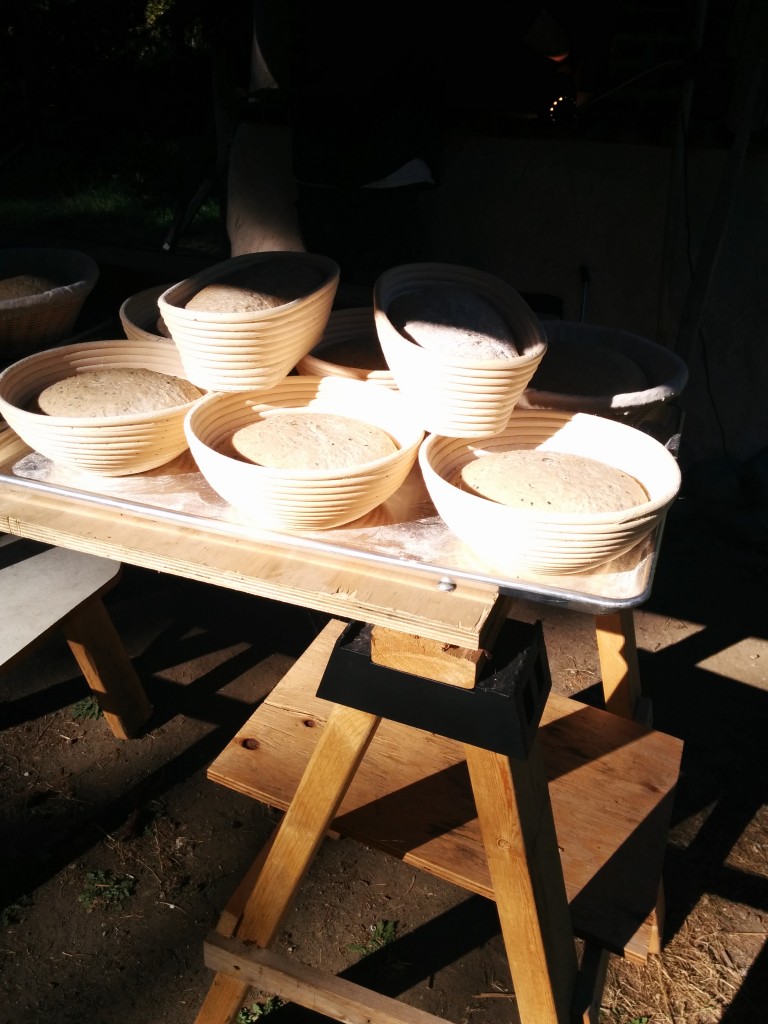 Lots and lots of bread.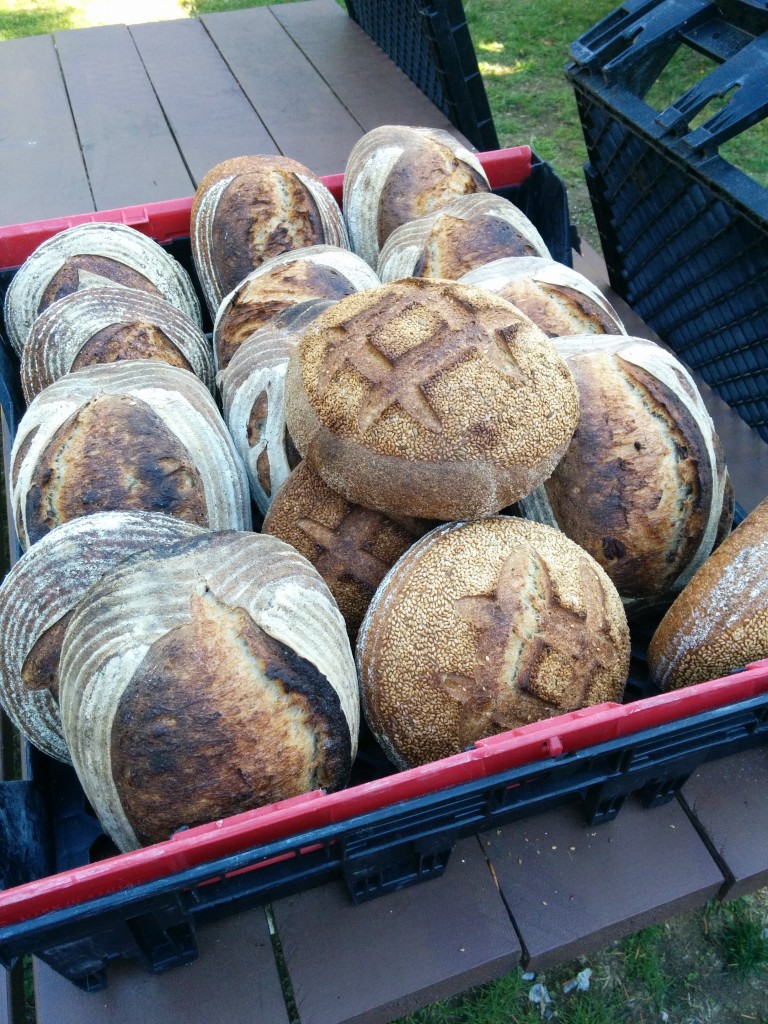 Bread that he is loading into the car and taking to the local markets, or selling directly from his oven on the farm on Friday afternoons, to the local people and their horses.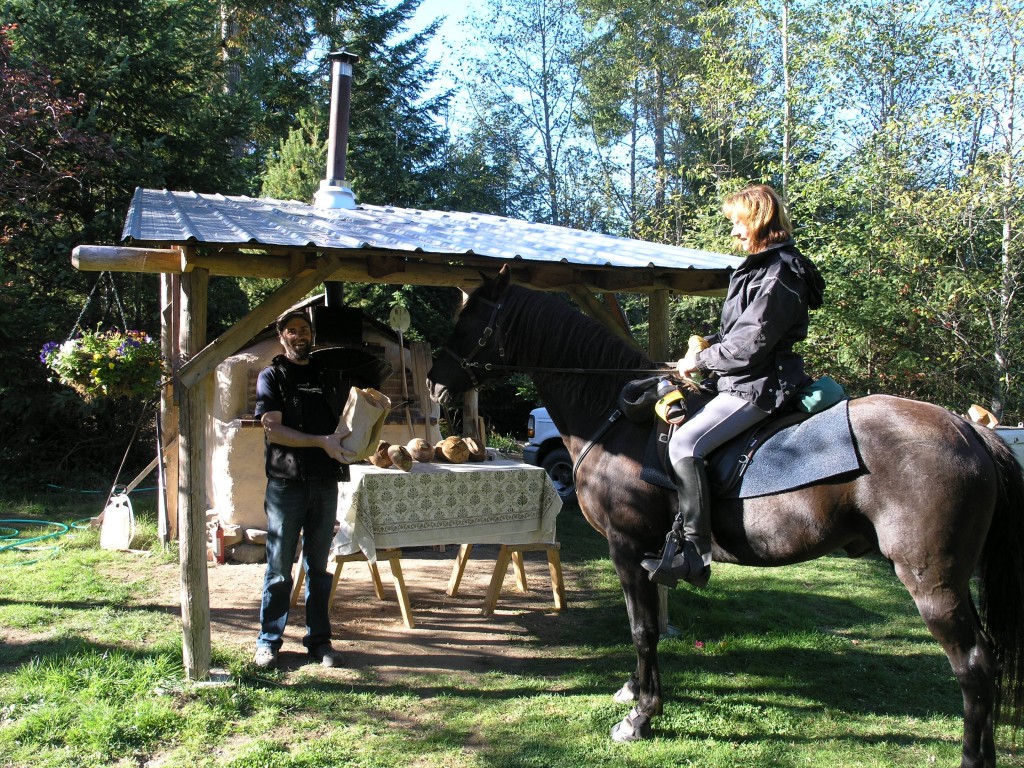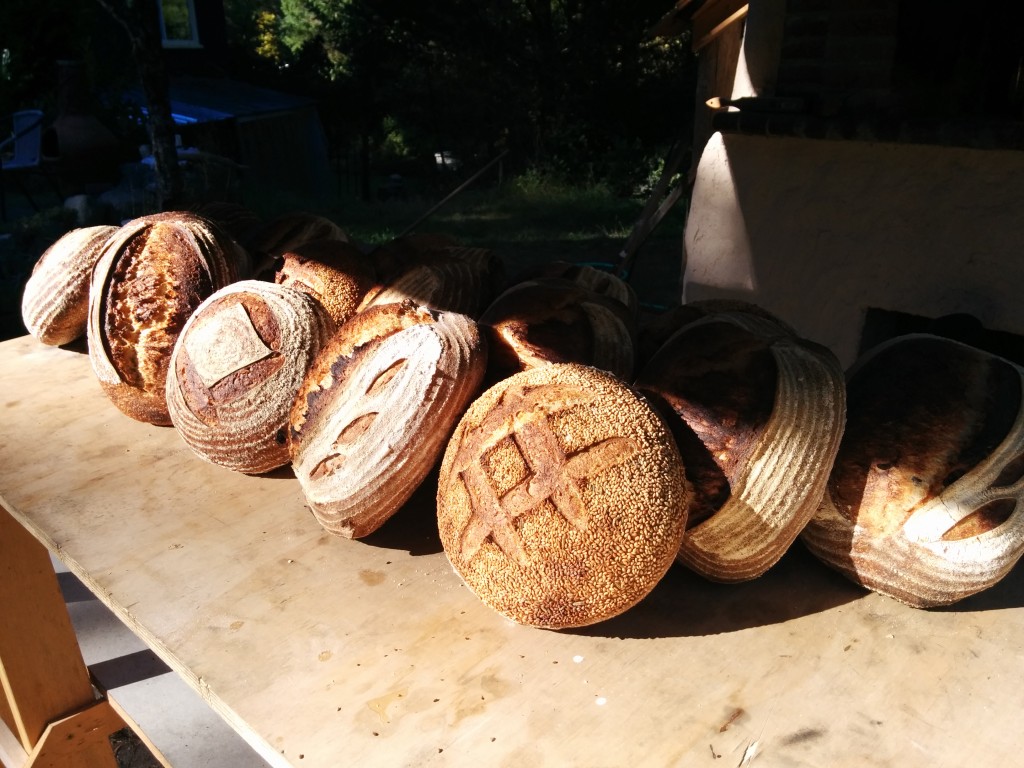 And the people appear to be falling rather in love with his bread, for they are coming up to him in the most random of places (bank line ups and hiking trails) and saying things like, "Oh You're That Amazing Bread Guy." ( eh eh). And each time it happens, I blush and feel my heart swell with pride. My good man, "The Amazing Bread Guy."
And while Mark and his bread are getting more amazing, Katie has been busy making Nocino. And for those of you who have been following us along here, you will remember that Nocino is an Italian aperitif made from green walnuts, which Katie and I have been steeping in the summer-sun since June.  And, now that the sun is retiring in the autumn sky, the steeping is complete and it is time to bottle. And so bottle we did!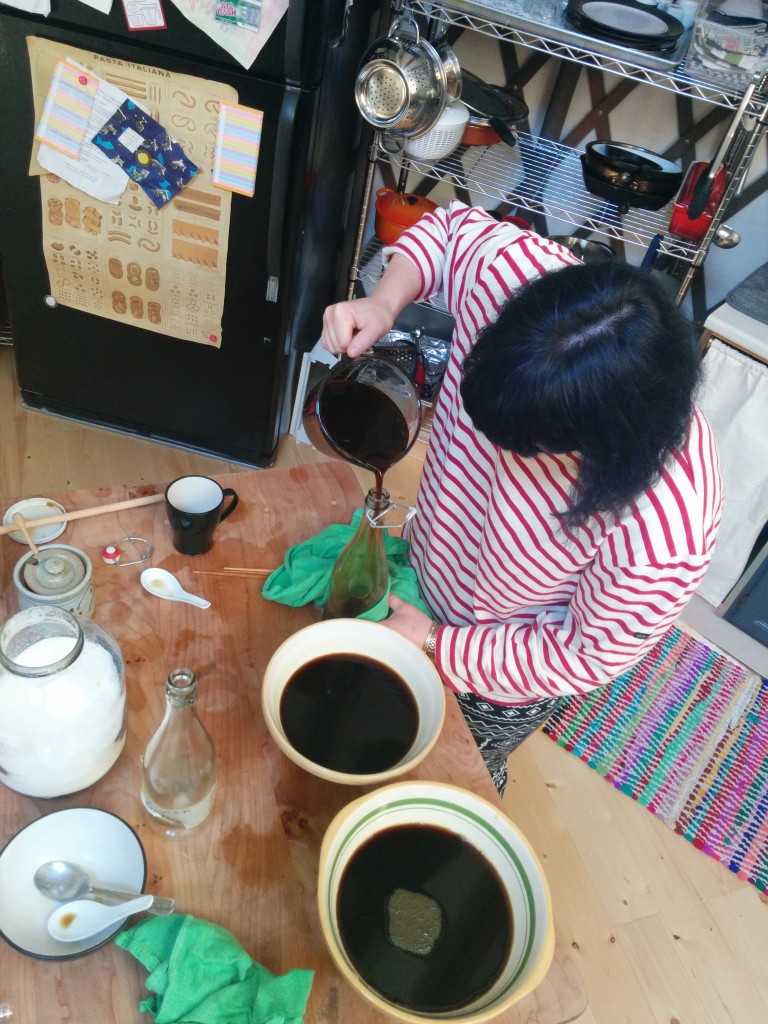 And for those of you who don't know, Katie is a food and drink alchemist, and working under her tutelage is really quite an honour.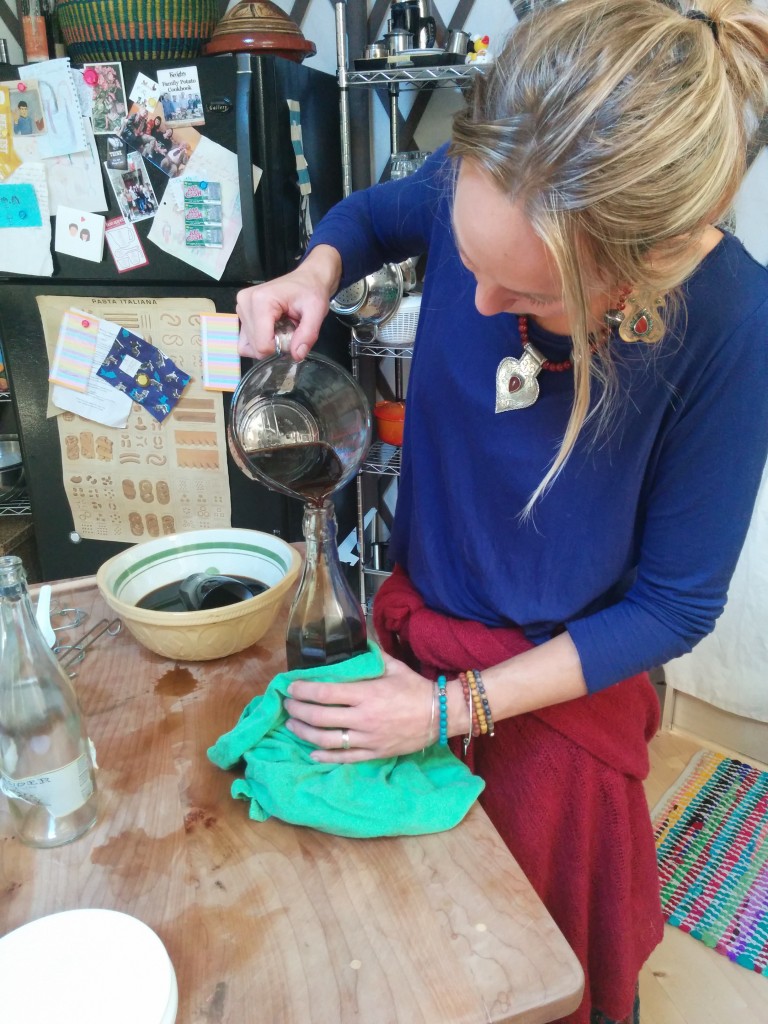 One can just gaze upon these bottles and feel their magical properties. According to Katie they will be ready to drink by Christmas, but will only get better with age. Oh and speaking of magical elixirs, my dear friend Jessie and I spent a beautiful afternoon making Rosehip Honey Syrup~ which is equal parts Rosehips to Honey Grove Honey, distilled into a sweet and nourishing immune tonic for the winter months.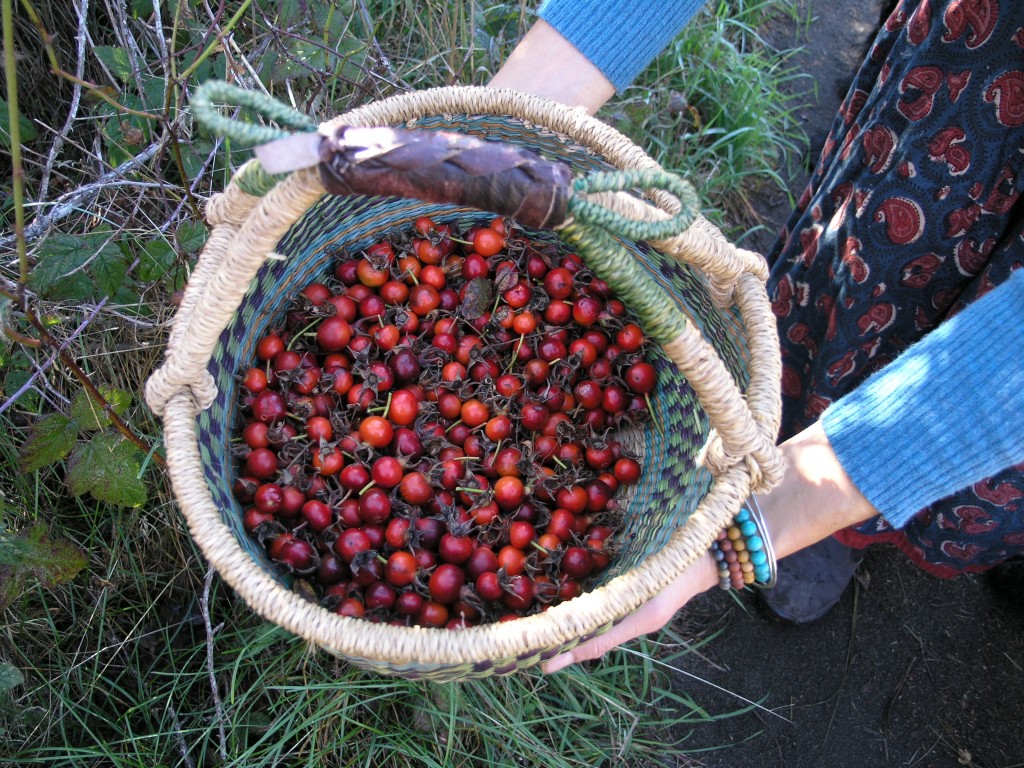 And I must admit that even the process of making it was a nourishing experience, gathering plump rosehips, on a sunny morning by the sea side with our dog friends.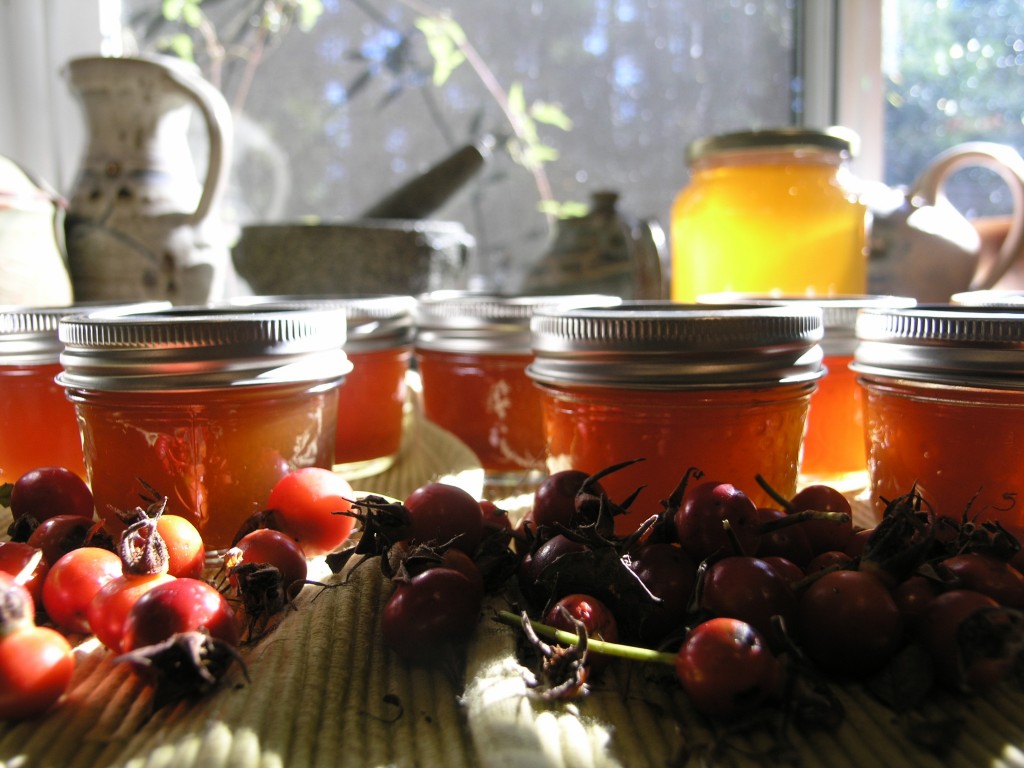 For winter is coming, and nourishment will be essential in the cold months to come. Of course you would not know it (that winter is coming) for there are flowers still blooming.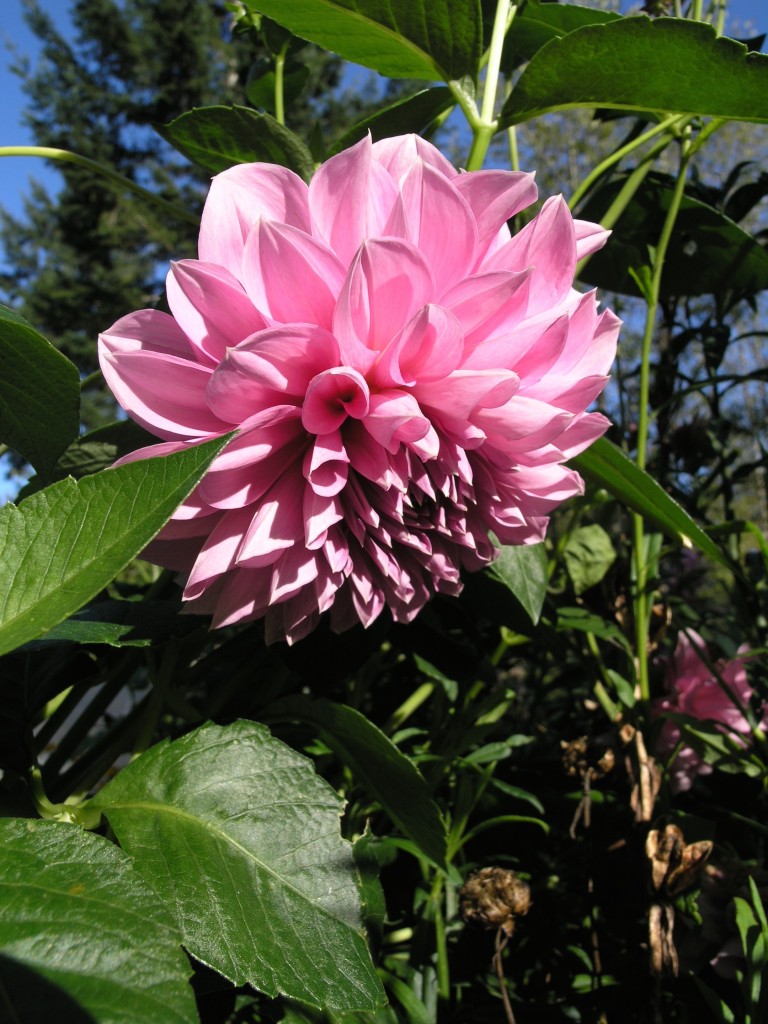 And bouquets being made and sold alongside Mark's bread on Fridays.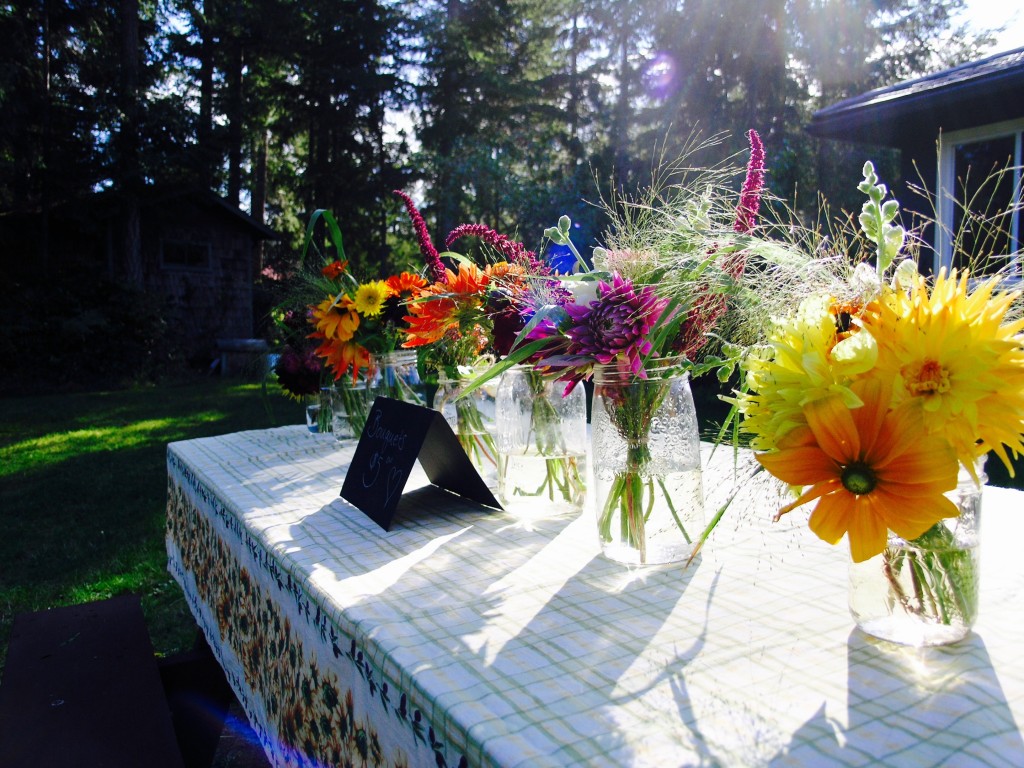 And while some plants continue to flower, others have turned back into seeds.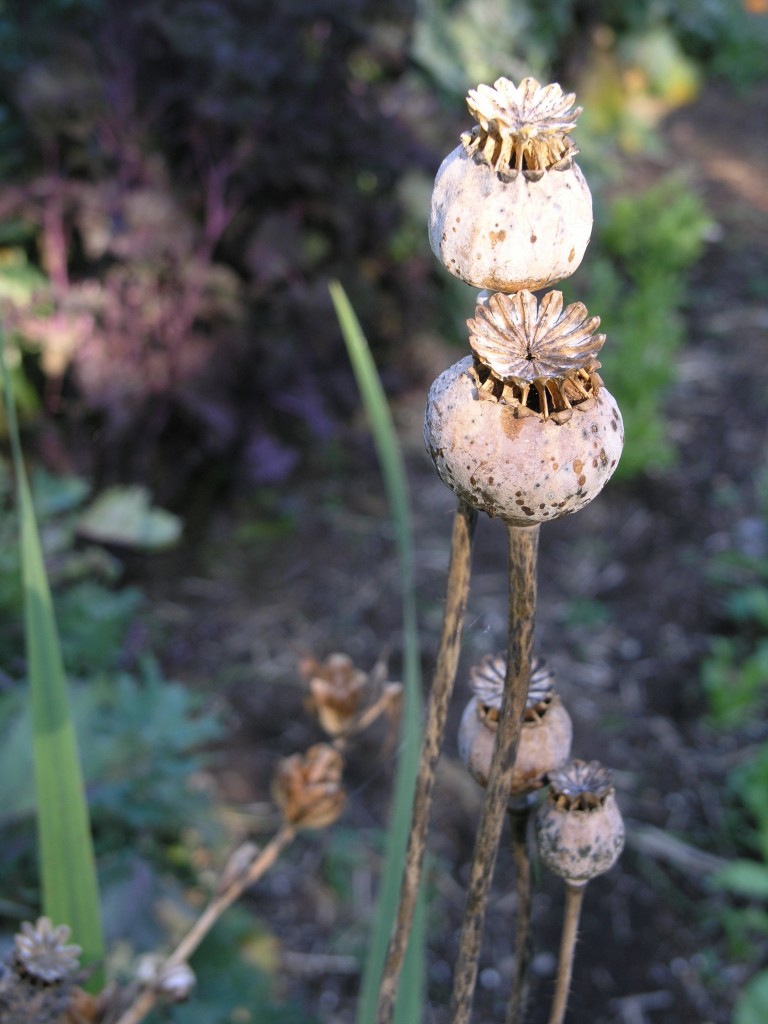 Seeds, beautiful seeds.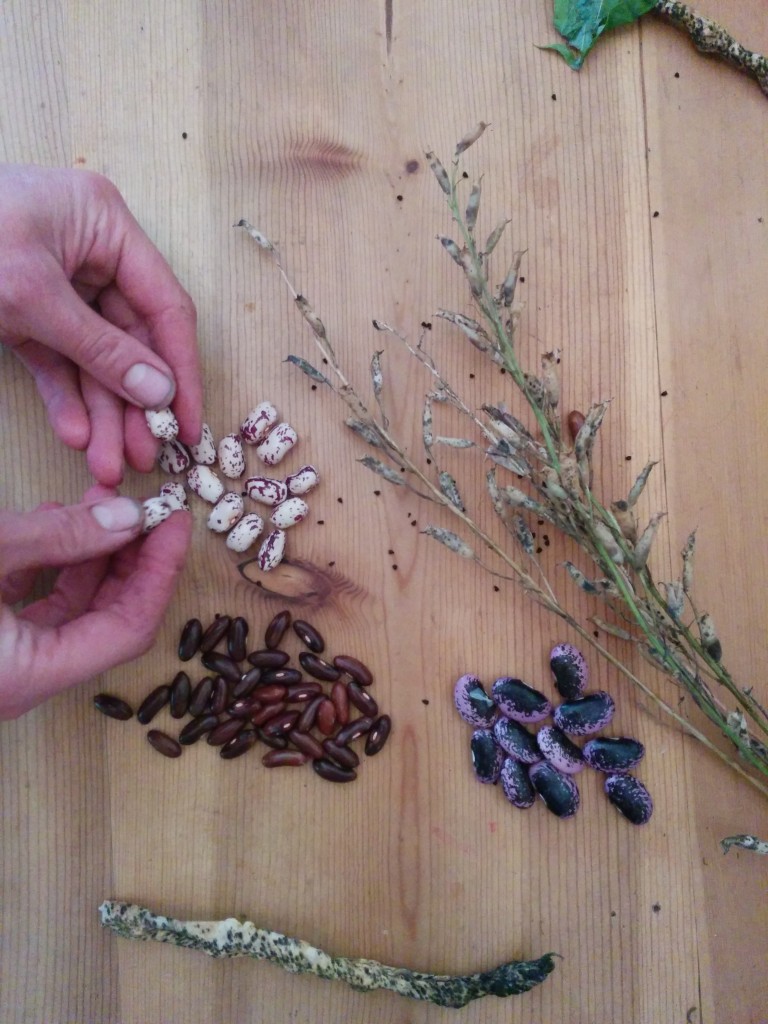 Still though, not every flower is a seed just yet, and so long as there are still some flowers, our blessed bees are still flying.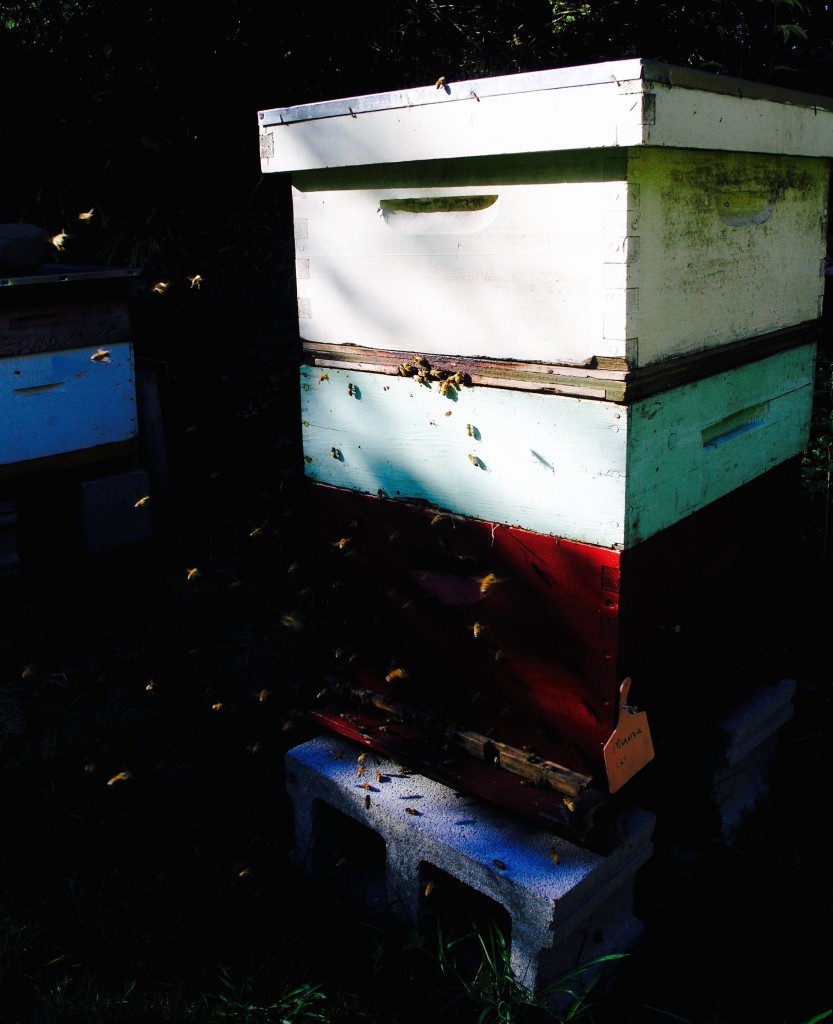 For like me, they are not sure when to stop either, or when it is enough? Of course, whenever I find myself in doubt (which is often) I just go and find my dearest Dog Friend, and he offers me his secret of the universe, which has something to do with "acceptance of all that is, and not to worry," and well, once I hear it, I can rest, for the moment at least.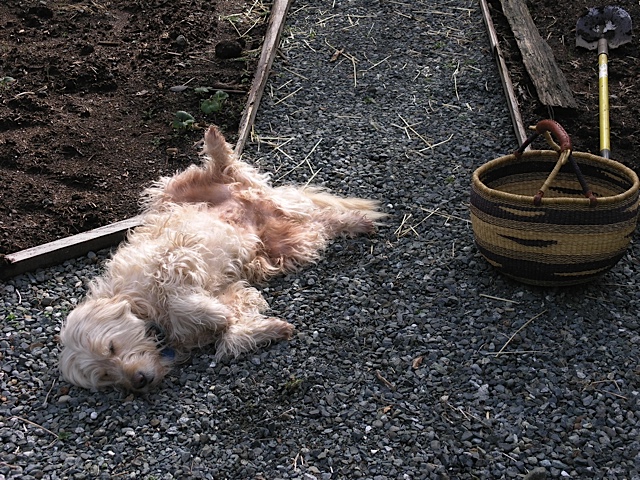 And now, from the edge of this autumnal fir-wood, I bid you farewell, for there is a tree full of apples that is calling my name, and a local bear, who might have already got there before me.
Blessings From The Honey Grove Harvest,
Nao, Mark, Gus, Cohen, Katie and All at Honey Grove~