Well, I daresay I think spring has at long last come to Honey Grove.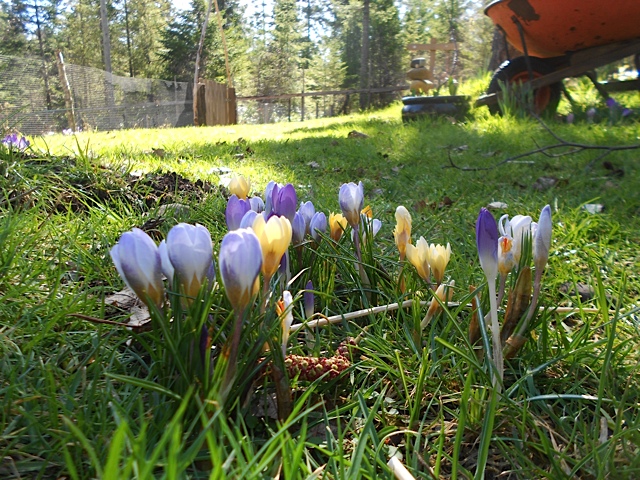 I can tell for two reasons: one is that there are crocuses blooming and bees flying, and the other, is that we have been so busy, we have not had a second to consider anything other than the task at hand. These days, there is little time to ponder the deeper meaning of life, or to wonder how we might become better people, or to worry about whether or not we are doing "enough" for this needful earth. At this time of year, we simply do not have the leisure to get caught in a spin of he said/she said, or to wish for what we do not have, or to dig our righteous heels into those topics that light our human fires, and urge us to build soap-boxes and start waving flags. We simply have too much to do on Honey Grove to be distracted by our monkey minds, and all the seemingly important issues that are continuously arising on planet earth, at every moment. And although we recognize that there is a great deal of imminent change needing to happen in this modern time (and that there are many good-hearted people dedicated to raising awareness with regard to pressing envrinomental and social topics) we are also coming to realize that our part in supporting the change, might be RIGHT HERE on Honey Grove, on these 5.8 acres, with our seeds and our wheel barrows and our bees and our heart-songs.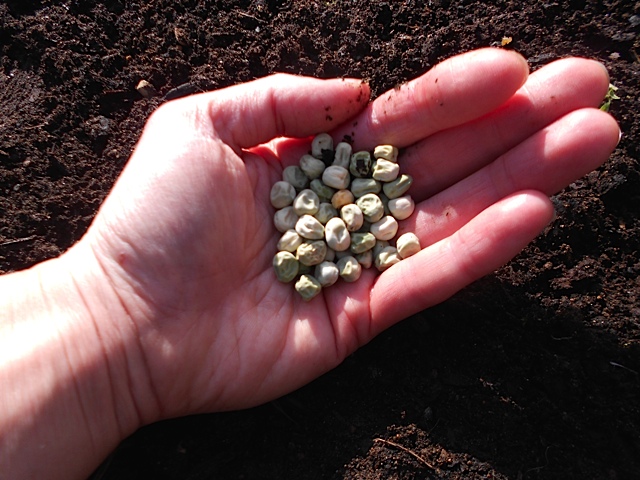 Yes, it seems that we have become Zen by default, for there is a certain amount of present moment awareness that permeates our spring days, and it has not arisen from a dedicated and zealous practice, but rather from the undeniable fact, that we can do nothing more, than be entirely focused, on the tasks at hand. So, all of this is to say, that if you were to bump into us planting peas, or stacking bee equipment, or digging compost into the veg plot, you might think us more calm and present than usual. You might say to yourself "now these are serene and peaceful country people," BUT, before you get too many ideas, let me assure you now, that such serenity is mostly the result of two people, who quite simply, have an enormous number of things to do. And in order to get even one thing done, their only option is focus on the present moment. Like planting spinach seeds for example. ( A task that I find to be deliciously satisfying and I have always found it difficult to think of anything else whilst tucking seeds into the earth).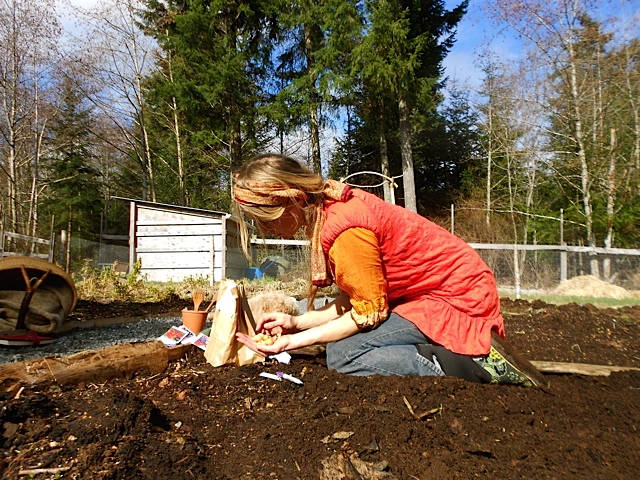 Of course spinach seed planting is made even better with the steady support of Gus, whose adoring gaze makes me certain that planting spinach is a very worthy job indeed, and not only that, but that I am good person doing a most excellent job of it. ( oh the love of our canine friends).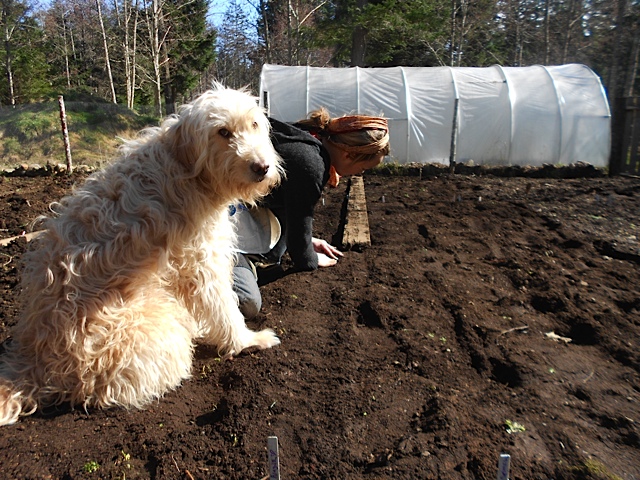 And then, as if to urge us on, there are garlic shoots, shooting up toward the blue spring sky, reminding us that magical things happen below ground, even in the winter. There is something about spring bulbs of all kinds that seem to know something about the alchemy that happens in darkness. I sometimes put my ear to their just-above-ground-shoots and ask them to share their secrets…sometimes they do, sometimes not.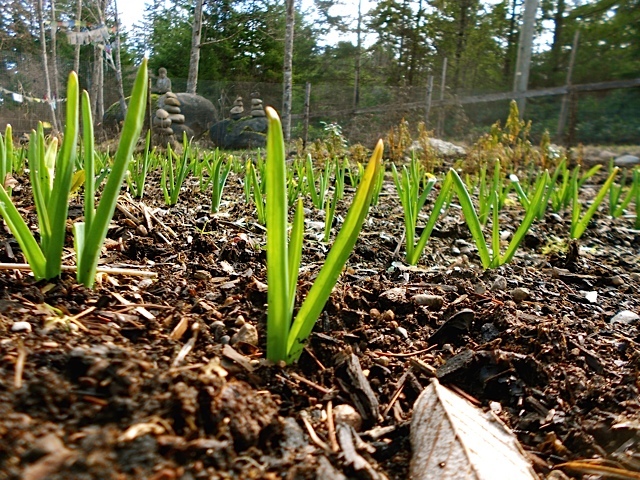 And while the garlic is growing and I am planting, Mark he has been collecting driftwood and erecting posts for his oven roof.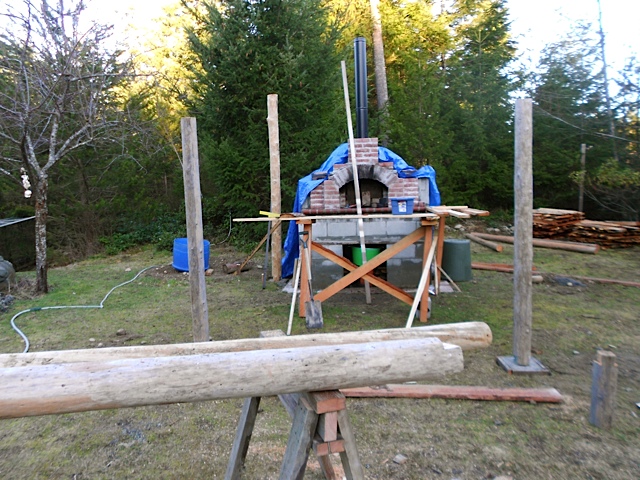 And whilst he is sawing posts and pouring concrete pads, the ducks are laying eggs again!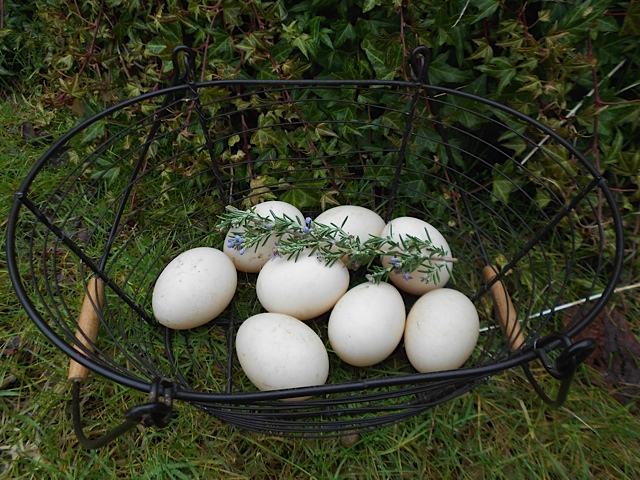 And while they are laying eggs, the bees have begun to fly!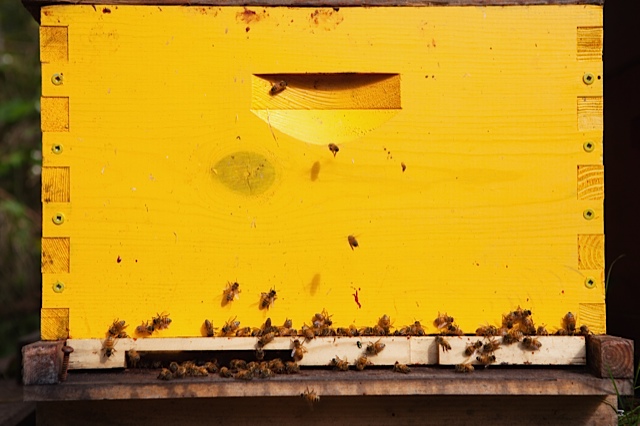 Yes, it seems that spring has indeed sprung, and now I must leave you, for the cottage needs to be cleaned, as one lot of guests has left and another is about to arrive. Mark says hello from over a loaf of bread he is kneading for the new guests, and Gus sends his love from the garden path, where he takes good long naps in the March sunshine before encouraging me to keep planting seeds.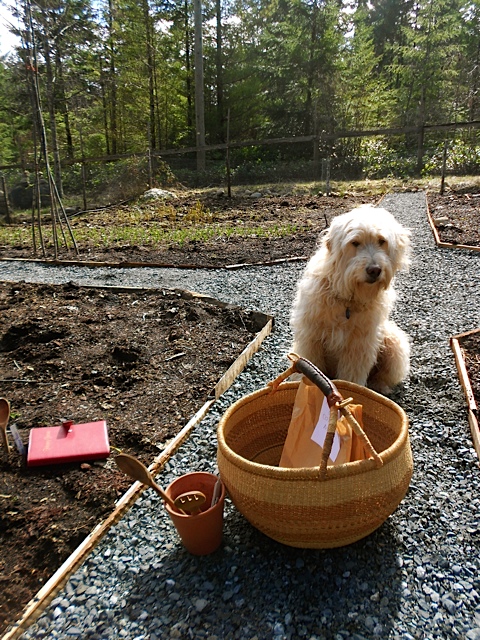 Spring Blessings From Honey Grove,
Nao, Mark, Gus and all at Honey Grove