Last night, Mark went to town, he went with his curling broom to throw heavy stones on ice, to use his strategic mind for something other than brick-oven-building. He went to have a night off and to sip a dark ale in the company of good friends. Meanwhile, back at home, my old cat Venus and I warmed our bones by the fireside, she purred and I read Kubla Khan. Gus snored beside us, not a fan or Coleridge it seems. You see, I am an unabashed romantic and sitting next to a warm fire, on a winter's night, always inspires poetry. That particular poem is like a spell for me, by the time I arrive at the second line, "A stately pleasure dome decree," the edges of my world become blurred and all things begin to open and soften. It is as though the opium induced dream that brought Kubla Khan to Coleridge, has a way of reaching down through the centuries, intoxicating and enchanting all who read it.  And while the fire burned and Venus purred, I fell in love with the melody of those words all over again, with the images that spiraled off the page, filling the room with their presense and lulling me into my own dreamscape, "And there were gardens bright with sinuous rills, Where blossomed many an incense-bearing tree; And here were forests ancient as the hills, Enfolding sunny spots of greenery."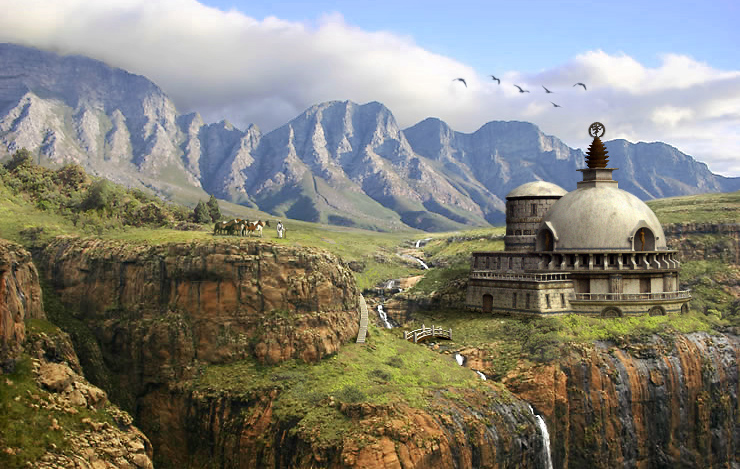 I had to read it three times! For having read it once, I could not help but want to read it again, to taste it's intoxicating beauty just one more time.The third time I read it, I simply did so for good measure, because I have always been one to put great emphasis on the number three, for reasons I cannot explain. What happened next, is not particularly interesting or surprising, but worthy of recognition, for I learned something about myself last night, about the creation of Honey Grove, and the dream that urges Mark and I on. I became aware of the romanticism that drives us, of the feeling we so very much want to capture, by having our country-smiles photographed, against a back drop of summers bounty (and now I am laughing my head off at our sweet, somewhat naive, dedicated enthusiasm).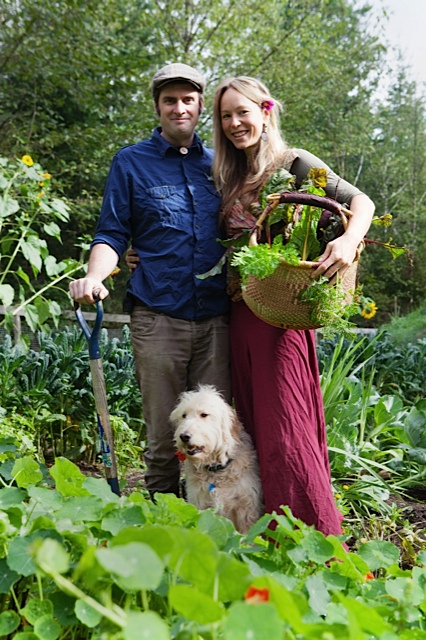 Photo by Jaime Kowal
By the end of the third time through Kubla Khan,Venus had stopped purring and was fast asleep. The fire though was still wide awake, the hot orange embers their own kind of poetry, and although I was under the spell of the poem, I was not ready for sleep, and so I turned over the page and began to read about the the life of Samuel Taylor Coleridge. I recalled afternoon lectures, in University classrooms, 15 years ago already. I saw myself there, 20 years old, wide-eyed and ready to learn, my mind bound to a firm commitment "to make something of my life," eh eh. I remembered my professors, in their brown shiny shoes, touching on the utopian ideals of the romantic poets. Yes, it became clear to me, one sunny day in September 1998, in a class dedicated to Wordsworth, that there were others, poets from 200 years ago, who had the same inspired notions that I did, and that they too, had fallen completely and madly in love with the earth, with the mountains and the rivers and the daffodils.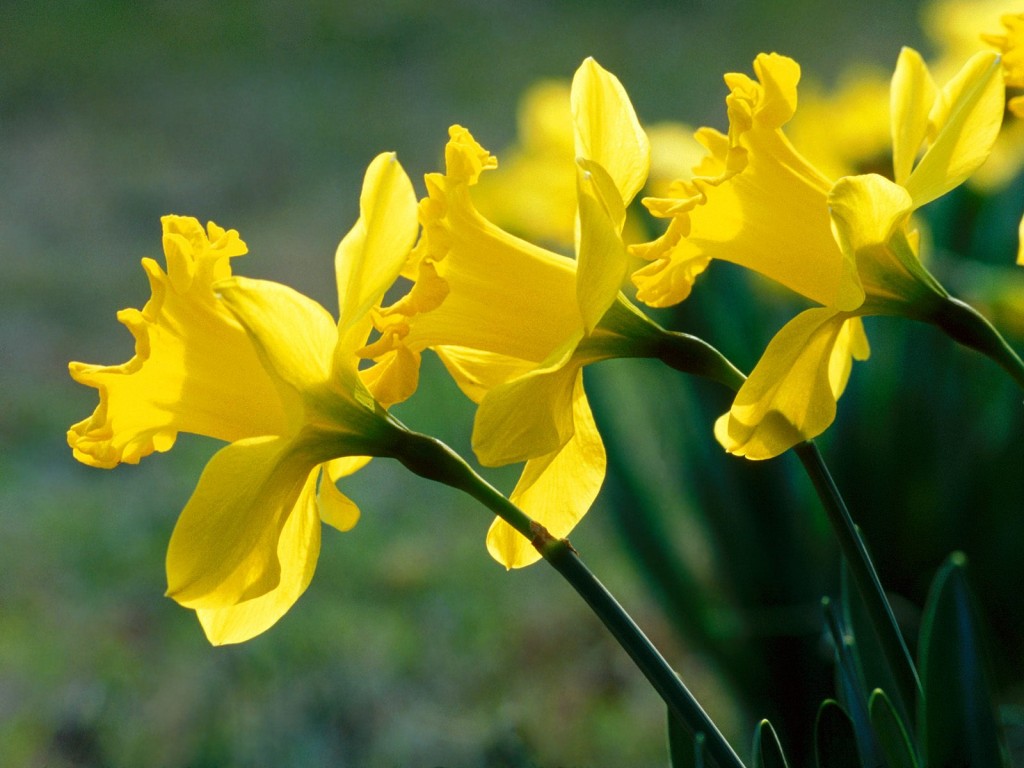 And even though I was aware that a utopian society was an impossible dream, I liked the beauty of it. I liked the poetry and the stories and the imaginings of a more natural earth-centric and just world. I liked these ideas in the same way that I like our vision of Honey Grove, because I see now, that it was within the warm folds of a romantic dream that our vision was first born, that the dream seeds were nourished and ignited and sent into being. And furthermore, that romanticism has been shaping me since the very beginning.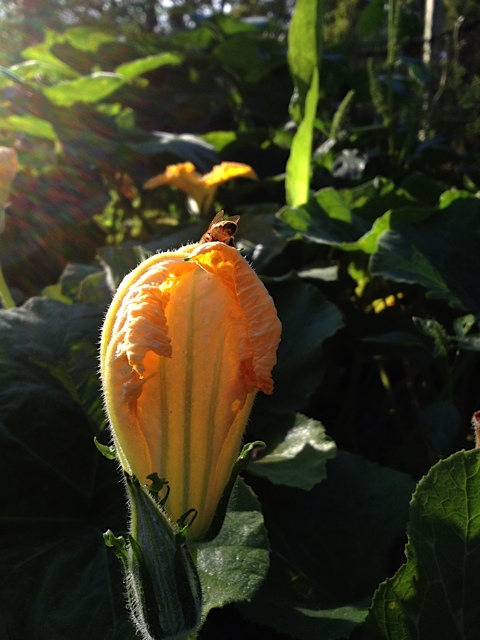 The inspiration that fuels Honey Grove is the same inspiration that first propelled my mother and father into their dream, when they began to homestead, in the mountains of BC's wild interior, in 1978. My father, without a high school education, but a team of horses and a loved and worn copy of Waldens Pond~By Henry David Thoreau, set out to make his dream come true. He and my mother set out in the same way that Mark and I have, with a dream wrapped in the soft folds of what some might call "a romantic ideal." And although my parents life did not go exactly as planned their intentions were pure and true, and this, this is what inspired a life-long love of the earth in their children. Yes, my dear Dad, a beekeeper, a homesteader, a gardener, a retired horse-logger, a sheep farmer and a dreamer, just came to visit us on Honey Grove for a week. And so, perhaps it is no surprise, that on the day of his departure, I found myself wandering through the landscape of the romantic poets, and of my own childhood, remembering wagons filled with wild-flowers and buckets of honey for sale.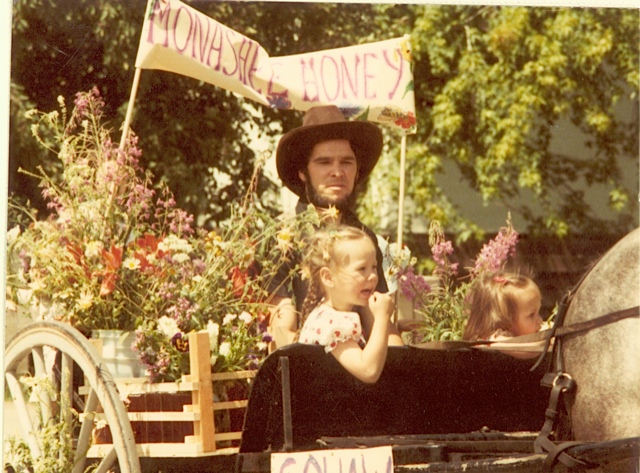 Remembering how my sisters and I would help in the hives when we were children and that my love of honeybees began a long time ago.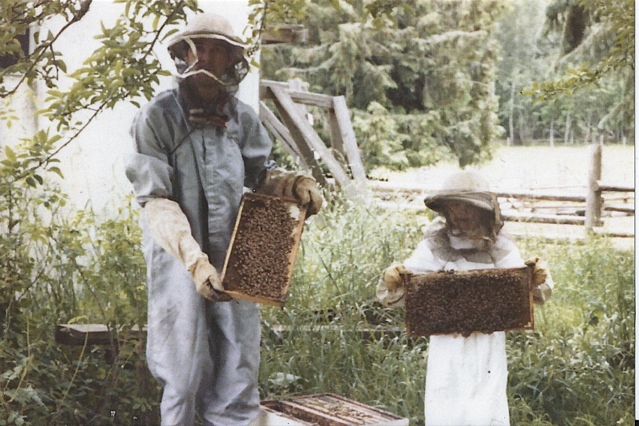 And sometimes I have to laugh because not so much has changed between now and then.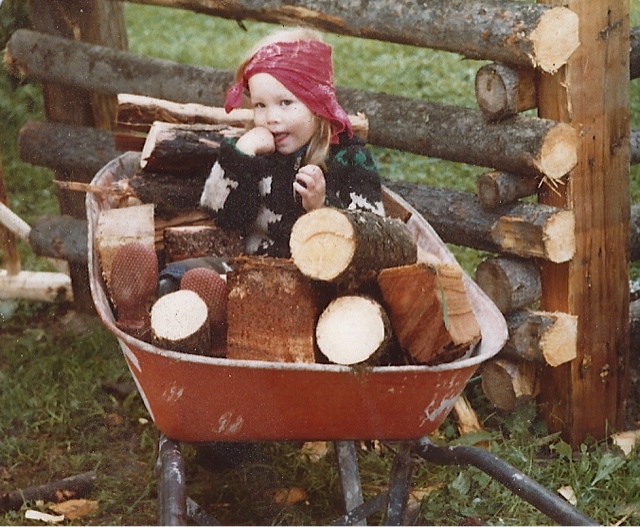 There are still piles of firewood in orange wheel-barrows and colourful headscarves.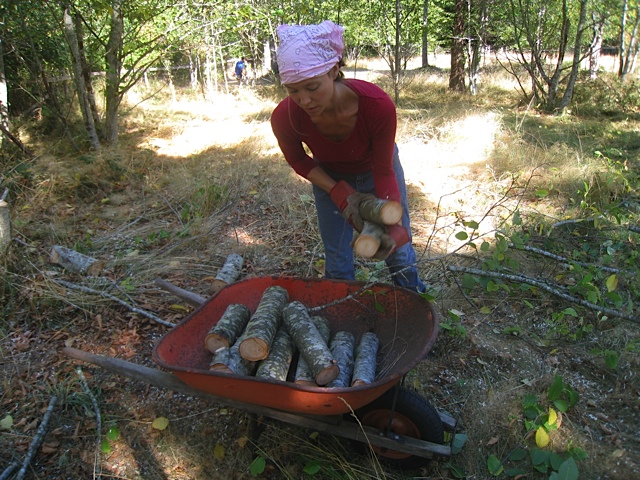 Yes, looking back it is no wonder that I see the world through a pastoral lens of rose-coloured hue. That I can sometimes be a hopeless romantic and that the very thing that inspires me most, also causes me the greatest pain. My romantic nature will often disappoint when the world proves to be less golden, less rose coloured, when I loose 6 hives to wasps (as I did this fall) and when one of my ducks dies in my arms from some unknown ailment, that I can do nothing about. The whole thing is worthy of a good-old-fashioned poem. Oh the beauty of wholeness. Yes, my dear dad came to Honey Grove this week, and helped us in more ways than I can begin to say.  Together we built shelters for beehives, to keep off the driving rain.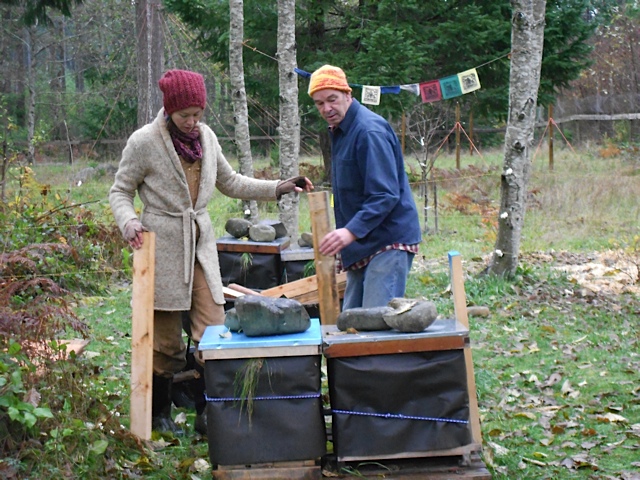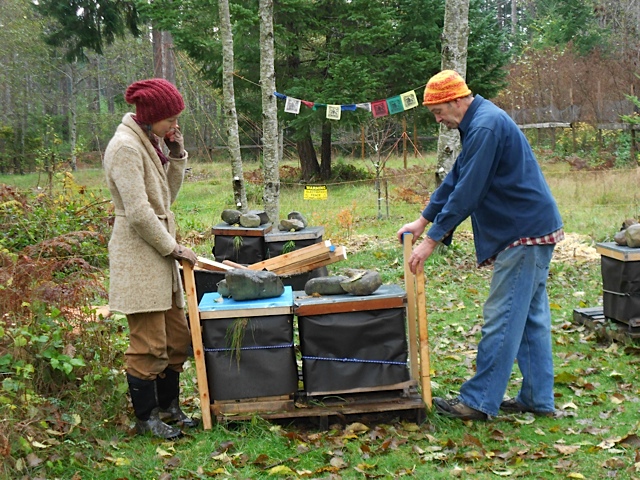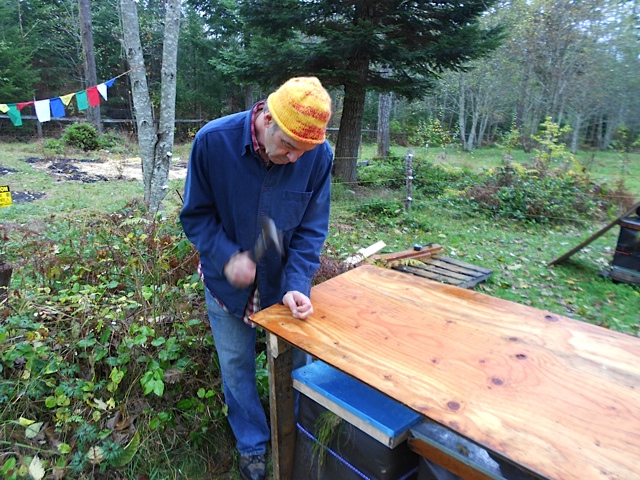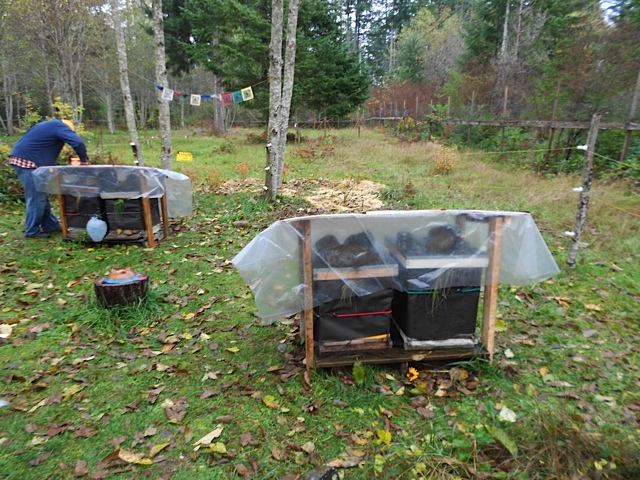 And we built new boxes for the chickens.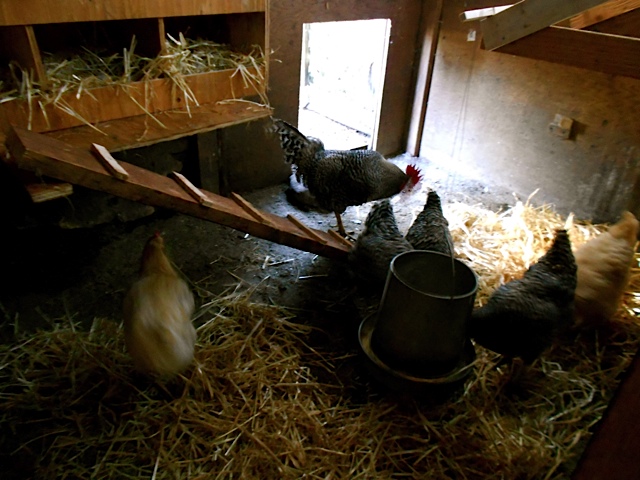 And a fancy new perch.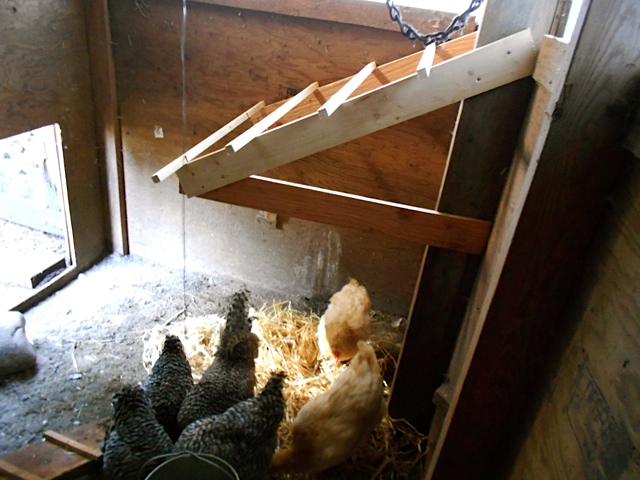 And the sun came out too, making everything sparkle and glint, in perfect pastoral light.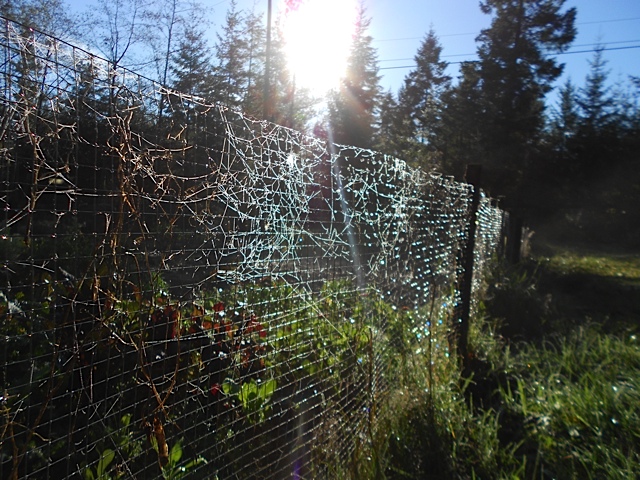 You can see The Honey Grove  "pleasure dome " glowing in the distance.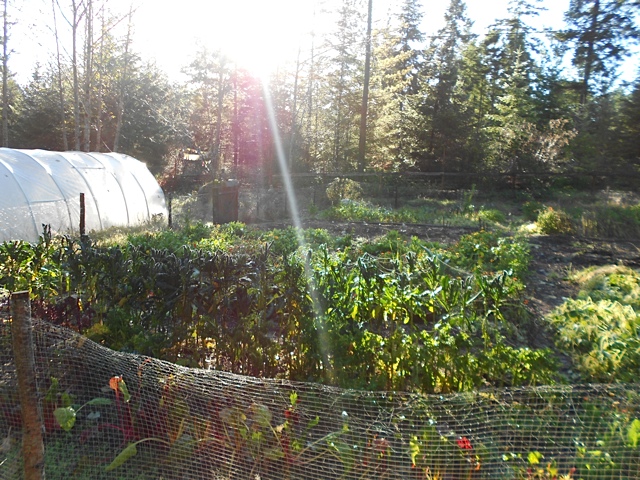 Yes, I have come to the conclusion that there are worse things to be than a romantic. I think I shall always choose to wear my rose coloured glasses, to be in love with the earth and the beauty and goodness of this human experience, because, quite frankly, I am not sure there is any other way.  And now, it is time to begin another day, my rubber boots are waiting for me by the door and my gloves have dried out by the fire. I can hear Mark, he is upstairs shaking the butter jar. And Dad, if you are reading this, Thank You, Thank You for being the beautiful and inspiring one that you are.  I love you.
Sending Blessings from Honey Grove~Enfolding sunny spots of greenery~
Nao and Mark and Gus and All at Honey Grove.