Some months ago, whilst sitting under a ray of sun, with a hot cup of chai, in the company of two lovely friends, I made a crazy offer, followed by a firm commitment, and then another cup of chai.  Now, before I say more, the thing that you have to know about me is that I rarely make a commitment based on reason, or a lengthy thought process (I leave those types of decisions to Mark). To be honest, I am not entirely sure I have ever considered the possibility of contemplating the pros and cons of a particular direction. Even when I go out to a restaurant, I know what I am going to order within 30 seconds of opening the menu. You see, decisions for me, result from what I can only describe as a surge of energy that starts in my belly and rises up through the middle of me, somehow connecting my heart to my head. Beyond this, there is sense of instantaneous heat, followed by a feeling of forward momentum, which causes everything inside and outside of me to sing "go!"  Needless to say, this is what occurred, under that particular ray of spring sun, some months ago, when I offered (without a moments hesitation) to do the flowers for my  dear friend Elizabeth's wedding.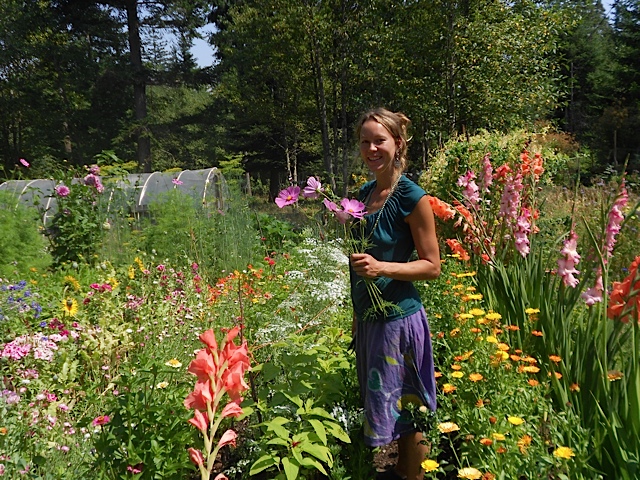 No sooner had I offered, did she reply, "Nao, I would love that!"  And so, having never done flowers for a wedding before (in fact having never done flowers for any event before) it was not until Elizabeth drove down the driveway, that I actually recognized the magnitude of my offer. (For it was not until this point that I realized her wedding would be occurring the same week that I was pulling honey and putting my entire garden into jars and freezers.)  And so, I did the only thing I could do, and I laughed my head off for a good long time, because this is what I do everytime I come around this particular corner of myself (as I tend to do, over and over again). When I recognize that I am riding the horse of inspiration into the sunset without a hope in hell of getting off. eh eh Once I stopped laughing, I started planning and well; since then, Elizabeth and Tim got married, and Honey Grove flowers surrounded them whilst they did. But before this there was the business of growing them, with the help, of Gus, of course.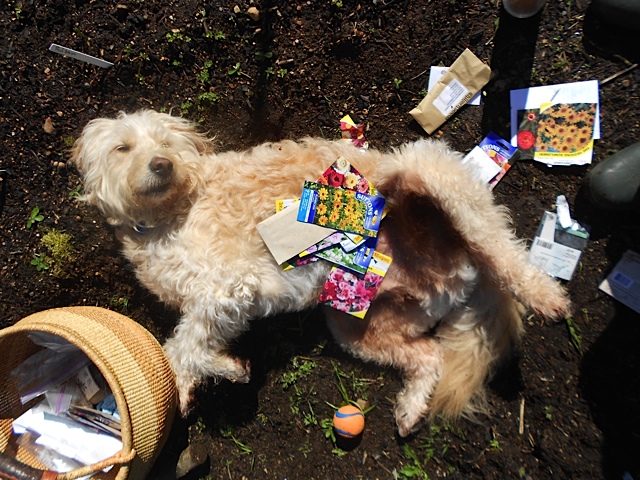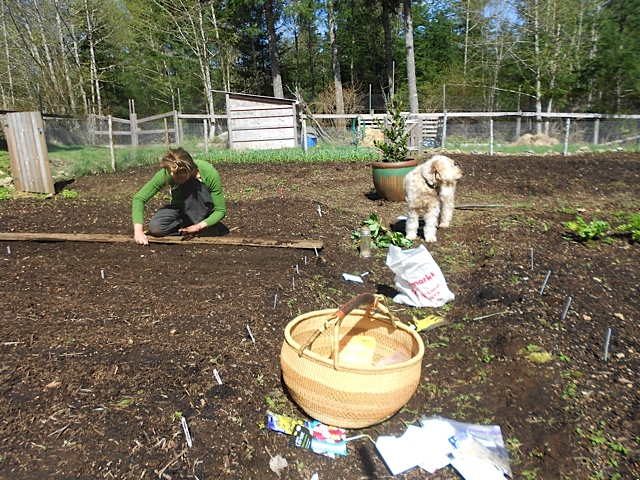 And with the right combination of earth, sun, rain and prayers, grow they did.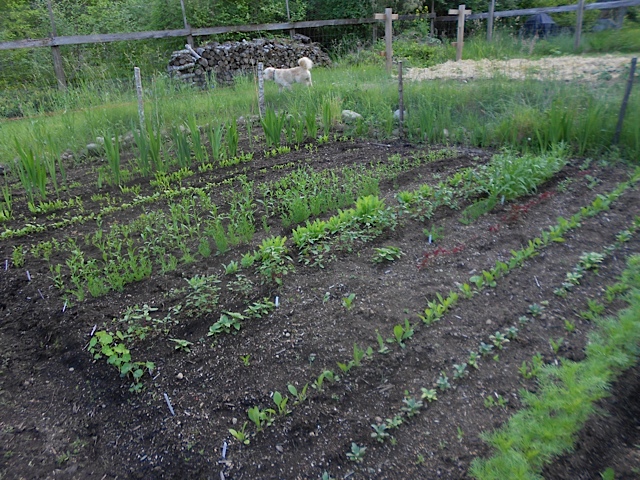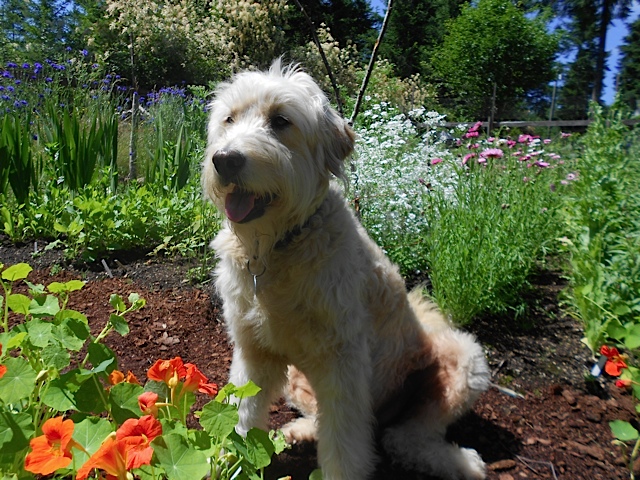 Until they were covered in bees and the golden light of late summer, each perfect petaled face offering itself in wide-open-fullness to the world.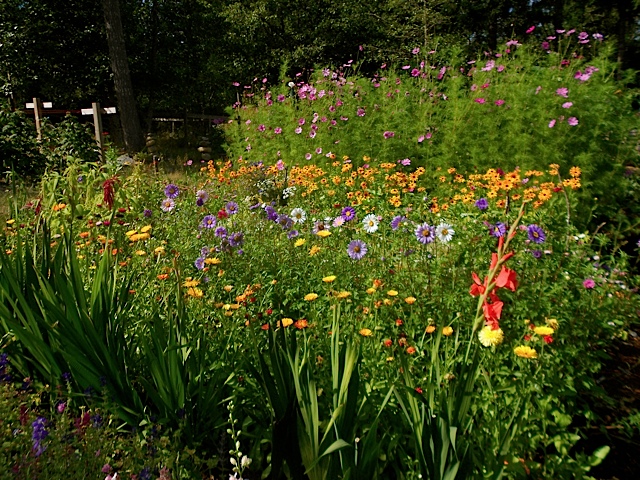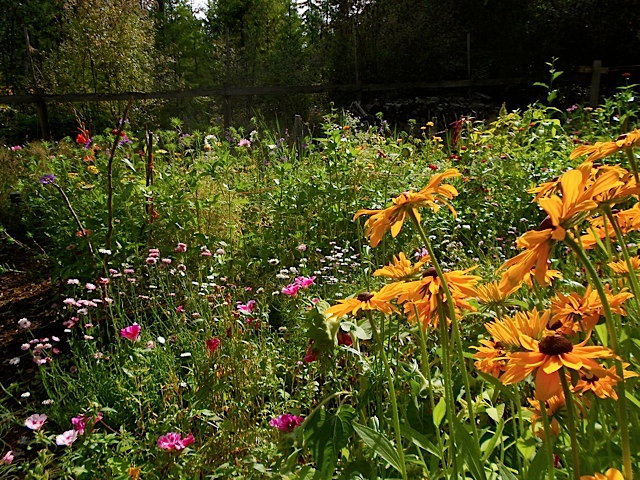 I was sure I heard them say that they were feeling as honoured as I was, to be a part of Elizabeth and Tim's ceremonial day. And so, the night before the wedding, I went into the garden at dusk, and with the help of my sister Shanti and my darling friend Clare, we picked the flowers for Elizabeth's wedding.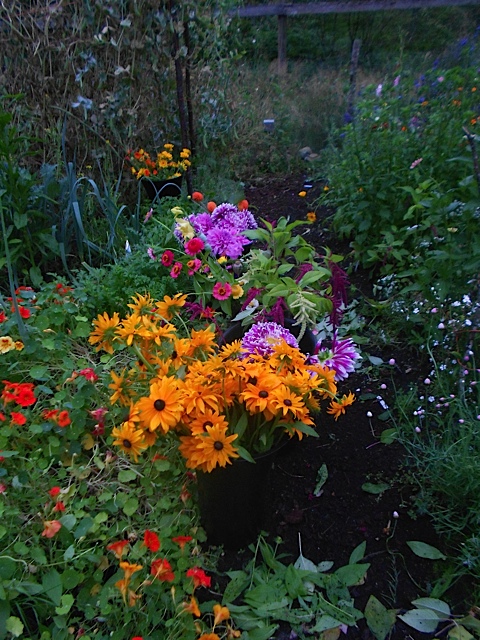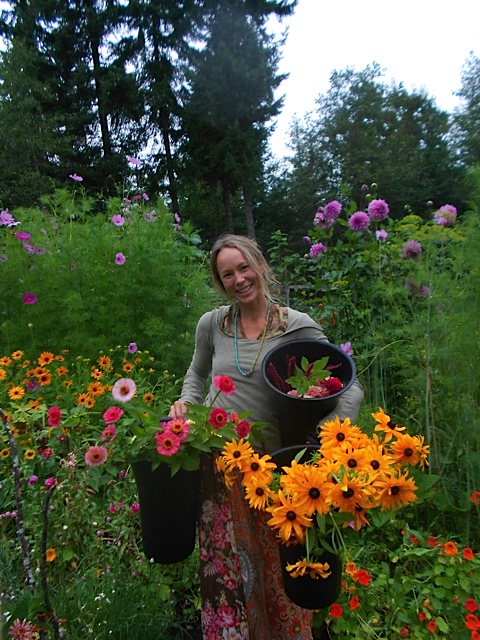 At 5:30 the next morning, we transported these petaled Honey Grove wonders up the highway and on and off of two ferries.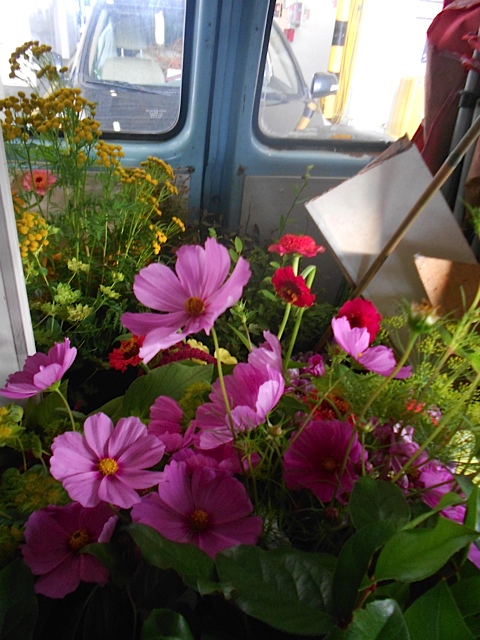 And while the flowers bobbed their delicate heads in the back of the van, we ate granola and yogurt and talked about love. After traveling for several hours, we found ourselves under the big white tents of the soon-to-be wedding.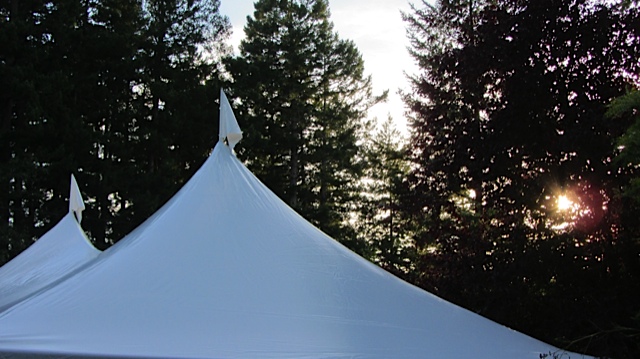 And so, with a heart felt dedication to surround Elizabeth and Tim with beauty, I set to work with the incredible help of two friends. Thank YOU Clare and Jessie! (I should also  mention that these photo's were all taken by my talented friend Miss Jessie Turner.)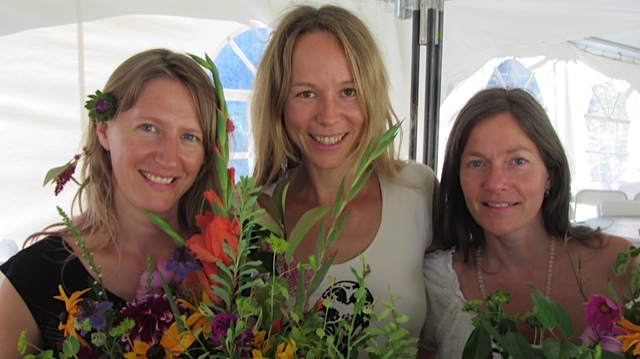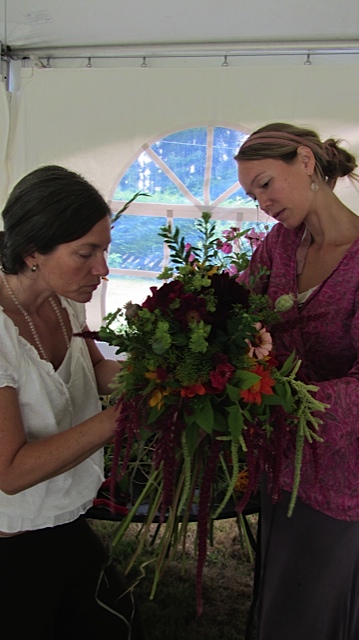 Together we created wedding party bouquets.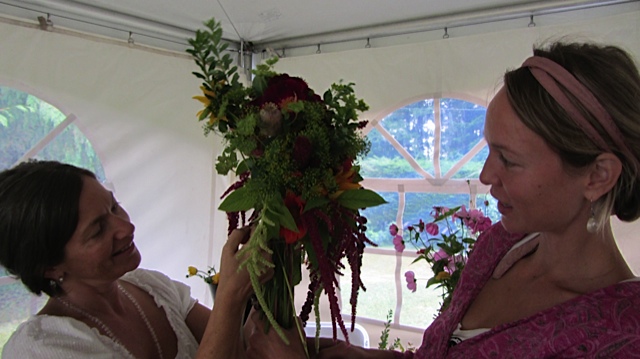 And once they were complete, we turned our attention to the table arrangements.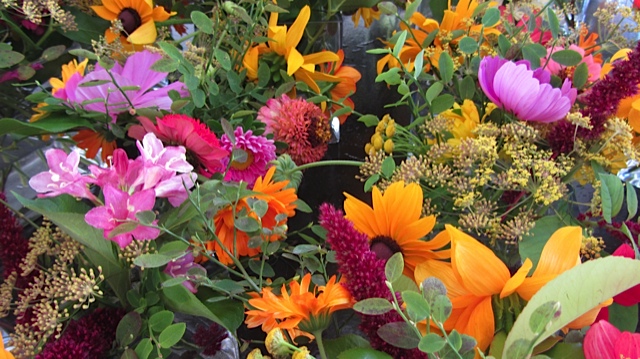 Which proved to be a sparkling combination of orange, pink and gold.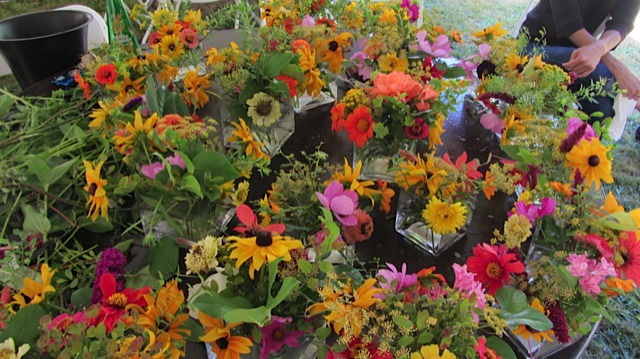 An absolute mountain of flowers it was.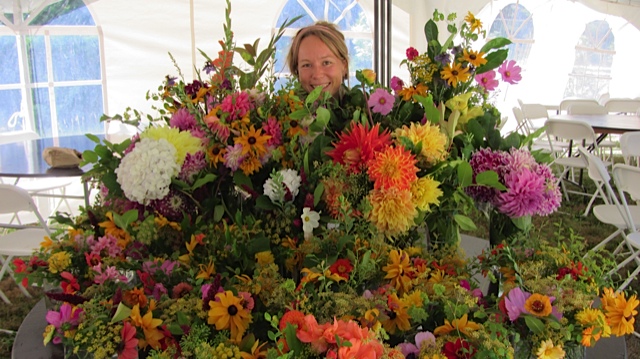 And the next day, Elizabeth and Tim did get married, and it was absolutely magical.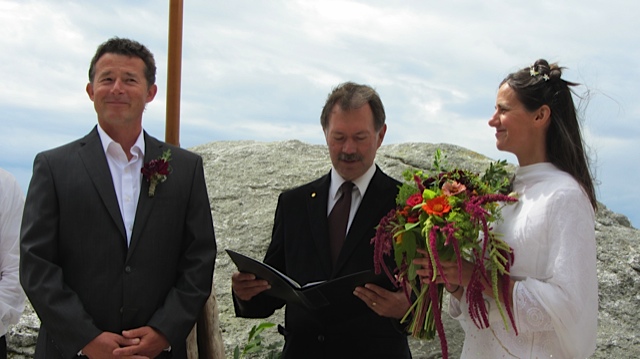 And Mark and I were honoured to be a part of such a sacred celebration.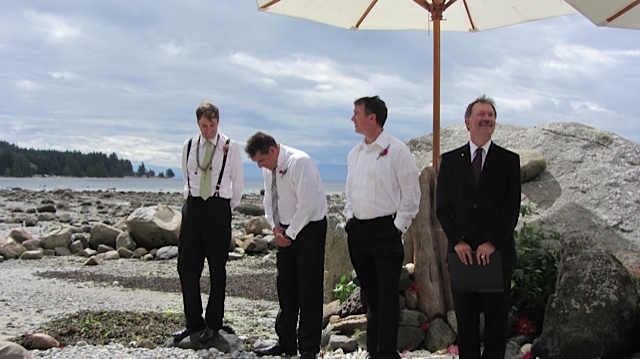 For whilst I was growing flowers, Mark was brewing a special ale for this wonderful occasion (but this is another post). Now back to the wedding, in honour of Tim and Elizabeth and the flowers, bless them…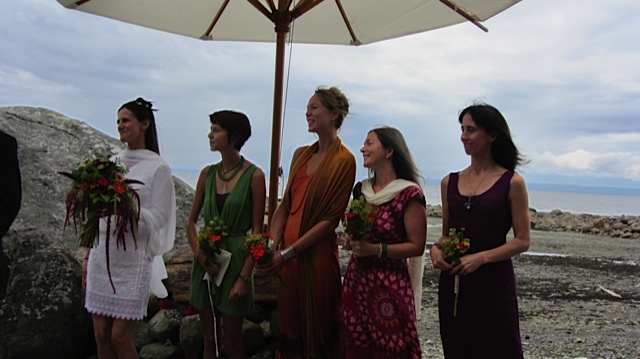 …that were everywhere.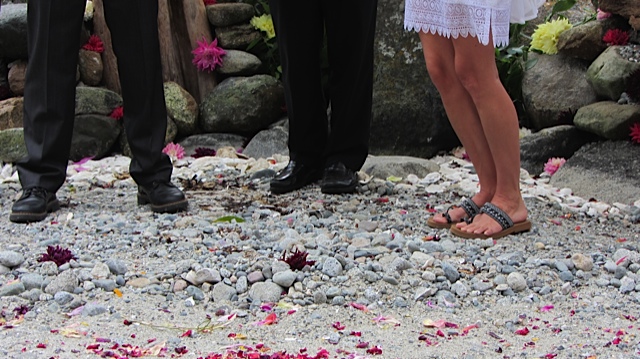 Congratulations Elizabeth and Tim!
Otherwise, back home on the farm.  All things are coming into their fullness.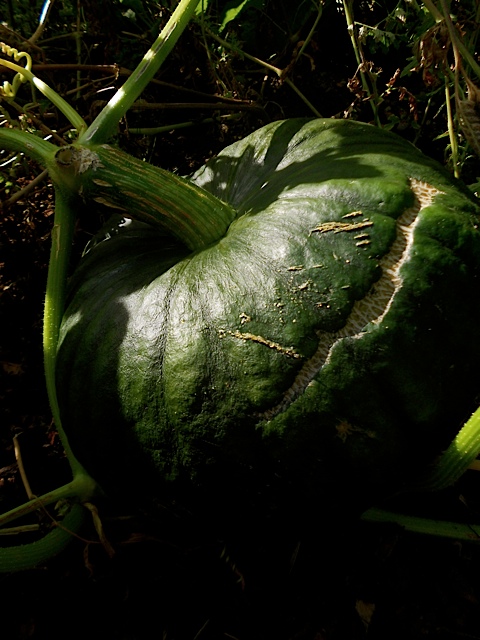 Into their goldenness.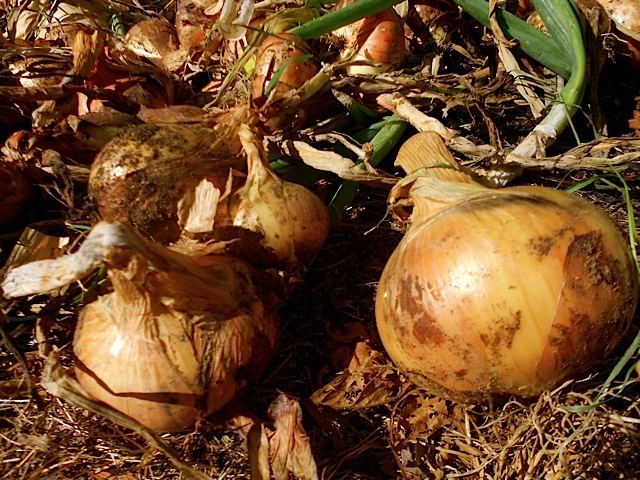 And their orangeness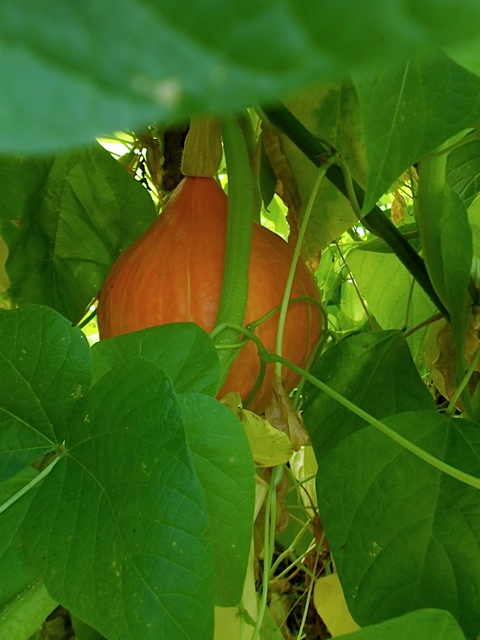 And their smoothness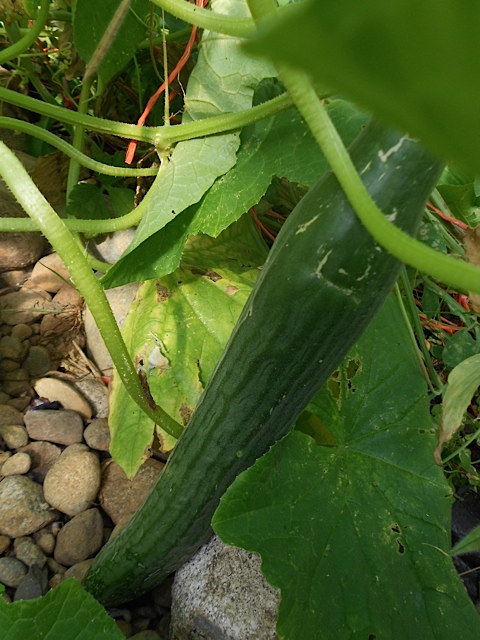 And their redness.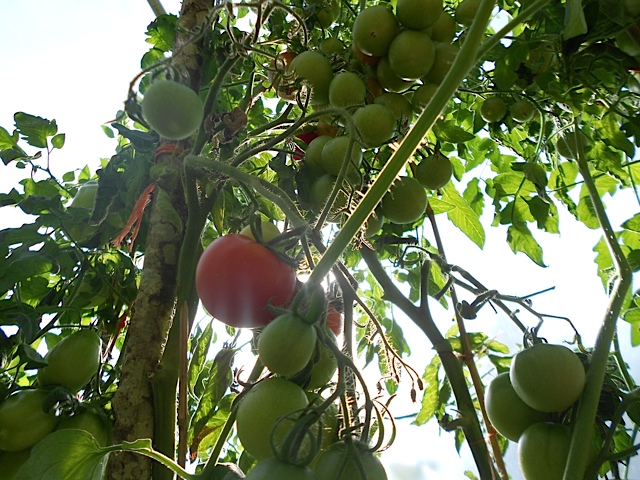 And through the garden gate…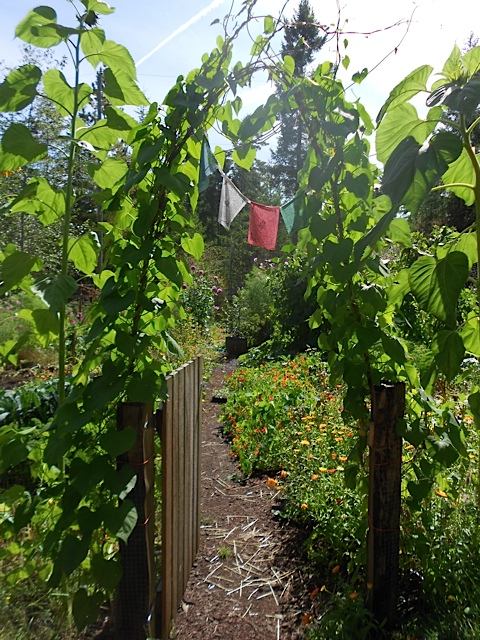 The winter garden has already begun to grow.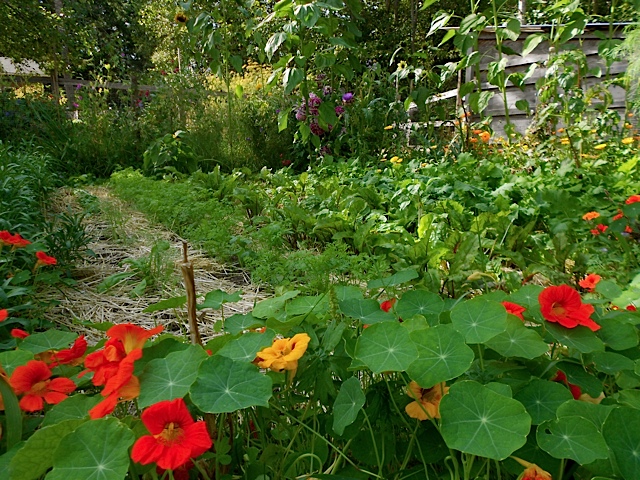 As we begin to prepare for the seasons ahead.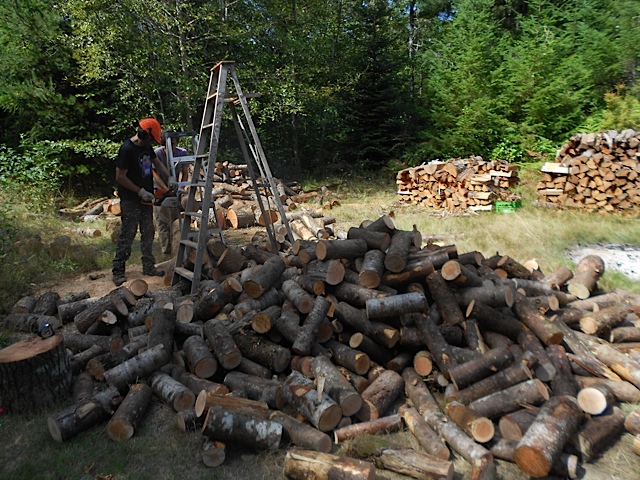 Maintaining humour.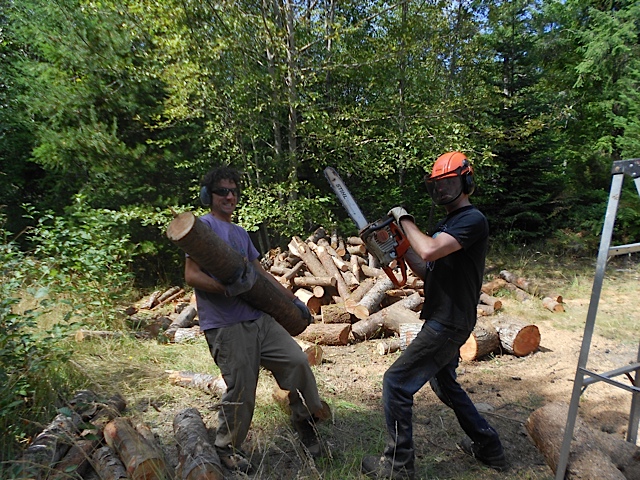 And sweetness.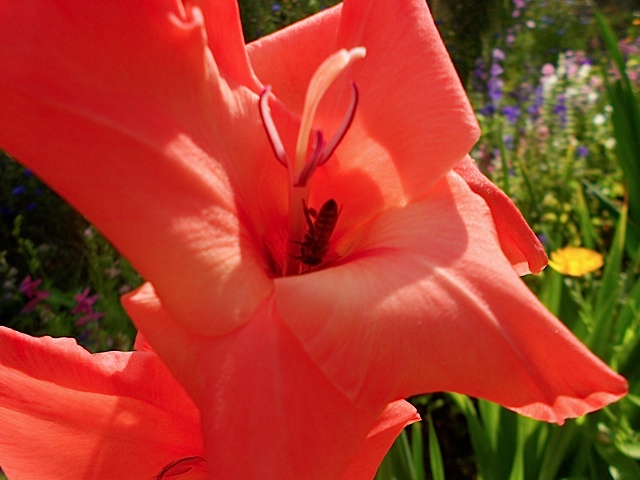 And of course, love.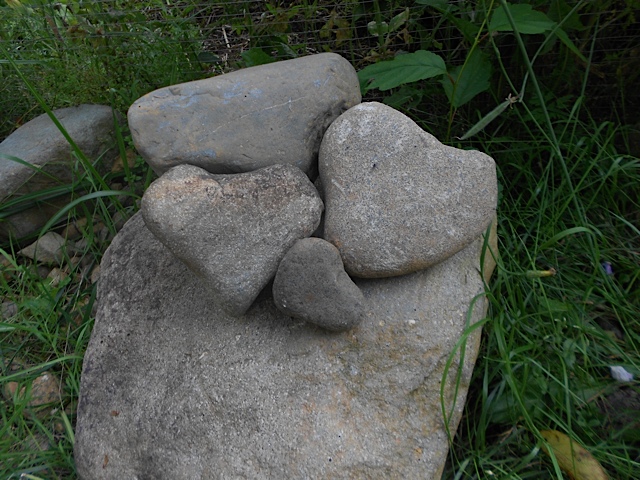 May this find you in the midst of a beautiful day~ Celebrating the fullness and the goodness of it all. As for us, we are off to spend the day extracting honey.
In Gratitude,
Nao, Mark, Gus and All at Honey Grove.