I spent this past weekend, sitting in a Yurt, in a circle of skirted women, writing in multicolored pens, about the things found below the surface, about the beautiful and the broken places that make this human experience. For two days, we wrote our stories and the stories of our mothers and grandmothers. For two days, we stood on the edge of our known world and peered into those places that live on the other-side of reason, those places that swell with heart and are fueled by mystery. And as my pen glided across the big white pages of my crisp new sketch-book, the words became the threads, that wove the stories of heart.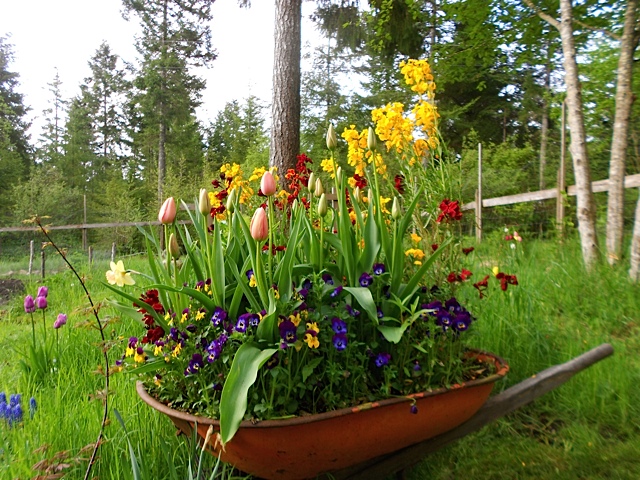 Some days later, looking over those words, just after dawn, just after a dream, with a cup of black smoky tea (cardamon and rose petal infused) and a morning sky in the backdrop, I saw from the corner of my eye, what I can only describe as my muse. I saw her there, illumined in the morning light, but not with my seeing eyes. I saw her with another kind of vision. I saw her with the eyes that look in and not out, and I came to realize that my muse has always lived there inside, although she is not always awake. And so, I had to ask myself, "What is it that stirs her to life?" And that is when I heard the answer. I heard it with the ears that listen to the voice that comes from inside. I heard "she awakens with my love, my wild love for a place, or a person, or an experience." And well, all of this is to tell you, that these days, my muse is very much awake, that together, we are smelling apple-blossoms and eating dandelion leaves and planting beans. For my heart you see, is wildly in love with this place called Honey Grove, and there is just so very much to love.
Like bees who are getting drunk on the nectar of dandelions.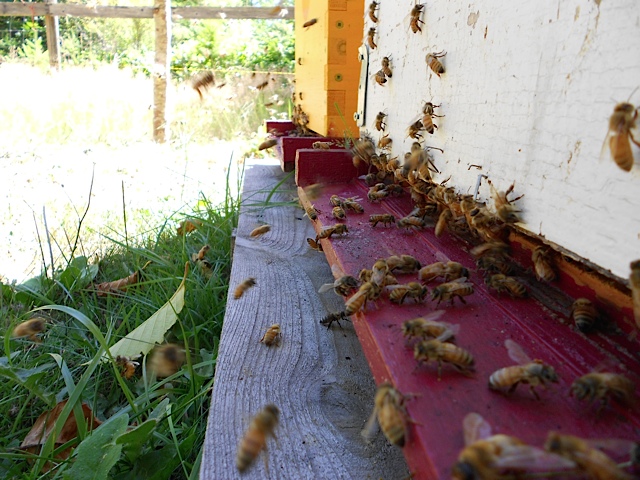 And gardens that have begun to grow…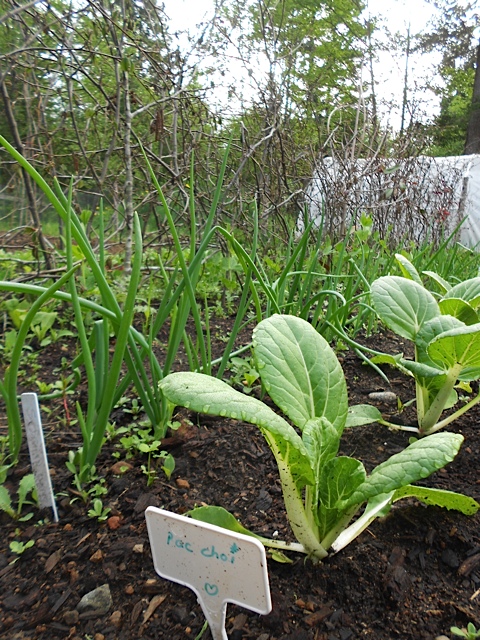 Every tender leaf, welcoming the light and water of sky.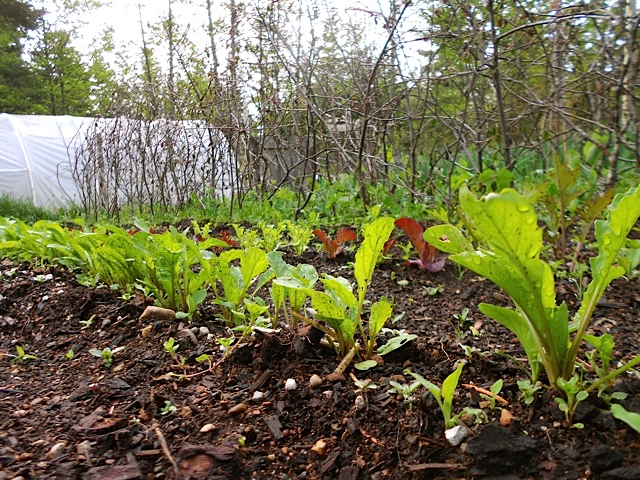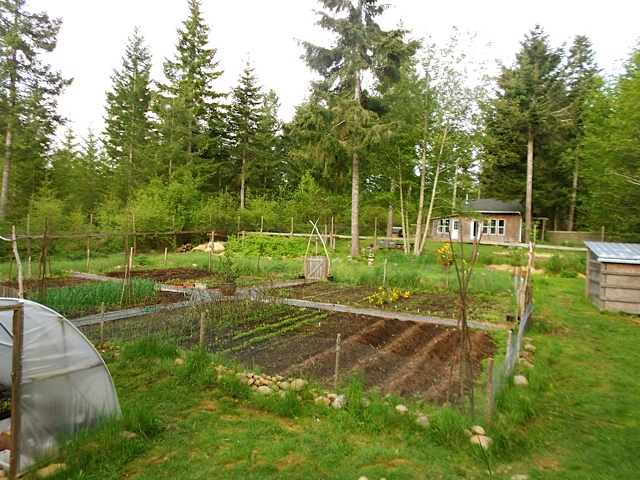 And Mark's oven roof, oh how it has begun to take shape. And Mark, my love, who is bringing his idea to life with such heart and dedication.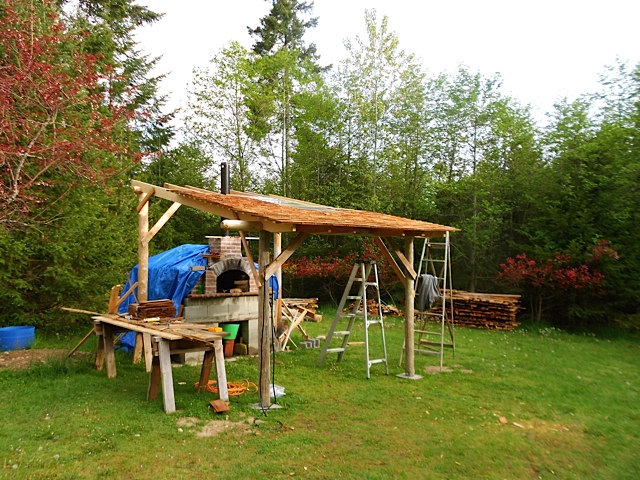 Meanwhile, I am still planting seeds.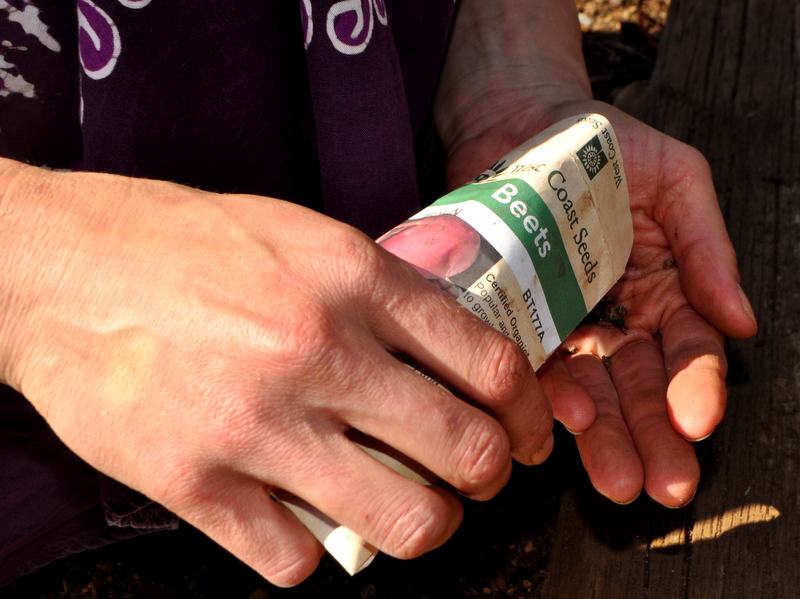 And singing to the bees every chance I get. Singing with my muse in the bee-yard.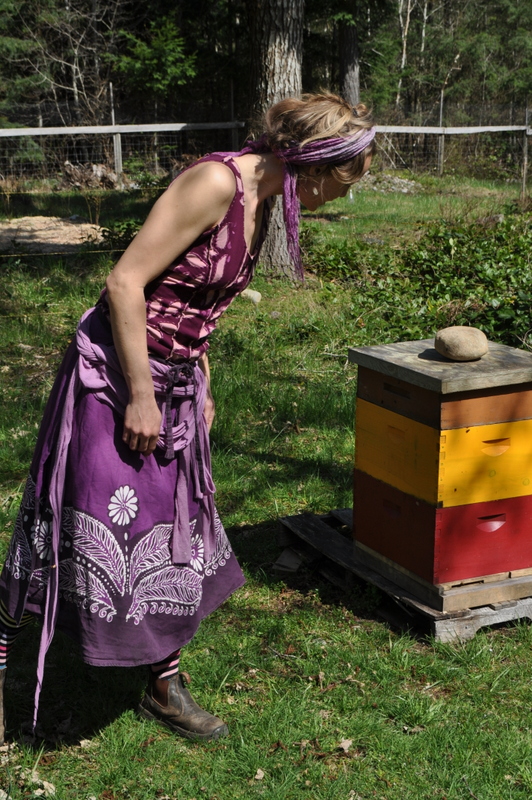 And now I leave you with a scrap of writing that came out of last weekend's workshop.
THE JOURNEY
The journey used to involve airplanes and backpacks and faraway places,
but that has all changed now.
These days the journey is between the house and the chicken coop,
between the garden and the beehives.
These days the journey is in and down.
It is here and now.
It is following the path of heart, following that mysterious beckoning that comes from inside, the one that leads directly to the mystery, past the edge of knowing, over the bank of treacherous expectation, above the field of "me."
And so I let go.
Let go into the hum of beehives,
into the rhythm of compost turning,
into the lifting of warm eggs into a wire basket.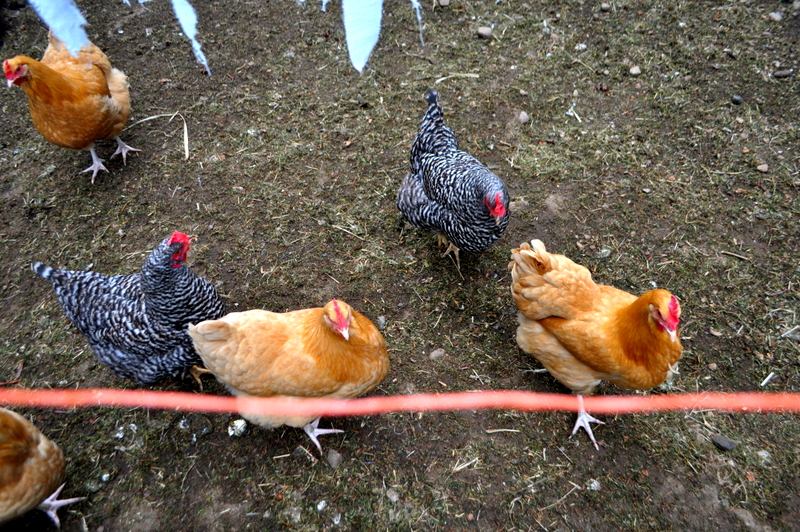 May this find you in the midst of a beautiful spring day~ Thank you for your company.
Nao and Mark and Gus and all at Honey Grove.