These days, the woodland path to Honey Grove, might possibly be, more enchanted than ever.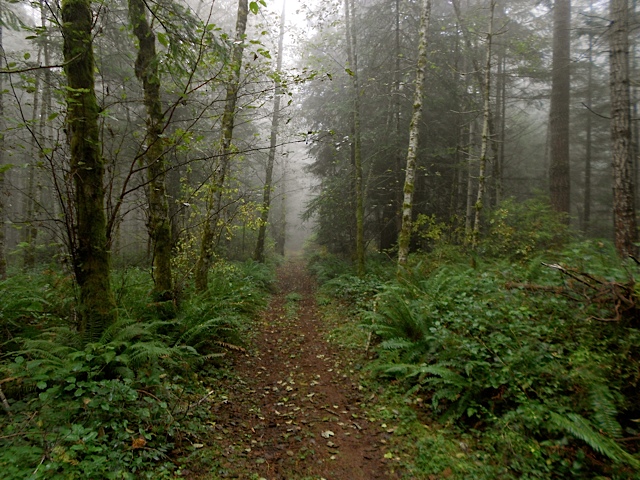 A mist has rolled in and settled in our valley and all along our coast line, it is grounding planes and causing a chorus of fog horns to sound their haunting tones, waking us in the early hours before light. Sometimes, later in the day, the October sun manages to lift the fog and for an afternoon the most exquisite golden light filters down from above, making everything look as though it belongs in an old fashioned hand-bound book, with gold lettering on the side. Yes, it seems we are caught in another Honey Grove fairytale over here, only this time, we are not alone.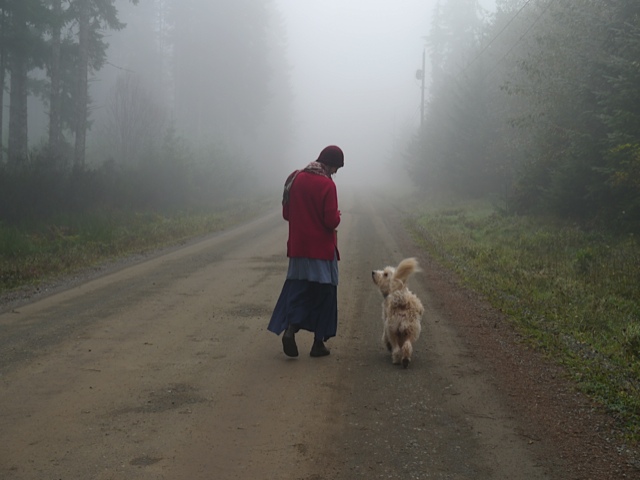 You see, while we are on the subject of fairytales, I must tell you about our new and dear friend Sylvia Victor Linsteadt, a writer of tales and a weaver of magic (and wool too) who has just spent a week here at Honey Grove, writing in the cottage. Some months ago (way back in the early spring, even before the daffodils were up) I discovered Sylvia's work through one of my favorite blogs The Hermitage by Rima Staines. Without hesitation, and driven by a kind of forward momentum that is more a feeling than a thought, I ordered a 3 month subscription of her stories (which arrive every new moon, in a hand-stamped brown envelope, complete with beeswax stamps). The envelopes, are magical in themselves, and I often set them on my kitchen table, propped up against a potted vase of poppy pods, just to admire their old world charm. Eventually though, I have to open them, because you see, the stories inside are even more whimsical than their envelopes. After reading the first few sentences, the sharp edges of these modern times dissolve, and a landscape unfolds from a world existing parallel to this one; a world that seems ever so close and faraway at the same time~just East of the Sun and West of the Moon. And, once you begin to turn these pages, there is no going back.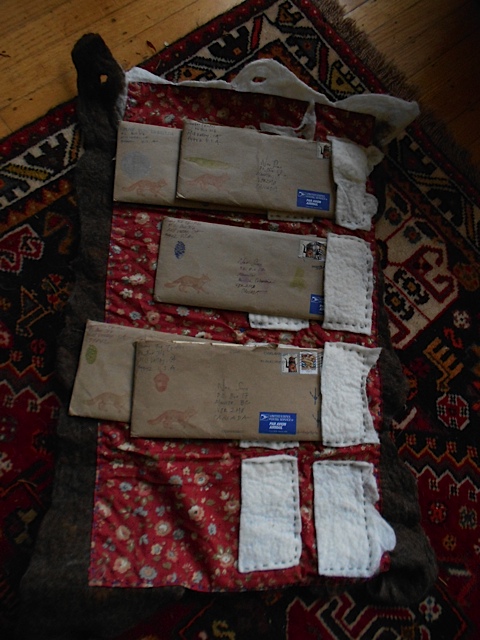 Sylvia, is a true teller of tales. She weaves whimsy with wildness in a way that can only be described as a kind of fairytale alchemy.  She re-writes old fairytales from around the world, setting them in North America, in places she has been and walked and explored and loved. All of her stories are rich with the ecology of the land that inspires her, with the plants that grow there and the animals that live there. Every page is alive with folklore and myth and magic, you can smell the woodsmoke from around her campsites, and taste the blackberries from the Meadow Beyond The Meadow (one my favorite tales written by Sylvia).  And so, all of this is to say, that when Sylvia wrote to me in high summer (when I was shelling baskets full of peas and braiding plaits of garlic and catching swarms of bees) to say that she was hoping to write a story about bees, and,"What did I think about her coming to Honey Grove in the autumn to get closer to bees and to write?"  Well, I simply said, "YES!  Do! Come!" And again, I found myself riding that same wave of forward momentum, following a feeling that was rising up from my belly through to my heart, causing my head to nod accordingly. The rest, as they say, is history.  For Sylvia did come, and she did spend time with the bees, and, she did write!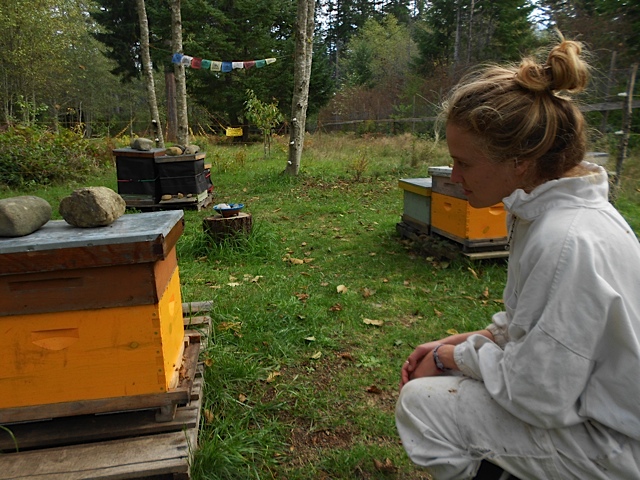 In fact, in just two short weeks there will be another fairytale arriving in my letter box, and this time, it will feature bees! I cannot think of anything that I might like to read more than this, a story steeped in the myth and mystery of honeybees, a story that takes place in the landscape of my homeland, of Honey Grove and the wild places and spaces that surround us here.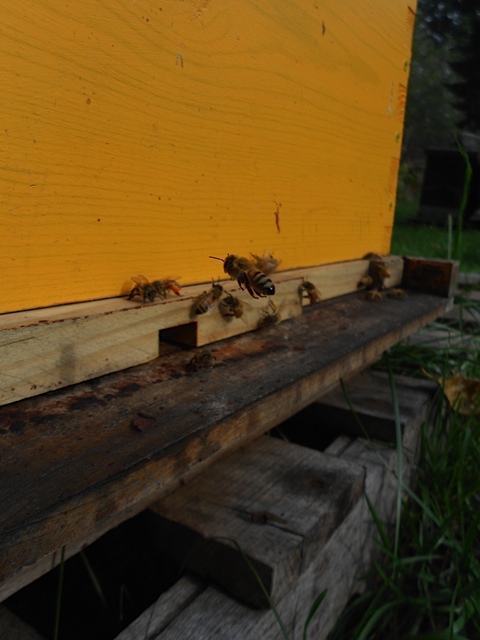 Whilst Sylvia visited, she spent the days gathering threads for the tale she was weaving. Sometimes she worked along side me ( bless her for that, for her help was greatly appreciated) planting hundreds of baby clover seedlings in the lower field, and wrapping the beehives for winter. Other times we explored the forest together, along with Gus, in layers of skirts, collecting baskets of moss and pine cones.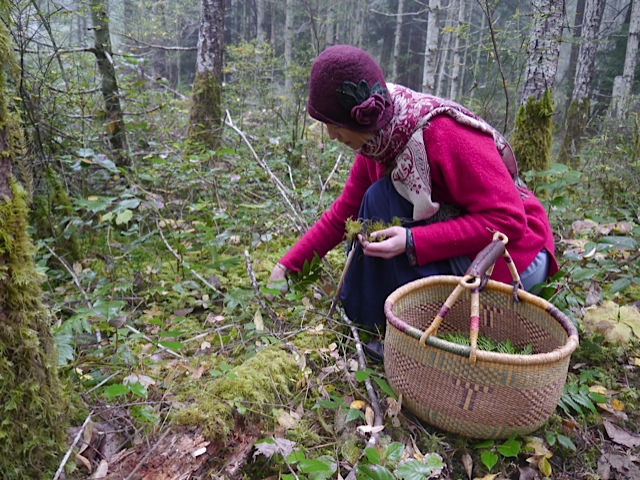 Wearing red coats so that we might be visible to nearby hunters.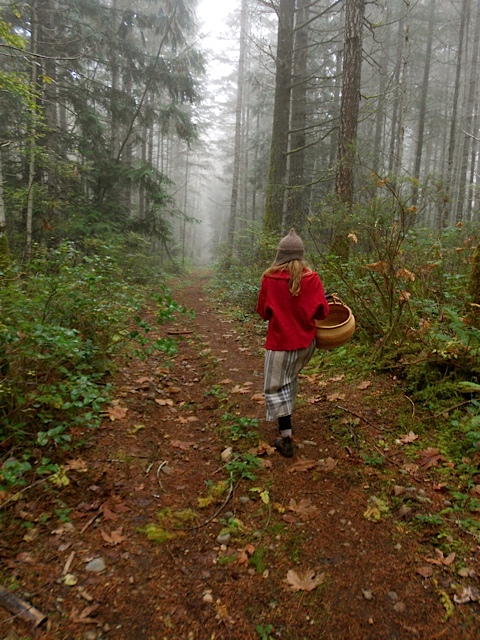 One afternoon we spent hiking in the alpine. We drove up into the mountains west of Honey Grove, high up above the fog we went, to the golden landscape of alpine meadows, glowing rust colored in the fall.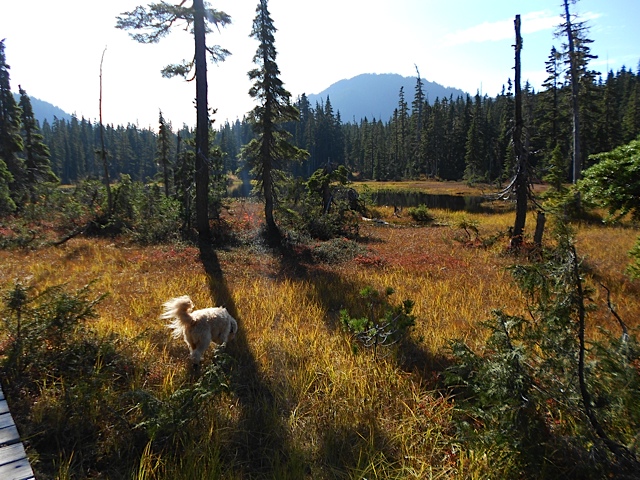 For those of you who come to stay at Honey Grove, this mountain that I speak of  is very close by, and in the winter months you can be skiing or snow-shoeing within the hour. From cottage doorstep to mountain peak is a 30 minute drive. And while we walked, we talked of the things that inspire us, of the things that open our hearts and break them too. We had strong sweet tea and banana bread on a sloping stone, beside a looking glass lake. Mark took a nap there and Gus glistened in the sun, like a white dragon, or so it seemed, to these fairytale wanderers.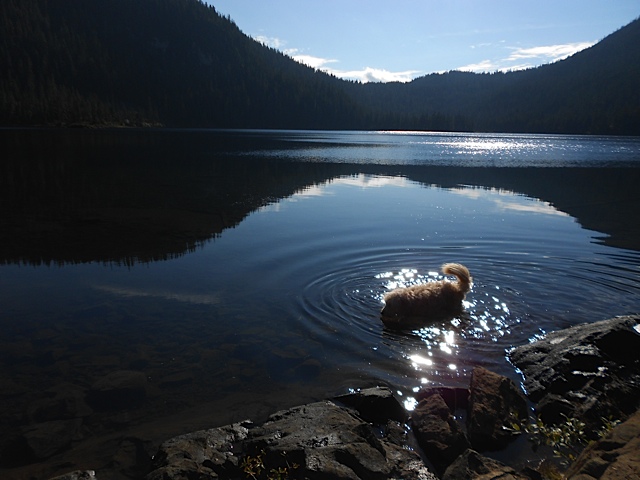 Yes, it was a magic infused week in Sylvia's whimsical company, we have indeed met a true kindred spirit, and we are all looking forward to many more years of long wooded walks and heartfelt conversations.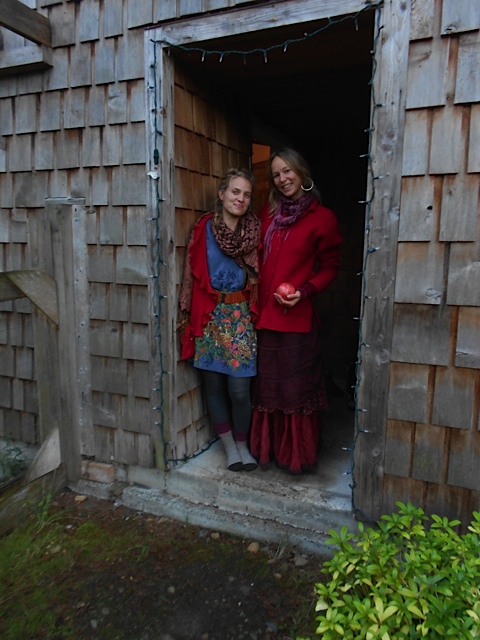 Otherwise, if you are a lover of stories, if you are enchanted by landscapes of otherness as I am, I cannot encourage you enough to wander over to Sylvia's online home, here and here to learn more about her work, I promise you, you will not be disappointed. These stories are also for sale in our farmshop, available for guests who want to sip sweet honeyed tea, curl up under a warm blanket, and settle in for a magical adventure. Of course, you might be wondering what else we have been doing other than reading stories and taking leisurely strolls in the mountains. Well, I can assure you, a lot! Mark has been working hard on his oven, which now looks like this!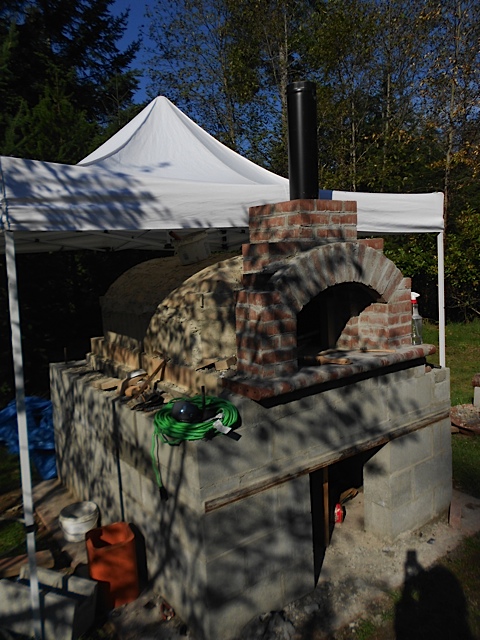 And I have been sewing wool pillows for beehives, to keep the heat in during the damp dark winter months.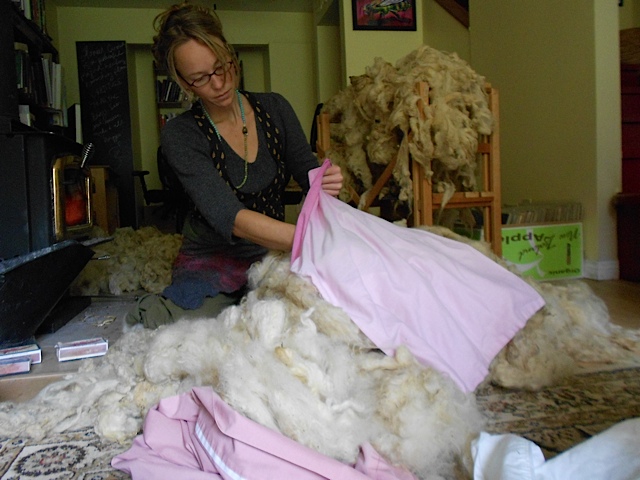 Which end up looking like this when they are complete, and then they fit in between the inner cover and the lid of the hive, before the whole hive gets wrapped in black tar paper.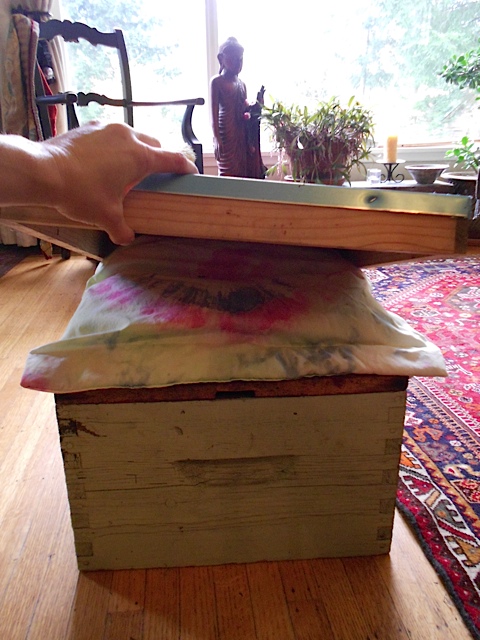 I am happy to report that the bees are all wrapped up and tucked in for winter now, which is a good thing, given that there are such a lot of other things to be getting on with.  Thanks to our marvelous student helper Alexia, the garlic has been planted.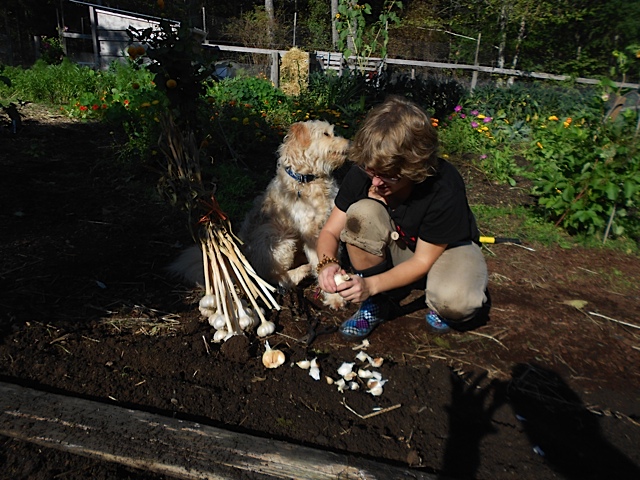 And the apples picked.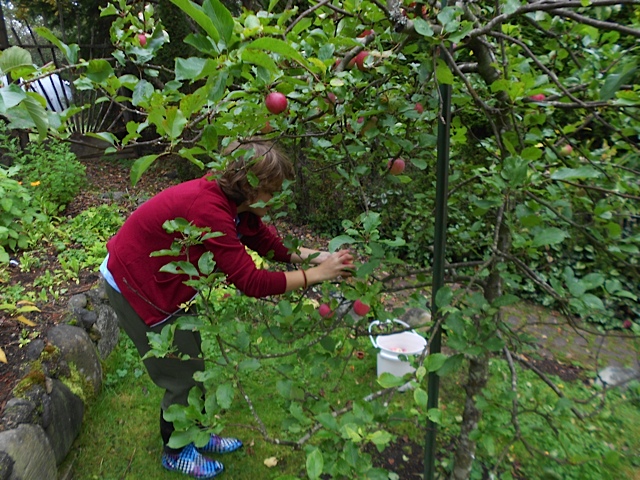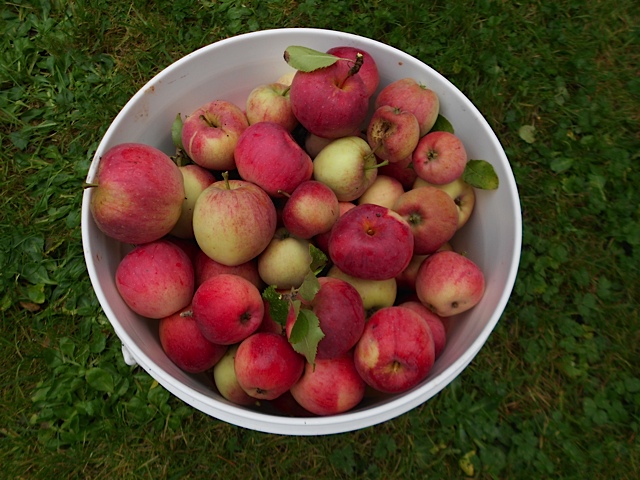 And half a trailer of aged organic steer manure has been dug into the veg plot. Alexia has been such a blessing here at Honey Grove, I cannot thank her enough for her hard working hands and deep love of the earth. With her wonderful help, we have been able to keep the winter garden tidy and tended.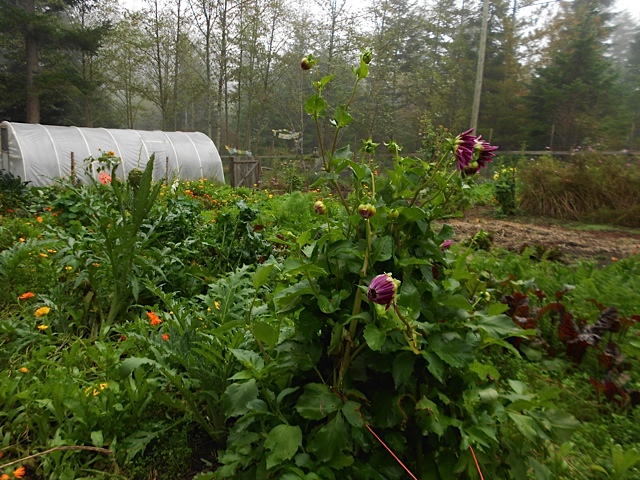 Much of it steeping in compost, awaiting the spring. Speaking of spring, I am still saving seeds over here, one of my favorite tasks.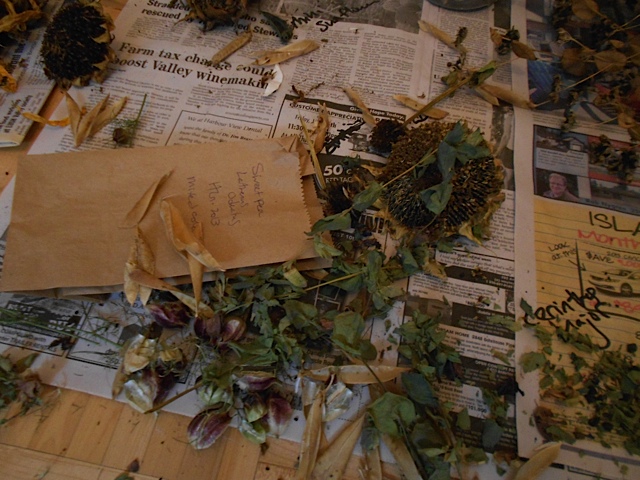 There are few things in this world that I enjoy more than putting little pods of pure potential into brown envelopes for next year's planting. If ever you are in doubt that magic is afoot, I recommend considering a seed and the miraculous invisible mystery contained within it's tinyness, that causes it to grow a stem and then a flower and then a fruit…filled with more seeds… ( it works for me every time)
And while we are on the topic of growing, look at Arabella's babies now!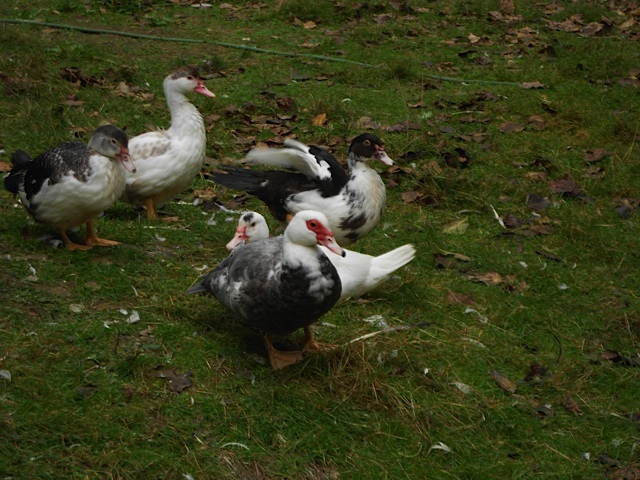 And there you have it, another chapter in the story of Honey Grove.  May it find you in the midst of a magical day, doing something you love. Let there be a cup of sweet honey tea in your very near future and dear friend to share it with.
Blessings from the Honey Grove Hearth~ From the woodlands edge, where eagles sit in fir trees and spiders make webs between thistle stems.
Nao, Mark, Gus and All at Honey Grove.