Oh where to begin? How to catch you up on the unfoldings here at Honey Grove? Let me just say this, that if a poet can be ravished by the muse, than I think it is fair to say, that the farmer can be ravished by the harvest. For when the harvest doth come, it doth come, and there is nothing else in all the universe that exists ( or so it would seem). There is gratitude that threatens to tear you open, and enough work to keep you up for days on end. There is pleasure, and joy, and happiness, and there is oh so much to do. Yes, the bounty rolls in like a tidal-wave, and your only hope is hop on that wave and to start riding it to the shore of winter, and this, this is just what we have been doing this past month. Lucky for us, our beautiful friend Miss Jaime Kowal (who just happens to be a talented photographer) stopped by with her camera this week, and she was able to photograph this tidal-wave of harvest. And so, if you have wondered why we have not been answering our phone, look no further than the beet patch…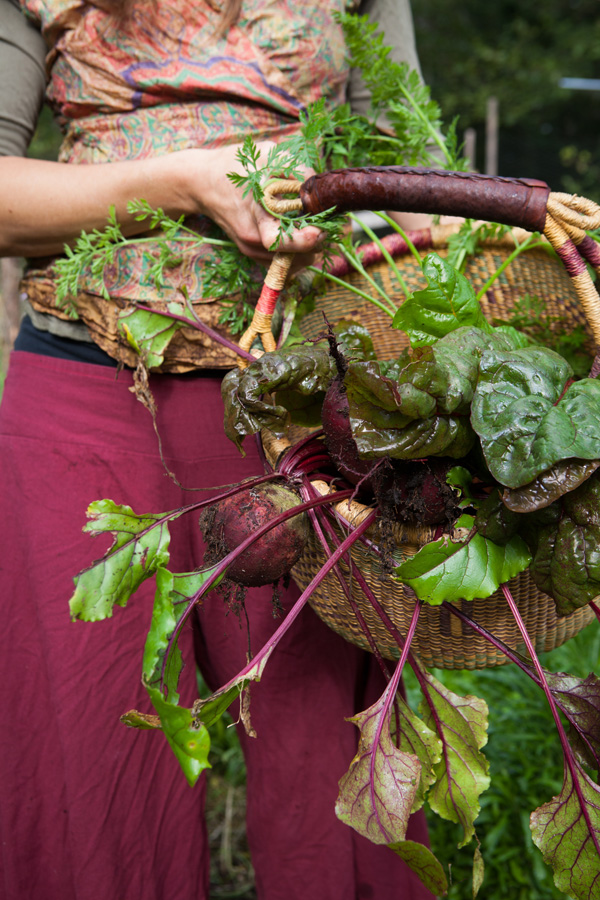 Photo by Jaime Kowal
Or the poly tunnel… (where we are harvesting our third lot of tomatoes).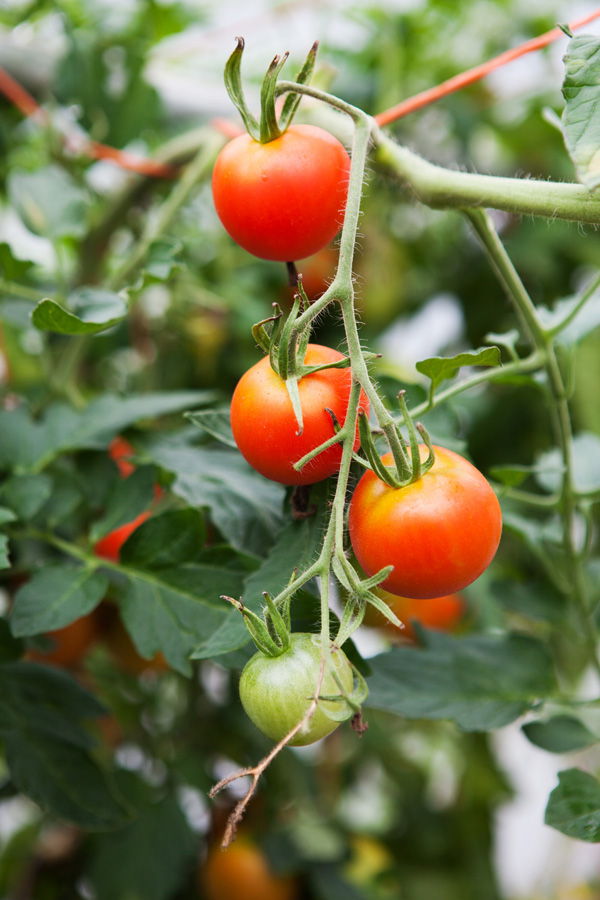 Photo my Jaime Kowal
Or the cabbage patch, where you will find me lovingly lopping perfect heads with inspired ideas for fermentation, my own head full of memories that smell of Oma's root-celler, filled with crocks of saurekraut.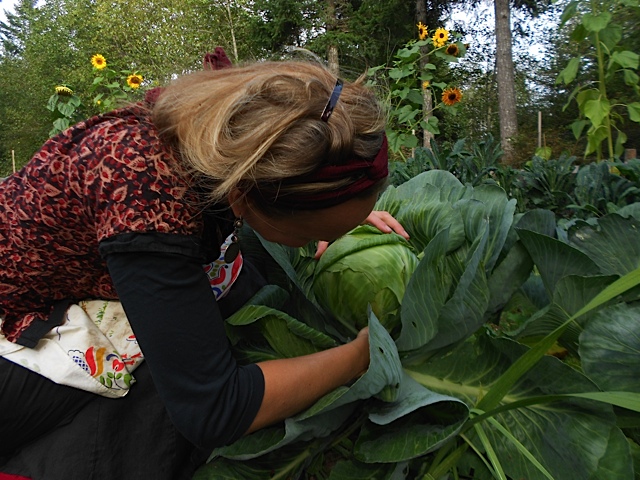 And if you can't find us in any of these places, then surely you will find us in the kitchen, where we might be canning tomatoes…again.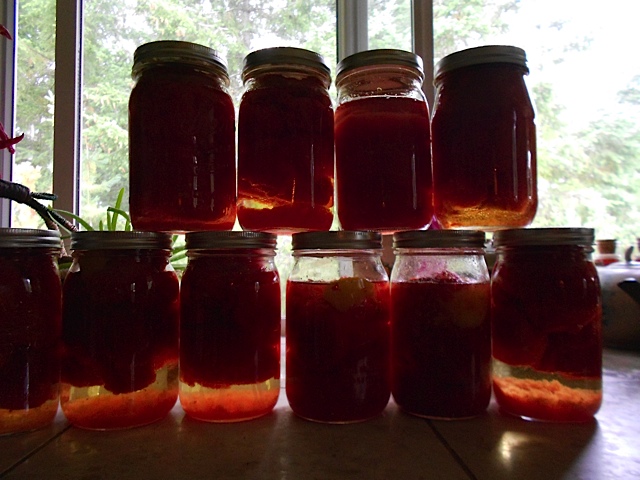 Or, making sauerkraut with the help of a dear friend (for there is nothing like the crunch of cabbage under your hands whilst sharing love stories).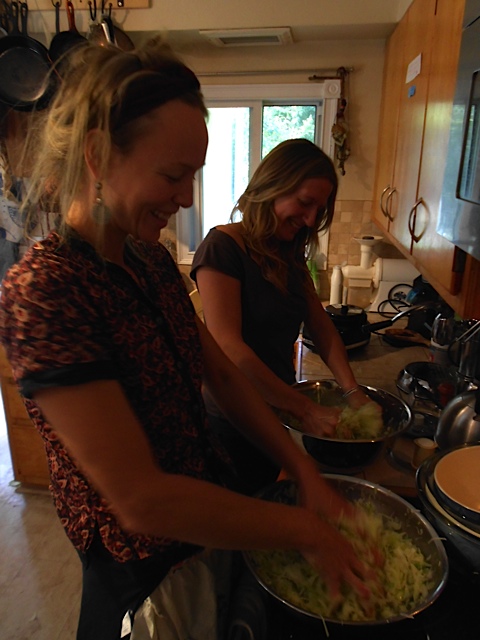 Or, it might be pear marmalade that is simmering on the stovetop (with ginger and citrus being added, and a spoonful of  winter imaginings in which I pair pear marmalade with goat cheese and Mark's homemade crostinis).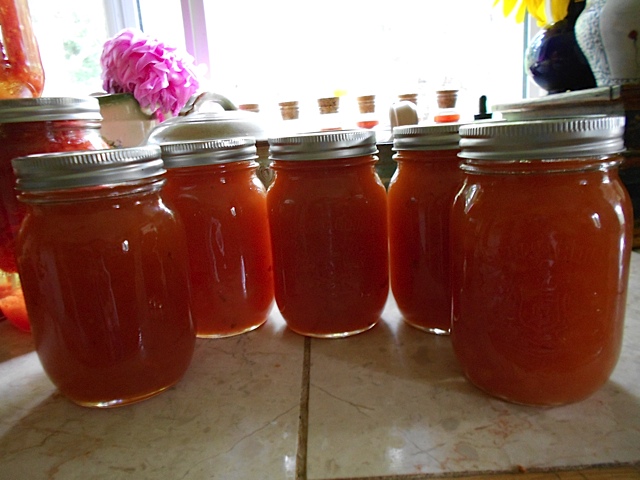 And, if I have left the kitchen, it will not be for long. It might be that I have just popped back to the garden to get the last of our cucumbers for lunch.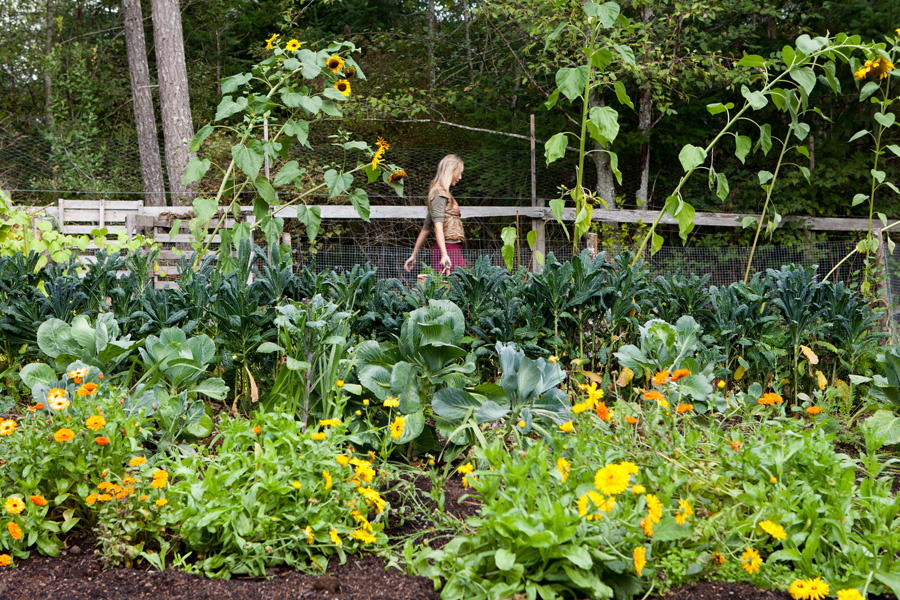 Photo by Jaime Kowal
As for Gus, he helps in whatever way he can.  Mostly, it is moral support that he offers, just the right amount of cheering-on and heartfelt-encouragement to support any task.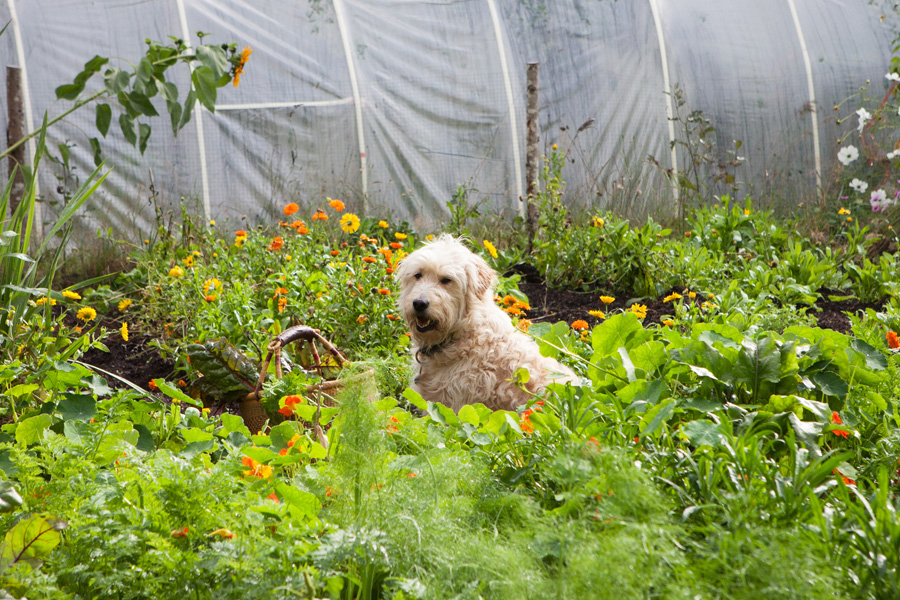 Photo By Jaime Kowal
And Mark, where is he you ask? Well, he can still be found working hard on his oven, mixing mortar, stacking stones and pouring over scribbled notes with lots of mathematical equations, and an expression upon his face, that leads one to beleive he is thinking.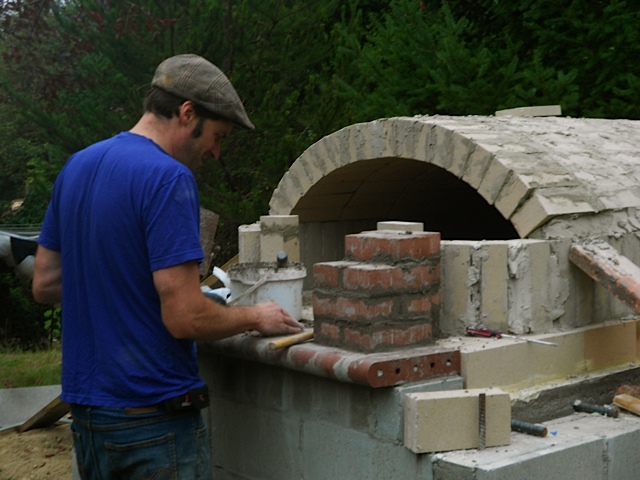 Yes, Mark is trying hard to complete his oven before the weather turns and winter knocks upon our door.  Speaking of winter, it was about two weeks ago, when it suddenly occurred to us, that we better get our firewood in before the rains come. We had over three cords of wood piled high around the property, drying in the summer sun. Lucky for us, we've got some good friends (and a lovely student helper named Alexia, who, bless her, comes to help us out on weekends). So, yes, help arrived and wood was split,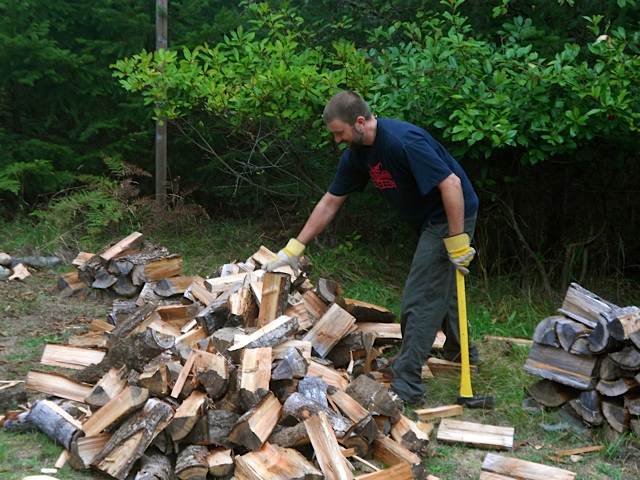 and moved and stacked, and a good amount of fun was had too.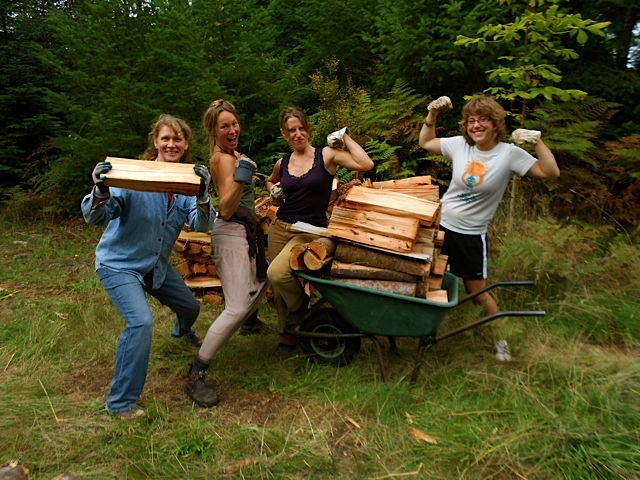 Thank you so much, to everyone who helped, because, when the thunderstorm rolled in the very next day, and our cozy fire was lit, the happiness was palpable. Otherwise, we are endevouring to remember to see the humour, the deep down hilarity that the rises up out of these hard-working Honey Grove days. For whenever we are taking life too seriously, something comes along to snap us out of it.  This week, it was Mark's "photo-shoot humour" that brought  me to my knees in a fit of unstoppable laughter, as we re-enacted Adam and Eve in our winter vegetable garden, trying to look natural for the camera, one chard leaf at a time, ha!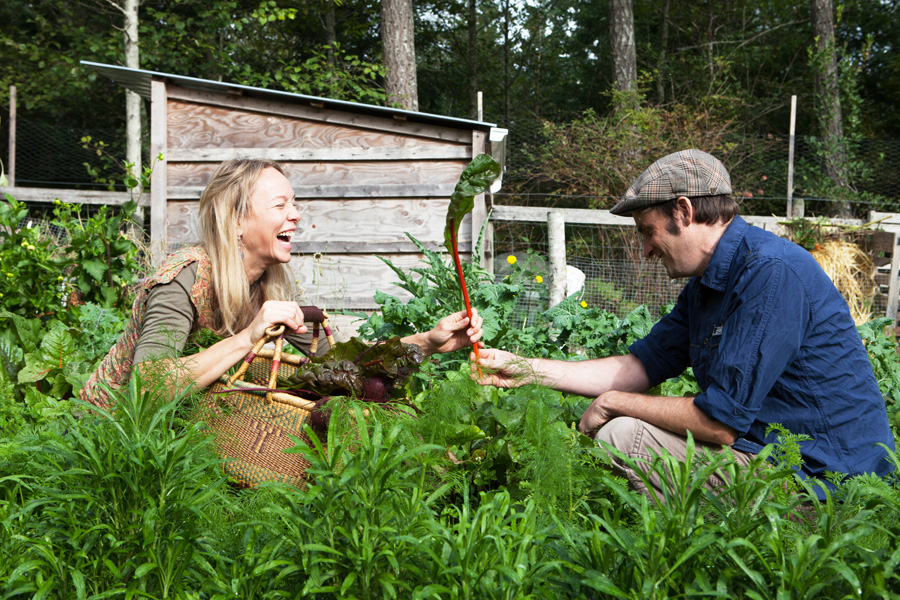 Photo by Jaime Kowal
Sending Harvest Blessings with a good dollop of Hilarity,
Nao and Mark and Gus and all at Honey Grove~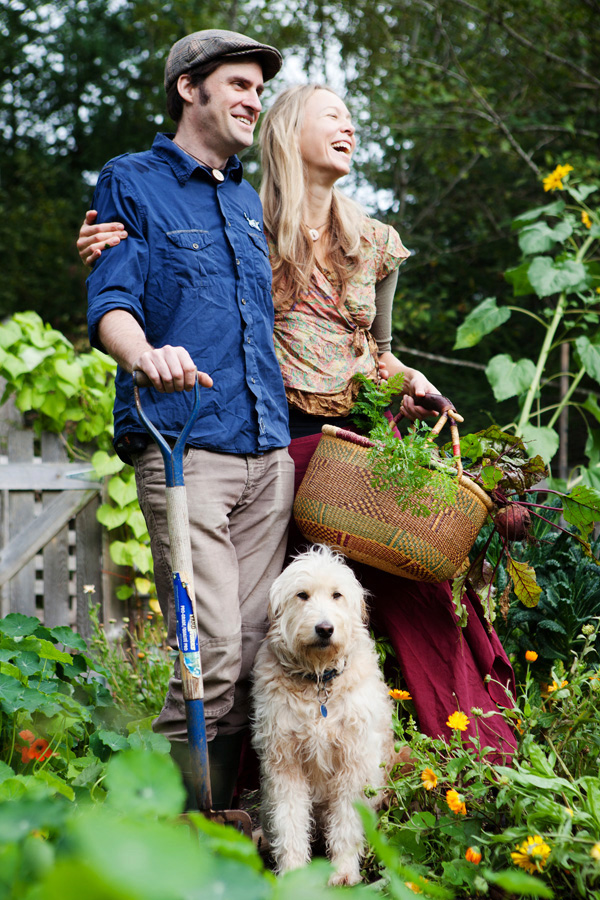 Photo by Jaime Kowal