It is a wonder, the philosophical ponderings that arise, whilst bent over in a patch of garden; the things one contemplates and turns over in mind, while spade is turning earth, while hands are picking petals.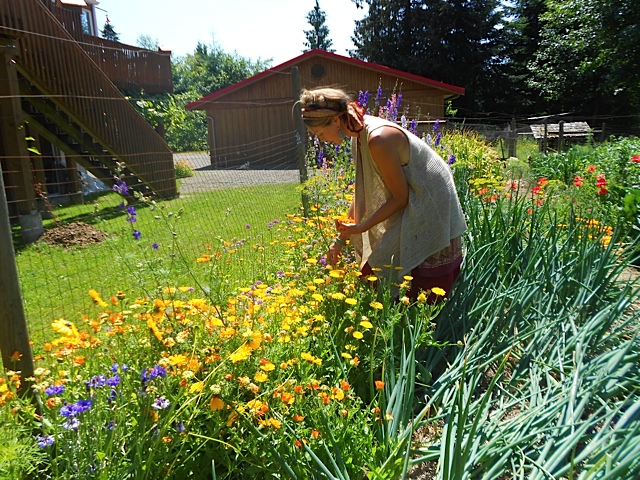 (Calendula petals for salves and teas).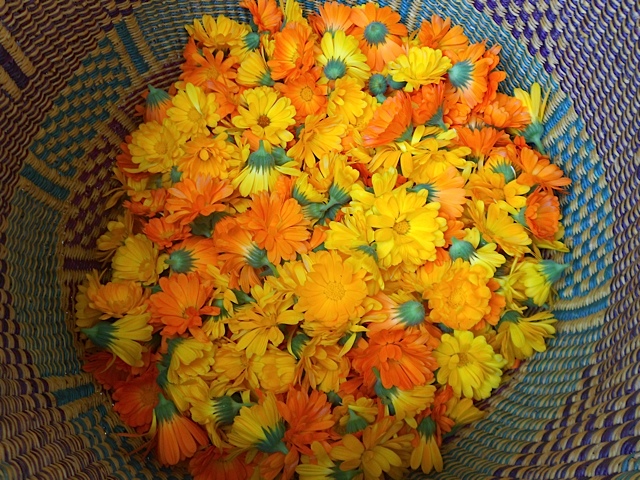 I sometimes think that my best ideas are born in the garden, as the earth gives birth to all things, she also gives birth to me, and yet such poetry is also a paradox. For just as the garden stimulates my mind, she also dissolves it. The ideas come, and then they go, arising and dissolving almost simultaneously. No sooner has a thought arisen, than it is dissolved by the smell of sweet peas.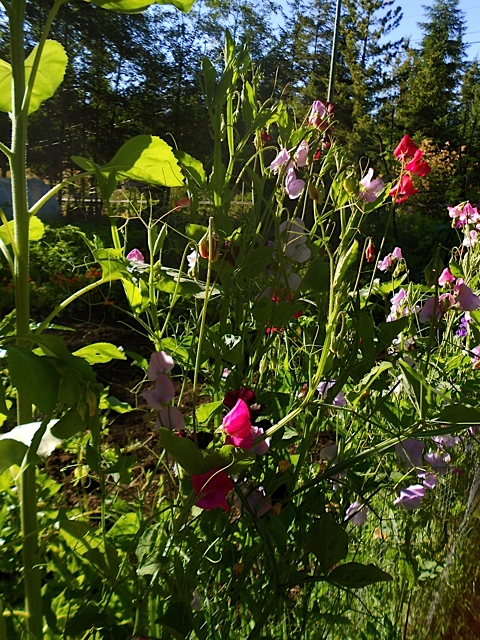 Or the feel of damp earth between toes, or the cool long shape of a cucumber under hand, or the hum of a honeybee coaxing the nectar from a calendula flower.
Gone
Gone
Gone
Sometimes, when they go, I call out for them, " Oh do come back," I beg them, "pleeeeaase," and I reach for those ideas with a kind of fervent desperation. I want to put my earth caked hands around them and hold on tight. Sometimes, I search for a pen, a scrap of  bark, anything to write on, to capture the vision before it flys away. But alas, even before I reach, I know that it is already too late; the idea plucked out of the sky of mind, like a fat and perfect cherry on a faraway branch, swallowed by a robin on his way by. And then, I am left there, ravaged by a passing inspiration, holding onto spade with earth-stained-hands… and it is back to turning soil, just through the garden gate.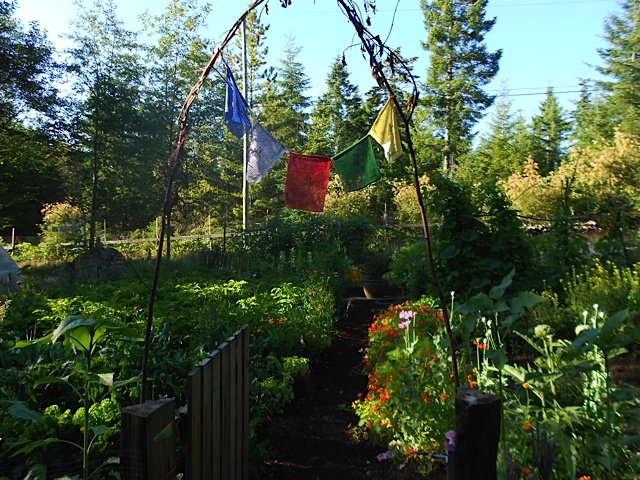 But sometimes (at random and unpredictable intervals) something else happens, and in these moments, I simply watch the marvelous pattern of ideas coming and going, arising and dissolving all at once, and this in itself is an exquisite experience. When this happens, I just keep digging, or picking peas, or sowing seeds. All the while, I am nothing more than a witness to myself, to my wild mind and my blessed garden, just noticing the present moment, from a comfortable seat in the chair of paradox.
Of course, beyond this, there is also my human urge to categorize my experience, to say "this experience is better than that one, and it means this about who I am…"  T'is a good thing, that a few nights ago, I read a glorious sentence that got right inside me and soothed this human urge. I found it in Wendy Johnson's marvelous book, Gardening at the Dragon's Gate, and it went like this: "Open your mind so wide it includes your thoughts, your wish not to be thinking so much."  And well, I have to tell you, that was like a poultice for me, it was a cool gentle salve for my hot inspired mind, and for a moment at least, everything was perfect. For, how can it not be perfect when there are bowls of cherries to be eaten (the robins did leave some for us).
Or should I say buckets.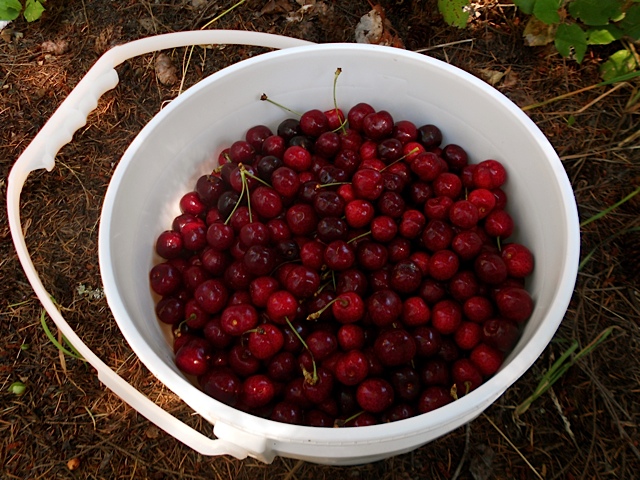 Which Mark has been canning, almost as fast as I can pick them.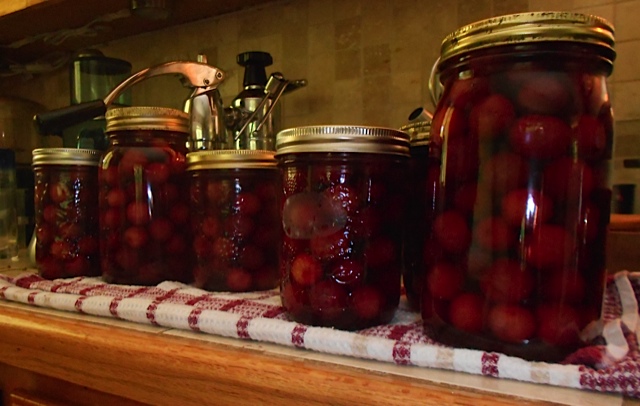 And while he is in the kitchen sweetening cherries with honey, I find my way up into the arms of our bountiful cherry tree and I hold onto it's smooth branches with my long bird toes (half the garden under my toenails! )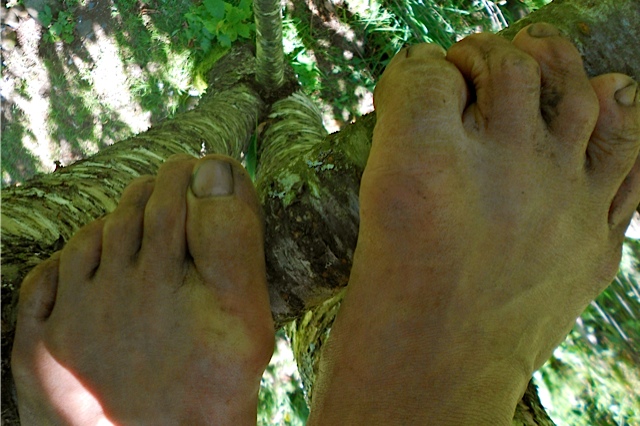 And, from here, I reach for those ripe red orbs, one for the bucket, one for me and on it goes…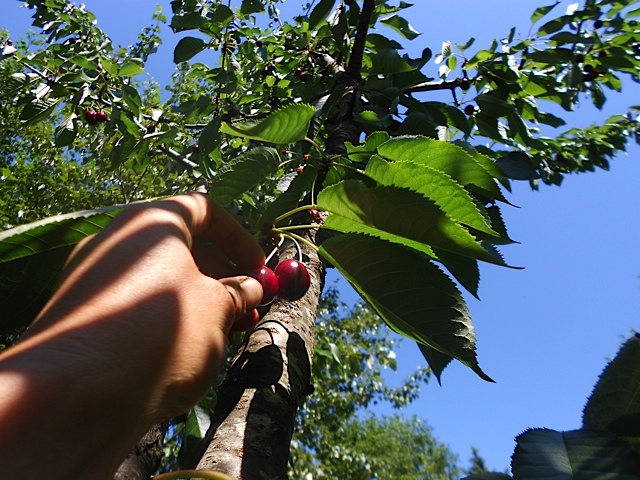 Precariously perched above the duck pond, peering down through green leaves, to see Emmet our handsome white drake cheering me on from down below.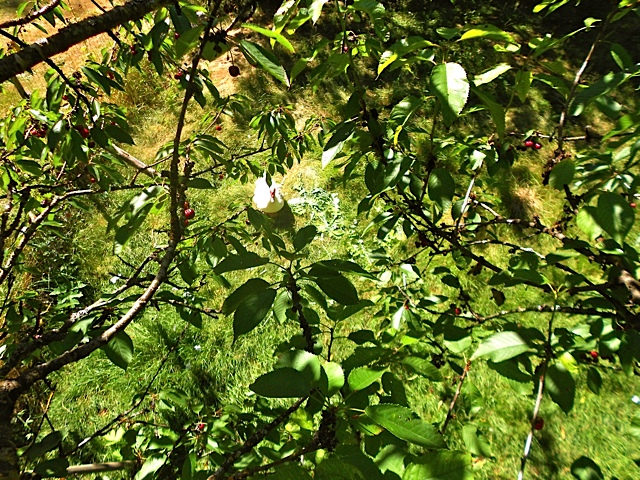 Yes, the Honey Grove Harvest has officially begun, and we are as busy as our bees these days gathering the sweetness of this season.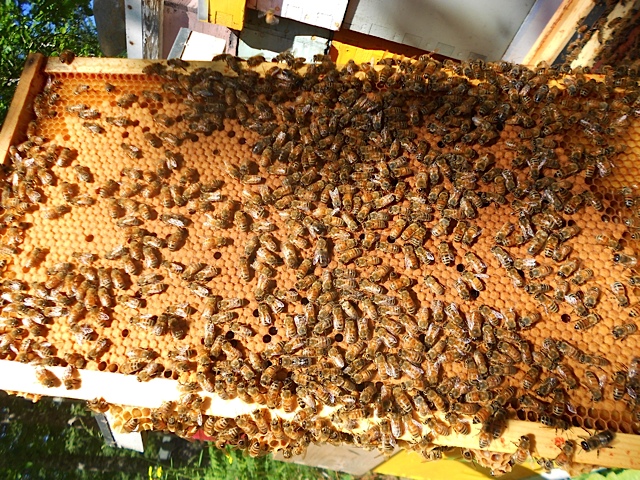 There is a feast to be hand in every direction. The veg plot is over-flowing with goodness and we are enjoying every leaf and root, with the greatest of gratitude.
Each vegetable deserving it's own private celebration. I could write an ode to every carrot I pull and crunch.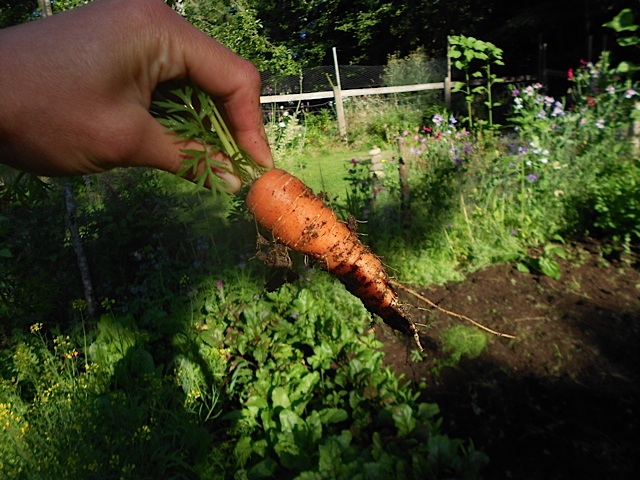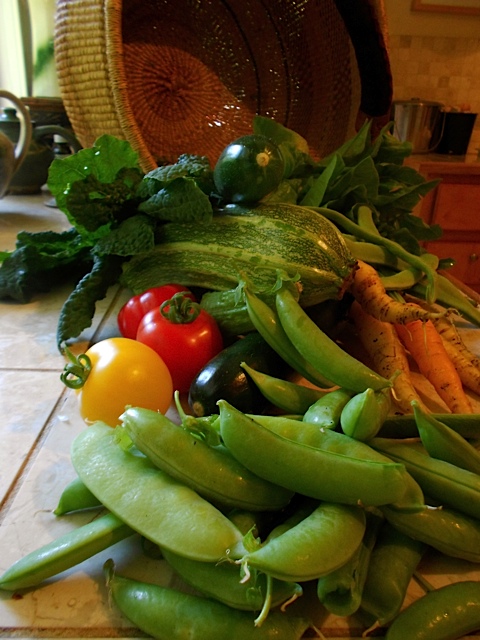 Garlic too is being harvested and braided.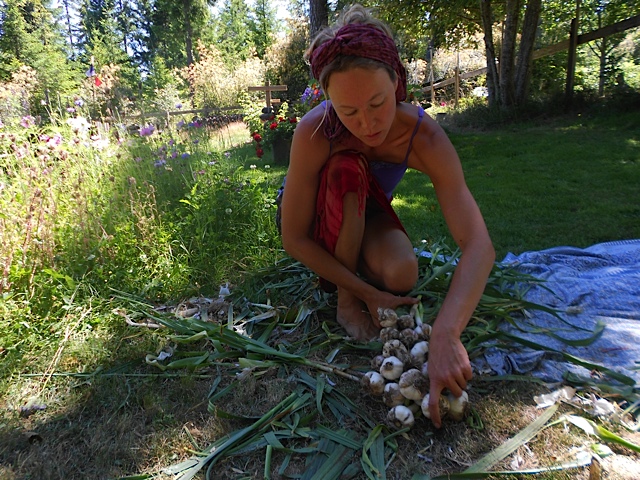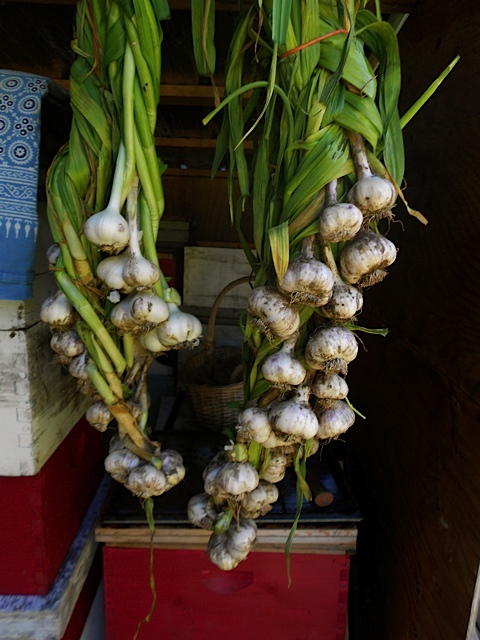 And while the garlic is drying, Mark is still brewing…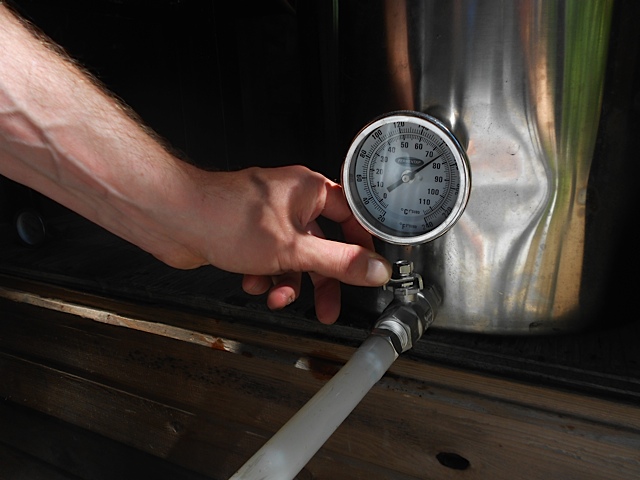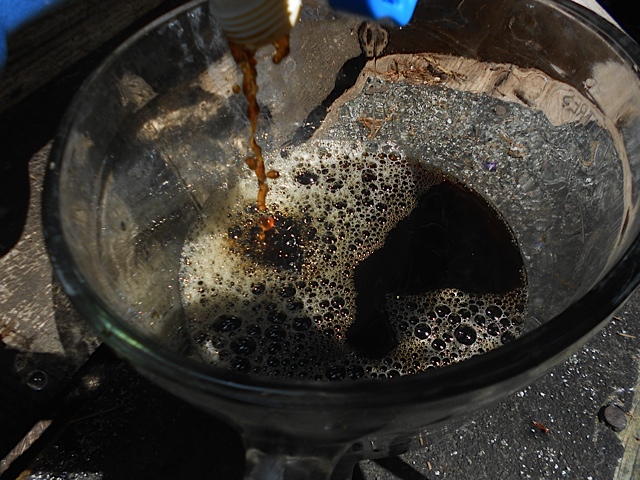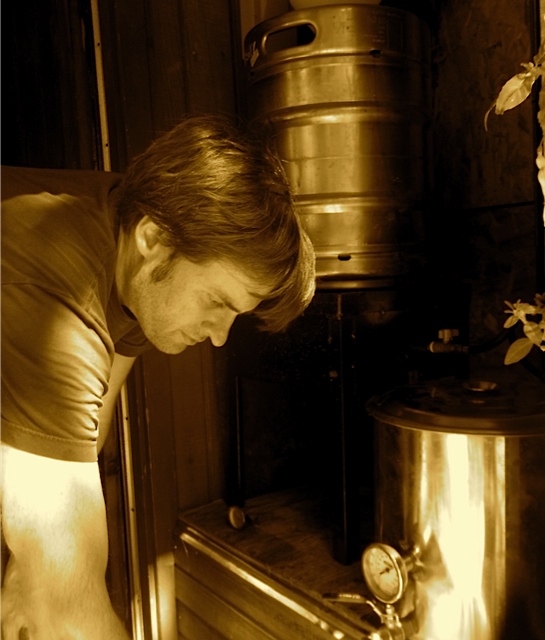 Because, on these sunny summer days, you have to have cold brews to offer dear friends when they come to play their music round your campfire. And you must also enjoy the fruits of your own labour. (These are the laws of brewing, or so I am told.)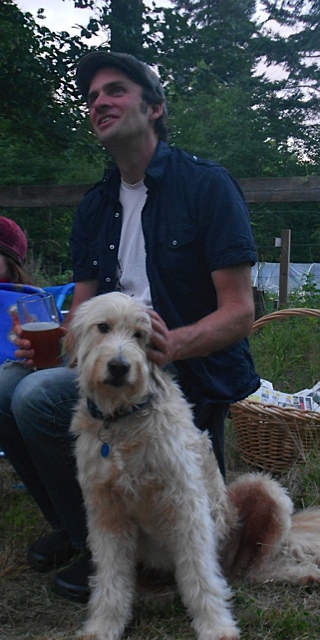 Yes, there is such a lot of goodness here on Honey Grove, there is nothing to do but give thanks, to get down on our knees and feel the gratitude that comes for this bounty. But you cannot linger there too long, for there is work to be done. Eh eh. And so, until next time, I bid you farewell, from in between the blooms, under a wide-brimmed- straw-hat, adrift in the poetry of paradox.
Summery Blessings to All,
Nao, Mark and Gus and All at Honey Grove.