If you were to come up the path to Honey Grove today, you would notice that there is a crispness in the air, the sort that turns your breath into mist and urges you to pull your wooly hat down below your ears. The smell is earthen and wet and the webs made by spiders are glistening and dripping. The alder leaves that lay along the forest floor are now offering their musky and resinous perfume to all the passersby, who, with each rubber-boot step unknowingly participate in their decay, crushing and releasing the wild magic of regeneration, of endings and beginnings, of mist cloaked and fire stoked November.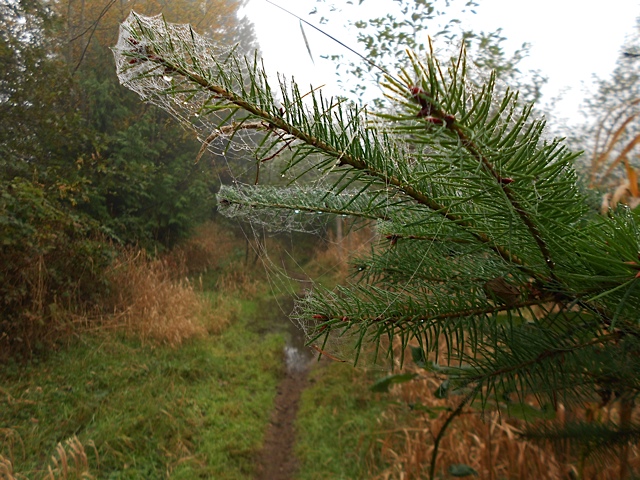 You would notice too that there are puddles to step over, or to splash through, depending on your footwear and your mood (of course if you are Gus, the desire to splash through a puddle is neither dependent on mood or footwear. For him, puddle splashing is always considered to be, a good plan). High above you in the fir trees overhead you would hear the local ravens making sounds that caw and clink and croak, and if you listened for long enough, you might be surprised at the musicality coming from this chorus of shiny black wings. I have hypothesized that it could very well be the raven's song that makes the orange mushroom come up above the ground, if for nothing else than to have a better listen.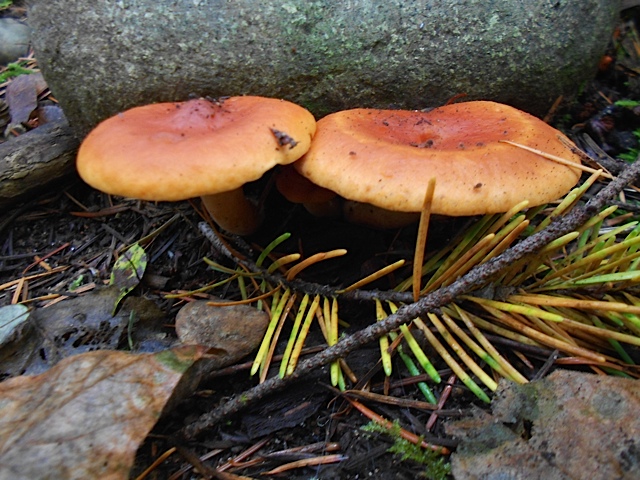 Of course you may not be coming up the path to Honey Grove today, but if you were, these are the things that you would see. You would see that we have planted 10 new blueberry bushes, which the lady at the plant nursery assures me will be laden with berries come next July.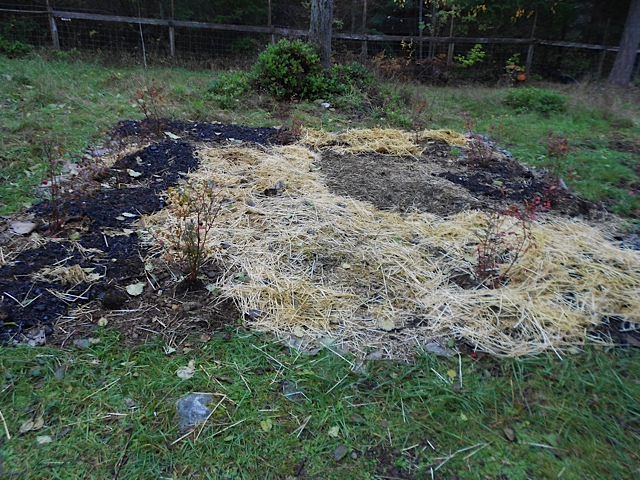 And you woud notice that we have planted them in a circle, because after a while, one gets tired of rows. You may also notice that these fat little bushes have been mulched with straw and fire-ash and something that I can only describe as a kind of prayer (which despite the fact that you cannot see it, remains very present). In the background you will notice a white dog listening for the sound of rabbits hopping through tall grass.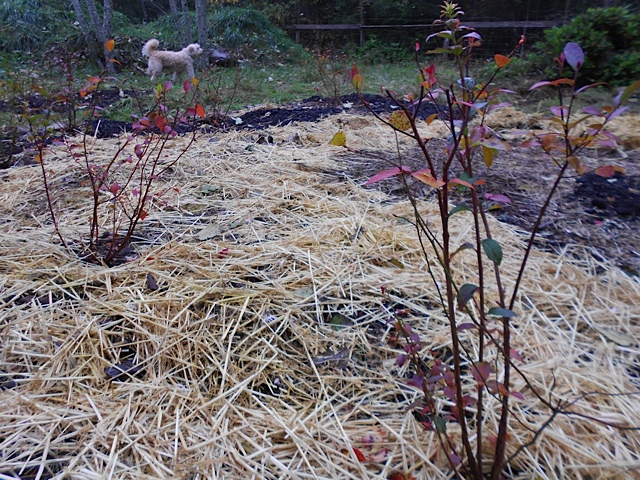 If you were to go past the vegetable garden, you would most likely find me, wearing layers of colourful wool and digging. I could be digging any number of things, it might be compost, or it might be dahlia tubers, or, as was the case yesterday afternoon, gladiola bulbs, which have  now been dug up and stored for winter.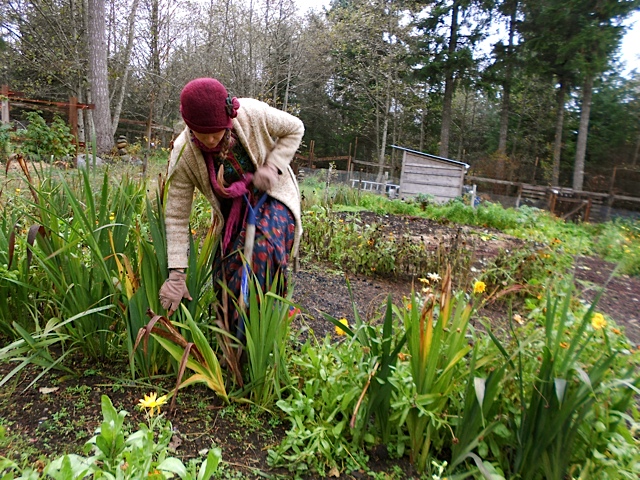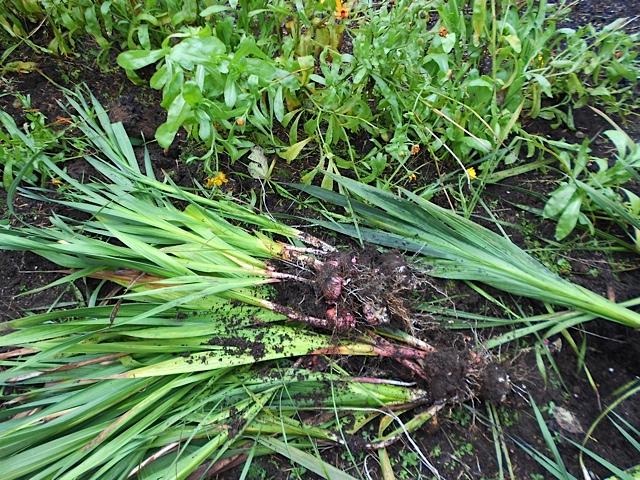 Still though, not all the flowers are resting just yet, some are still very much alive. They are like the last ones to bed after a good night of fine wine and dancing. The ones who gather to philosophize after the music is over and the candles have burnt down to stubs on the table. Some of you will know that there is a glow that comes just before the fade to darkness, and that it is a light like no other.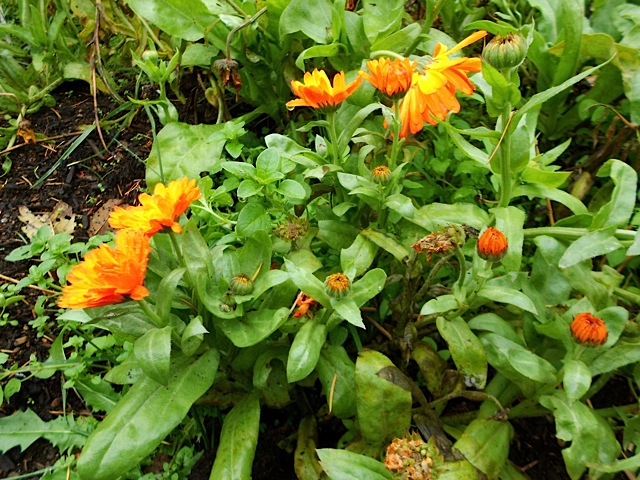 Take this calendula for example, a little disheveled, but illuminated with the spice of a long and lustrous season. It is a bedraggled sort of beauty I will admit, but who can resist (truth be told, bedraggled beauty is my favorite kind).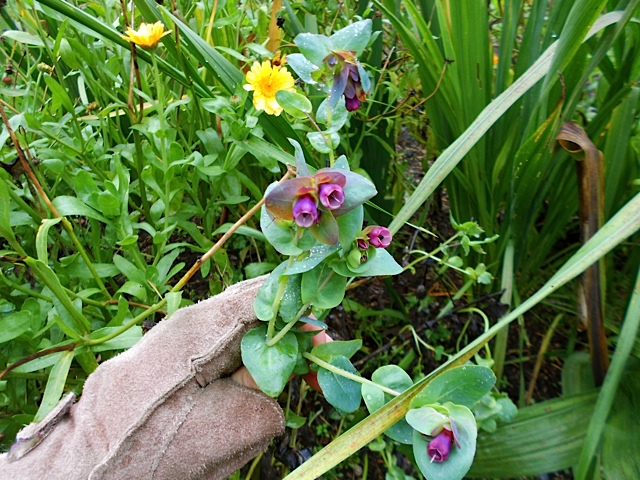 Yes, somehow the ones that go on blooming have a brightness made even brighter against the starkness of the approaching winter.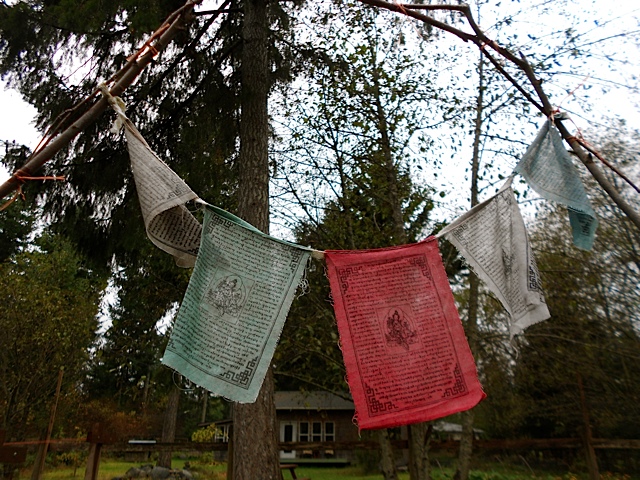 But, despite winters imminent arrival, not all things in the garden are bothered with his coming just yet. In fact some things are positively thriving, like leeks.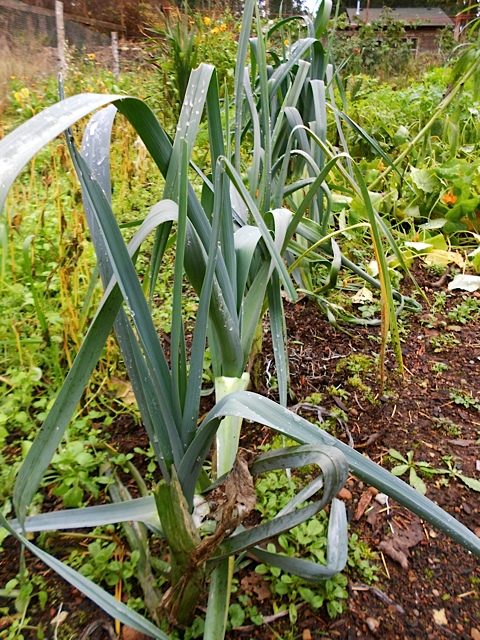 And Kale.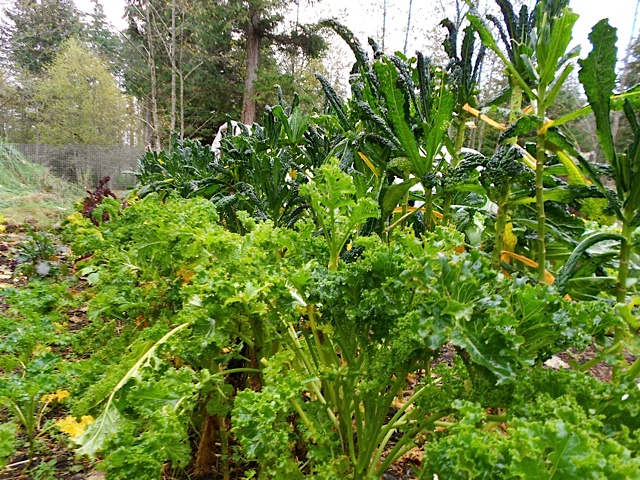 And Chard.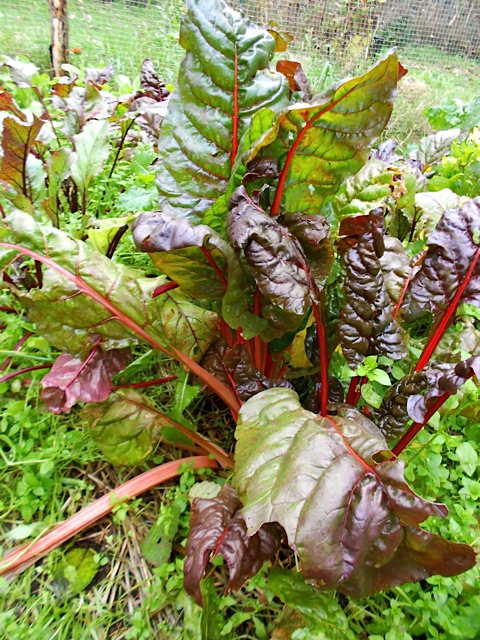 And Beets.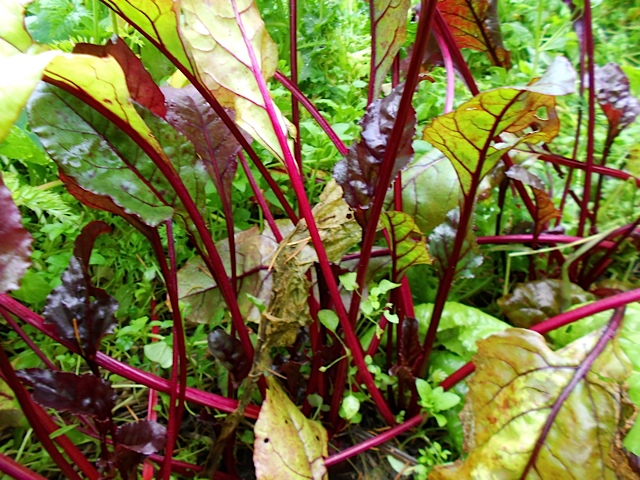 And Cabbage.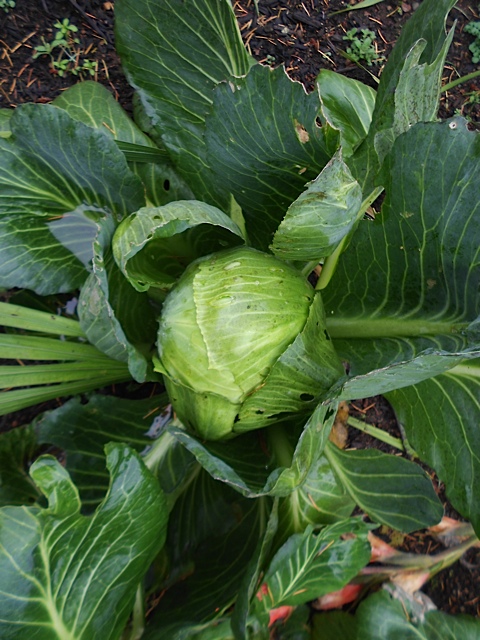 And Winter Greens.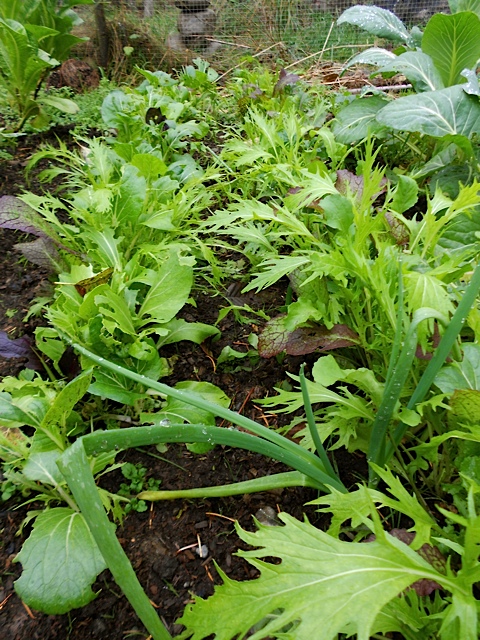 And Fennel Bulbs.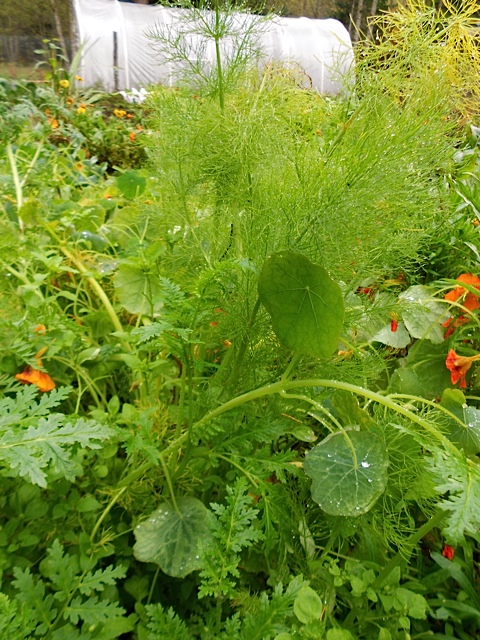 And autumn raspberries. Oh autumn raspberries,why is it that I have not heard of your existance before now? (Thank you Mark's Dad Trevor, for telling us that there even was such a thing!) And, how is it that their sweetness has become even sweeter since the first hard frost we had 3 nights ago? Most days, you will find me here, squatted down by these bushes like a hungry bear, hands covered in dirt and the sweetness of berries on my tongue.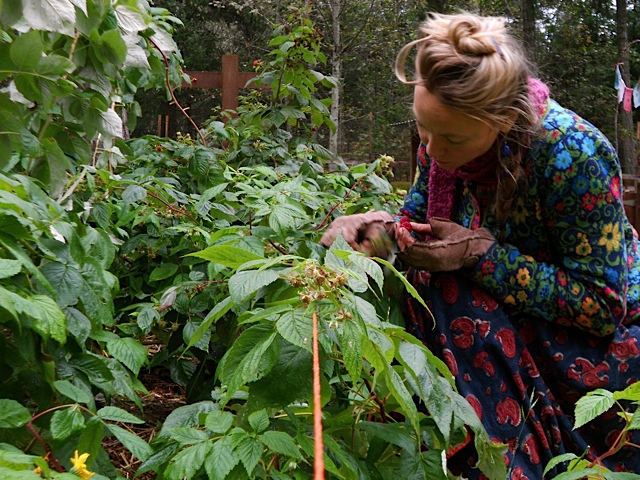 Speaking of sweetness, our blessed bees are all tucked in now. Each hive has been wrapped and insulated and the bees are snuggled up inside. I can see them there warm and dry in my minds eye, enjoying the fruits of their labours, just as we are enjoying ours.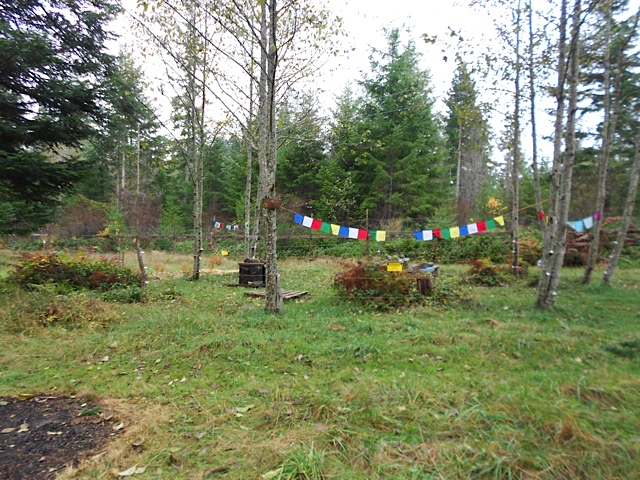 Yesterday, the bees and I spent a marvelous afternoon together. It was that enchanted time of day just before dusk (the in-betwixt time) when all magical things happen. I put on a pink knit hat, an alpaca shawl, a pair of wool socks and a swedish sweater, and I went to sit in the bee yard to read aloud to the bees. To those walking their dogs and riding their horses past the beeyard it must have been rather an odd sight, to see a bundled up woman, with huffed up glasses, reading a story to her beehives, cackling and cooing and grinning away, like a good and proper lunatic. eh eh. You will not be surprised to find out, that the story I chose to read, was the latest tale written by our dear friend Sylvia Linstead (who, bless her, spent a week on Honey Grove last month, writing about bees and all matter of enchantment). And well, if you have not guessed it by now, I do love a good tale, and, I could think of nothing better to offer our beloved bees, than a good-night-story (the best part of any tucking-in as far as I am concerned). I wanted them to have something to dream about this winter, a story to build comb around, a story to wrap them in, like a blanket, all huddled together beneath the whimsy of words carefully crafted, in the honeycomb warmth of one another.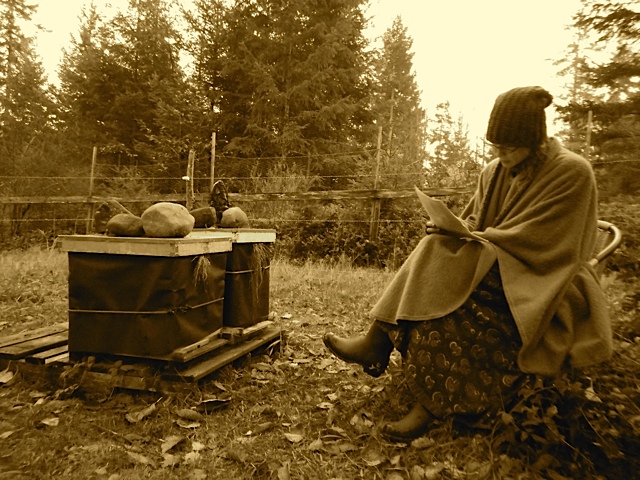 And while I am busy in the garden, or reading to bees in a pink wooly hat, or harvesting kale, Mark is still hard at work on his oven.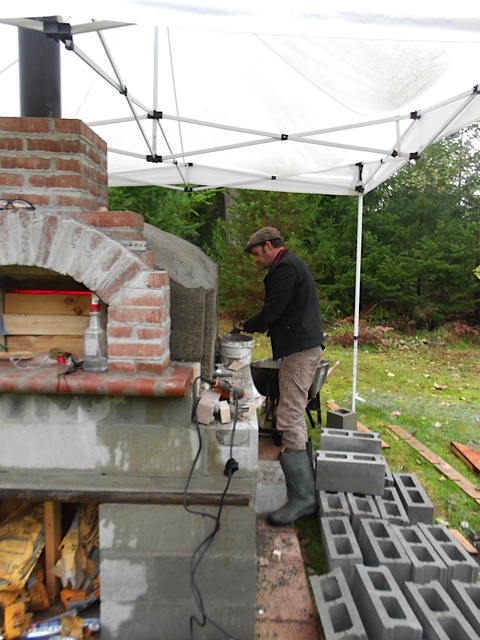 Which now looks like this.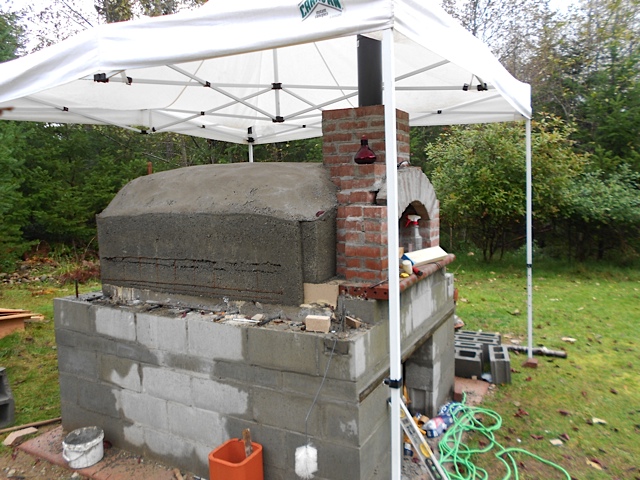 And although there is still a roof to build and another layer of aesthetic cement plaster to smooth over the whole thing, it will be ready to fire in a weeks time!  Mark is positively sparkling with anticipation and who can blame him. It is a marvel of a thing, this oven of his, a feat of engineering fueled by inspiration and dedication and muscle and will. We may not see it complete for another month or two, but we will be enjoying bread within the week. So there you have it.  A little window into Honey Grove, and now I must leave you, for Gus has reminded me it is time for our afternoon walk, time for our adventure through the woods and down the alder lined pathways, where orange mushrooms pop up to listen to the symphony of ravens.  Caw, Clink, Croak.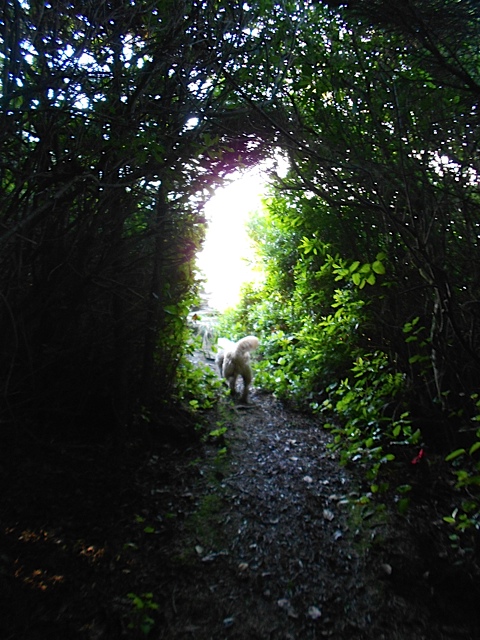 Blessings from the fireside~Nao, Mark, Gus and all at Honey Grove.