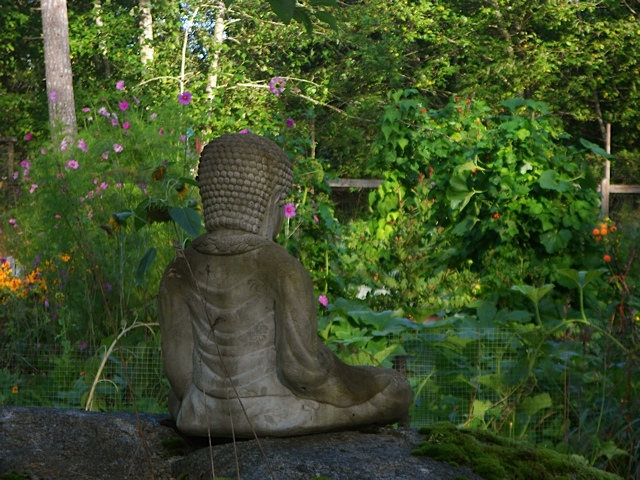 Late summer has been wetter this year than it has in years gone by. For two weeks now, this part of the island has felt more like October than August. Yellow grasses have turned to green again, and I have had to put my bare-foot-summer-feet back into my rubber boots. Pots of beet borscht have been simmering on the stovetop, and we have switched from iced-herbal-teas, back to hot-steaming-milky-ones.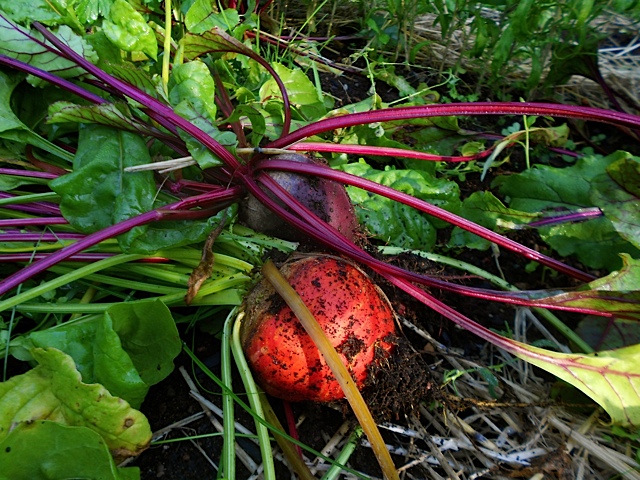 But perhaps the oddest of things to report (since the rains have begun) is the rapping on our backdoor, that occurs every night at about eight o'clock. The knocker is not the sort of visitor one might expect, not the friendly face of a neighbor looking to borrow an egg, or a dear friend stopping by for tea, no, nothing like that. Instead, what we find when we open our door, is a number of shiny, somewhat spotted, medium sized frogs, always more than two, often up to 5 or 6.  So far, we are not entirely sure what it is they want with us, or our door. I have for some time speculated that Honey Grove is a portal into the Fairie world, and if this be true, than surely these frogs are really princes who have been turned into frogs by the Faerie Queen. I am convinced that they have simply mistaken our house for her palace, in hope that she might turn them back again. But as I said, we don't really know for sure. Mark thinks they may have mistaken me for a princess, which has also lead him to believe that their eyesight is very bad, given the state of my dirt stained hands and my bedraggled farm girl attire.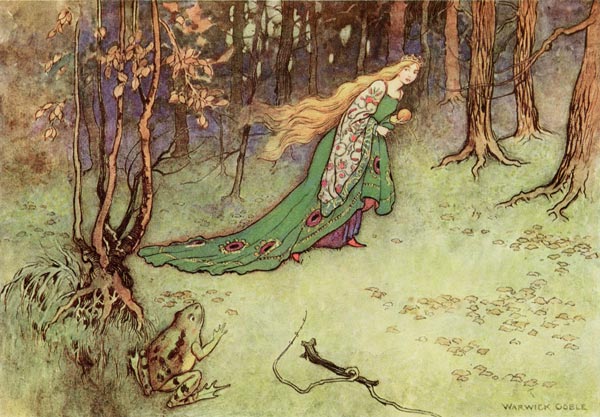 What we do know is that we are ready for the sun to show itself again.  The rains have indeed been a blessing for the recently parched earth, and over the past 10 days she has received a much needed drink, but now, it seems that she hath drunk her fill, and the ground beneath our rubber-boot-feet is saturated with the rains that have fallen,
and fallen,
and fallen.
Inadvertently, knocking down our 15 foot sunflowers and tipping cosmos that once reached up into the clouds…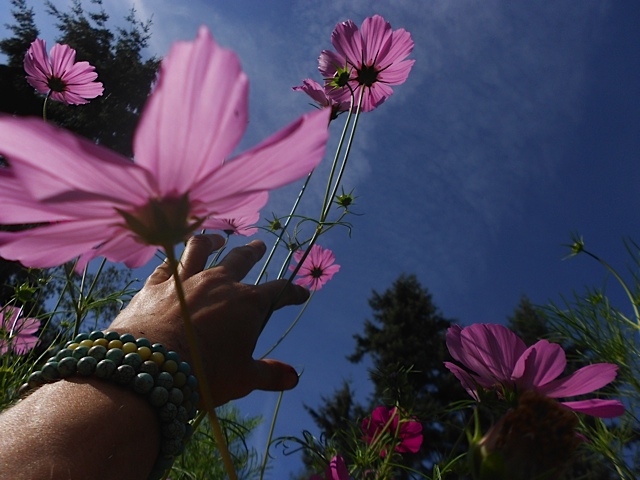 to turn their petaled pinkness face down toward the earth.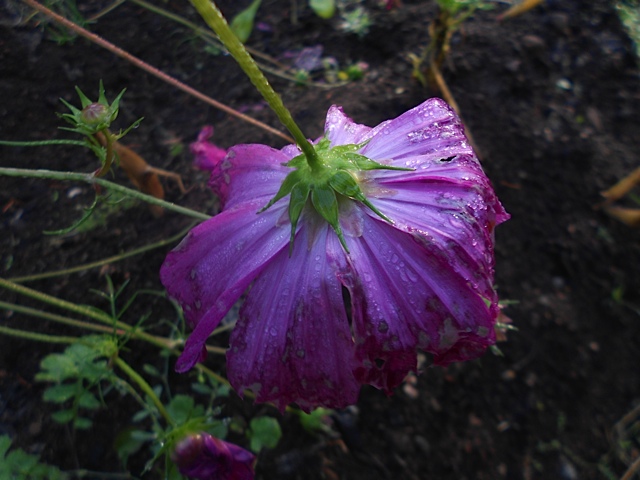 Yesterday, our summer garden looked as though it had been ravaged by a wild autumn night. I went down in the morning to find everything groaning under the weight of  a thousand water droplets. Our Russian sunflowers lay there, completely up-rooted, over a patch of very crushed turnips. Dahlias flopped down on their broken stems, their giant petaled faces looking sad, no longer tipped up toward the sky.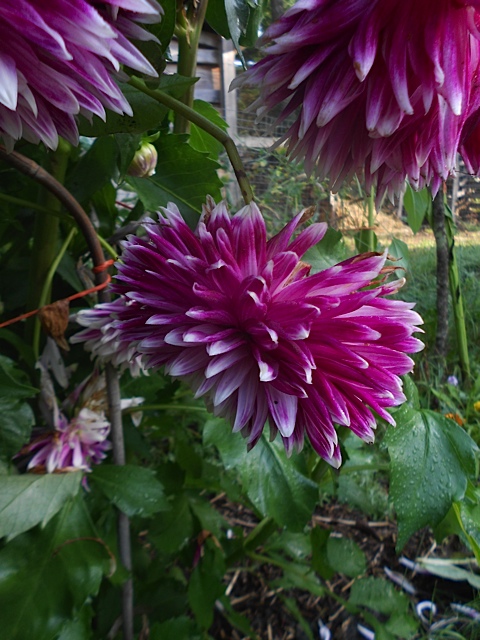 A spray of purple petals lying on the ground.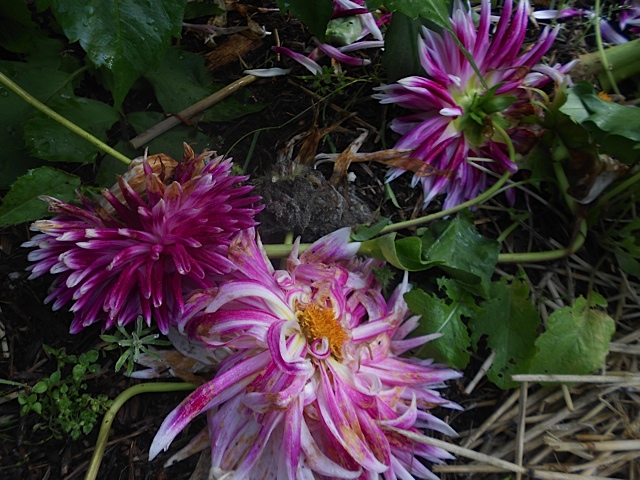 Still though, the bees were not despairing, some of them having ventured out of their hives for the first time in days.
To collect the perfect globes of water that sit upon nasturtium leaves.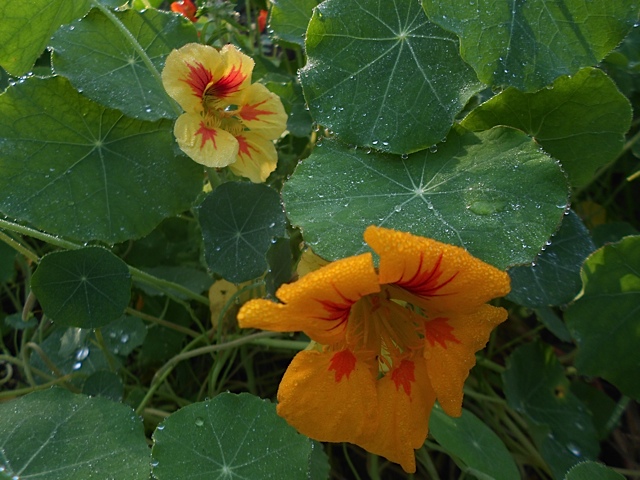 I must admit though, that even the bees looked a little bit wet, less fuzzy, less golden, less sparkling than usual.  It was in this moment that I became aware that I am not quite ready for the season to change just yet. Up until the rains began I was still celebrating the height of summer. I was out there, bare legs under cotton-skirts, picking berries and bouquets before the clouds rolled in. I was eating cucumber salads and fresh tomatoes topped with basil leaves, and these are the sorts of foods that need to be eaten under the warmth of a golden sun, they just do. Still though, I should not complain, because this morning, there is the promise of the sun returning, or so it would seem.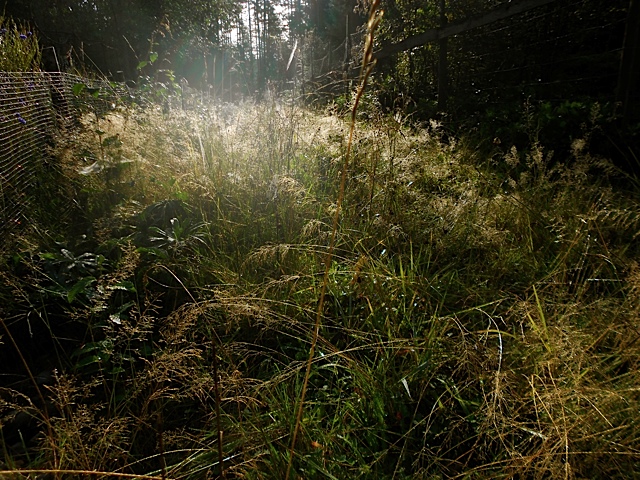 And to give the sun a good amount of credit, it did shine, for many days and months. It shone and shone, and some might even argue that it shone too long, without a break.  And while it did, all things bloomed and our bees were as busy as bees are. Lucky for us, they managed to store some of that summer sun, by turning it into honey, alchemists that they are.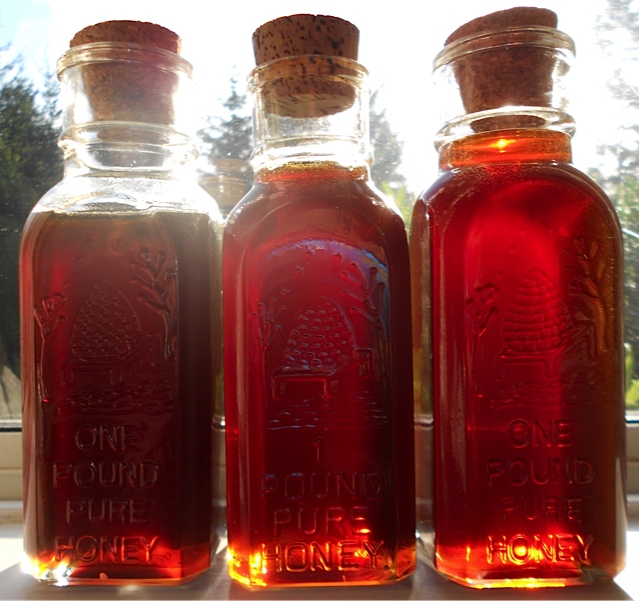 They have even shared some of it with us, bless them.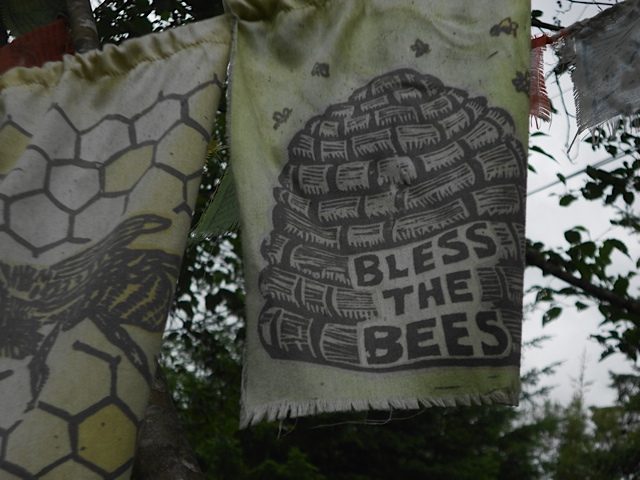 And, for some of our lucky guests, there is a wee bit of honey in the farmshop for sale, dark liquid amber this year.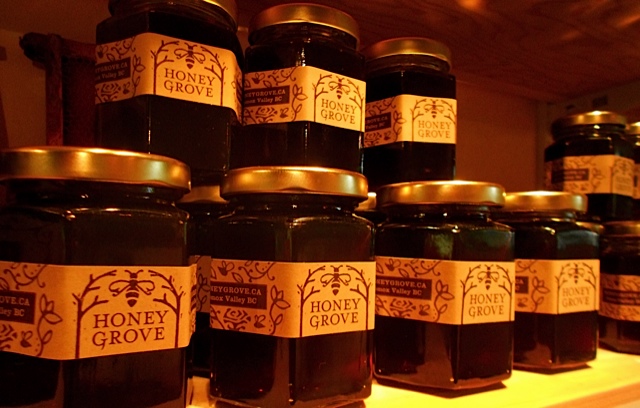 Unfortunately, it was not a very big honey harvest this season. The rains in May made it impossible for many of our new queens to get mated, and well, this put a number of our hives behind. Still, it is no matter, because we are not honey producers here at Honey Grove, just two people with a deep and whole hearted love for bees. To have any honey at all is a gift (and in my humble Honey Grove opinion, one of the greatest gifts of on earth). It has been said throughout the ages that honey is a holy substance, a sweet alchemy, a medicine, a magical elixir. It is the sweetness of summer distilled, infused with the essences of the bee and the flower. For Rudolph Stiener  (Austrian philosopher,  biodynamic agriculturist, beekeeper, social reformer, architect, estotericist) honey was the result of love; made manifest by the bee's love affair with the flower, the unity of the masculine and feminine.
"The whole beehive is permeated with life based on love. The bee lives as if it were in an atmosphere pervaded thoroughly by love. The bee sucks nourishment, which it makes into honey, from the parts of a plant that are steeped in love life." (From the Book Bees, Lectures by Rudolf Stiener.)
Imagine that.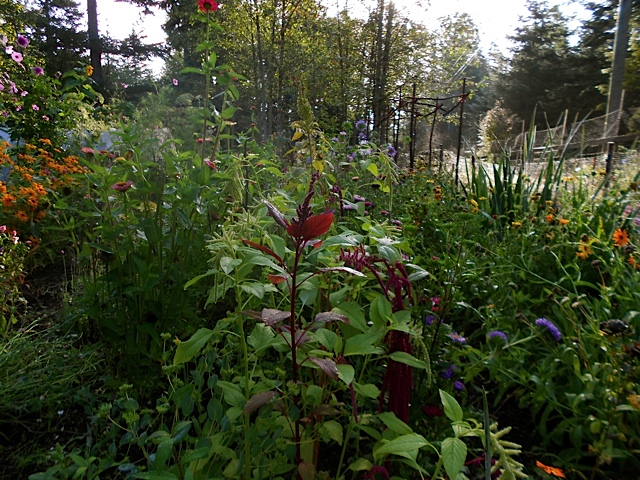 Otherwise, the blessings from the garden are still abundant, and every day we fill our baskets with the bounty.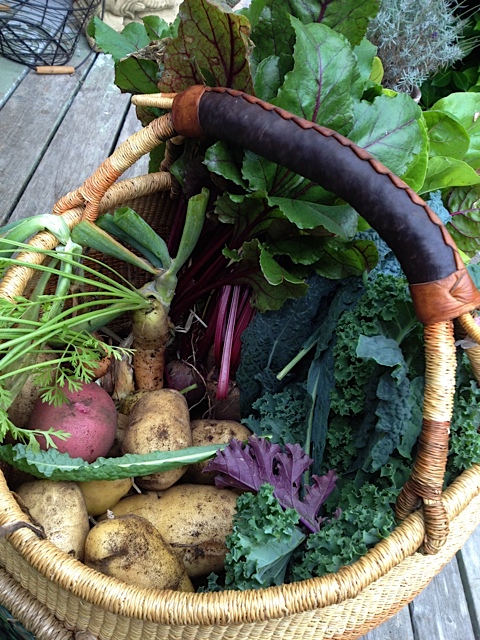 (photo by Shanti Williamson)
Thanks to the hardwork of our blessed bees. ( and a bit of work on our part too, eh eh).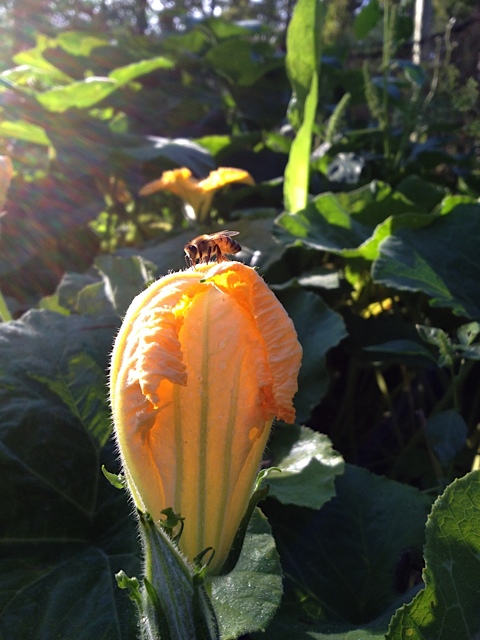 ( photo by Shanti Williamson)
And even though my muscles ache today from all the lifting and the digging, I wouldn't trade Honey Grove for the world.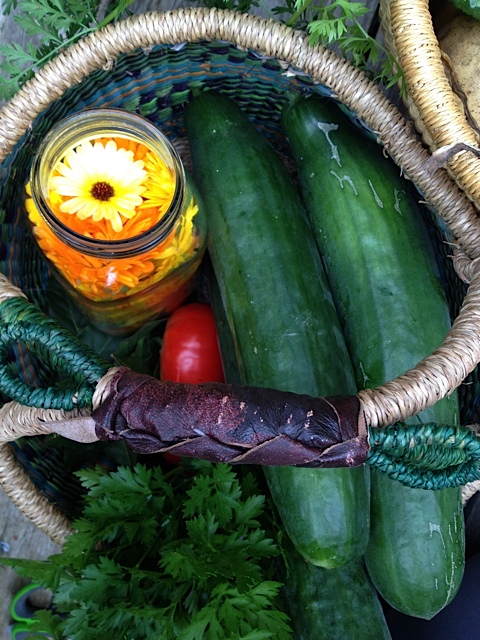 (photo by Shanti Williamson)
As for Gus, he has taken to wearing scarves made from fallen dahlias. He recently told me in secret, that if he were a flower, he would be a dahlia, I had to agree.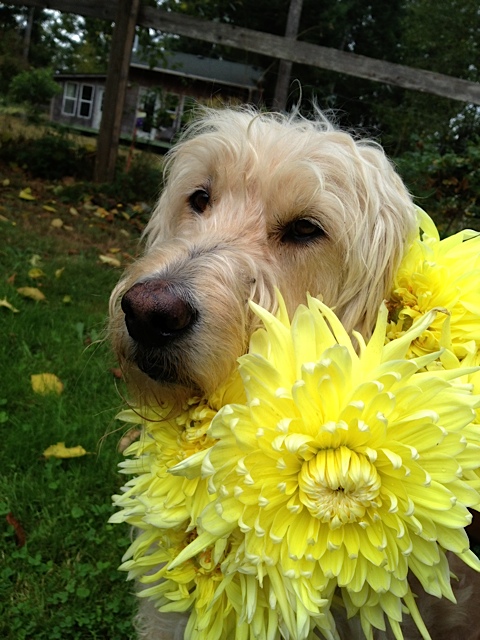 Harvest Blessing To All~
Nao, Mark, Gus and all at Honey Grove