There is something about September light that makes every day look as though it belongs in a fairytale.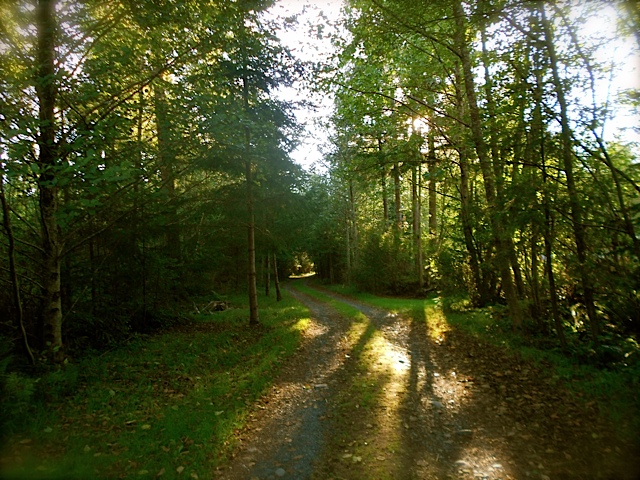 And causes one to expect the next scene to involve a white horse, a crooked cottage and an old woman spinning straw.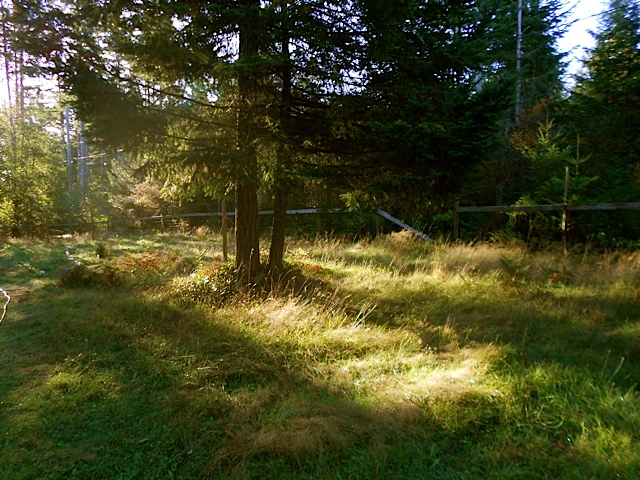 Here at Honey Grove, we are almost there, we may not have a white horse, but we do have a white dog, a holiday cottage, and a woman lining chicken coops with straw (which she has yet to try to spin into gold. So far she has been too busy using it to mulch the base of fruit trees, once the chickens have had their way with it). Add to this the shimmering light of an autumn afternoon, and presto, you have a fairytale. Well, maybe not quite a fairytale, but you do have Honey Grove bathed in golden light and Nao wandering around in a long skirt, doing a thousand tasks, imagining that she is in a fairytale ( nothing new there). In this particular tale though, she has super powers that enable her to get all things done, and well before winter arrives. Yes, Honey Grove is a hub of harvest activity.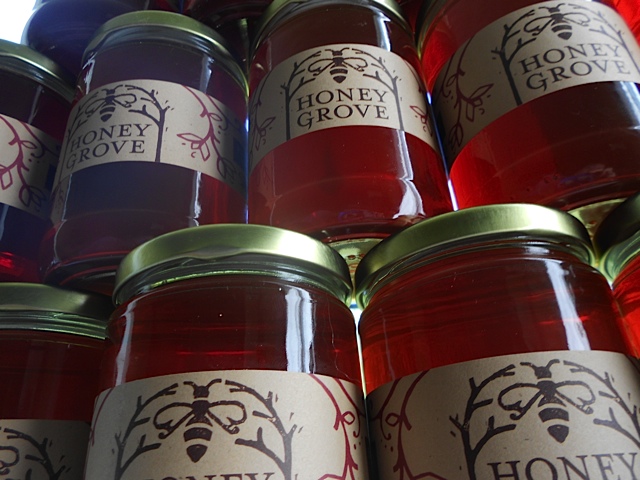 Our only hope (given that we have misplaced our magic wands) is to focus on the task at hand without thinking of what might be next, for to do so, is to invite nothing but overwhelm. And overwhelm, is not welcome at Honey Grove, for it can dissolve a golden fairytale almost instantly, leaving nothing behind but a big'ol pile of more work (of course, it is important to note that all fairytales involve work too, everybody knows that you must have a decent amount of trial and tribulation in order to have a good story). But back to our story, in which the Honey Grove protagonists spend their days trying to keep up with the harvest. For example, as I write these very words, the tomatoes are coming into their sweet red perfection, each one its own taste sensation. Those Italian and French heirloom varieties that I carefully grew for Mark's pizza sauce are just itching to get into the sauce pot. I swear they are leaping off the vine, whenever I go into the poly tunnel, I can hear them shouting "pick me, pick me, I am ready!" To which I  reply, " oh please, can you wait just one more week, you see I have so many things to do, how am I going to can tomatoes too?"  ( But of course, you find a way)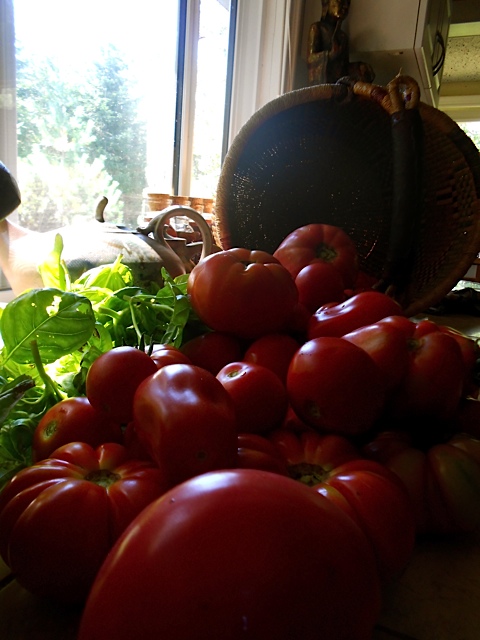 And so, one night last week (after supper and before bed) we simmered 30 pounds of Honey Grove tomatoes in herbs and garlic. By the wee hours there was a pot of reduced sauce on the stovetop that made the whole house smell like a Tuscan villa, causing us to dream of cobblestone streets and Italian wine. Yes, the first round of Mark's famous pizza sauces have been created (there will of course be many more rounds, as the tomatoes continue to ripen, offering their fat sweet perfection to our sauce pot).
And once those first tomatoes were processed, and I awoke on the other side of a Tuscan dream, I turned my attention to potatoes. The following morning I went down to the garden with my pitch fork, shouting to Mark as I went down the path, that I would be back by lunch, with a sack full of potatoes. However, I did  not return to the house by lunch, but rather at supper time, and I did not return with one sack of potatoes, but five!
You see, I was not expecting to find two hundred pounds of potatoes, not in a million years did I expect that (like all good fairytales it is important to have an element of surprise at the manifestation of the seemingly impossible). Potatoes, for me, are buried treasure. Digging potatoes, is like digging for gold, and finding it, over and over again.  This was a very happy day and an exhausting one too.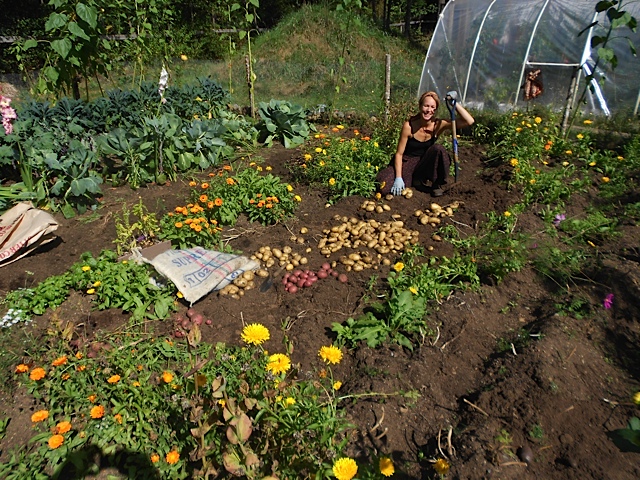 By the end of the day I was walking like the old woman from the fairytale, bent over, stiff and sore, but indescribably happy with my proud potato harvest. Otherwise, there are herbs to harvest and hang, and the house smells of thyme and mint and oregano.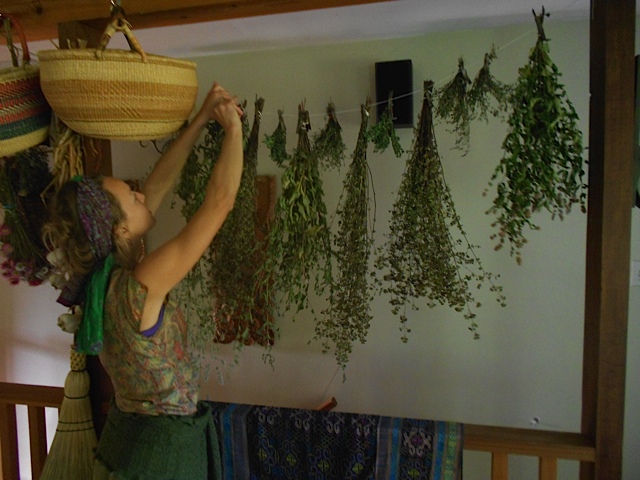 And there are fall raspberries offering their sweetness to the top of Mark's homemade yogurt.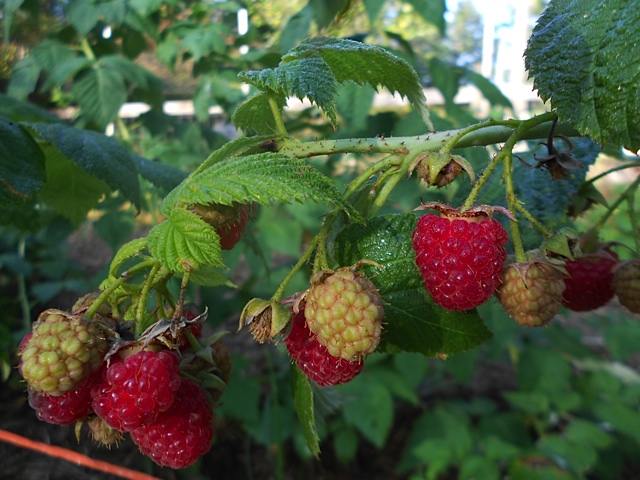 And there are seeds being planted for bees. Lots of seeds. 2500 seed plugs to be exact. In a few short weeks they will be planted out around the property.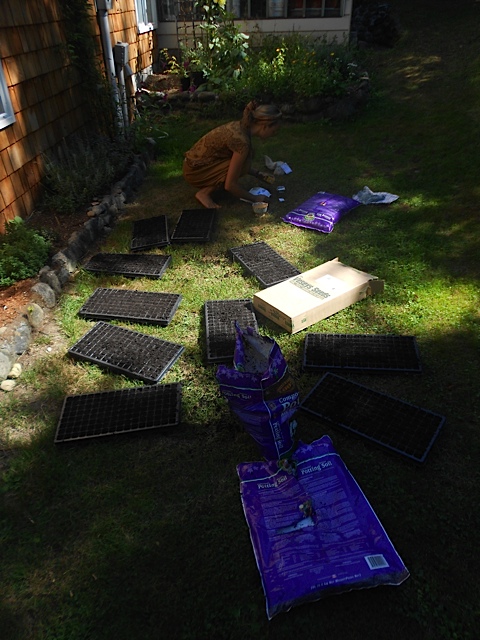 And there are other bee seeds that are simply being scattered around the edges of our land.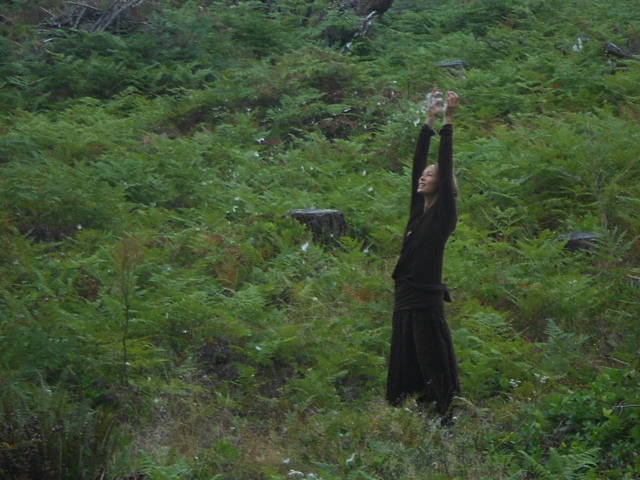 Oh and Mark's hops are ready too!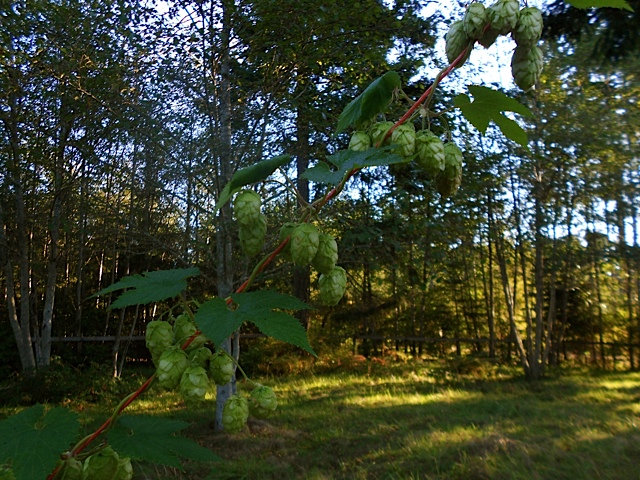 Some of them have already been picked and added to a very special brew known as Braggot.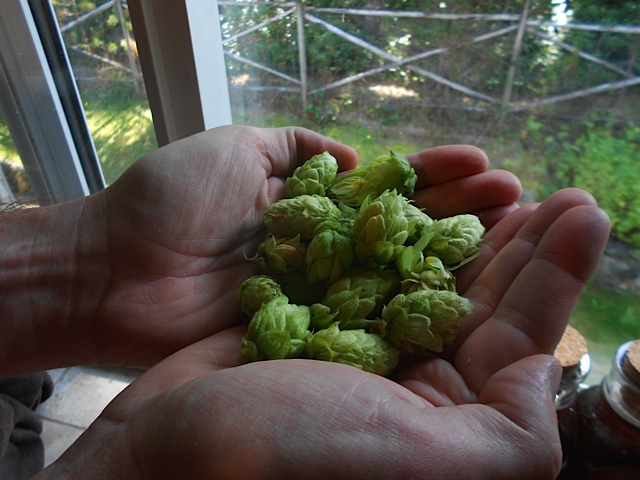 Braggot is a magical drink (Welsh origin, bragawd).  It is a sacred drink of old, a Mead Beer (known to turn men into poets, just a few sips and the muse awakens). Over this past weekend we mixed honey and Marks freshly picked hops and hand-ground specialty grains. We stirred and poured and measured and boiled and sang (and followed Marks directions exactly). Our dear friends Clare and Neil helped us, and it was a lovely afternoon spent in the Honey Grove kitchen, hops simmering away on the stove top.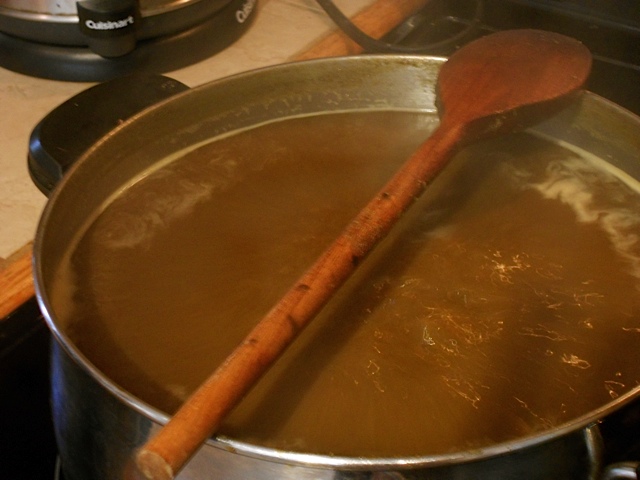 Honey being dissolved in well water.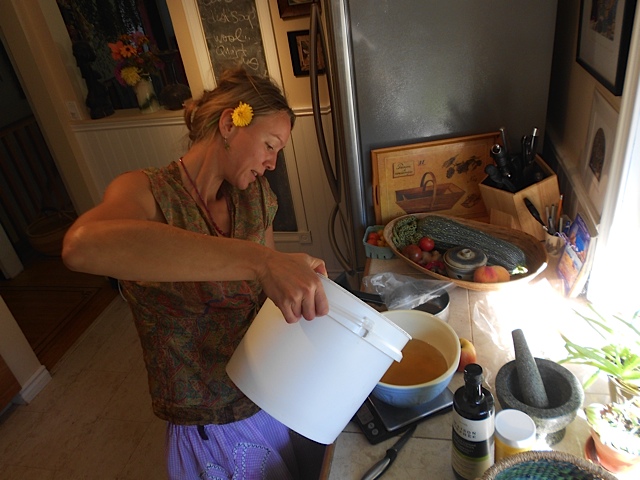 Bee pollen being added from our beloved bees.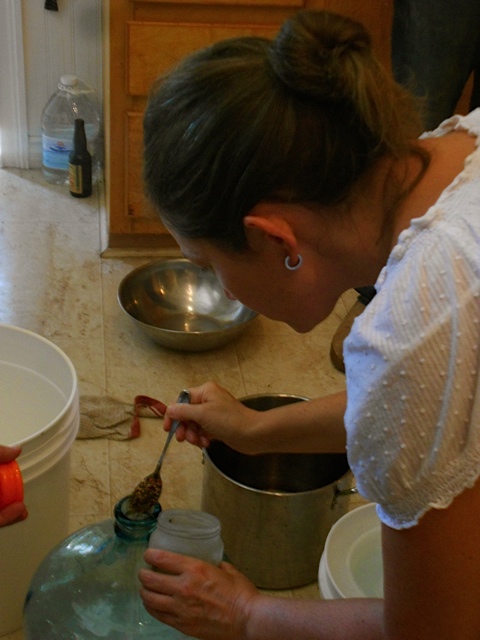 Pure magic…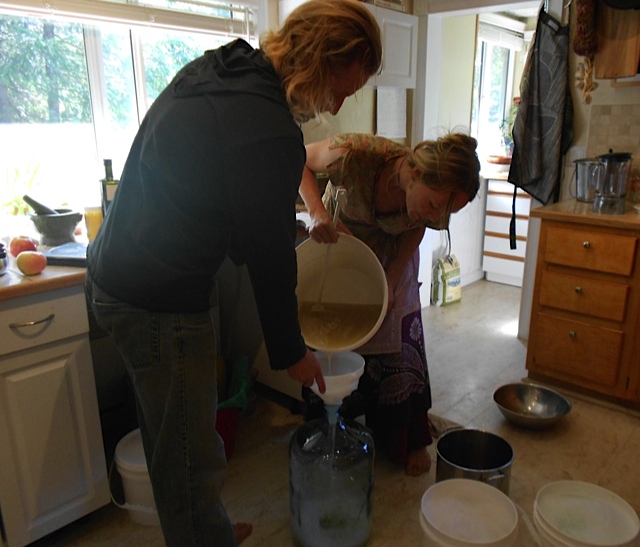 Now we wait, for many months. This sweet elixir will be ready to taste at the Winer Solstice.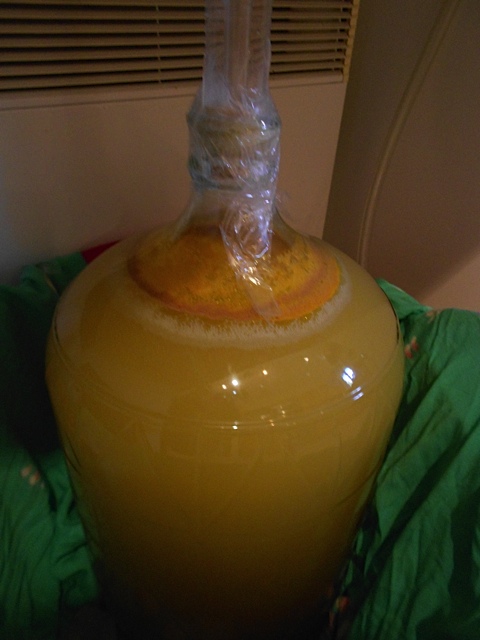 And, while the Braggot is fermenting.  Mark is still building his oven, which is really starting to look good.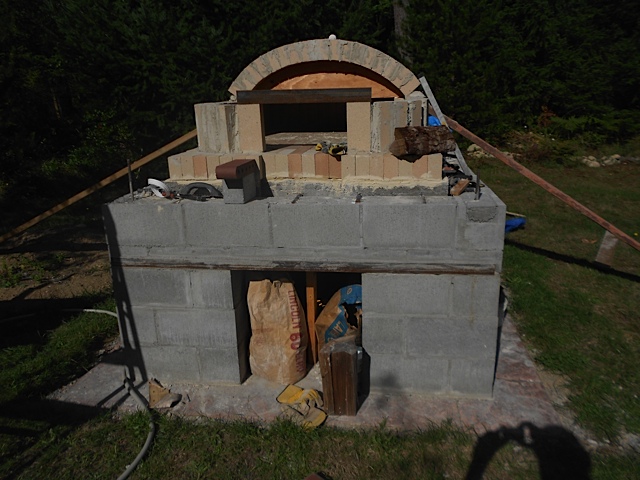 It is our Honey Grove version of Pillars of the Earth.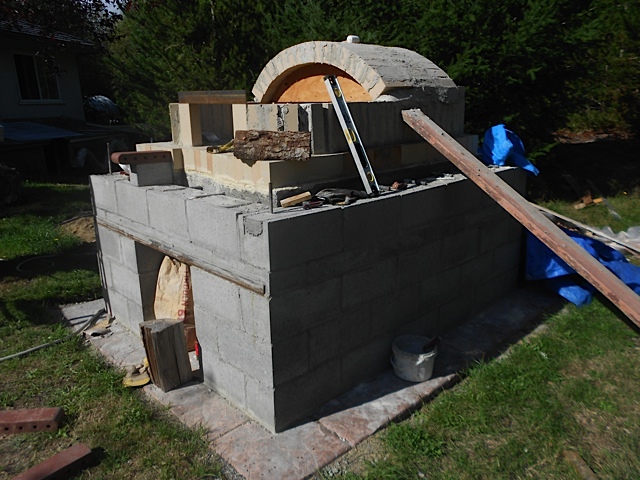 Yes, please forgive us, if we have not returned your calls, or e-mails. We are a pair of very busy bees over here, weaving our Honey Grove tale, which lately, appears to be weaving us. Now, I must sign off, for there are more tomatoes to pick and biodynamic herbal bee teas to make. As long as the golden light of September shines, we have got to get out under it, and do the things that need doing.
Blessings to All, from amidst the Honey Grove Harvest,
Nao and Mark and Gus
Gus sends his love from a forest walk, through a woodland close by, where he has been helping a friend search for chanterelle mushrooms. And although a basketful of beautiful chantrelle mushrooms was collected, it has come to our attention that Gus is no truffle pig. According to our mushroom gathering friend, Gus is better at standing on mushrooms than finding them. According to Gus, mushroom hunting with Neil was an absolute blast and he cannot wait to go again. We are not sure how to tell him it is not his forte, and that he is simply better at other things. eh eh