Snow has come again. A thick white blanket covers the landscape of Honey Grove and our tasks have switched from digging compost into the vegetable gardens, to shaking snow off orchard trees every few hours.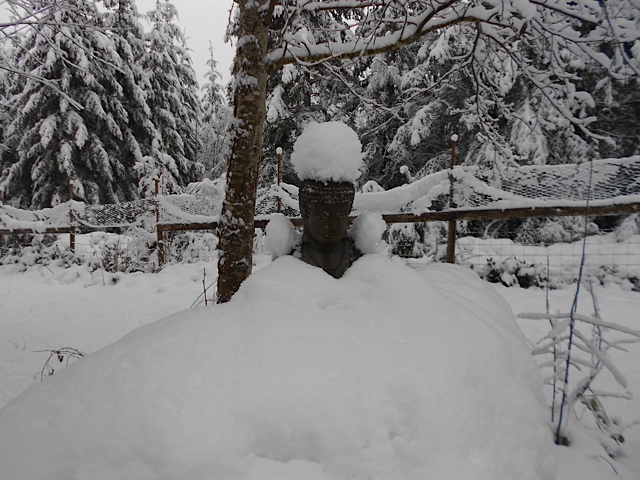 For now, there is nothing to dig or build or plant. Outside the door everything is quiet, unmoving and still, except the cottage guests who come and go in wooly hats and colorful coats. It is an exquisite white canvas, beneath which I believe spring still stirs, for just three days ago I saw daffodil shoots six inches above the ground, and the promise of a flower well underway (although today you would not guess it).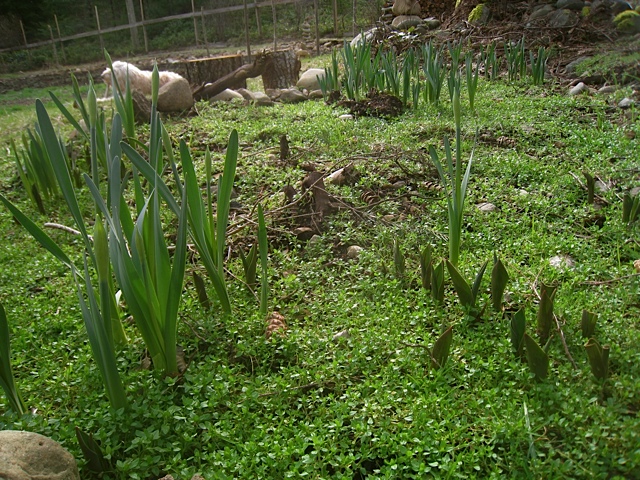 Yes, the world outside our door looks as though it belongs to a Russian Fairytale. The fir trees are wearing billowing white snow gowns.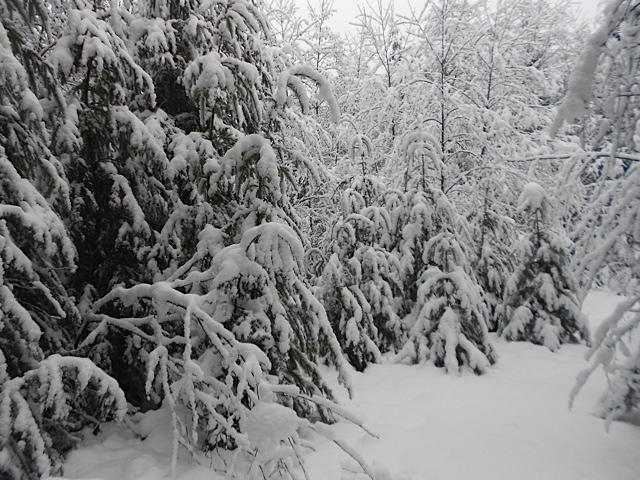 And the pathways through the woods are under archways of snow-weighted-branches, reminiscent of the dome like ceilings of old-world cathedrals.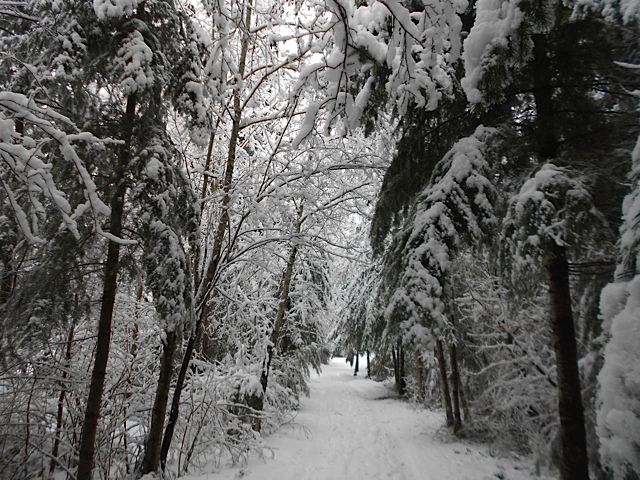 As for us, we are the characters in this enchanted narrative, the protagonists of the tale known as Honey Grove.  Yes, by now you may have noticed that I am a lover of story, of myths and tales and lately I have become very curious about the inspiration that first invites them into being.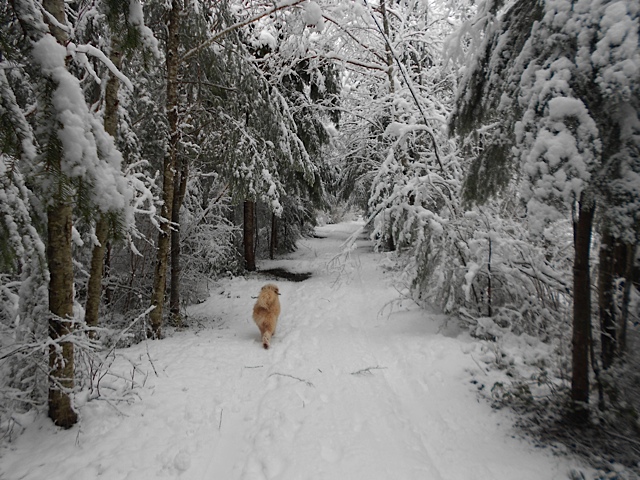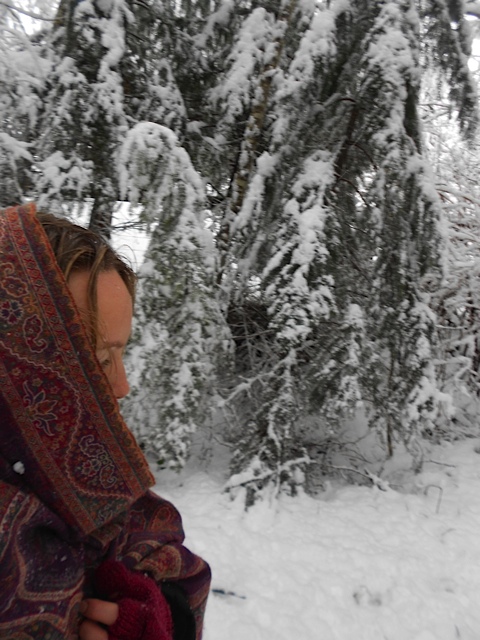 I once read that the poet, upon first hearing the call of the muse, would cry "yes" and "no" all at once, for to be ravished by the muse was not only to hear the song of inspiration, but also to be a slave to that song. For whilst inspiration doth flow, there is little rest for the one it flows through. I am no poet, although at times I have desperately wished it to be so. I have though, like the poet or the painter, been roused from my bed in the wee hours, after the fire has burned down to embers, and the snow has fallen in deep silent heaps around the house, by what I can only describe as "a call."  A call that seems to come from the edges of my known world, a whispered song offered in parts, an irresistible urge to bring something formless into form, to reach with strange and blind assurance, into the very place from which form itself has come. Both Mark and I have willingly and unwillingly stepped into the paradoxical landscape of the muse, because it has rarely been a choice not to.
And so it is with Honey Grove and the lives that we find ourselves living here, as we respond to the muse, as we participate in each new chapter of our story. This land is our inspiration, it is our dream unfolding and it is the mysterious call that leads us on. Where we are going exactly, we are not entirely sure, but go we must. Some days when I am bent over in the garden turning compost, I wonder if Mark and I are actually the ones creating Honey Grove, or if it is indeed Honey Grove that is creating us. These days, I am more inclined to think the latter, and in my more philosophical moments, I wonder if it has always been so. Perhaps the Honey Grove narrative was written long before we ever were.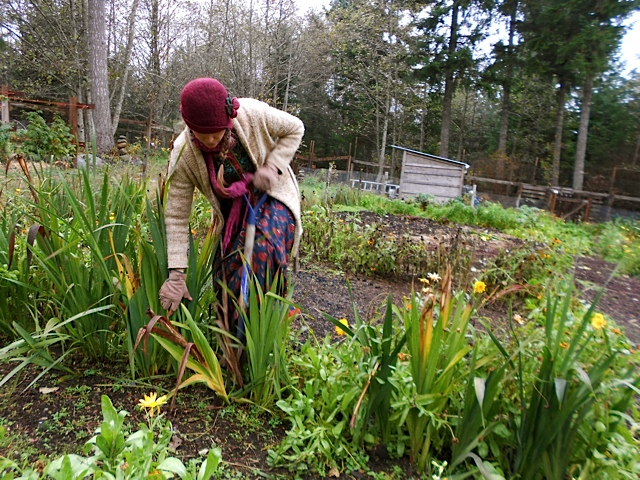 And then, if you have come to this blog to learn something of homesteading, I am afraid you will be very much disappointed, for all I can offer you here are stories from our journey on this country adventure. I can tell you the tales of our lives through the unfolding of our days, but that is all. I can share with you the ebb and flow of following an idea to its end, and I am more and more certain that this could very well take us the rest of our lives. So far there is no end in sight. We are as busy as our summer bees gathering the sweet nectar of inspiration and turning it into our own kind of honey.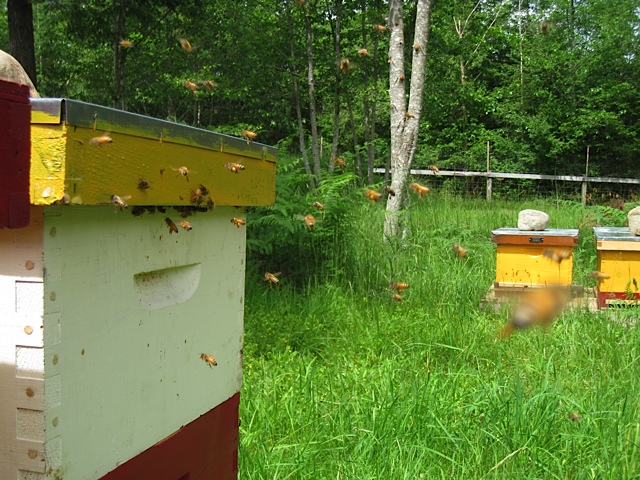 The call however, the inspiration continues to wake us in the night, ideas for fencing and herb gardens wander into our bedroom at 4 o'clock in the morning, unannounced and demanding we give them our full attention. They come while we are driving and when we are making tea and filling up bird feeders. They come when we are hanging our tools up at the end of the day and walking up the steps into the house for supper. Sometimes, we can send them away, roll over in bed and pull the blankets high-up over our heads, so that we might sleep a few hours more. Other times, we can do nothing but respond to their midnight chorus, as we reach for pen and paper to scribble down half formed ideas, to write down the names of heirloom tomatoes seeds we have yet to find.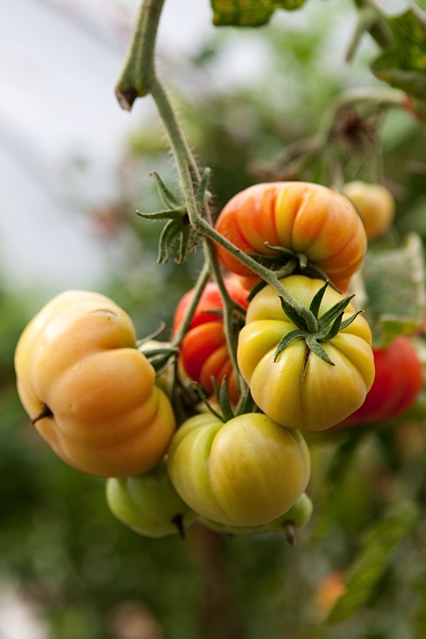 And so, as the snow falls and falls outside our window, I am here with my nettle tea, celebrating the invisible realm of Honey Grove. Today I honour the place where the ideas are born. I am raising a glass to the invisible stirrings deep down below the snow. I am bowing down to the wild and seductive muse who rouses the poet from his slumber with a partially illuminated vision, and I am giving thanks to the invisible writer of our Honey Grove tale, the one who woke us from our city-sleep, and begged us to follow our hearts to the country.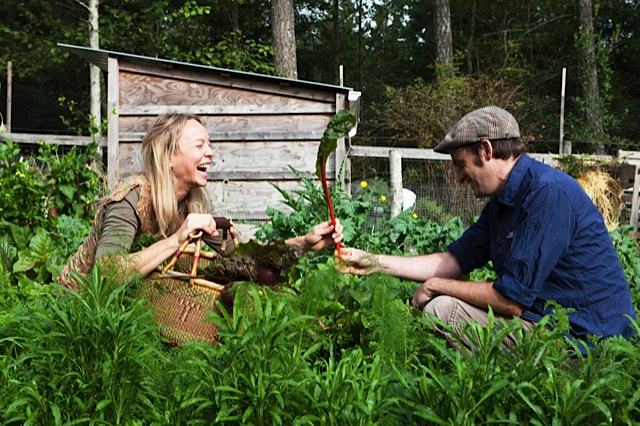 May this find you in the midst of beautiful day~
Blessings and Gratitude for your company,
Nao, Mark, Gus and all at Honey Grove