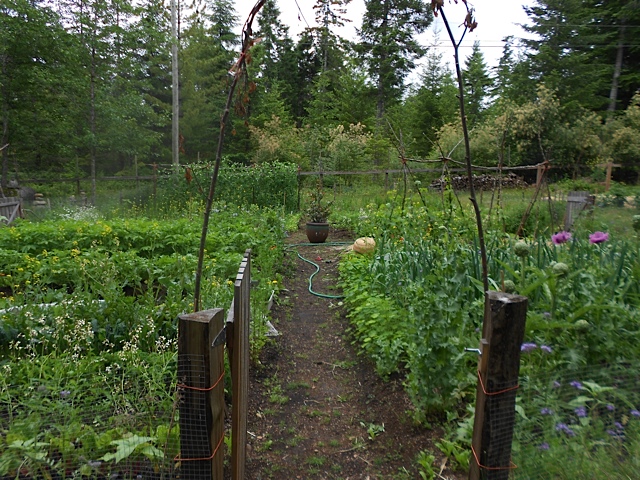 If you are looking for us these days, you will find us just through this gate. Our hands will be filthy and we will most likely be bent over in a patch of green. Still, about 10 days ago, I did manage to get to town. I had a bath, cleaned under my fingernails and left Honey Grove. There I was, pushing a shopping cart through our local grocery store when I bumped into a dear friend, who said, with some disbelief, "Nao, you're all dressed up, where are you going?"  To which I replied…"grocery shopping,"  And then we both began to laugh very hard, as it dawned on us, that grocery shopping, for me, has become an occasion.
You laugh, but I am not kidding, a little trip to town to post a letter and buy a sack of rice has become a good reason to put on a clean and tatter-free dress. To take a pair of dangly earrings out of the painted Indian box that sits on my dresser, and to wear them out into the light of day.  This is not to say that I do not wear jewelry on the farm, or dresses for that matter.  In fact, you would be hard-pressed to find me in anything other. I have been known to clean chicken coops wearing a pair of North African wedding bracelets and an old silk skirt, but my farm style tends to be verging more toward fairy-princess-vagabond than out-on-the-town-elegant- lady.  Dresses worn on Honey Grove are stained and torn and worn again. You see, I  have never been one to wear trousers or over-alls. Truth be told,  being a non-trouser-wearer is a 32 year protest that began when I was four. One summer's day, at the age of four, I came downstairs for breakfast in a pink chiffon dress with a crinoline underneath. My mother looked at me with some concern as she placed my oatmeal in front of me, before saying, "I hate to tell you this Nao, but you can't wear that dress."
"Why not," I said.
"Because you live on a farm," she said matter-of-factly.
This made no sense to me. I just remember sitting there thinking she had lost all semblance of reason. I sat there for a good long time going through my mind looking hard to find the logic in her firm resolve, and, I could not. For the life of me, I could not understand how living on a farm could have anything to do with wearing or not wearing a pink chiffon dress. The breakfast ended with me returning to my room, the pink chiffon dress being re-hung on its hanger in the closet, and a pair of denim overalls with pooh-bear embroidered on the leg becoming my mother's outfit of choice. I stood there in my tight braids, yelling from the top of the stairs, "Fine then, fine," I shouted. "I will wear these over-alls, but when I grow up I will have my own farm, and you will see, I will wear dresses everyday!"  My Mom, in her loving way said that would be fine with her and she carried on cleaning the kitchen.  The rest as they say is history.
In the end my mother and I found a compromise. Over the years she would go to thrift stores and come home with long cotton skirts, which she would cut the bottoms off.  She would then make the top half of a skirt in to a skirt for herself, and the bottom half into a skirt for me.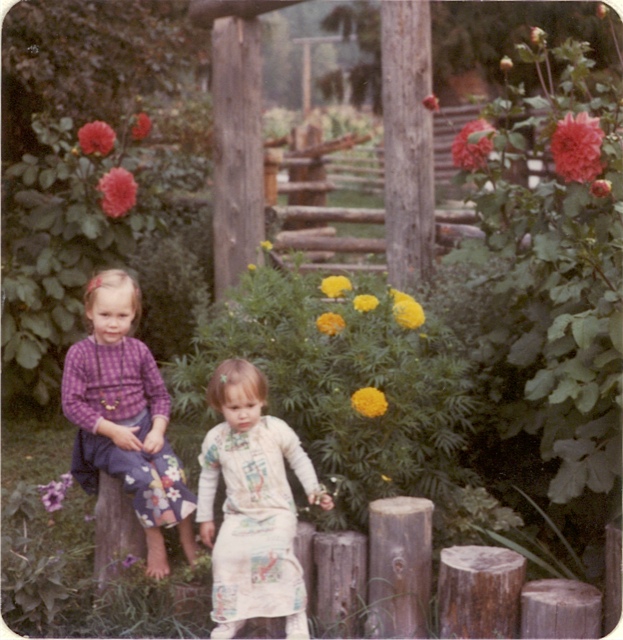 ( My sister and I in 1980. I am the one on the far left. The skirt I am wearing is one of the bottom pieces cut off Mom's skirt)
We could wear them around the farm without concern of wear and tear. I could be a princess and a farmer all on the same day. Yes, I wore those skirts until they were rags. I wore them into the garden, and on my pony, and up into choke cherry trees. In the end, dresses were okay to wear on the farm, but, there were two categories of dress.  There were town dresses and farm dresses.  The pink chiffon dress was a town dress, and now, as I sit here sipping my tea, writing this post, I laugh because nothing has changed.  And if you are wondering why on earth I have begun this blog post on the topic of fashion, it is because, what I have come to realize this past month, is that the town dresses in my closet these days, hardly ever get worn. They hang there just waiting for an occasion (like grocery shopping).  And so, all of this is to say, that we have been spending our  June days here on the farm.  With such a lot to do we rarely leave. Our summer days are fuller than I can even begin to tell you. We are working from dawn to dusk and we could work right through the night if we did not have such a strong need to rest these hard working bodies and sleep. The garden alone is a full time job.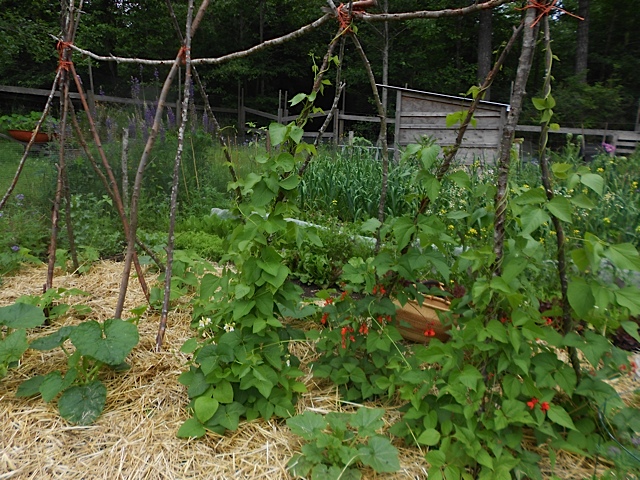 Between the feeding and the mulching and the planting and the weeding, it never ends and I am slowly coming to the realization that it will never ever be done.  But, despite this inevitable truth, I am, in my very human way, still working toward surrendering to the full acceptance of this recognition. On good days, the awareness of acceptance comes easily and acceptance becomes a place to rest. It becomes something to lean into, like a sun-warmed river stone, soft and firm all at once. For me this happens when I finally come to the sign on the road that says, STOP, go no further, you have done all  that you can physically and mentally do, now, you must simply accept this. At this point, I can do one of two things: I can either feel overwhelmed and panicked (which happens far too often, and always results in injury and frustration. Last week it resulted in 15 bee stings and the accidental laundering of Mark's i-pod) OR, I can lean into the recognition of acceptance, and, I can rest there. I am slowly coming to realize that the rest option is definitely preferred, and ironically it is actually more efficient in the long run. And so, this being said, sometimes, I simply go down to the garden to eat salad, not to plant it, or weed it, or mulch it, not to work, but to simply taste the fruits of our labours, and oh, the taste.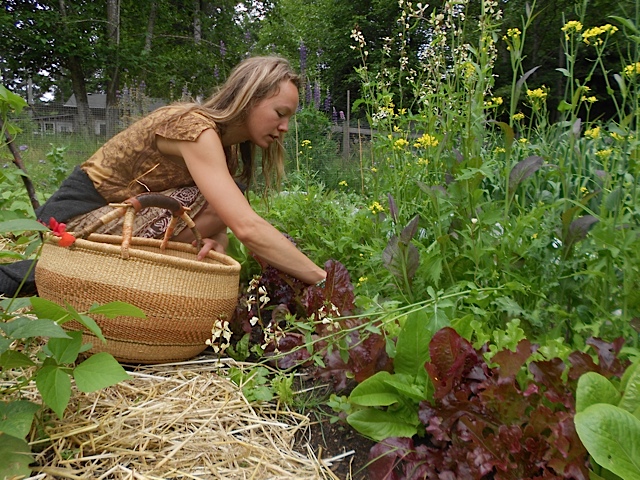 And while I am down there, there are artichokes to harvest, which I bring up from the garden for Mark and I to eat with Mark's amazing duck egg hollandaise.
And in the morning before the day begins, I go out and pick strawberries for my breakfast granola, and as I sink my teeth into their sweetness, nothing else in the world exists.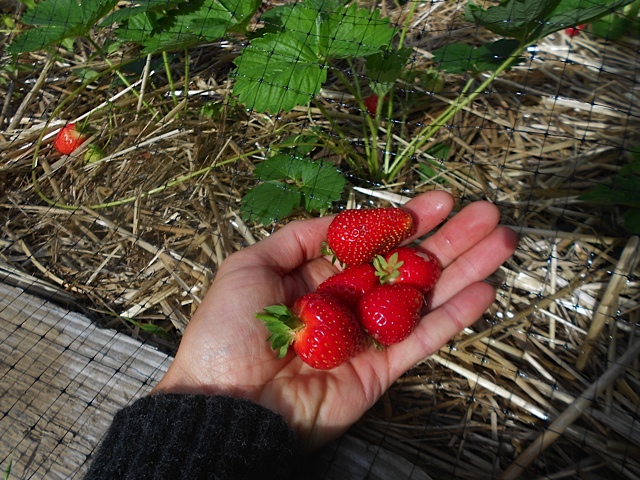 So we are working and we are eating and we are contemplating the possibility of acceptance. But Whatelse? Well, our bees are also working hard, now that there is more nectar available. Two weeks ago, here on Vancouver Island, we had a major dearth and our bees required emergency feeding. The combination of the cool temperatures and rain and the lack of forage meant no food for bees. We had to intervene with sugar syrup and chamomile tea blends. We are happy to report that we caught it just in time and all of our beloved bees survived.  Now that the clover is out and the black-berries have begun to bloom, all should be well.  Not to mention some of the flowers we planted specifically for our bees are now in bloom, and our bees are taking up their nectar with the greatest of appreciation. Below is an image of a bee on Phacilia, a flower that bees absolutely love and that we planted in abundance on the property.  Next year we hope to have 1/2 an acre of just bee forage.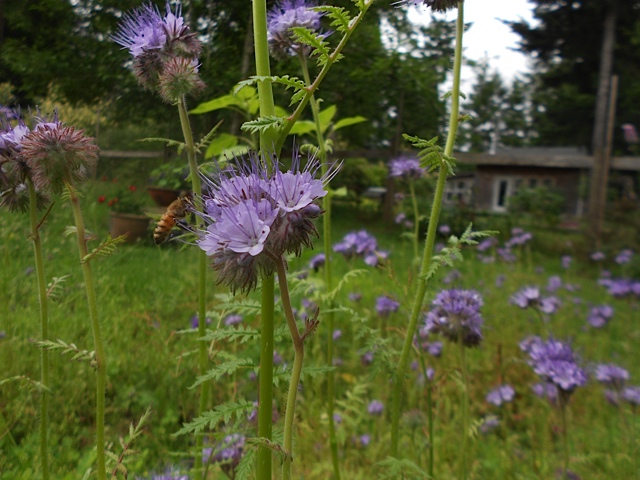 Yes, we really do love these winged friends.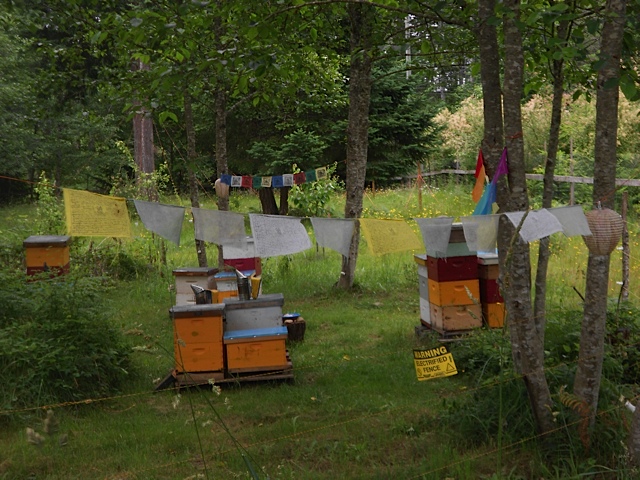 And speaking of Honey Grove residents, there are some new ones…11 in fact.  They are growing by the day, learning to perch and taking lots of cozy naps.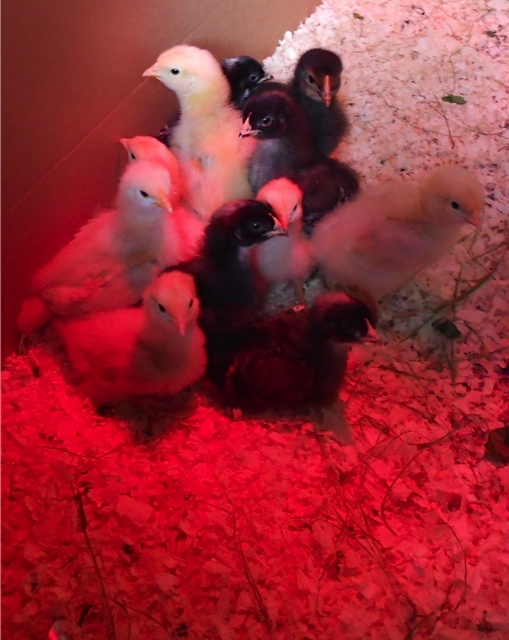 They are the cheeriest bunch, there is absolutely no chance of being depressed in their company. You have never met a happier crowd and I look forward to my visits with them throughout the day. Yes, between the garden and the bees and the chicks and the guests, we are non-stop over here. Mark is balancing farm life with bakery shifts, and when he is not hard at work on his own brick oven, he is hard at work baking in another brick oven at our local bakery.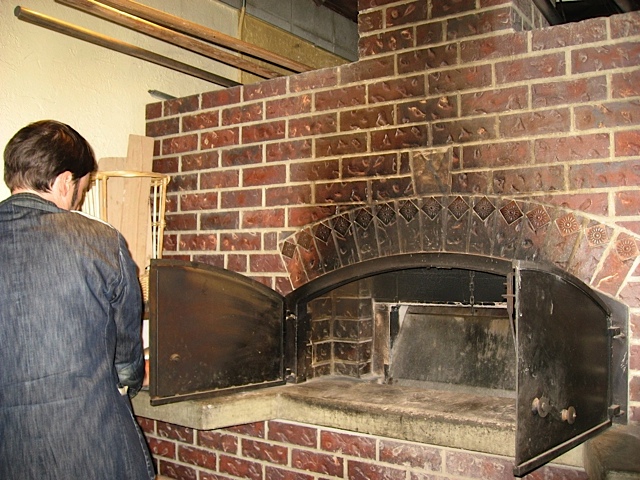 ( Mark at the bakery in town)
When we are not in the garden, or making bread, or airing linens, or picking peas, or planting seeds, or watering the orchard, or shoveling compost, we are simply leaning into accepting the fact that we might not get it all done. Of course, whenever we are taking life too seriously we can always count on Gus to put us straight.  His secret of the universe is, after all, not to worry.  So carry on we do, and worry we don't, and acceptance we are endeavoring to try.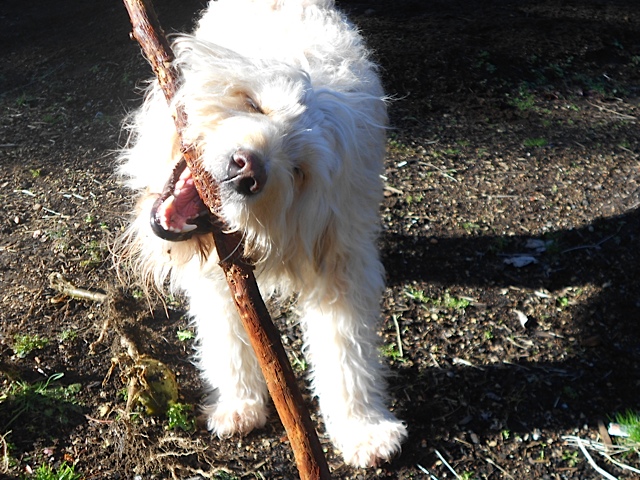 Summery Blessings from Honey Grove.  May this find you in the midst of doing something you love~
Thanks for Being Out There~
Nao, Mark, Gus and all at Honey Grove.