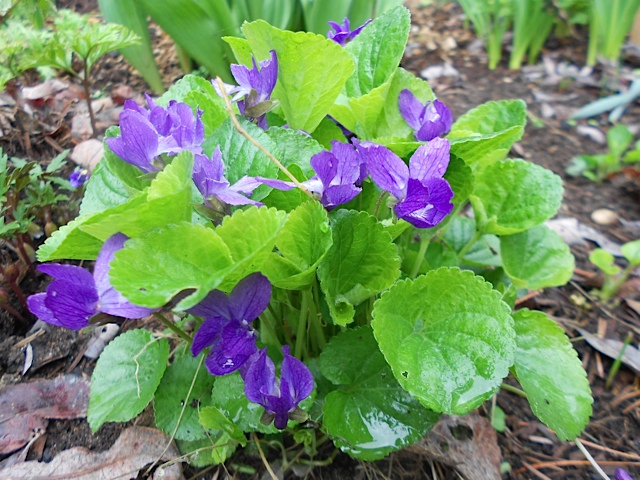 Every year, when spring comes, the lens through which I view the world, becomes what was when I was a child. It is as though I simply take off my adult lens and retire it for a short while. I am hardly aware that I do this all, except  at the moment it transpires when I find myself seeing the world with a heightened sense of awareness, undistracted and available to whatever is unfolding.  As I step into the month of April, my bare and sock-less winter feet carefully exploring the pebbly ground, their tenderness urging me on and begging me to stop all at once, I feel like I am experiencing all things for the first time. Some days I am simply appreciating the greenness of green, as I watch the alders send their budding leaves high into the-up-above world. I am putting my nose in daffodils as far as I can, just because I can. I am holding their perfect trumpeted heads in my hands, and in my own secret and unexplainable way, I am celebrating yellowness.  From a stretched out place on the grass, between bent-over planting sessions in the garden, I am watching the clouds in the sky above, and I am aware that my breathing is different.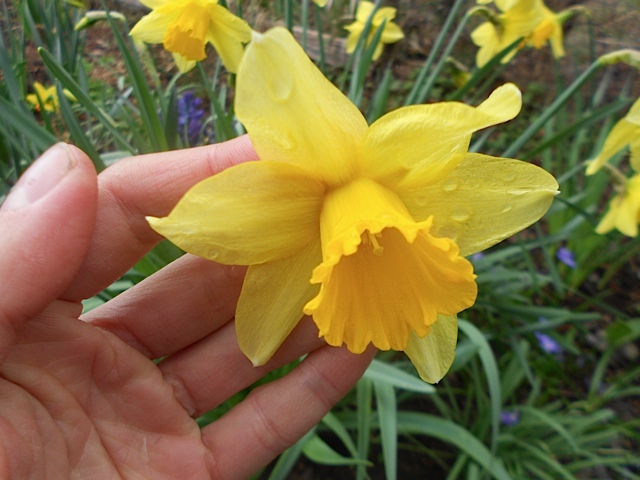 I have read, in wonderfully loved books with folded-down-corners, that Tibetan Buddhists believe that our fundamental state of mind is one of pure openness. The wise ones of this old tradition describe the natural human state as: one of basic freedom which exists without judgement, without the need to categorize or locate. And, for me, on certain spring days, when I drop my adult lens, and I rest my judging mind, because the yellow of a daffodil, against a backdrop of spring green, begs for nothing more and nothing less, well, something happens, and, I can only describe what occurs, as presence.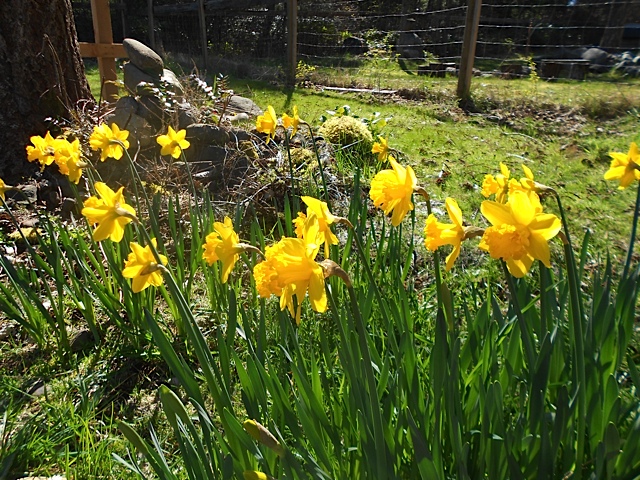 Now, before I go any further, I need to let you know, that I am not someone with much experience in this department, that is, moving through life presently, awake to the moment, free of the chatter of mind.  Nope, I am one who still has a great deal to learn, as I sit on my meditation cushion day after day, making grocery lists, while simultaneously counting how many eggs our chickens have laid over the past week, and when I should split my beehives. Despite my solid efforts and my keen interest in becoming a more conscious humanbeing, I have a long long way to go, and, I am okay with this. ( Now, I am laughing my head off, because all my blogs inevitably end up this way, I set out to report Honey Grove Happenings, and I end up sharing my human quest for the awakened mind, forgive me).
So, Spring, it's here! And Honey Grove is aglow with this new season. My dear friend Jessie recently called Honey Grove an "Easter Postcard," (a place where bunnies hop, and flowers bloom, and fat ducks chase one another around their little pond).  All of this, whilst I look adoringly at flowers and Gus lolls about in the sun next to Mark, who sips a craft brew after a long day… mmhmmm, it is indeed, an Easter postcard.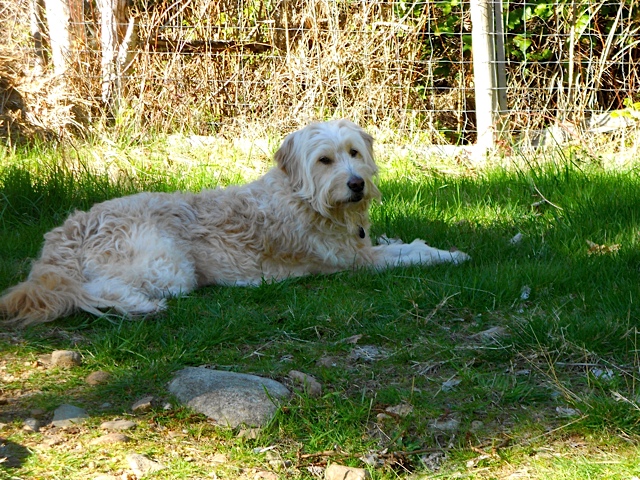 AND, since we are rolling with the theme of non-judgement, since we are sitting on the platform which the awakened ones call, the polarity of oneness, then, I must also tell you, that not every day is an "easter postcard among the daffodils." We are also shoveling truck loads of composted steer manure.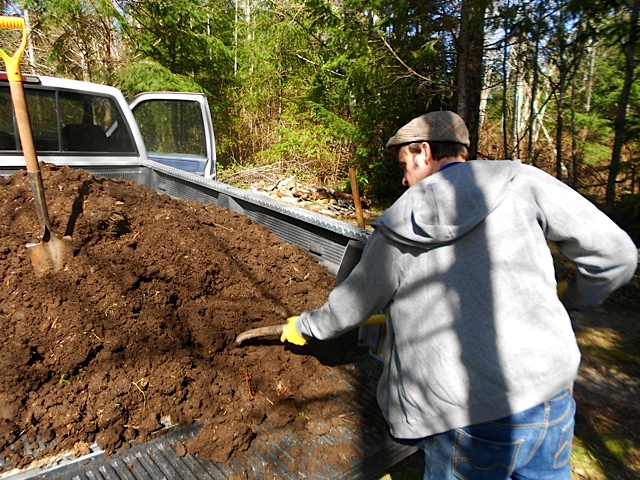 And we are digging piles of compost into the veg plot, so we can plant our potatoes.
We are working long hours, with chapped hands and sore backs, but so far, it's all worth it and we remain dedicated to our vision. We have also begun building our brick oven "together" (and, like all married people working together on a creative project, we are having some good and proper disagreements. Ours tend to stem from  my "take a guess style" of measurement which doesn't really go with Mark's more accurate way, but never mind about that).  It's a good thing that there is always time for tea! I believe it was Mark's good Mom, who first shared this brilliant wisdom with me.  Many years ago she said, "no matter what the circumstance Nao, happy or sad, just put the kettle on." ( or something wonderfully British like that. Thank You Pam, love you).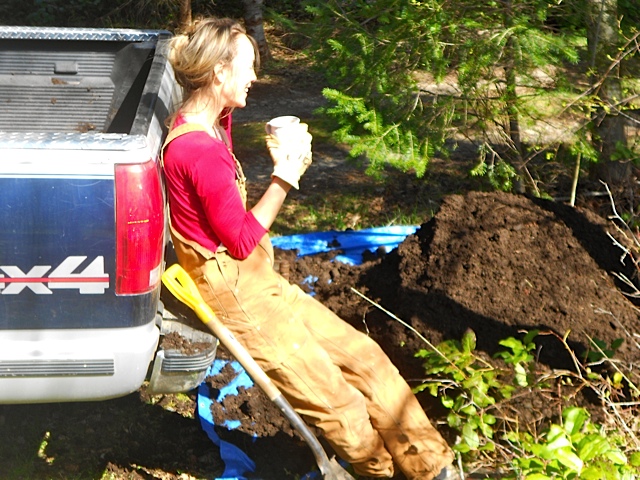 When we are not working in the garden, we are scrubbing bathrooms in the cottage and airing linens and baking bread and preparing for the arrival of more guests. I like to call this, "a little bit of all of it. Speaking of guests. Wow, have we ever had the most wonderful guests this past while! We even had a guest staying with us on the Easter Weekend, who, would you believe, left the comfort of his reclining holiday chair, to come down to the lower field to help us work. I know, I am still in disbelief, and all the while he shoveled steer manure onto the base of our orchard trees, he thanked us for the opportunity, as he shares our dream of a sustainable life (Thank You Ryota, we are so grateful for your help).  Meanwhile, other lovely guests came down to the garden to visit us while we worked.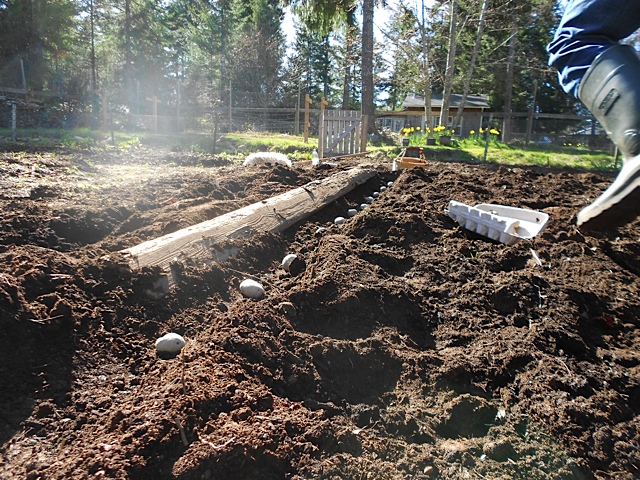 They walked with us around our property on a sunny afternoon, while we shared our vision. They said the kindest and most heartfelt things about all our hard-work and our plans, and those words, well, they got right inside us. There is something about having someone you do not even know believe in you, it has a profound effect. As for Gus, he is enjoying the company of the guests too. He now has a new title, given to him by a lovely pair of people visiting us from the Yukon, they have named him The Ambassador of Honey Grove, a title which he appears to be taking quite seriously. I believe he is becoming more distinguished by the day.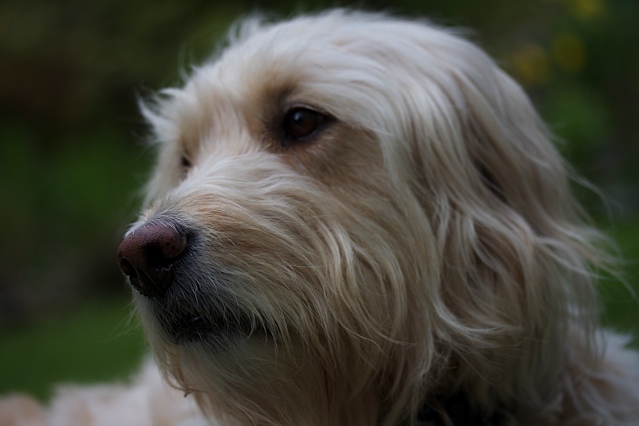 Otherwise, the bees have found the first dandelions!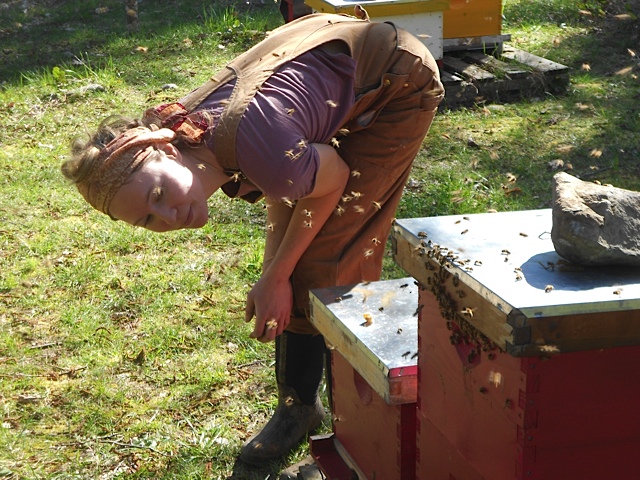 And we are eating salads from the greenhouse!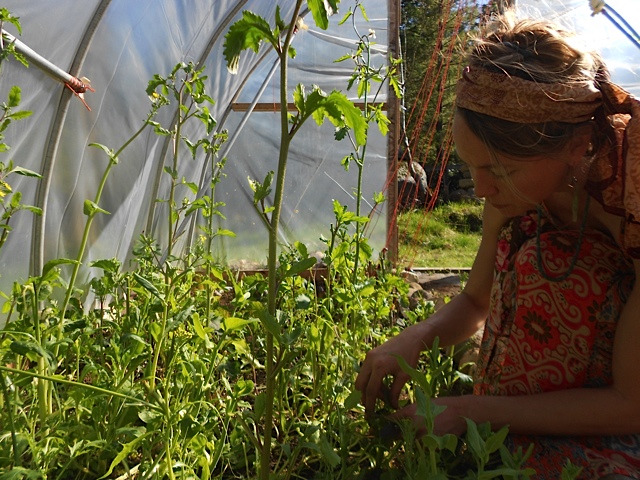 Oh, The Presence of Spring, what a blessing,
May good things be growing in your lives and your gardens~
Thanks for being out there and believing in us, it helps, it really really does.
Blessings and  Gratitude,
Nao, Mark, Gus and All at Honey Grove