In those magical hours between day and night, in that betwixt and between time, when faeries and gnomes have been known to show themselves to lonely shepherds on pastoral hillsides, we see something else here at Honey Grove.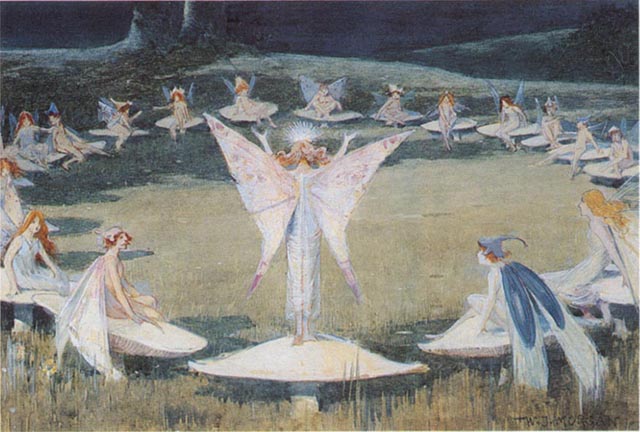 I wish I could say that it were a circle of winged creatures dancing in a mystical glade, but I am afraid it is not.  No, we are not seeing fairies here at dusk, instead, we are seeing nothing but bunny rabbits.  Yes, those cute cuddly cotton tailed ones from Beatrix Potter's little books, and I can tell you already, that they love our garden as much as they do Mr. McGregor's (and we don't even have any vegetables growing yet!).
You can see where I am going with this can't you?  Yup, you guessed it, sigh, as all gardeners know, despite the cuteness of these fluffy ones, they do nothing for gardens but eat them.  Bunnies destroy vegetable gardens. The only choice we have, other than bunny stew (which Mark is keen on) is to build a bunny-proof fence, perhaps not quite like Australia's, but at least 3 ft high and all around the veg growing garden. And so, we have been digging again and rock piling and fence post pounding too.  We even decided to make our own fence posts this week, as we have opted to use untreated posts around our vegetable garden, with a heartfelt dedication to maintain a truly organic farm.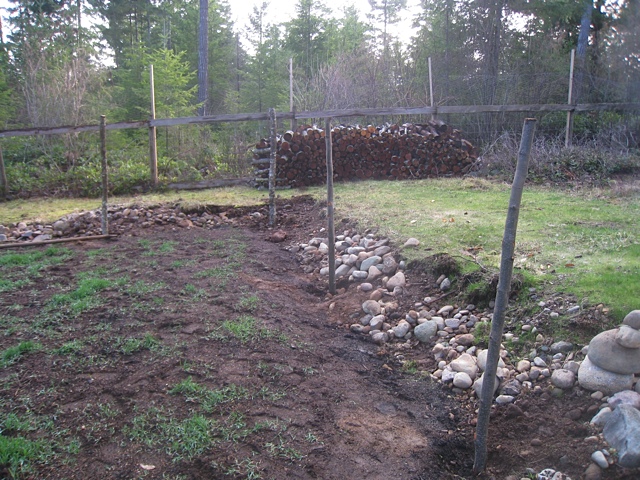 I might also say that this decision (that is to use untreated posts) was made after much careful consideration.  We realize that our bunny-proof fence won't last for 20 years, it may not even last for 3 years.  We know that untreated posts will eventually rot and that we will need to make a new fence in the not-so-distant-future, but somehow this option seemed better to us then sticking turpentine posts into the same soil we will be growing our food in.  As you can well imagine, this choice has brought many opinions to the forefront.  eh eh eh. The general consensus is that we are doing a lot of very hard work for a very temporary fence. And indeed, this is true, it is a lot of work, but tell me, what in this life, that one is dedicated to, is not hard work?  We see it like this: 4 or 5 days of solid effort for 3 years of a temporary bunny-proof fence doesn't seem such a sacrifice to make.  The fencing materials can also be re-used in the future and so it is quite a different thing from temporary toasters and cell phones designed to fail after 2 years and then straight into the landfills.  But enough about toasters and cell phones, I digress. Let me tell you more about those untreated fence posts…you see,  they came from trees that were threatening to take over our driveway and they were going to become firewood if not fence posts.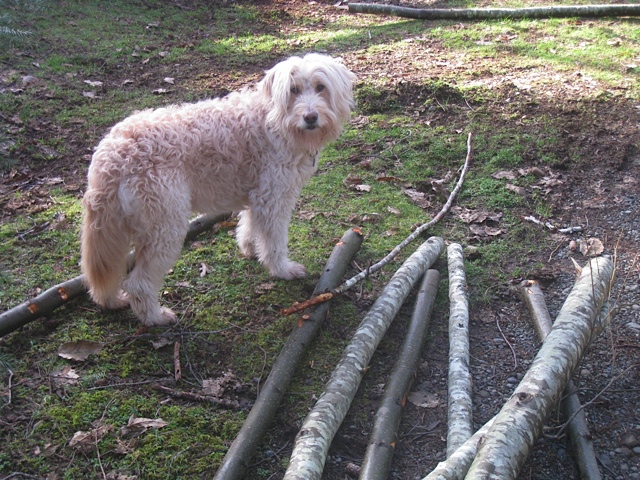 And so, over-all, it would seem that much good has come out of this new plan, a fence is being built, our driveway is being maintained, and a bundle of dollars were saved from not having to buy more posts. We are very pleased over here.
We have also had some more guests in our cottage as of late, and they left some very nice comments in our guest-book. Reading their words was a truly positive and nourishing experience.  It helped us to see what it is we are creating here at Honey Grove, and it reminded us that all our hard work is worth it, not just for our own benefit, but for the benefit of those who come here to stay. Otherwise, we are reading loads about chickens and we will be ordering our laying hens from the farm up the road in a week or two.  We are getting our seeds ready to plant and will start sowing some indoors this week!  And when we are not working, we are going for long walks and we are meeting some lovely folks out here, to share suppers with and to celebrate full moons with.
May this find you in the midst of a beautiful day~
The Sims~