I have heard it told that March comes in like a lion and goes out like a lamb. This I have gleaned from wise crinkly ones who have seen their fair share of winters turn into springs.  And though I know that these things are unpredictable, I am someone who has respect for experience, for years lived and things observed by those who have witnessed the passage of time. What nobody could have told me though, was exactly what the roar of a "March Lion" on this coast line was really like….and so it would seem that over these past few days, we have indeed found out, and I must tell you, it is a roar like no other.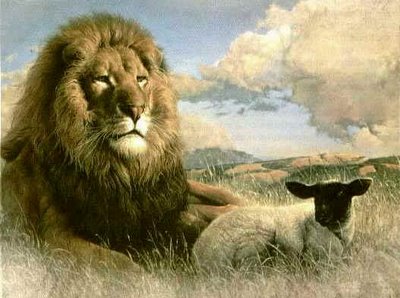 You see a group of wild and raging winds swept across the Pacific West Coast three days ago, ravaging the coast line.  They woke us in the early morning hours, their whoosh and swoosh threatening to lift the very roof off the house (or so it seemed from under a pile of thick blankets, in the dark just before dawn). There were barn doors clattering and tree trunks crackling and rain coming down at fierce angles.  Hundred year old trees were up-rooted to come crashing down onto power lines and houses. Our nearest towns closed for a day and our power was snuffed out along with fifty thousand others for thirty-six hours.  The winds, "at their peak, were recorded at 63 knots or 116 km/hr at the CFB Comox weather station – only one knot (2 km/hr) short of being hurricane force." (this from our local paper). If we were looking for a back-to-the-land experience, I think we may have found it. eh eh And although the storm was only a few hours long, its damage was felt for days afterward.  For two days we lit candles and collected rain water (our wells pump is electric). However, when we weren't lugging 5 gallon pales of rain catchment water into the house, or milking our over-seas-neighbor's-goat (in the middle of the storm I might add) while branches crashed down around the goat shed, or learning to cook on a woodstove, that we managed to see the poetry in all of it.  We sat around the blazing wood-fire in candle light, with full bellies, in a silent house without the electric hum we have become so used to, and truth be told, it was very nice.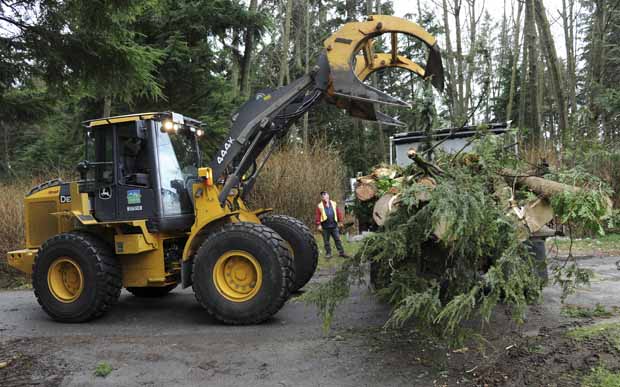 And when the dawn came after that howling night and we could clearly see that this storm had had some serious impact, there was only one question for Mark and I, and that was, "do you think it's still standing…?"  The poly tunnel that is, that plastic hoop-house we labored over for a month. In that moment neither of us was brave enough to say yes or no.  So you can imagine our thrill when we saw it there, standing amidst the fallen branches.  It looked to us like a temple standing strong and gleaming white in the morning light, shimmering in the calm after the storm.  We danced then, and kicked our heels up and yipped to the sky.  Later that day the neighbors leaned over the fence and said that even they were impressed it still stood.  For some reason, when the locals bid you respect, it sinks right into your bones, and soon we were glowing like our tunnel, with pride.  (however sinful that is).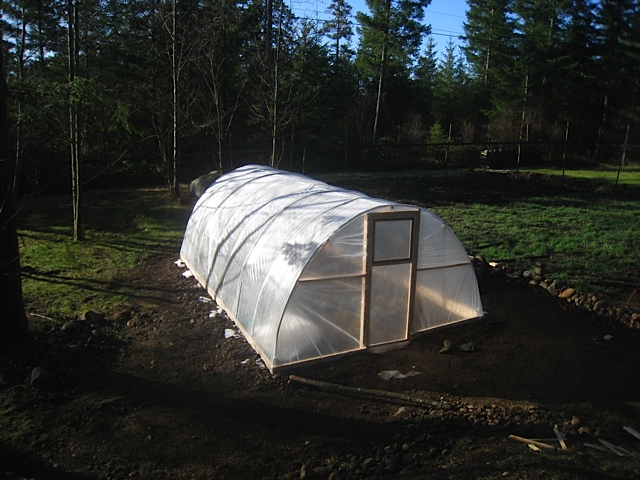 Later that day we planted our orchard, as our lovely trees were sitting in pots waiting to stretch their roots into the earth.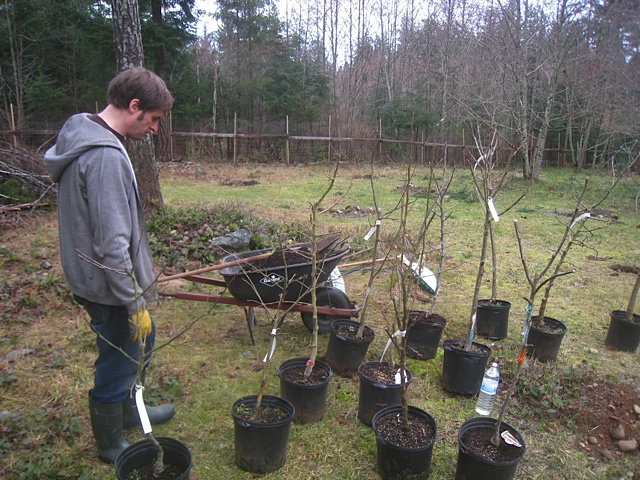 So we gently got them out of those plastic pots.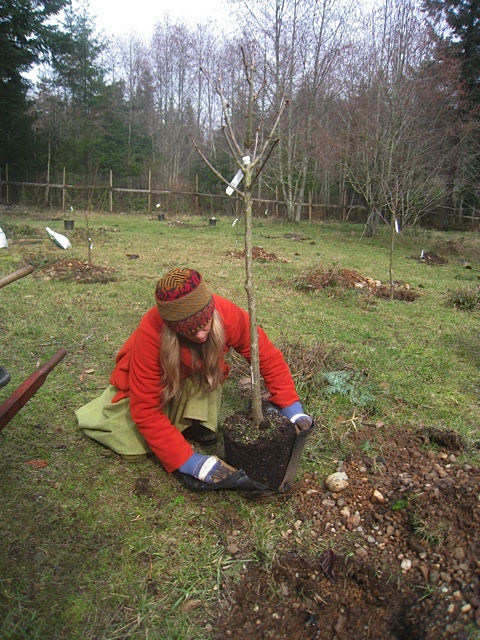 And we dug deep holes and filled them with nutrient rich soil and bone meal before we packed the dark earth in around the root balls nice and tight so not to let any air in.  We sang a bit too while we did it.  Gus of course cheered us on, the way he always does.  And in an enthusiastic game of ball between tree planting,  he fell into one of the tree holes, and for a hilarious moment he was stuck in there like an upside down beetle, and don't ask me why this was so funny to me.  It was something about seeing fluffy white paws kicking up at the sky where once a whole dog stood.  Sadly I don't have a picture of this, but you can imagine.  (and our beloved Gus suffered no injury).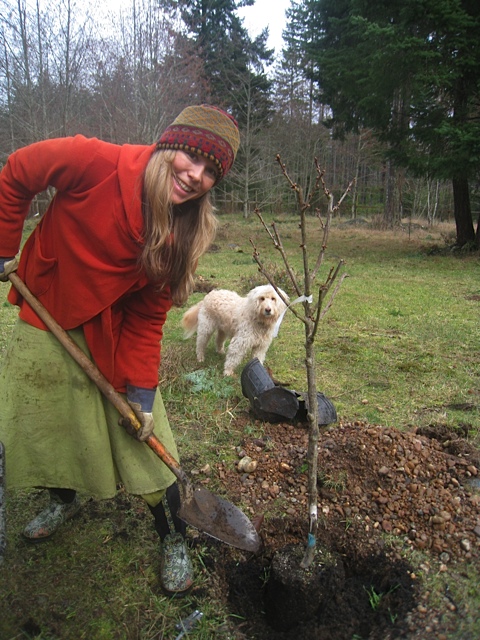 As for today, the apples, plums, pears and quince are all in the ground staked, fed and watered.  The winds have at last become still.  Today will be a quiet day, mostly because my back has gone into spasm from all the lifting and digging. I too will pause along with the wild winds of spring.
Wishing you all a beautiful day from the fireside, tea brewing, back resting.
Nao and Mark and Gus