This post is an ode to spring. It is dedicated to new life, to green and growing things, to buzzing bees and baby chicks, to yellow blooms and blue skies, to warm winds and sunshine.  And if I were Wordsworth, I would be able bring the landscape before me to life with my words and poetic musing, however, as much as I would like to be a romantic poet, I am afraid it shall never be the case. I will simply have to accept the plain and simple truth that I am a "romantic" and this will have to be enough.  eh eh.   I can tell you though that daffodils awe me as much as they did William, and if I could sing their yellow praises the way he did, I would I tell you, I would.  For now though, I am afraid you will have to be satisfied with my attempt to tell you of the magic unfolding here at Honey Grove without poetic stanza or lyrical grace.  So here it goes, my version of this glorious season.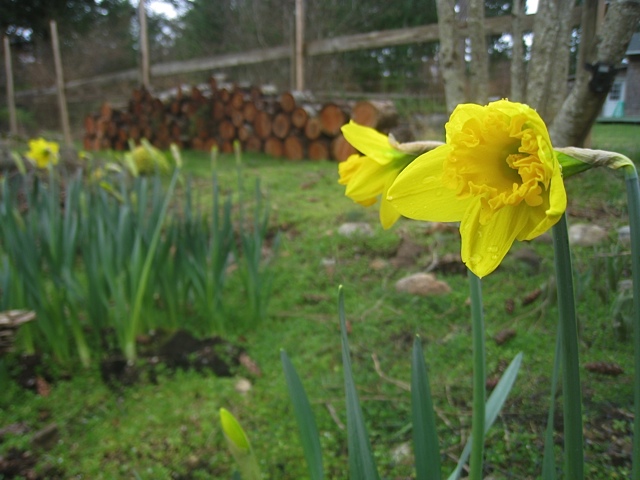 There is spring in all of our steps here, the two legged and the four legged. We are all leaping about, over puddles and fences and across the garden.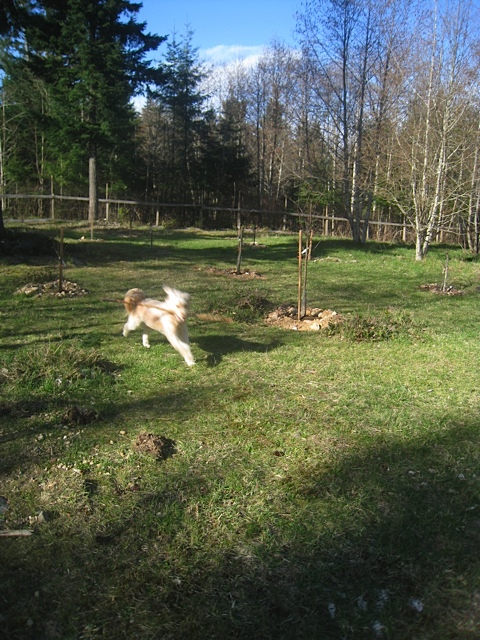 And since the sun has come back, there is heaps to do, so many things in fact that the only way to get any of it done is to focus on the task at hand without thinking of the next project.  So project number 1 this week was bee hive building. Mark built 30 hives and I painted them.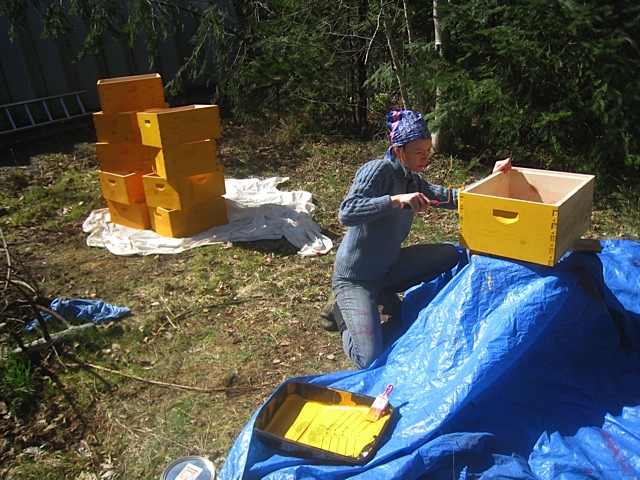 We decided to paint them golden yellow and burgundy red, like Tibetan Temples.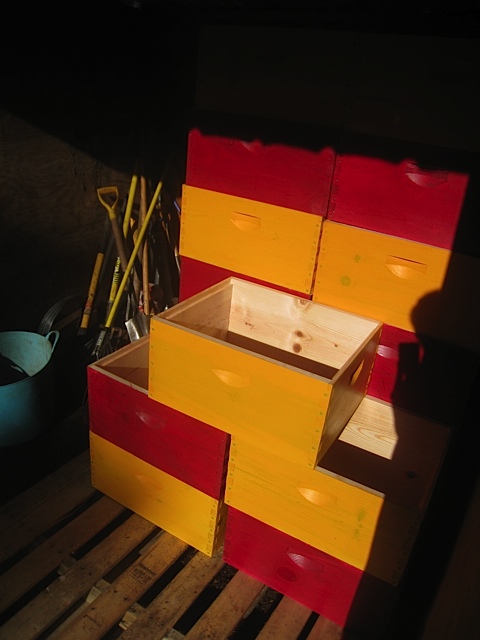 I think they look beautiful, especially in evening sun, all stacked and awaiting more bees.  And when the hives were built and painted and tucked away in a dry place, there were potatoes to plant. The bio-dynamic calendar told us that the moon was in the right place in the sky for such an event to occur.  Gus helped.
We are almost potato growing experts now, thanks to his studious efforts. See below, isn't it obvious that I know exactly what I am doing? eh eh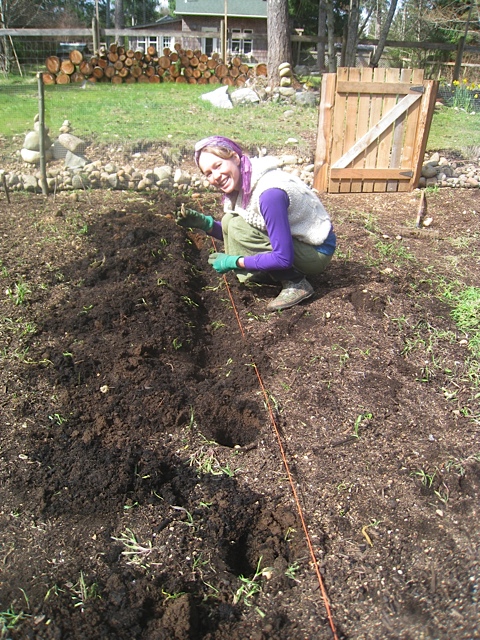 And while we planted spuds and discussed garden plans, the bees were flying.  Since the temperatures were warm and above 10 degrees, I opened the hive lids and took a peak inside on this sunny afternoon.  I stood there in a hum of bees, honey comb smells wafting through the air, yellow pollen coming in from all directions on tiny bee legs. It was wonderful.
But bees are not the only live stock here with us at Honey Grove.  Not anymore anyway, not since this afternoon when six baby chicks arrived to live in our spare room under a heat lamp until they are ready to be wild, free ranging egg layers.
We are in love with them.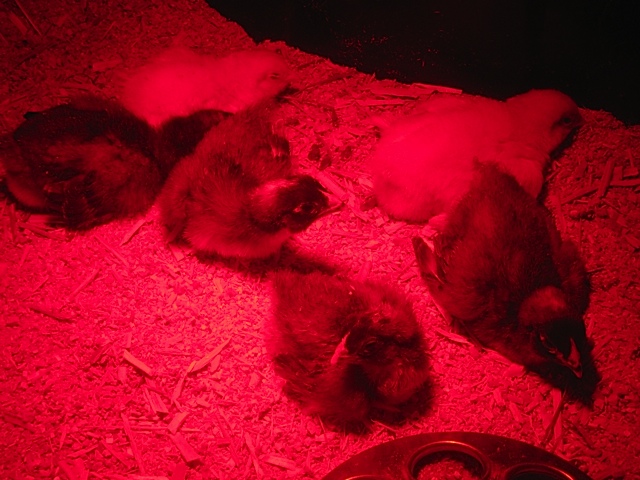 Otherwise, the garlic is growing.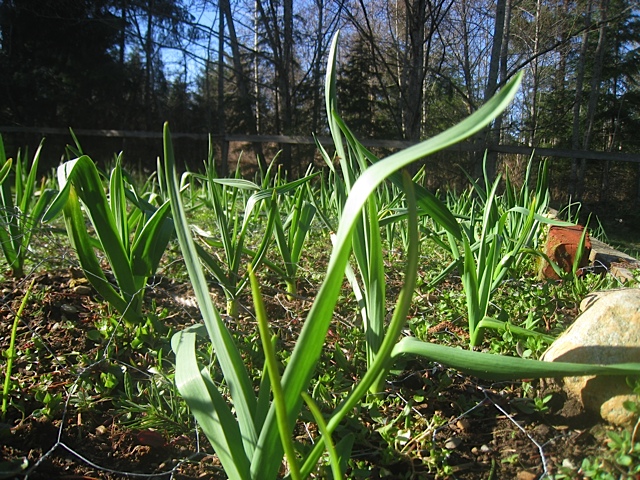 And so are the strawberries, which came from a friend's organic farm down the road.  We planted them on a hill near the veg plot, because I have always wanted to have my very own strawberry hill.  It is a dream come true, like Disneyland is to some people.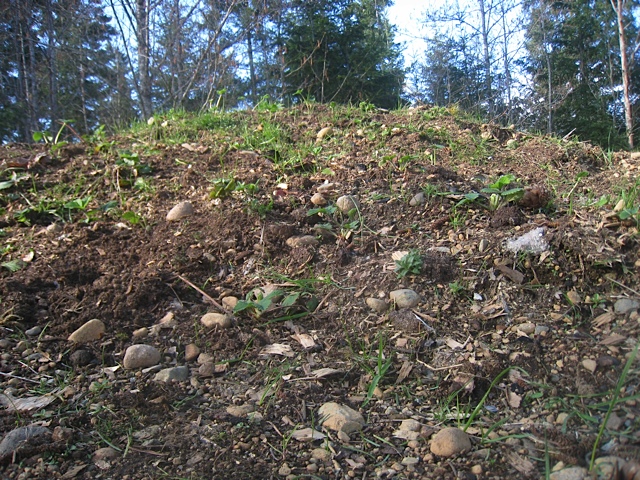 And there you have it~
Spring Blessings,
Nao, Mark, Gus, Bees and Chicks~