There was a time, in the not so distant past, that I believed I knew where my food came from. I  thought that because I grew up on a farm and that I witnessed the cycles of birth and death from a very young age, that I had some kind of privileged comprehension about what it means to "live on the land."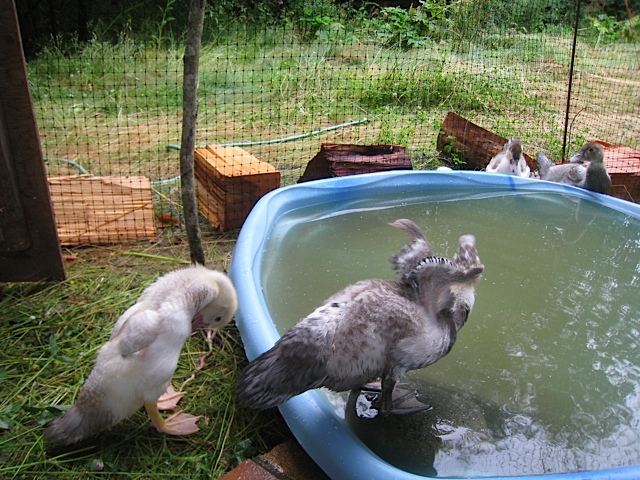 Truth be told, I realize now how arrogant this assumption was. I thought that because I watched my father slaughter animals with his kind hands, in quick and reverent ways, that I must also inherently know something about what it means to take the life of another being to sustain one's own. I thought that because I grew a garden, and that I went to the farmer's market on Saturday's to source local free-range organic meat, that I understood something about what it means to farm.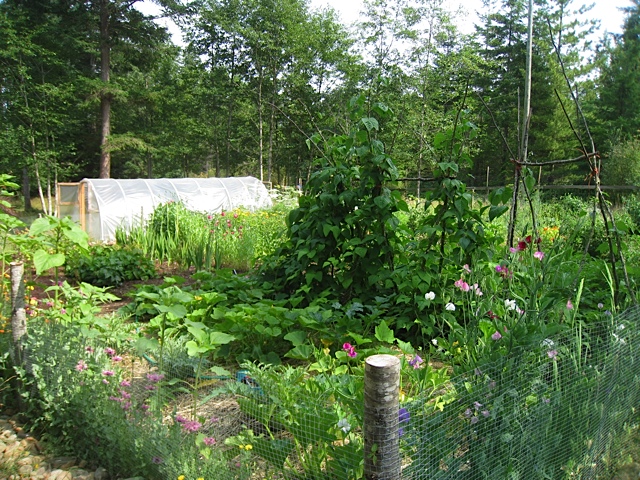 Over the past 48 hours, the only thing I know for sure with regard to this topic, is that the sacredness that is a result of taking the life of another being to sustain your own, cannot be put in the category of "thought." For this experience belongs in the category of the profound. It belongs in a place of heartfelt reverence that surpasses any and all notions of "thinking."
2 days ago, we took the lives of three of our precious male ducks and all that I "thought I knew" about "the cycles of life and death" dissolved. I held each one of our beautiful ducks through their passing.I wrapped each one tightly in a blanket and I whispered a prayer, while Mark and our dear friend James took their lives swiftly and lovingly. I can honestly say that it was a sacred act, and I believe with all of my being that such acts should be nothing less. I cannot imagine taking the life of a being in any other way.
I will also say that I cried hard, harder than I even knew I would, but it was the only way for me.  I had to let those tears come. I had to forget everything everybody else told me about "how I should be" in that moment, and I had to let myself feel.  All week I told myself I was going to be strong, but before I found myself in the actual moment, I thought that strong meant something else. It was not until I allowed those tears to come that I began to see that strong is not about holding it all together. Strong is not about being upright and without feeling. Strong, at least for me, in this moment, had to do with facing the honest truth of what was asking to be expressed, and allowing it. After my tears, I was able to hold each one my ducks with the calm and steady love required to honour their sacrifice.  And I did.  And they went.  And it was profound.  And the gratitude that I feel for their sacrifice cannot be properly articulated on this page.  And I do not know if I will grieve as much next time. The experienced farmers say, "it gets easier," perhaps, but surely it will always be sacred, for this is the only way such a thing should be.
Before that day, before I found myself there holding my ducks in their death, I did not believe I could do it. For the past several months, I tried to convince Mark that we should keep all our ducks as pets…"and then what," he said tenderly? "Do we buy our food from the farmer down the road?  What is the point of that," he honestly asked me? "Is this not what we came here to do, to grow our own food and raise our own poultry and to give the animals on our land the best life possible?  And have our ducks not seemed happy bathing in their pond and digging for slugs? They have had a good life," he whispered.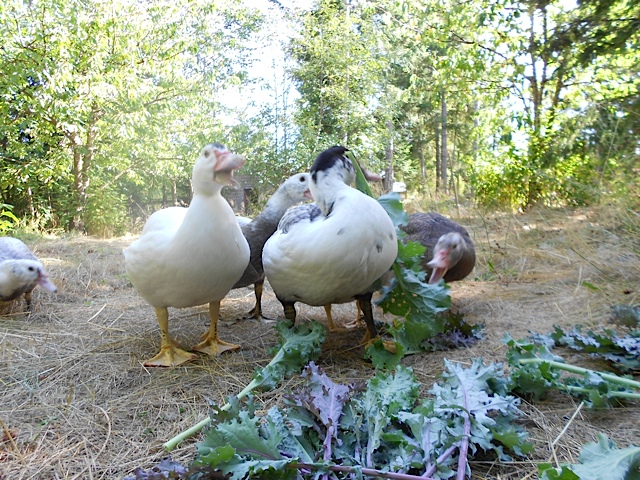 And as I stood in our kitchen, tears welling up in my eyes, I could feel the truth in Mark's words, and I felt myself nodding in agreement that "yes, they have had a good life." I recalled the summer afternoons I spent with them, feeding them kale and holding them in my arms.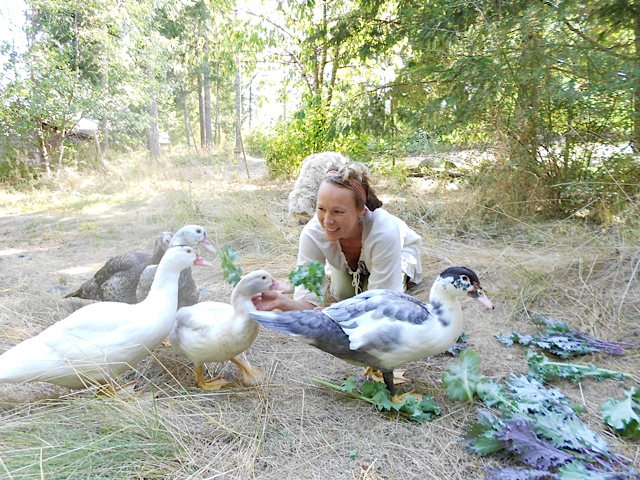 And so, on the Winter Solstice (a sacred day for us here at Honey Grove) there will be a feast in honour of this good land. In honour of the ducks who gave their lives. In honour of our honest attempt at a homesteading life. In honour of our trials and tribulations, our joy and our pain. One of the ducks will be roasted and some lovely friends will be gathering to join us. We will raise our glasses to our ducks, to their good lives and to the lessons they have given us. Every part of their bodies will be used. The carcasses will be made into soup stock and Mark will render all that good fat for inspired french dishes.  I have kept the feathers for sacred art projects. The livers are being made into pate, and Gus has enjoyed a gizzard or two. Otherwise, it snowed at Honey Grove and it sparkles and crunches beneath our feet. It is a proper winter wonderland and we are all rather enchanted by it.  The cottage is full of guests, those who are  looking for a country Christmas. Yes, Honey Grove is alive with holiday charm.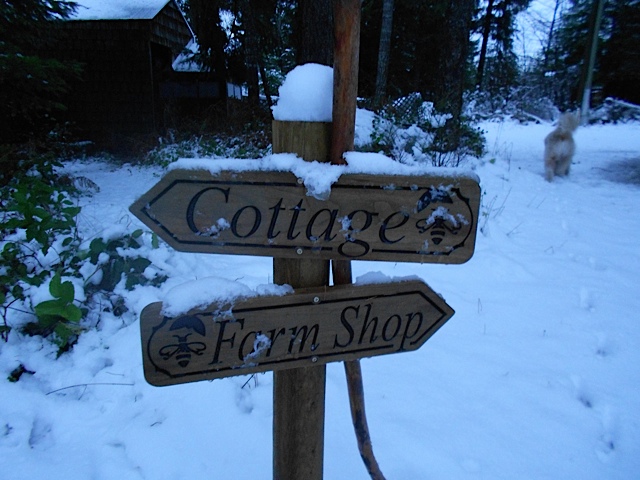 There are gingerbread coming out of the oven.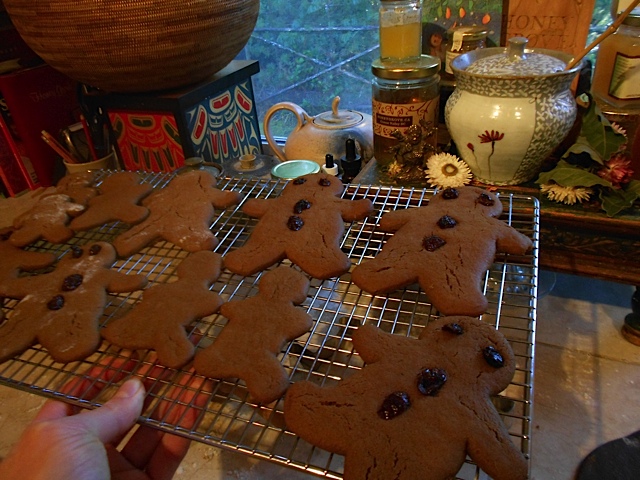 And wreaths being made.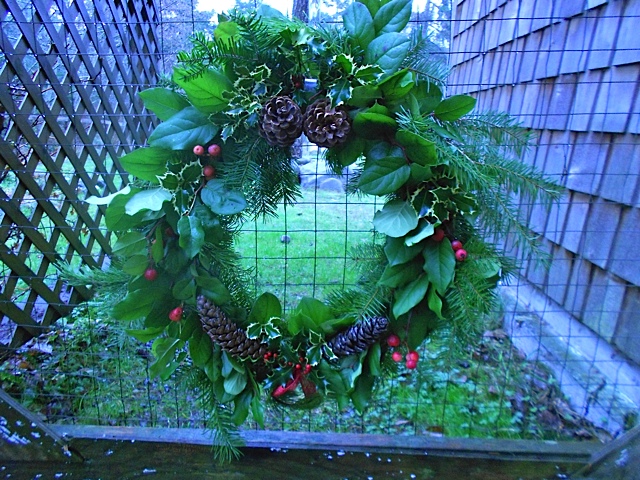 But mostly there is tremendous respect for cycles of life that bless this beautiful farm.  Which reminds me, on the day that I went to get the ducks for their departure, I found our first egg in the duck house.  The girls have been laying ever since. Such poetry as this, it leaves no room for anything but awe.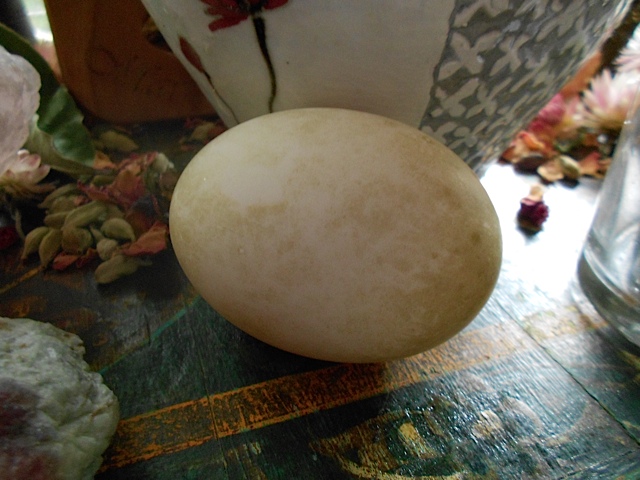 Holiday Blessings to All, and Thank You for being a part of our journey,
In Gratitude, Nao, Mark and All At Honey Grove~