Today there is rain on Honey Grove, the warm June kind of rain that makes steam rise up off the ground and bends long green summer grasses onto their sides.  This morning it looks like a giant must have lay down in the lower field last night and took a sleep there, inadvertently pressing the soft grass down all around him.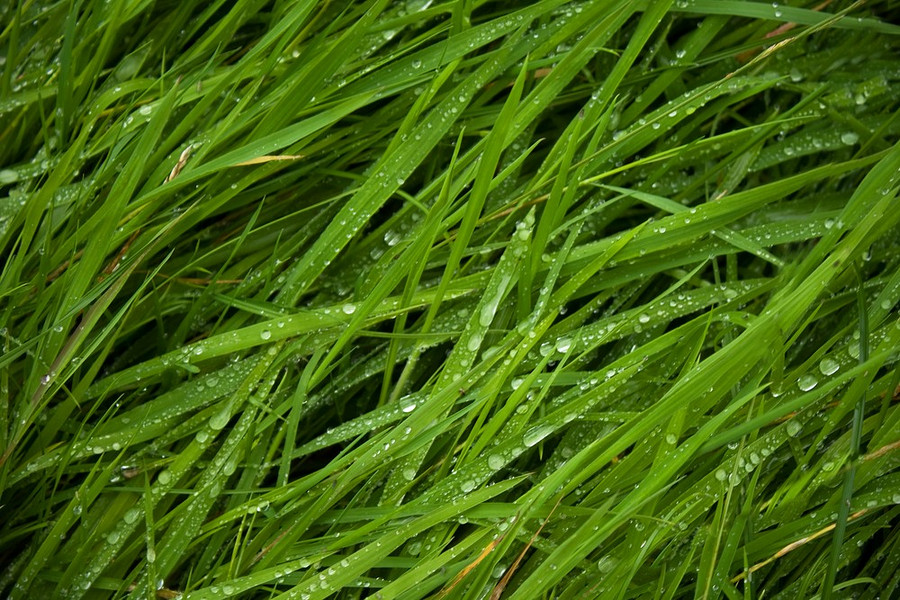 Well, at least I think it was the rain, it might have been a giant though, hard to know, one cannot be too sure of anything these days.  If it were a giant, I do hope he sticks around. I want to ask him about that bean variety he uses, the one that climbs up into the clouds, and  I can think of a long list of other things I would love him to help me with too.  But anyway.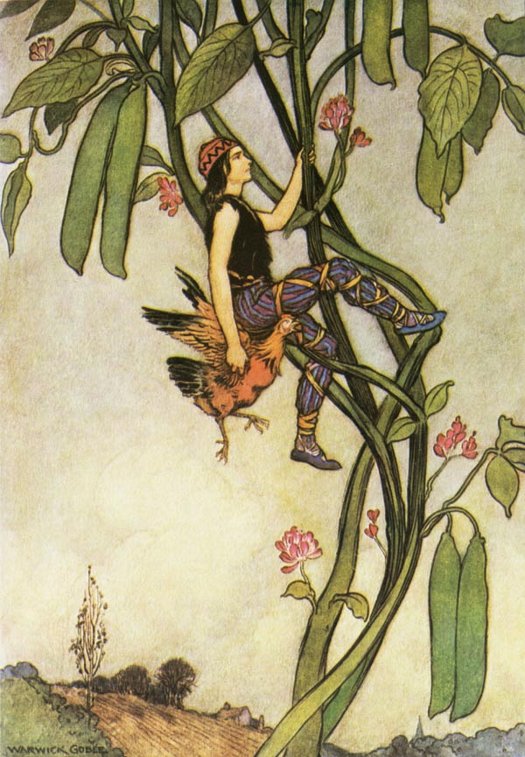 Honey Grove is a flurry of activity these days, guests are coming and going.  The cottage is full of visitors from lands near and far, and we are thrilled that so many people are making Honey Grove a destination. Mark's bread is a hit and when he is not working on the farm he is baking loaf after loaf at the bakery and in our kitchen.  The smell of fresh bread can be so seductive.  I can have just eaten lunch and 5 minutes later be wheel-barrowing compost past the kitchen window, when a waft of freshly baked bread will pass under my nose to lure me away from my work. Suddenly, like a person in a trance, I am parking my wheelbarrow and entering the kitchen to spread honey on bread, without a thought of what I was doing or where I was going.
Speaking of compost, compost has become my latest obsession.  I read about compost, I make compost, I turn compost, I apply compost and I am constantly in awe of what compost can do.  My latest discovery is chicken-manure- tea, a trick taught to me by my wonderful Swiss neighbor Ursula,who has been known to say ( in her lovely accent, when it comes to all gardening and farming matters) "this is what we do in the old country."  And when I say to her, in my enthusiastic- green grasshopper- full on Canadian way,"But, Why Ursula, Why do you do it like that," she calmly says (every time I ask) "oh, we do this, because it works." And I have to tell you, I have really come to appreciate her explanations, because sometimes a little bit of mystery is just what my monkey mind requires.  It is such a relief to not have to figure everything out, I highly recommend it.  But I digress, back to chicken-manure-tea. So, I make tea bags from fresh chicken poop that I scrape off the coop floor.  I do this by wrapping the chicken droppings in old burlap, which I then tie up in binder-twine. Once the tea bag is made, I soak it in water for at least one day and one night. I happen to be a master tea maker and so this part feels very natural, just replace tea cup with 5 gallon pale and tea with chicken droppings.  I call it my chicken manure cuppa and I apply diluted amounts ( a certain size yogurt container, to a certain size watering can, all very unscientific and un-precise)  to the base of my fruiting plants and flowers, and oh, how they love it.  They grow strong and green, they make beautiful blooms and if they could smile, you know, I think they would be.  Anyway, enough about compost, I could go on all day.  Mostly, I am just doing it "because it works."  Take a look at our beans for example.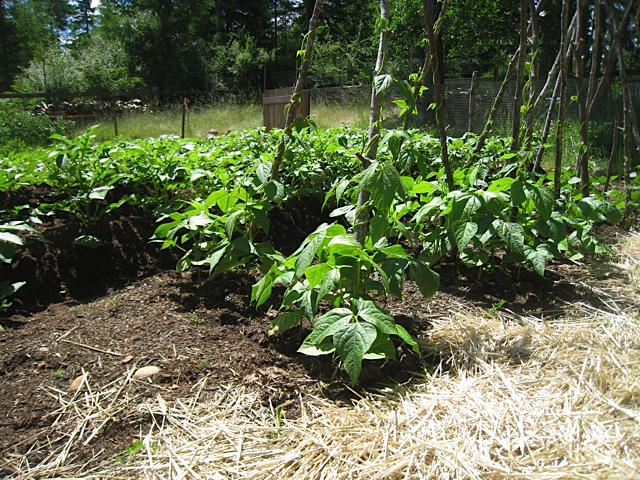 Whatelese, well, we have some very lovely new arrivals here at Honey Grove.  The kind that have webbed feet and quack.  Yep, 8 little ducklings, who will grow into big Moscovies.  Some will be laying eggs for Mark's baking and others will eventually be enjoyed at the dinner table.  I have not fully got my head around that part just yet, but I am confident that I can, knowing that while they are with us on Honey Grove we shall give them the most wonderful life possible.  They will have their very own little duck padock and private pond, organic hormone-free food and a soft warm place to sleep at night.  If I didn't love duck confit so much I might be struggling more with this one.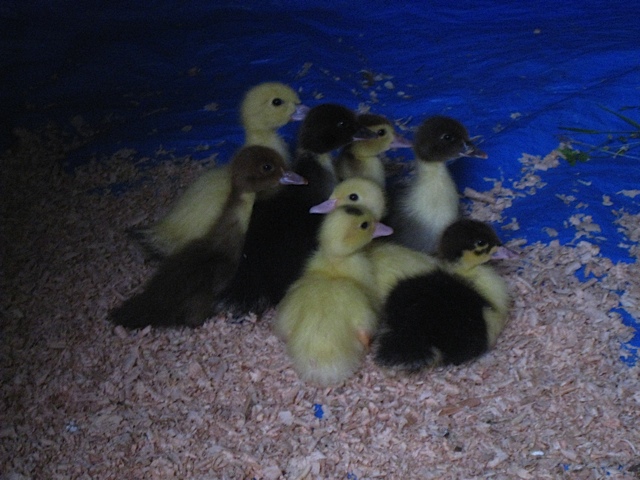 The bees are building up nicely and when the sun was out this past week before the rains came, so were they.  They are bringing in nectar at long last and lots of pollen. The queens are laying and the hum in the bee yard on a sunny day is one of the most beautiful sounds on this earth.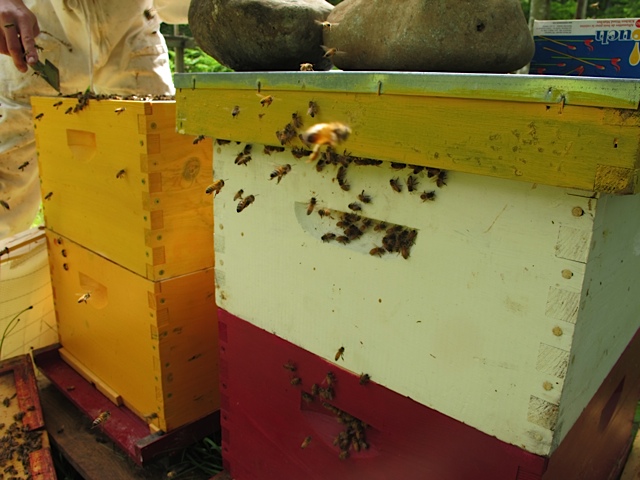 Gus is enjoying summer thoroughly.  When he is not chasing robins and sticks, he is offering his KarmaYoga classes on the front lawn at all hours of the day.  He only does two poses though, Downward-Dog and Shavasana (Shavasana almost always turns into a long nap).  Otherwise, he has made it his priority to offer his Secret Of The Universe to the guests, which they seem to appreciate, it is, as you know, the same secret he has always had, and that is "Not to Worry."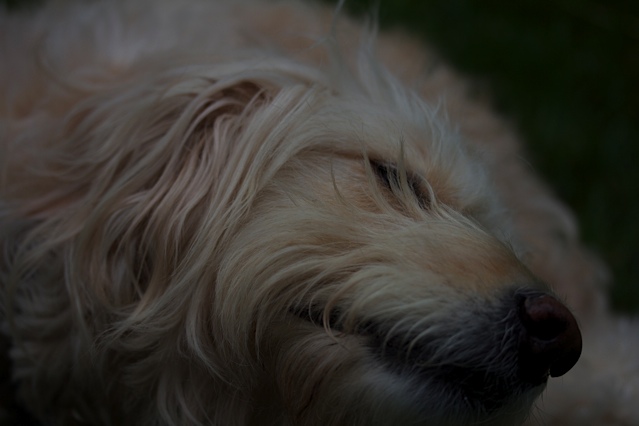 So, that pretty much sums it up.  We are feeling content, grateful and blessed.  We are working hard and getting strong. We are turning brown the way you do when you are outside from sun up to sun down. We are eating salads from our garden. We are accepting our limitations and we are doing the best we can.  We have still not totally integrated Gus's "secret of the universe," but he keeps reminding us when we forget.
May this find you in the midst of a wonderful day,
Blessings and Abundant Happiness To All,
Nao, Mark and Gus ( also known as Baba G).