Well, where to begin? Such a busy time here on Honey Grove. I have come to the conclusion, whilst weeding at dusk, that long spring days are a cosmic gift for the farmer. Light in the sky until 9:30pm has never been such a blessing as it is now. Yes, the tasks are many, but the days are long and it is a most excellent combination. The chickens think so too. Ron our rooster especially, he is a sun worshiper himself and has nearly figured out crowing, although I might be more inclined to call it "croaking" now.  Nothing like the sound of a teenage rooster.  Bless him.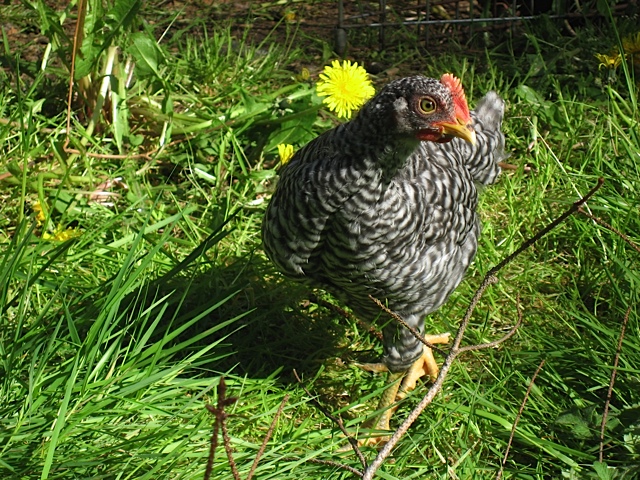 Everyday the garden grows another inch and each evening after our supper we walk the perimeter of our property noticing the changes. If I am honest, I will tell you, that for me, for us, this evening stroll is nothing short of magical. As I write this, I know that I am not alone here. Anyone that has ever grown anything knows the joy that such simple pleasures brings. It is something more than satisfaction I think. There is sense of awe mixed in and a good dose of gratitude too. We recently had some good friends come to stay with us for 5 days. During those 5 days they helped on the farm and joined us on the "Evening Perimeter Walk" and now ever since their departure, they send e-mails on a regular basis, asking for us to please tell them "what's new on the perimeter walk." There is something contagious about it you see, about watching a garden come to life, about watching things grow, about having played a little part in it.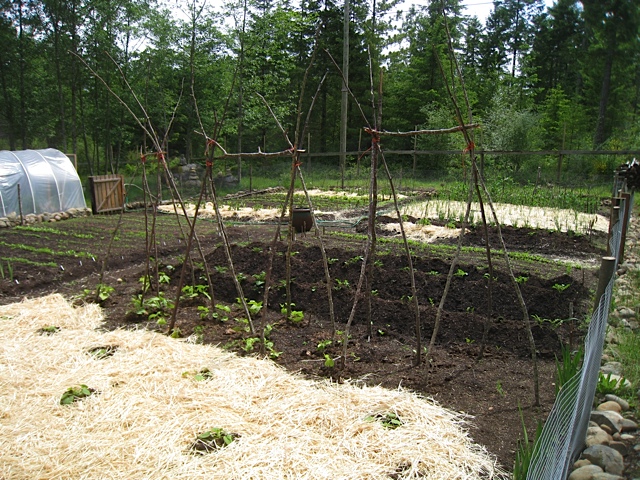 And while the garden grows so does the rest of the farm. Our cottage is seeing guests almost every week. New faces from many places have come to stay. We feel very lucky that so many have made Honey Grove a destination and have left such kind words in our guestbook, thank you. Your words mean more to us than we might be able to properly tell you.
So these last few weeks, we have been mulching like crazy with straw and bark mulch and all matter of things. Wheel barrow load after wheel barrow load, shovel full after shovel full.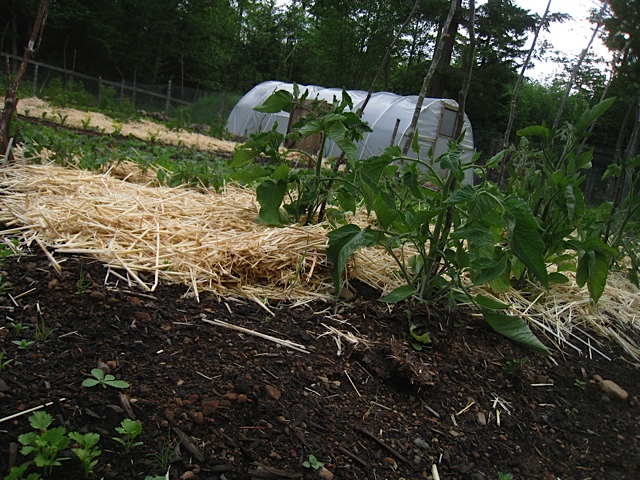 And the bees have really started flying. They come back to their hives covered in bright orange pollen, sometimes so laden they seem to have trouble landing. It is a quite funny actually.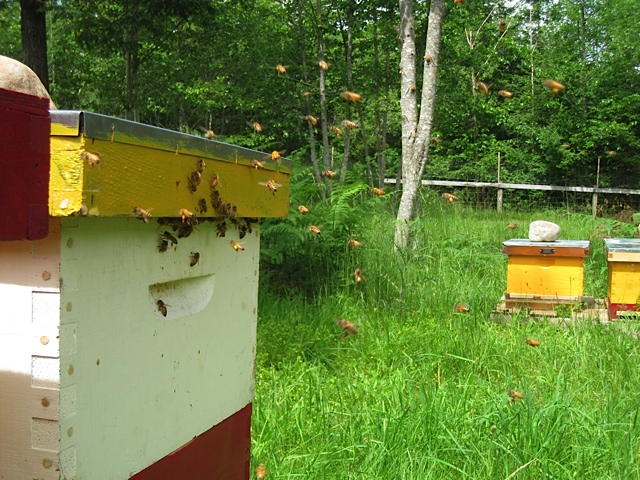 And another bear was spotted just down the way.  Oddly it is only Mark who sees them (we are still not sure why this is). Needless to say though, a decision to build an electric fence around the hives in the lower field was officially made.  A great fence was constructed by my brother Cohen who is visiting from Itlay. According to the wise old timers at the beeclub it's the only way to go to keep the Island bears at bay. Thanks Cohen, I sleep better knowing our bees are safe.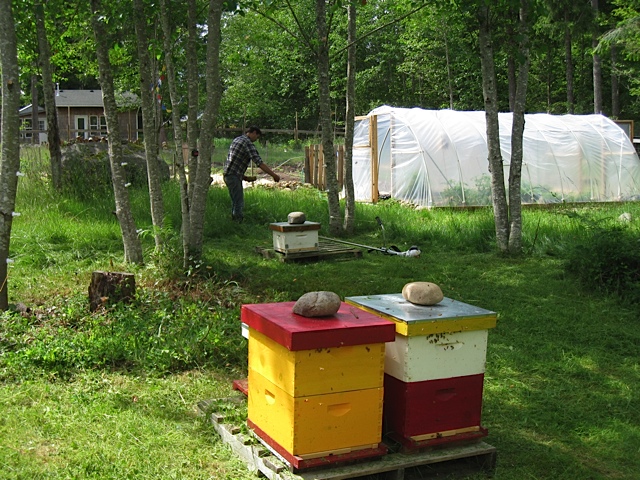 So far the only fuzzy animal that has come near the fence is this one.  And although our signs are in French, hopefully people will get their meaning.  It is Canada after all.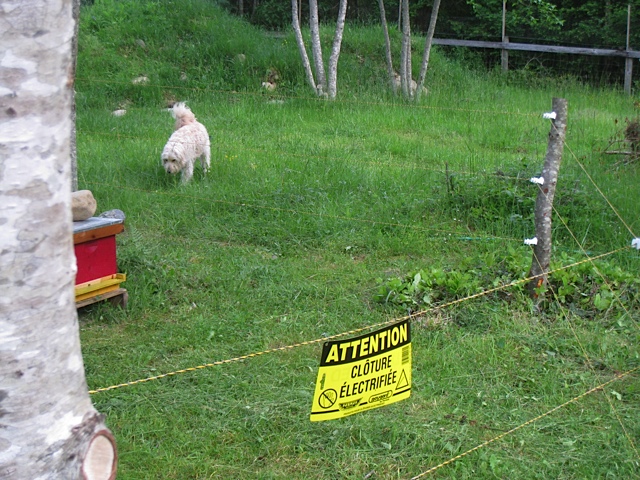 Whatlese…well, a load of cedar shingles was delivered by a dear old friend, which means that work on our home has begun, off with vinyl siding, on with cedar shingles. Lovely friends came to help, thank you Lana Marie , James and Rachel!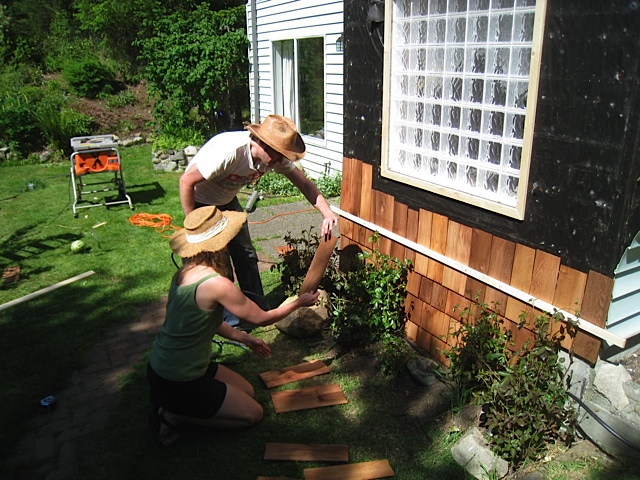 And through this process and a myriad of others, I am pleased to say that I have made my peace with power tools and found a place for them in life. A most respectful place I might add. Today it is the compressor and the nail gun that I give my allegiance to.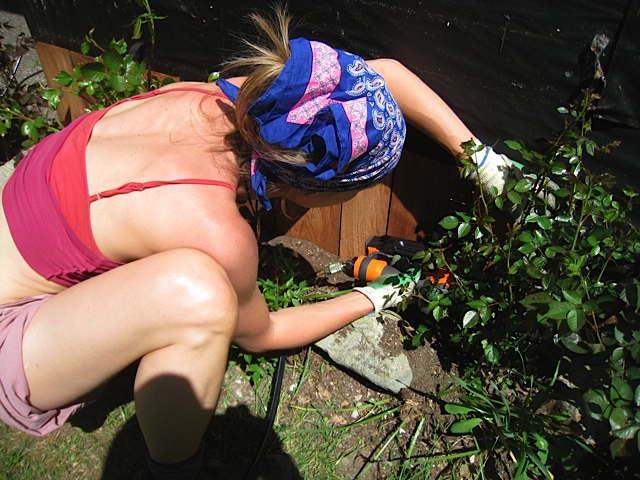 Otherwise, the weeding and watering continues. The chickens keep clucking and the cottage still requires cleaning. The guests keep arriving and the days are full, full to over flow. Good thing there is a community of folks in this Valley to dance with, and do yoga with, and sing with, because sometimes a little trip off the property is the only thing that makes any sense. eh eh. Over-all though, we are well and grateful and just as keen and inspired as ever.
And if ever we get overwhelemed with tasks and wonder if we will ever get there ( where this there is I hardly know) I just remember that 8 months ago this: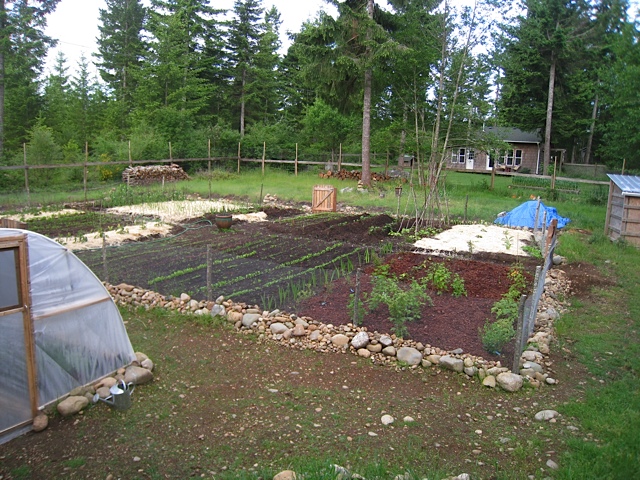 was this: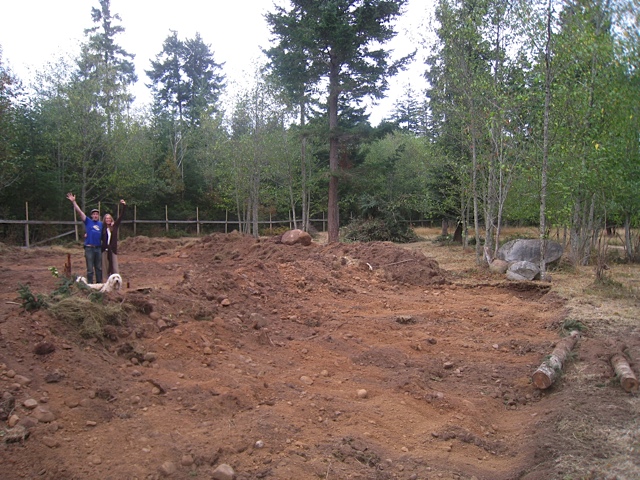 Blessings to All,
Have an exquisite day~
Nao, Mark and Gus