It seems as though, in this very week, autumn has arrived in all her golden glory. Just seven days ago we were still swimming in the sea and sweating in the garden.  We were irrigating the vegetables and eating peaches, but in a matter of some days all that has changed, and once again I am completely enraptured by the beauty of yet another season.  The path that leads to Honey Grove is now littered with fallen leaves. The smells in the air have turned crisp and woodsmoke infused. Rooster Ron's morning crow comes at 7 in the morning instead of 5. We have reclaimed our woolen socks from deep within the closet, and they are now worn in the mornings and again before bed. The light in the sky has deepened to the rich gold that signifies summer's end and autumn's beginning. The bittersweet essence of this season is palpable.  It is a good thing that autumn is so very beautiful, or letting go of summer would be all the harder, don't you think? It is at least this way for me.  Year after year autumn seduces me with her colours and her charms.  As the leaves drop from the trees and the spider webs glisten with dew, I am enchanted and lured into seduction. By the time winter comes and the icy cold is at my doorstep, I have hardly noticed that anything was changing. I can be like the one who wonders, how his lover turned so cold, when once she was so kind, so warm… so gentle.
And while autumn weaves her spell, we have become like two little squirrels here at Honey Grove, putting everything we can away for winter months ahead.  We are freezing beans and canning fruit. We are making pickles and jams.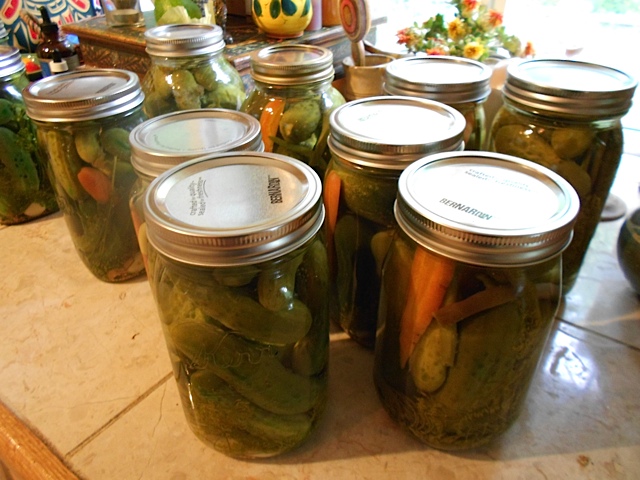 We are cutting firewood and we are splitting firewood.  Soon, we will be stacking firewood. This year ( thanks to our good neighbor Rick) we have been lucky enough to get our hands on 5-year-old- windfall from Quadra Island. The wood is dry and seasoned and perfect for making hot long lasting fires that burn through the cold winter nights. (Anyone that has ever lived in a house with wood heating knows that dry wood means a warm and happy winter. Trying to burn wet wood, on a cold morning in January, makes for a very challenging day.) And so, Mark cut up the rounds.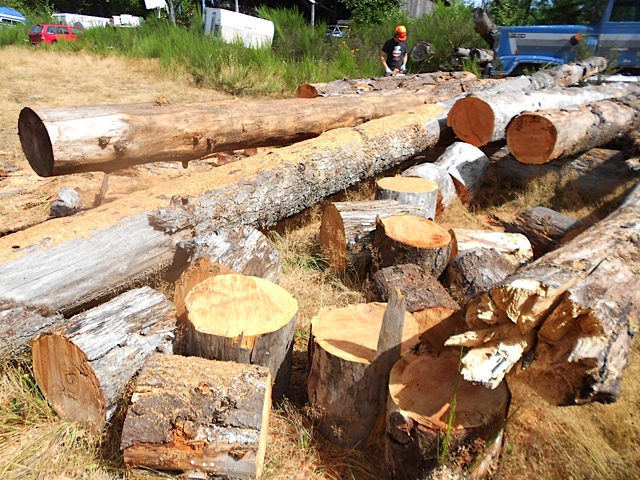 And I loaded them into the trailer, one by precious one.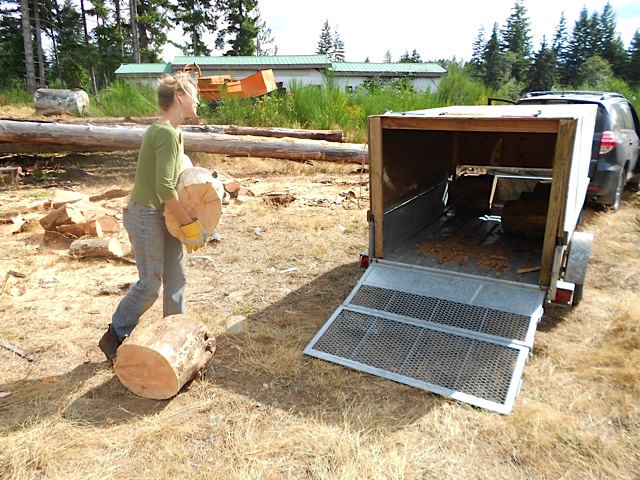 Later we split them.  ( Not by hand no, we rented a splitter to save our backs, that we need so very much)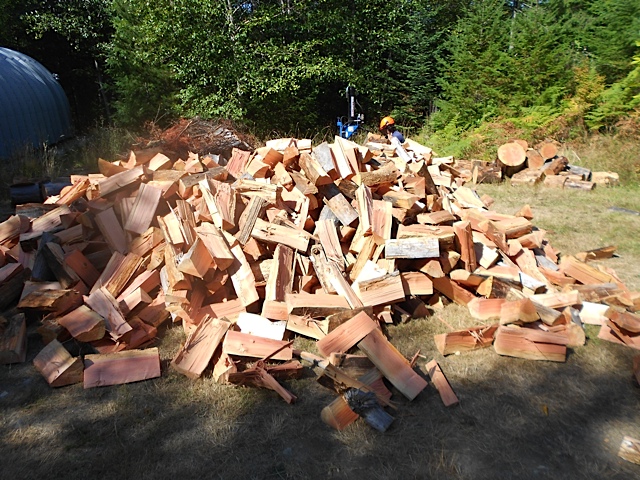 Otherwise there are armies of squash lining up in the house asking to be stored for winter stews and soups.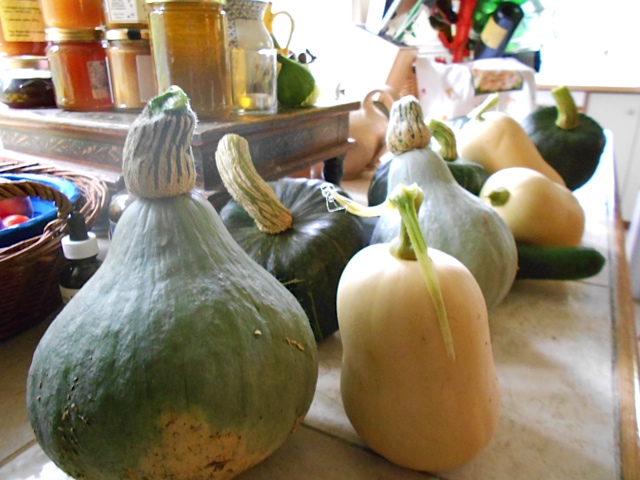 And of course our honey was recently extracted.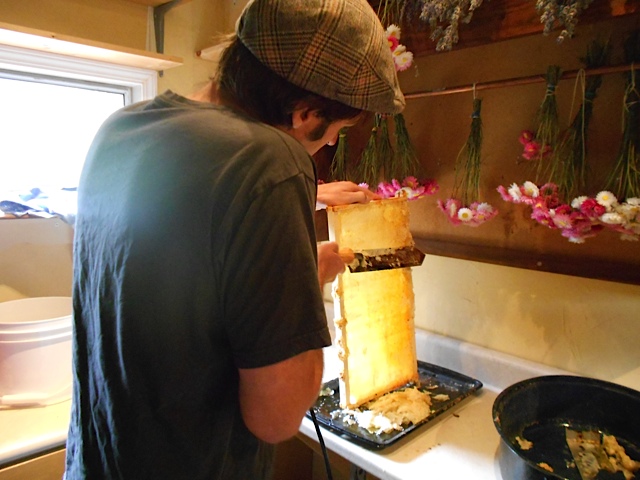 .
Mark cut the cappings off and I spun the frames out. It is a system that we've developed over the past 5 years and it works.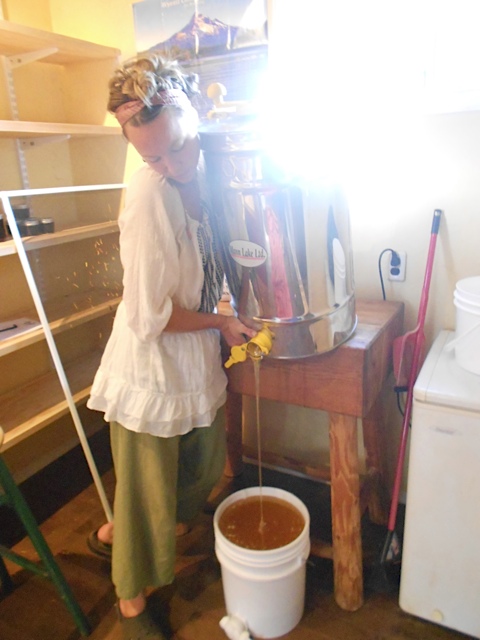 There are jars of honey now lining our kitchen cupboards. Some are for us and some are for guests. If you ever come to Honey Grove you will find one of these little golden treasures in your breakfast basket. There is nothing like Honey Grove Honey on Mark's fresh homemade bread ~ nothing.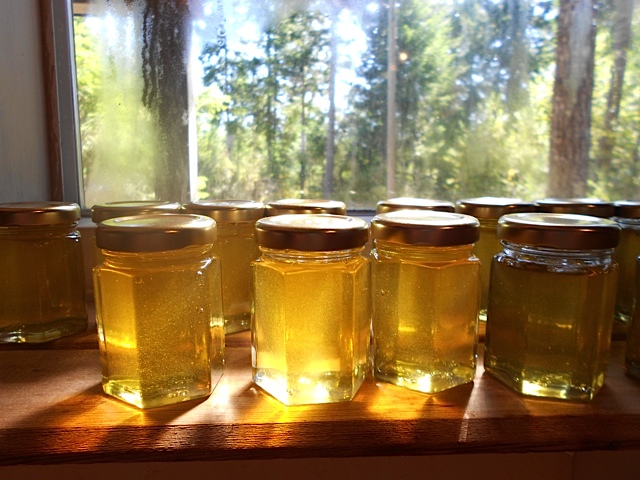 And when that big full blue moon rose in the sky a couple of weeks ago, I set our herbal honeys out for a day and a night to be charged under it's magic.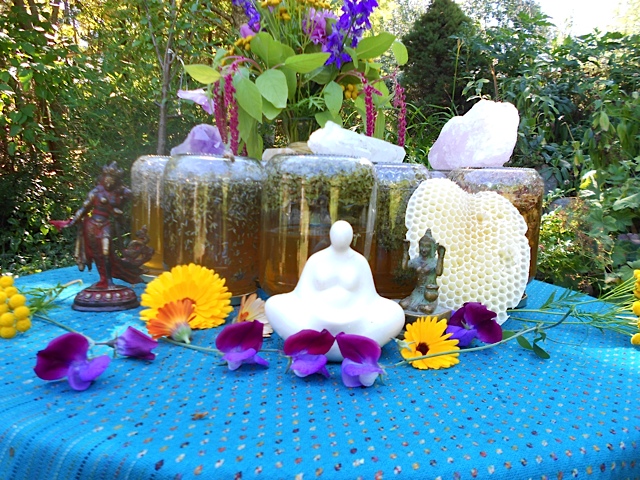 For those who are interested in such things, we also create herbal honeys here at Honey Grove. We steep certain herbs in honey for a certain period of time.  They are delicious as well as medicinal.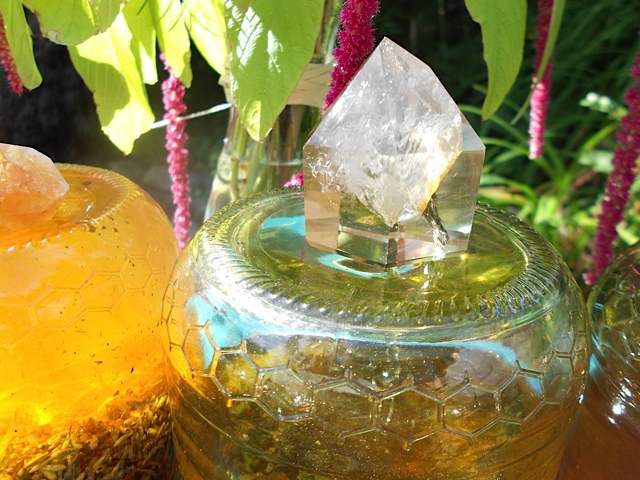 What-else, well, despite the fact that summer is ending, the blooms in the garden are not.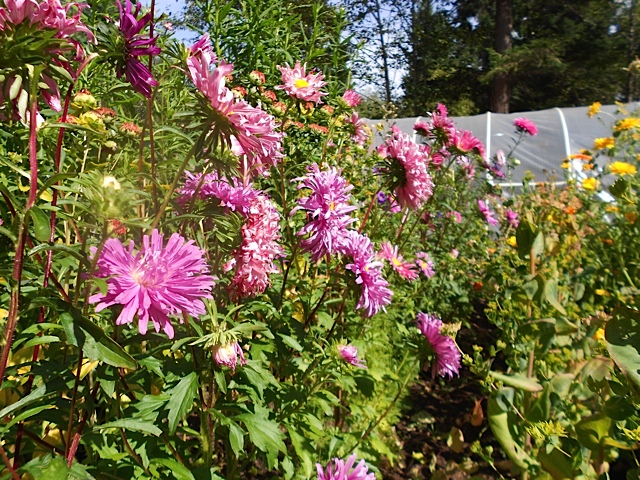 Our asters and cosmos are at their full and glorious heights.  Our cosmos are 7 feet tall this year!  It is a bit of a wonder.  The bees love them too and the whole garden is humming with their happiness. When I find myself having a difficult day I just go down to the "cosmos forest" to join the bees, to let the soft beauty of these pink flowers put the world right again.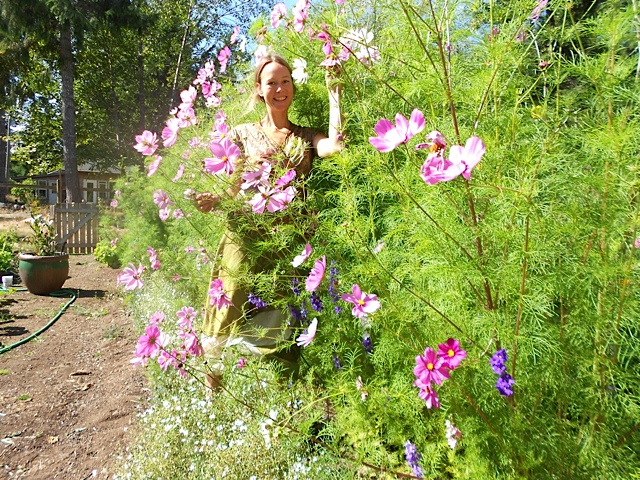 Our fall and winter gardens are growing too.  There are parsnips and turnips, cabbages and winter greens. There are leeks and carrots and broccolis, and still I am planting more.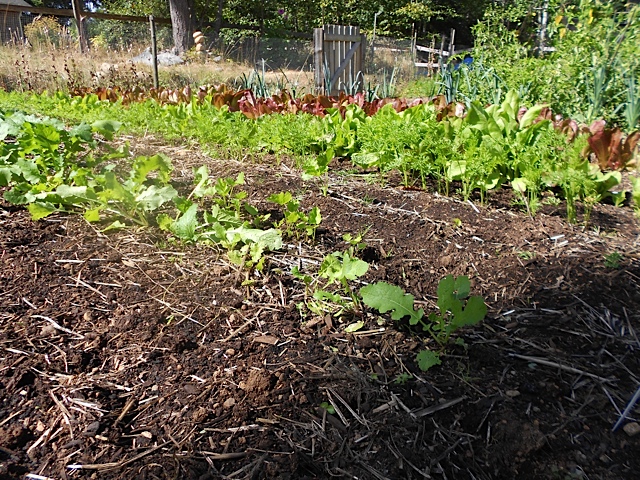 Yes, if we are not planting seeds, we are saving them.  Or at least trying!  There is a whole lot to learn about seed saving. It is much more complex then one might imagine.  I am blessed to have a dear friend who knows much more about this then I do.  She is my seed saving guru.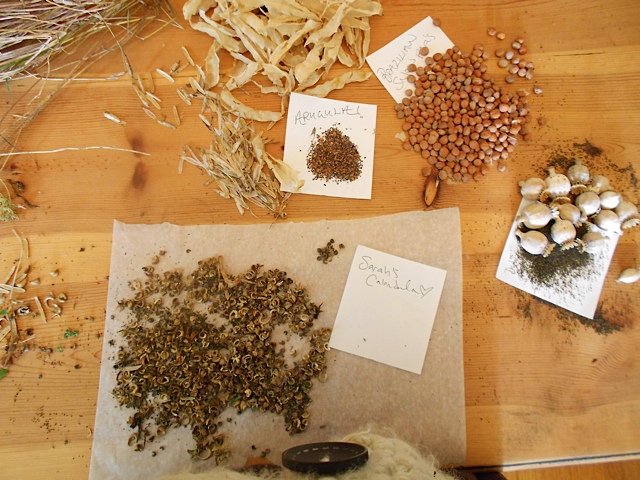 So there you have it, a little window into Honey Grove.  I always giggle to myself when I finish a blog post, because after I write it all down, our life here always appears so much more organized than it really feels.  That is to say, we are not quite as "all-together" as we appear to be from these photographs.  The Honey Grove Confessions Are These:  We do not get every seed into the ground on time, our fingernails are very dirty, some of our vegetables did not make it this year, some of our tomatoes got blight. We are not always smiling whilst doing firewood, and,  I did not include a photograph of myself shoveling truckloads of steer manure yesterday, for obvious reasons.  eh eh.  And so I beg you,  as you read these words, please balance any pastoral perceptions you may be having with practicality. It is highly likely that my romantic nature is colouring my description and making all things appear just a wee bit more rosy than they actually are. The poetry of this life contains it all, the beauty, the frustration, the hard-work, the awe and the gratitude.
Thanks for Being Out There. We feel way less alone in the world.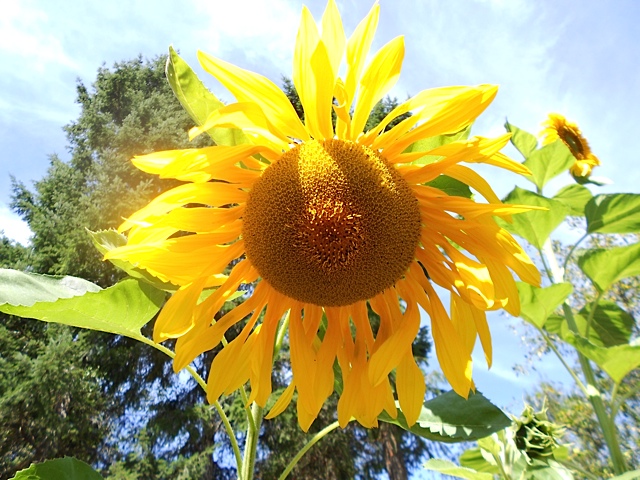 Huge Gratitude and Autumn Blessings,
Nao, Mark, Gus and The Bees