Our Cottage
Honey Grove Cottage is an elegant country hideaway. It is located in the heart of the beautiful Comox Valley just a short drive from the picturesque towns of Courtenay and Comox, as well as the renowned Mount Washington Ski Resort. Our cottage is a part of our 6 acre apiary and organic farm. Gorgeous west coast beaches are 5 minutes down the road, as are breathtaking walks through mossy old growth forest.
The cottage looks out onto it's own private fenced yard as well as our vegetable gardens and apiary. Guests can sit on the deck with their morning coffee and watch honeybees gathering nectar from the garden flowers.
The cottage contains a fully equipped chef's kitchen and all the comforts of home, including: Posturepedic Queen size bed with organic cotton bedding, cozy pull-out sofa bed, Graco Pack N' Play baby bed for little ones, washer/dryer, high-speed wired Internet service and a high definition TV with a large selection of DVD, Blue-Ray programs and cable. We also have an extensive library and board game collection.
The cottage can sleep up to four people. We will also consider the accommodation of very well-behaved dogs, upon the request of responsible dog owners.
Upon arrival guests will find our Honey Grove breakfast basket waiting for them. Guests will love the beauty and tranquility of this country retreat.
Testimonials
"Thank you Nao and Mark, for the joy and pleasure of staying in your exquisite cottage at Honey Grove. You have created a special hideaway, where guests may truly relax, restore, and reconnect in indescribable ways. The cottage is beautifully appointed and reflects your travels worldwide. It is both elegant and cozy and most especially, wonderfully comfortable. I have not found anything anywhere that compares to what you offer at Honey Grove, and I look forward to coming to stay soon again." ~Peter McCoppin, President and Founder of the McCoppin Institute of Learning
"Thank you Nao and Mark for the 5 wonderful days spent at Honey Grove this Christmas. The cottage was lovely, warm, inviting, cozy and so special in every way. I also really loved the kitchen, it was set up better than my own. The bedroom was beautiful and we slept like babies on the most comfy bed. It was such a perfect and welcoming place to spend our family holiday." -Tanis Magnusson, Traveling Cook Catering
Read more...
"I can't rave about Honey Grove enough. So much thought has been put into not just the cottage but every aspect of your stay. I've always loved visiting the Comox Valley, and Honey Grove is a great spot – so close to Miracle and Saratoga beaches, the river, Courtenay and of course M. Washington. Now I have somewhere to stay where I don't have to compromise on my values while vacationing. Honey Grove is truly natural – in every sense. The setting is a beautiful farm with working apiary! The rooms are big, bright and decorated with natural fabrics, artisan pieces and lots of space. Every food, cleaning or personal product was natural or organic. I didn't have to feel guilty about disposable miniature containers of paraben-filled shampoo, for once! Aside from all of that, Mark and Nao make this cottage a true escape. You arrive to freshly baked bread, all kinds of goodies in the breakfast basket and such a lovely couple waving to you as you come up the forested driveway. If you want to learn more about the homestead they are happy to oblige, but they've also made the cabin perfectly self-sufficient so you can hide away from the world in front of a warm fire. I really appreciated how well they balanced family and couples with this cottage. We brought our children (2 & 5) with us on this trip and they had everything they needed. Lots of space to play, to sleep and a lovely big bath to clean up after gamboling about in the gardens. Even though we had the kids with us, we felt like we were on a romantic getaway. Once they were asleep we had the opportunity to relax in front of the fire, or watch a movie (blu-ray!) or sit in the dining room over a bottle of wine. If it hadn't have drizzled we could have sat on our own private deck looking out over the gardens with that wine – but that's February in BC for you. I'm looking forward to coming back in the summer and staying for longer; I'm looking forward to the fires in the garden, the hikes, the trips down to the beaches, the delicious food in Courtenay. I can't wait!" ~The Hertzmans
"Staying at Honey Grove Cottage filled me with much needed rest and gave me joyful space to reconnect with my family. Our hosts Mark and Nao were very welcoming and thought of every touch: beautiful teas and coffee, home-made bread and delicious jam from Nao's kitchen. The cottage is spacious and elegantly enriched by fine fabrics, art, plush bathroom towels and an incredibly comfortable bed with deluxe blankets and linens. It has all the comforts needed, including a well-appointed kitchen and a wonderful selection of movies enhanced by a great sound system and TV. During our sunny day we enjoyed exploring the homestead, followed by star gazing by an early evening fire, which our hosts built for us in the meadow that looks towards our glowing cottage. It is wonderful to have only a 10 minute drive through the beautiful countryside to reach Courtenay, where we could shop to our hearts' content. Another bonus is having Mount Washington only a quick 30 minute ride away. Honey Grove Cottage is the perfect place for our next ski vacation. Truly it's an all season destination as there is so much to enjoy in the Comox Valley year through." ~ Sarah Hoye, Elementary School Teacher, Art Therapist and Artist
"Arriving at the front door of the cottage at Honey Grove, I am welcomed by the its magic and charm. Upon Entering, my senses are submersed into a cozy and comfortable space by rich textiles, original photographic art, and whimsical touches. The place is spacious and clean and is malleable to make into my own with it's self contained kitchen, filled to delight any cooking connoisseur. The sky-lit bathroom extended itself to a cheery feel, a deep tub, and thick towels. I woke up every morning from a tranquil sleep in a deluxe bed comforted with lush linens. As I looked from the bed towards the enchanting gardens, a lone Fir tree reminded me of my bond with nature as I engaged into a spiritual rejuvenation processes. Thanks to the hosts, Mark and Nao, for their hospitality and generosity, this was the best!"- Shanti Williamson, Urban Catalyst Nutritional Consulting
"We enjoyed our weekend stay at Honey Grove cottage very much. It was great to arrive in the dark and wake up to the beautiful, peaceful gardens to have our coffee and breakfast. The cottage was bright and cozy and Nao and Mark were very friendly hosts. This cottage is close enough to Courtenay and Comox for sight seeing and just the right amount of distance out of town to feel like you are in the country." ~Brandie Boyce, Educational Support Worker ~Doug Woods, Sound Artist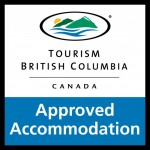 Rates
Based on double Occupancy in Canadian Dollars. Minimum stay is two nights.
Weekly Stay: Saturday-Saturday
July/August $1050
May/June/September $900
All Other Times $750
Two or More Night Stay: $150 per night May/June/July/August/September
$135 all other months
Additional Guests: $20.00 per night, per person (Max 2 additional guests)
Dogs: $15 per night or $60 per week. (to cover extra cleaning costs)-Max 2 dogs
Honey Grove will occasionally accommodate very well-behaved and house-trained dogs. If you wish to bring your dog, you must contact us prior to your arrival to discuss our terms and conditions. 
Reservation Policy
We require a 50% deposit to guarantee your reservation.
The outstanding balance to be paid 14 days before arrival.
We accept M/C, Visa and Paypal payments.
Cancellation Policy
We require a minimum of 14 days notice in order to refund your deposit, minus a $50 cancellation fee.
Check in/out
Check in 4:00 p.m.
Check out: 11:00 am
No smoking inside the cottage. No Camping.
Directions
Please call us at 250-337-1882 for more detail