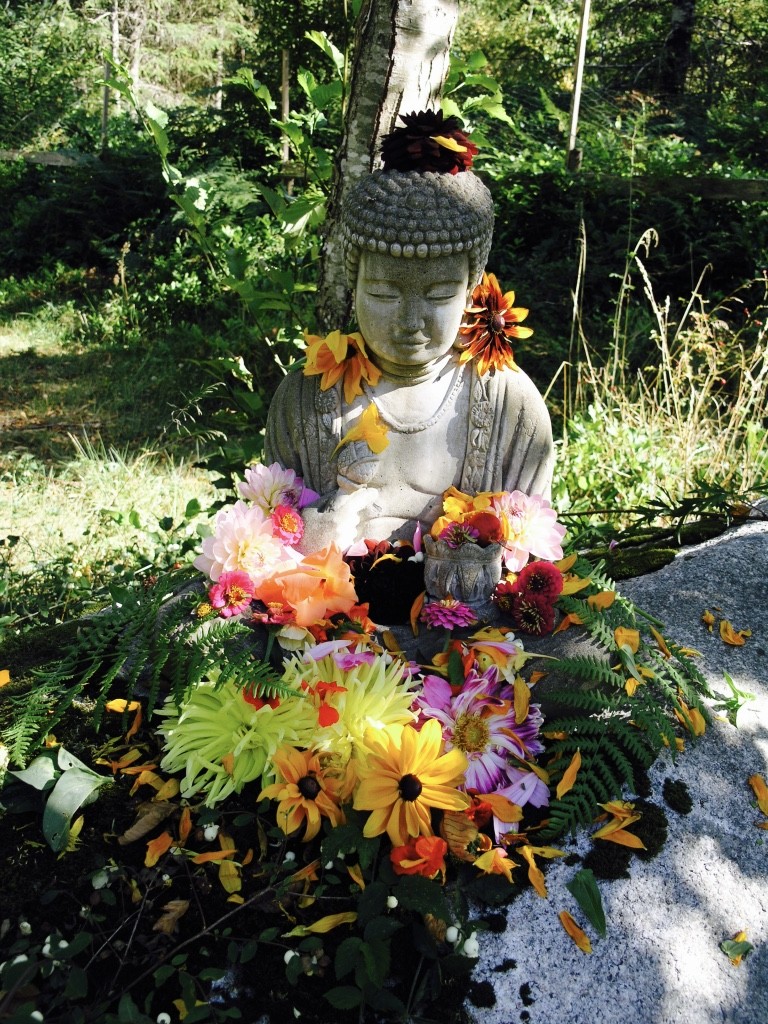 And just like that, we are standing on the threshold of another autumn, and the alders that line the wooded path to our house, are already beginning to let down their leaves.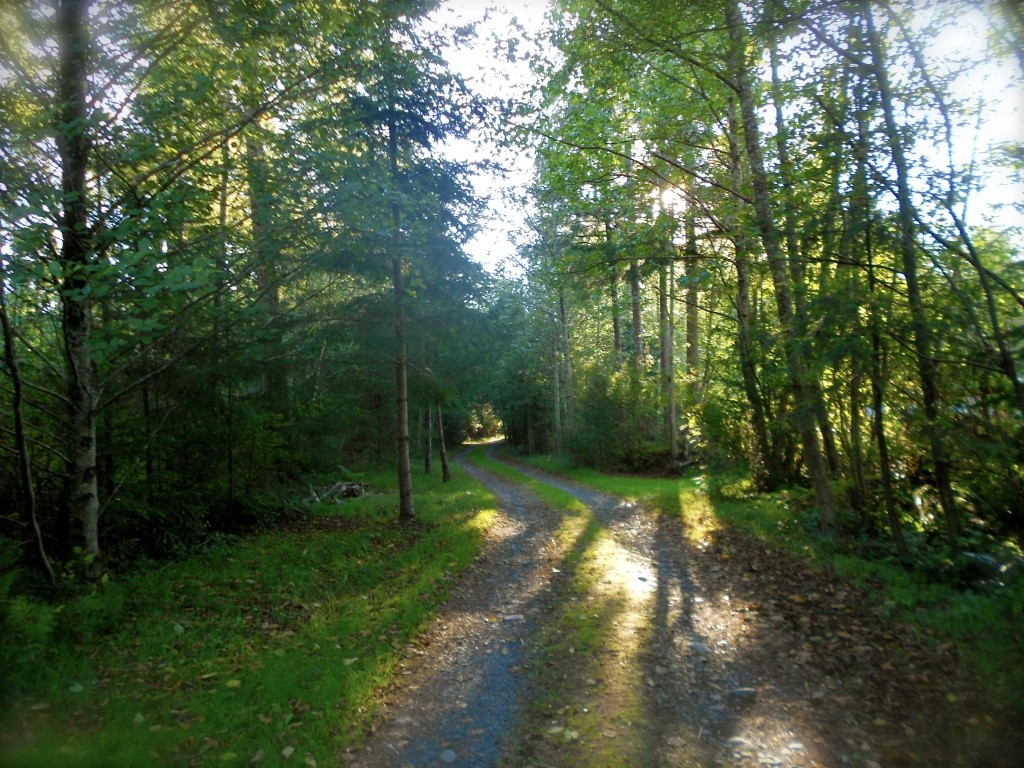 And for reasons both known and unknown there is an invitation to breath deeply now, for the relief of this seasonal transition is palpable. The fullness of summer is already beginning to lessen and there will soon be time to pause again. Time for gentle walks through the mountains with a thermos of sweet tea, time to slow down and turn our gazes skyward, up toward the Canadian geese, as they begin their v-shaped journey south. The afternoon light has already deepened, and these days, when you find yourself eating a perfect apple, down in the orchard with your beloved dog friend, you notice that everything appears to be more golden.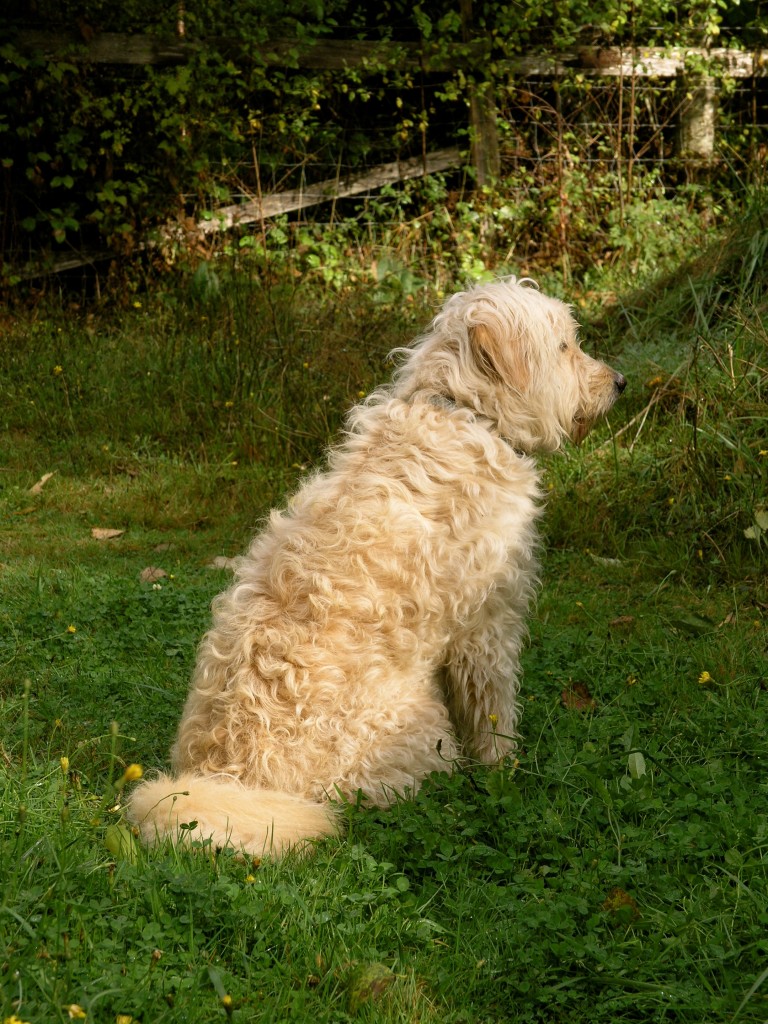 And you wonder if there is something held within that apple that makes all things appear more luminous? Can the colour of a season be contained inside a fruit?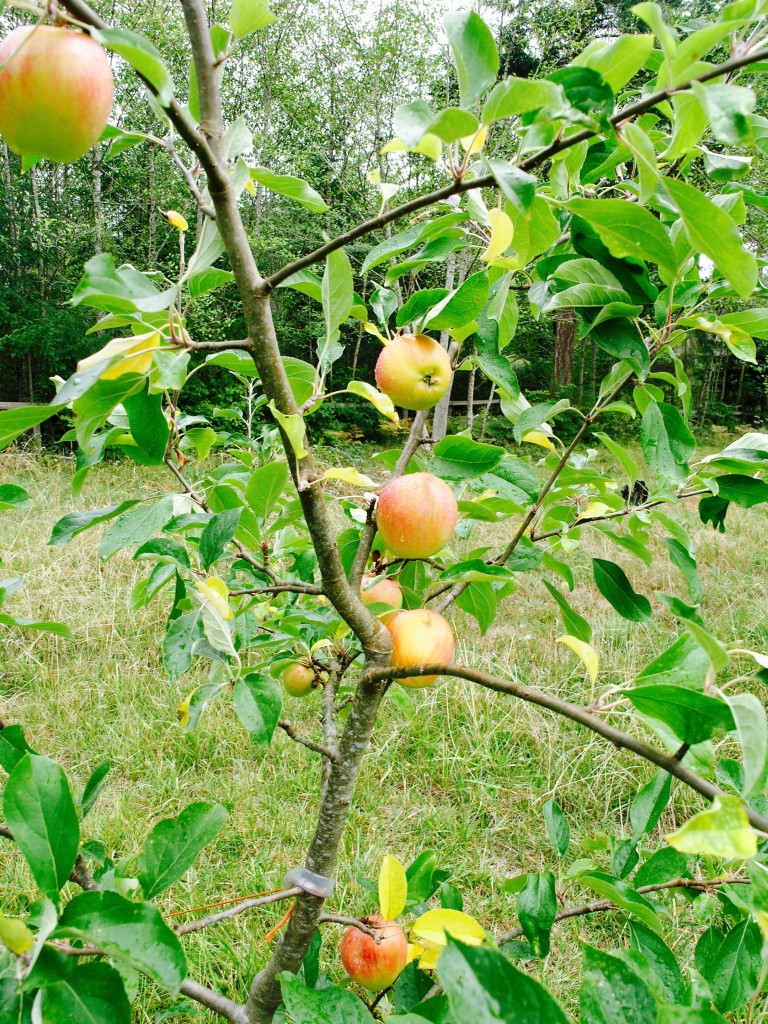 And perhaps this is why you feel like a character in a old-time story, standing in the place between summer and autumn, in a pool of late afternoon light (the kind that could very well be spun into gold) because picking an apple and eating it beneath the very tree it grew upon, is a timeless thing to do. But, I get ahead of myself, because before there were apples, before the leaves began to fall, we had August, and what an August it was. First of all there were figs.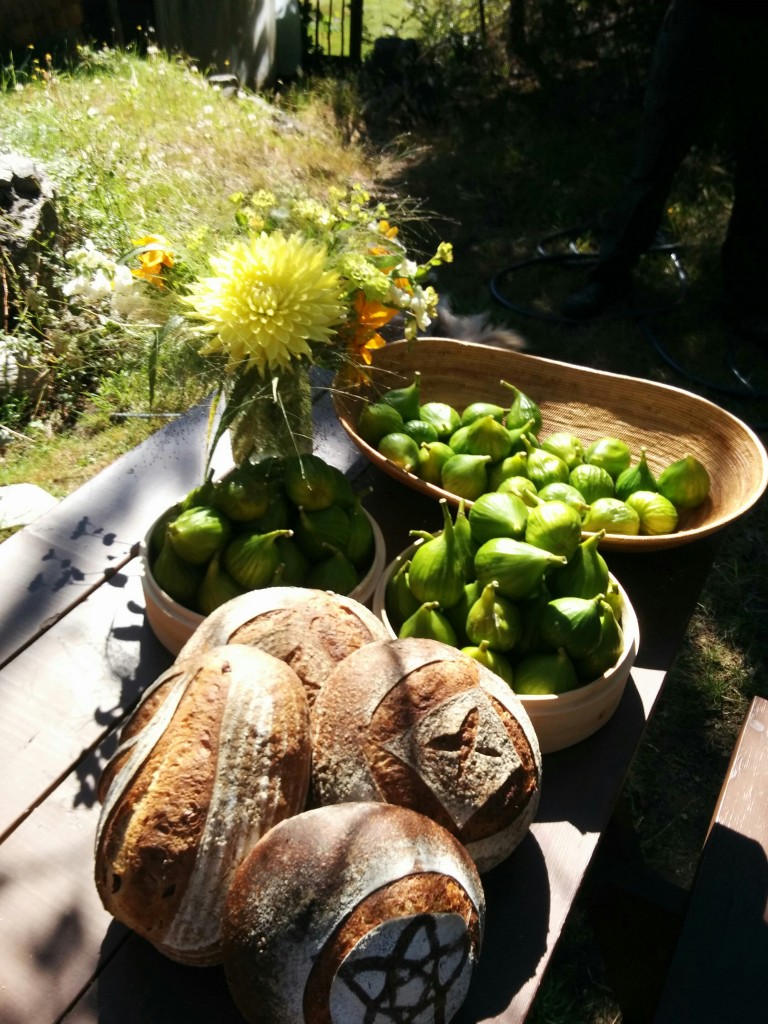 And Katie, having lived in Italy for many years, might just love them more than all of us combined.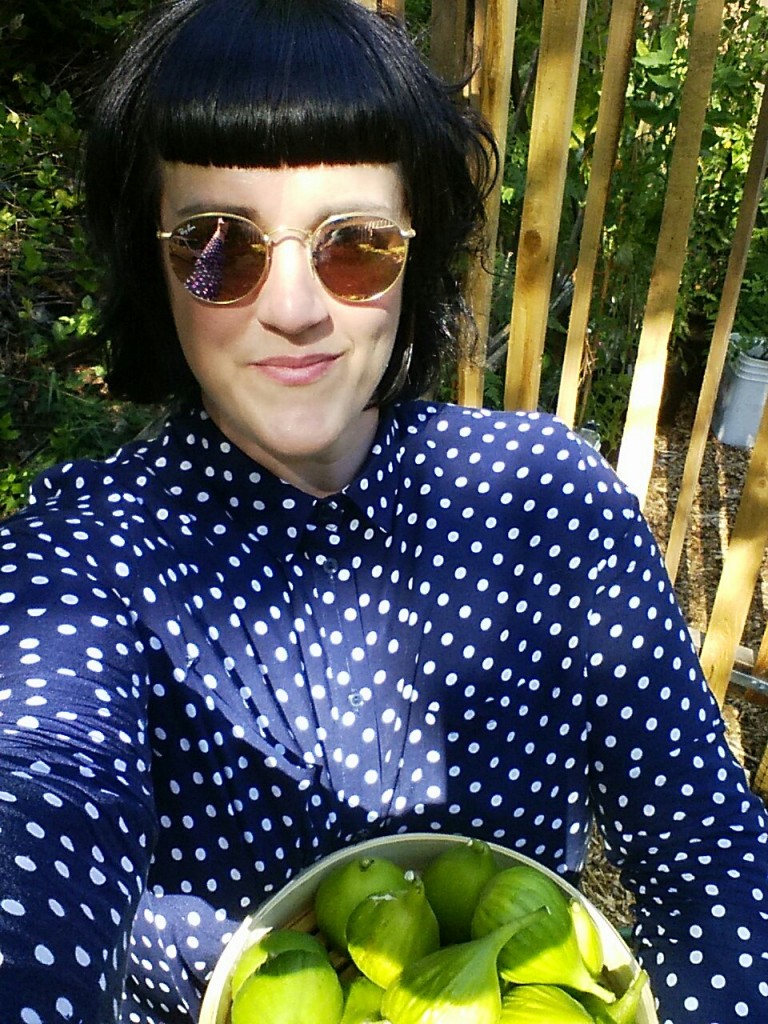 And while the figs ripened on the tree, the tomatoes ripened on the vine (and like never before).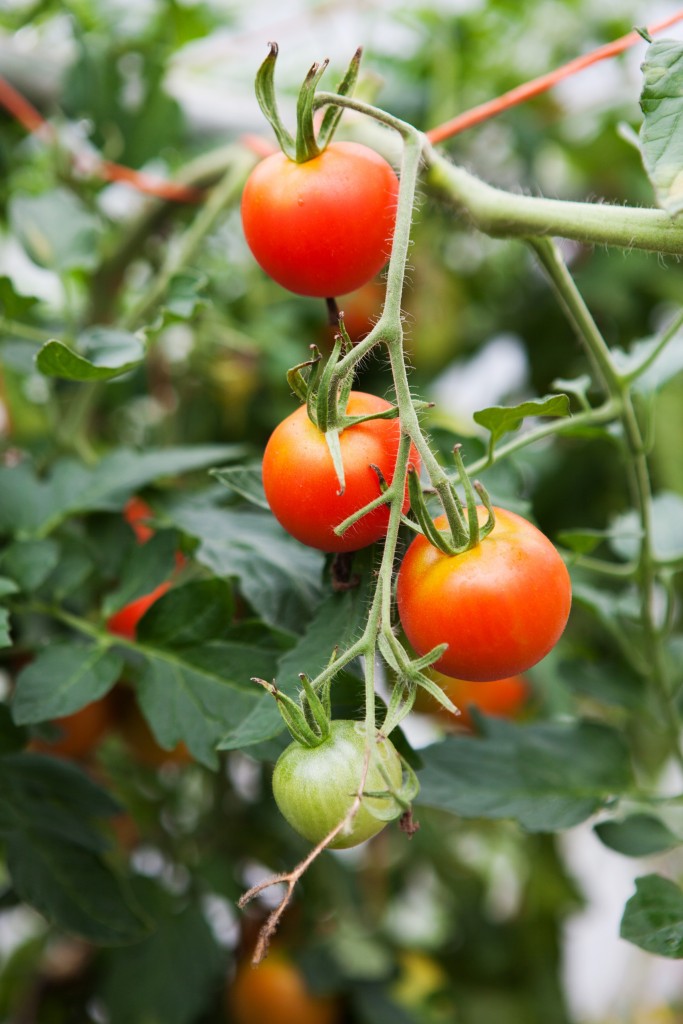 And after canning tomatoes and freezing tomatoes and canning them some more, they are still coming in, and will be for another month I expect. There really is nothing quite like a vine-ripened tomato, and it is possible that we have enjoyed them at every meal time since they first began to turn red and sweet. Come to think of it, I cannot think of a meal we have had recently that did not include tomatoes, or green beans for that matter.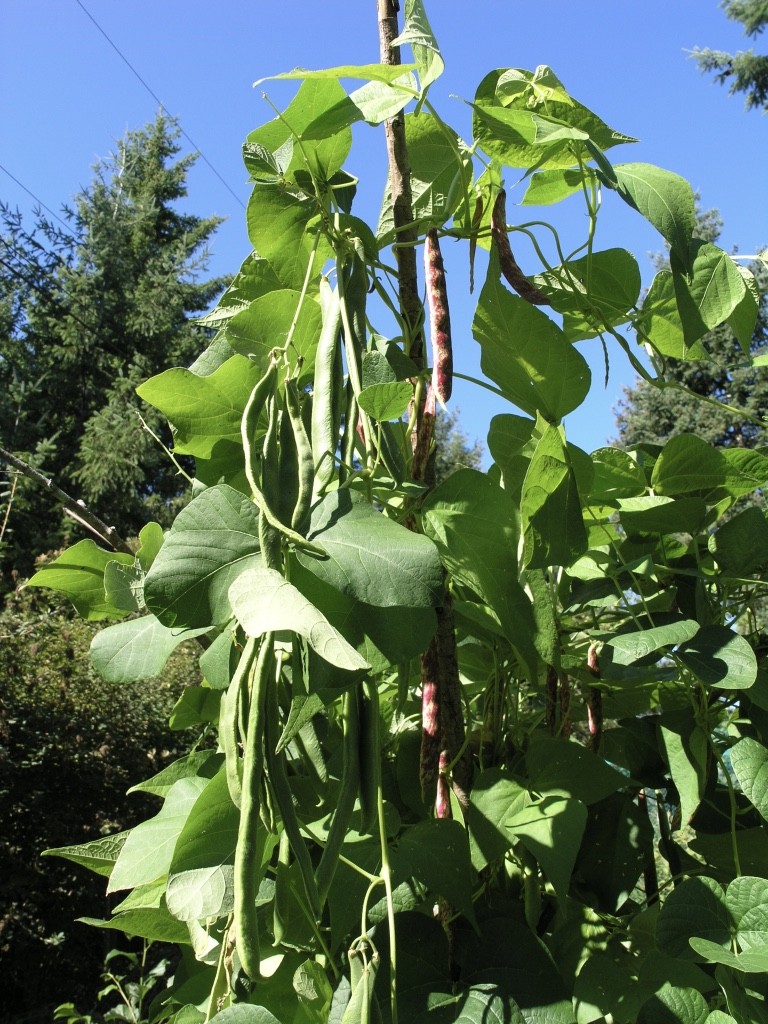 And while the garden grew up around us and everything came into fruition at once, other things happened on Honey Grove. Our dear friends Zoe and Ken got married here for example.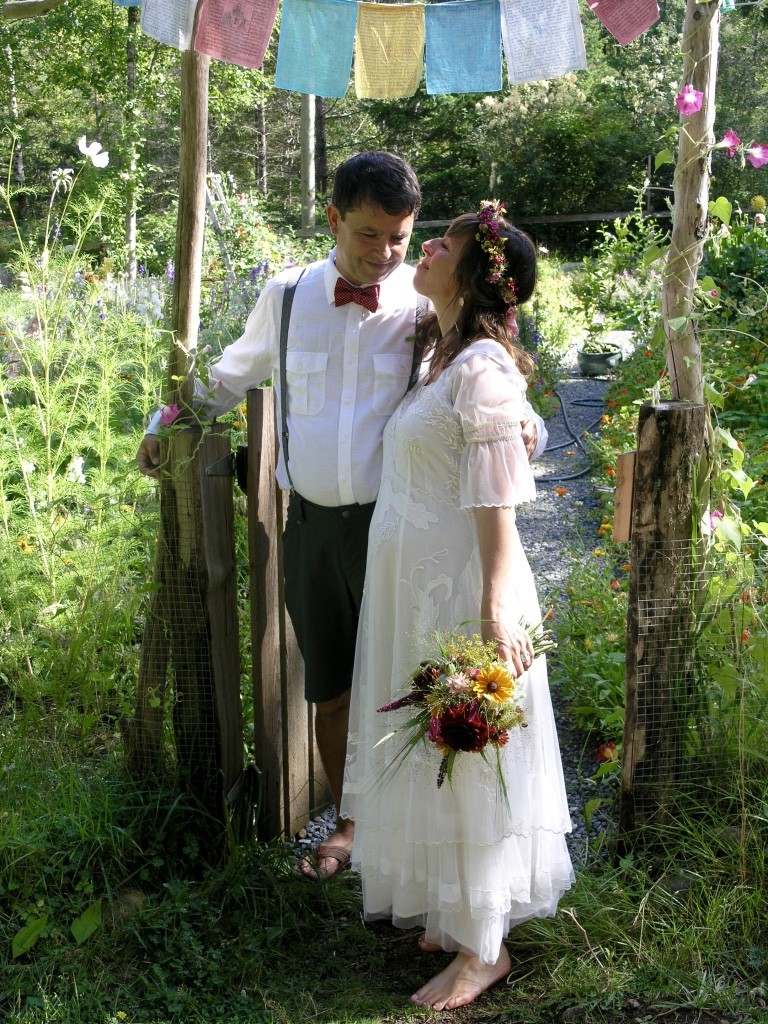 And although we do not normally host weddings, we could not help but host this one, because these two people are very dear to our hearts, and so Cohen and Katie made all the food, including this exquisite cake, made by Katie's fair hand.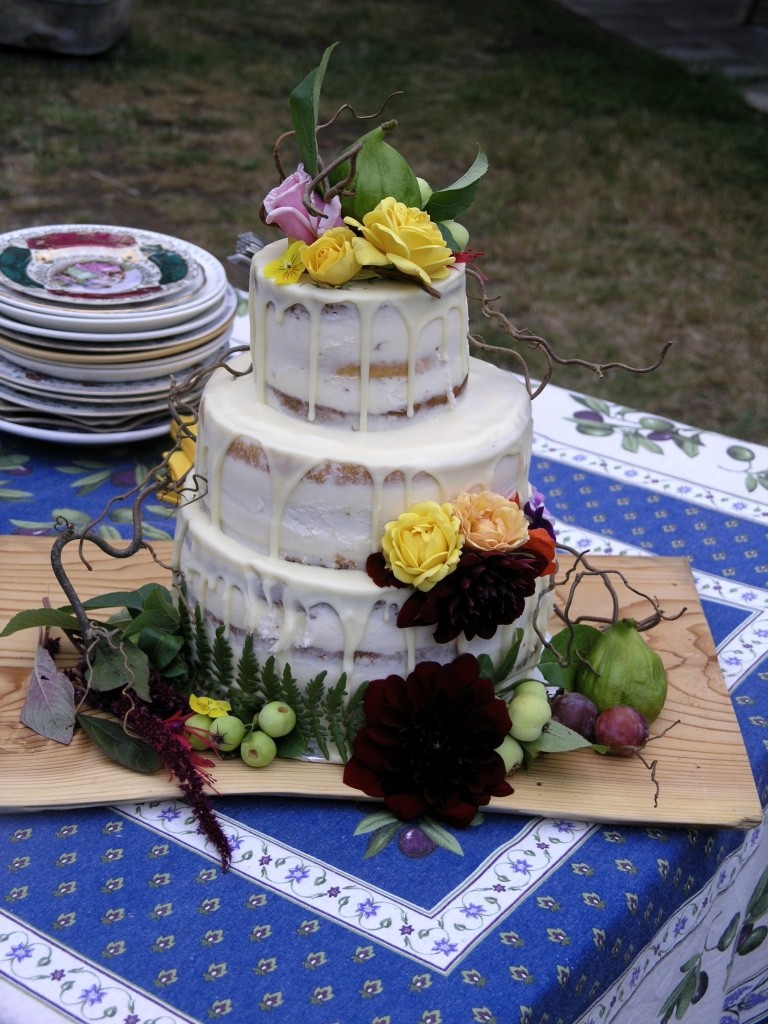 Oh and believe me it tasted as good at is looks. And while Cohen and Katie catered, Mark made his beautiful bread, and I arranged flowers for the bride.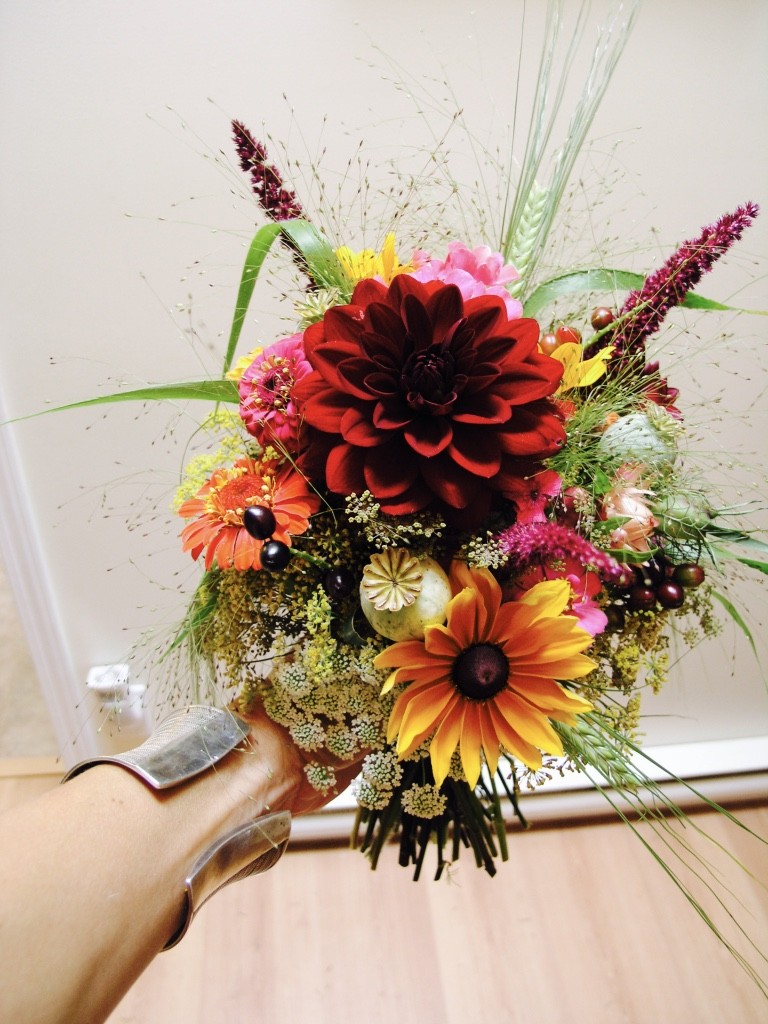 And a harvest crown for her head.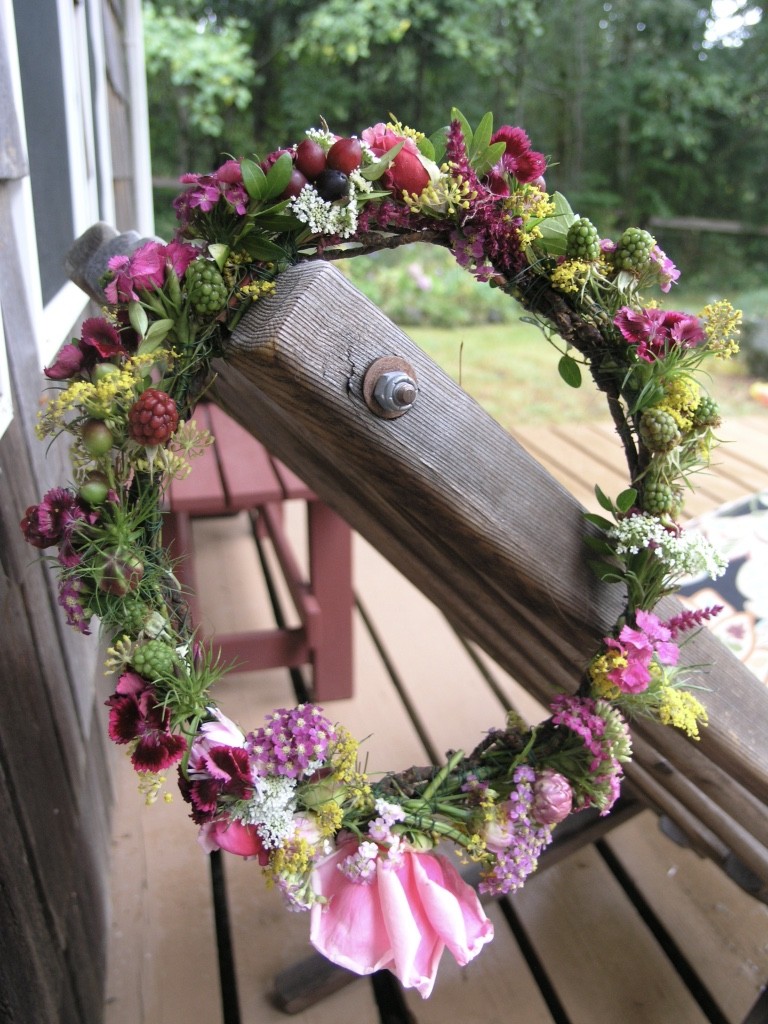 Part of the crown was collected from the wild hedgerow, and part from the bounty of the Honey Grove flower garden. And speaking of the flower garden, oh my stars, it was really something to behold this year.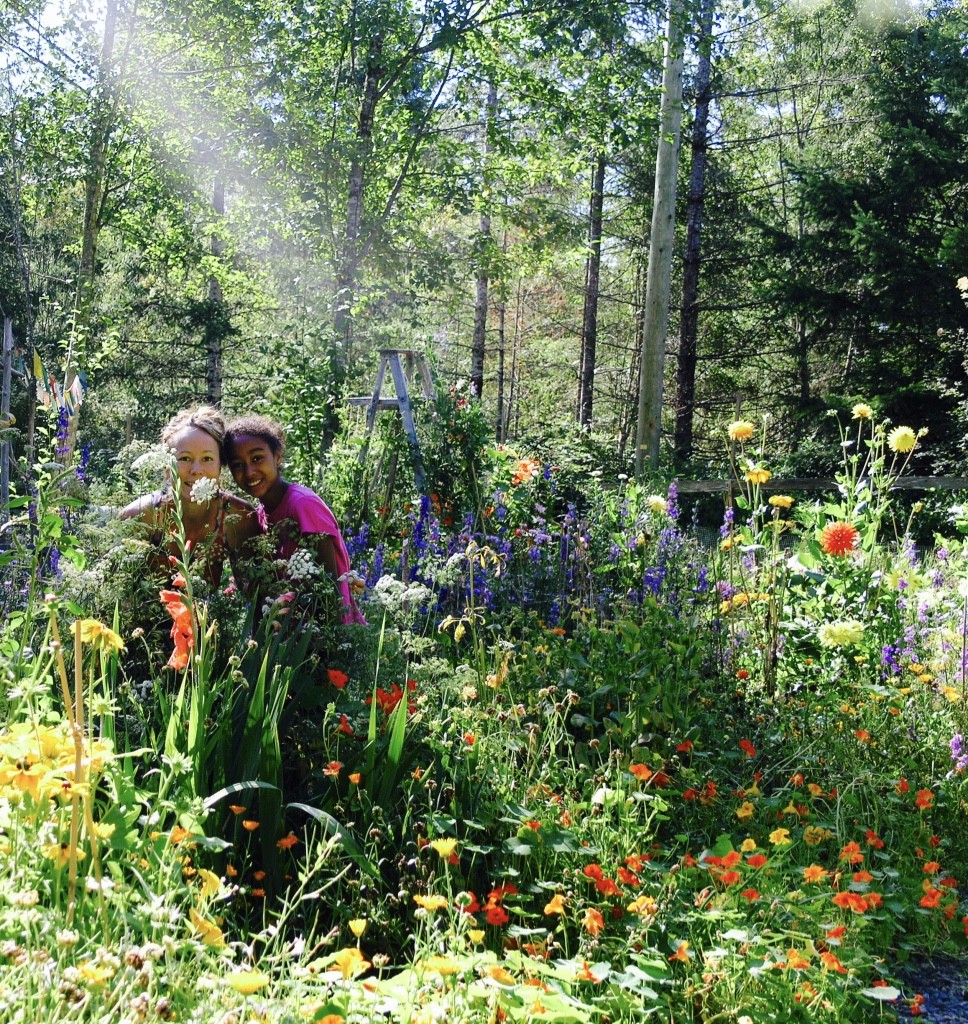 You can hardly find Senay hiding in the blooms~ Yes, our beautiful niece Senay, bless her, she came all they way down from her mountain home in the Interior of British Columbia, to spend two glorious weeks on Honey Grove with Auntie and Uncle, and what a time we all had!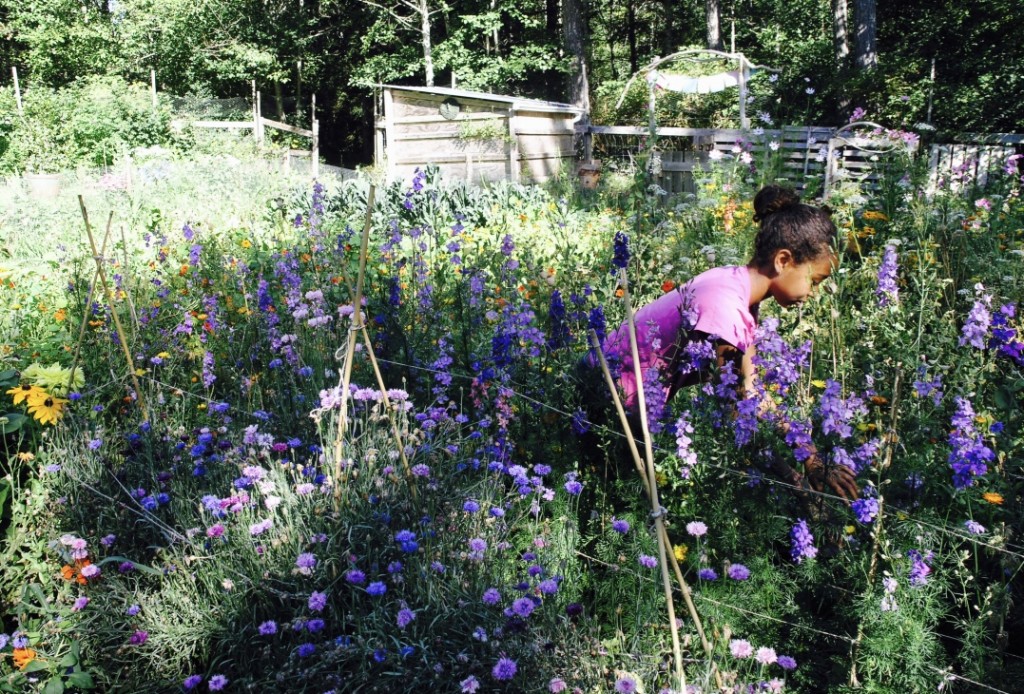 We got a tremendous amount of work done too, like canning dill pickles (which Senay happens to be an expert at, as she lives on a homestead with her family, and she and her Mom can dill pickles every summer). So together we got the job done.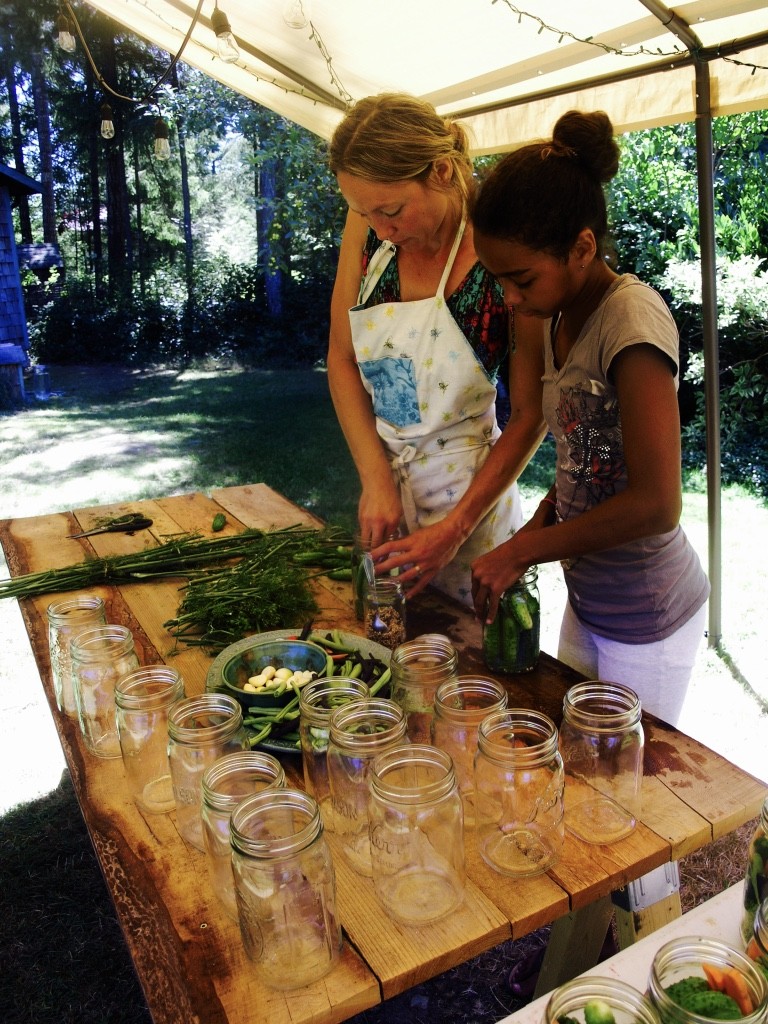 And Mark wasn't baking that day, so he helped too.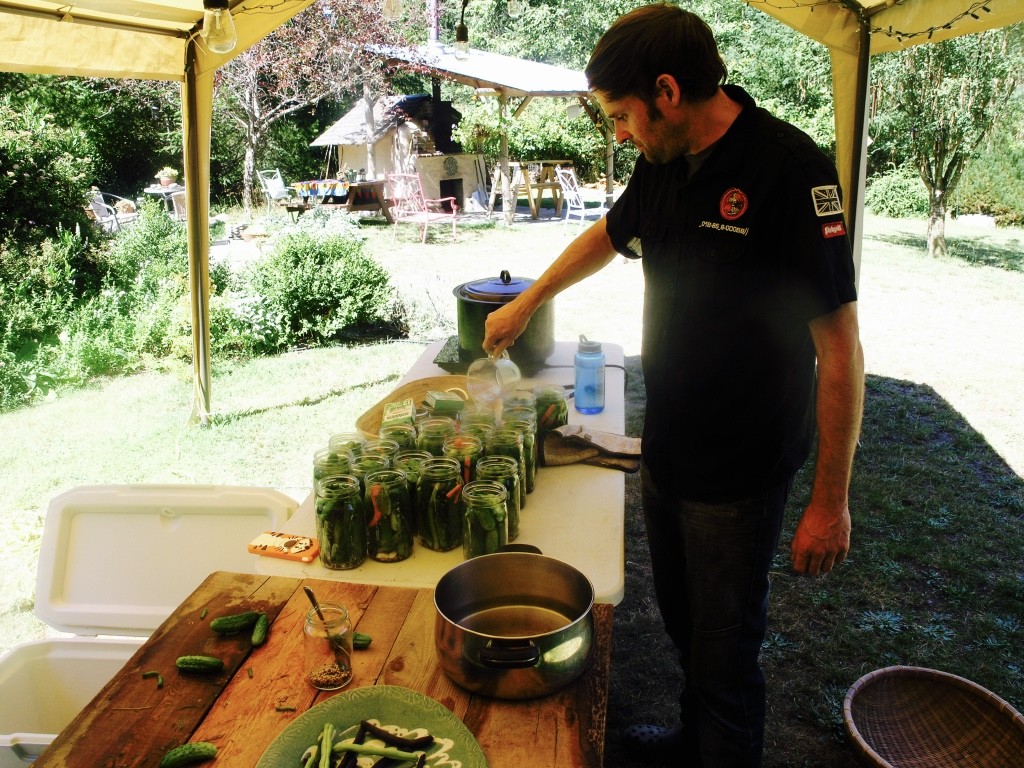 I must admit it was fun to have his help, for we see so little of Mark outside of his bakery, where he continues to create his beautiful artisanal loaves, that continue to sell-out in 20 minutes at the Farmers Market each week. Luckily, I had Senay to help me with bread sales during the busiest markets of the year.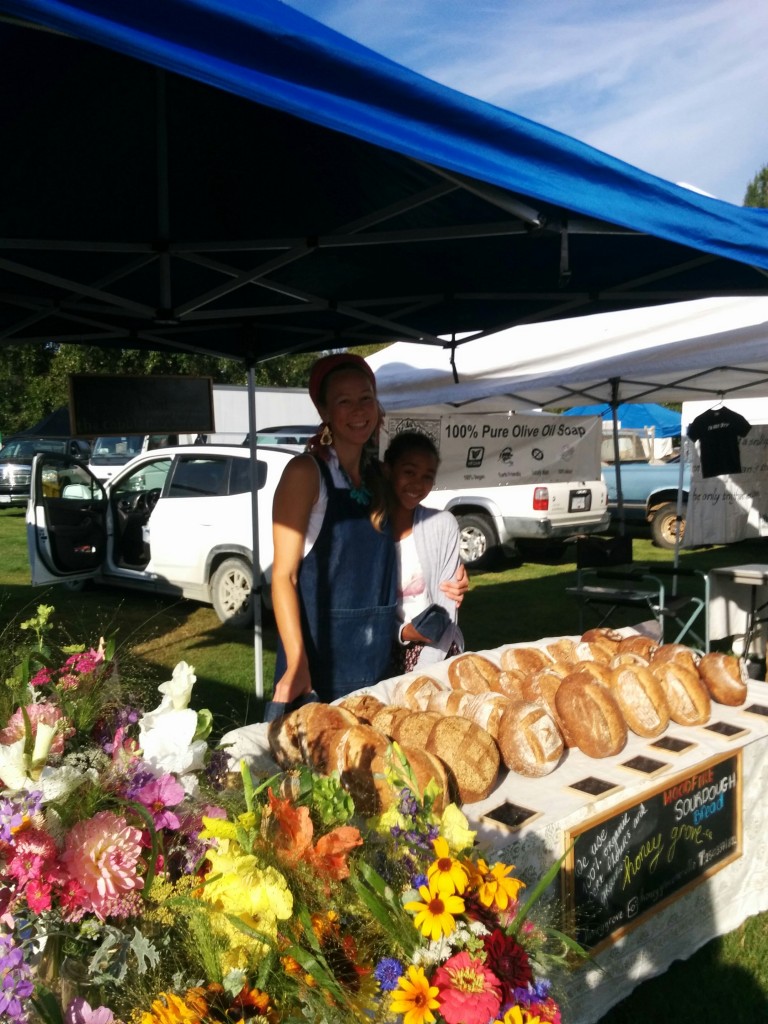 Meanwhile, back at the farm, Cohen and Katie have been harvesting fennel pollen to sprinkle on a myriad of culinary delights.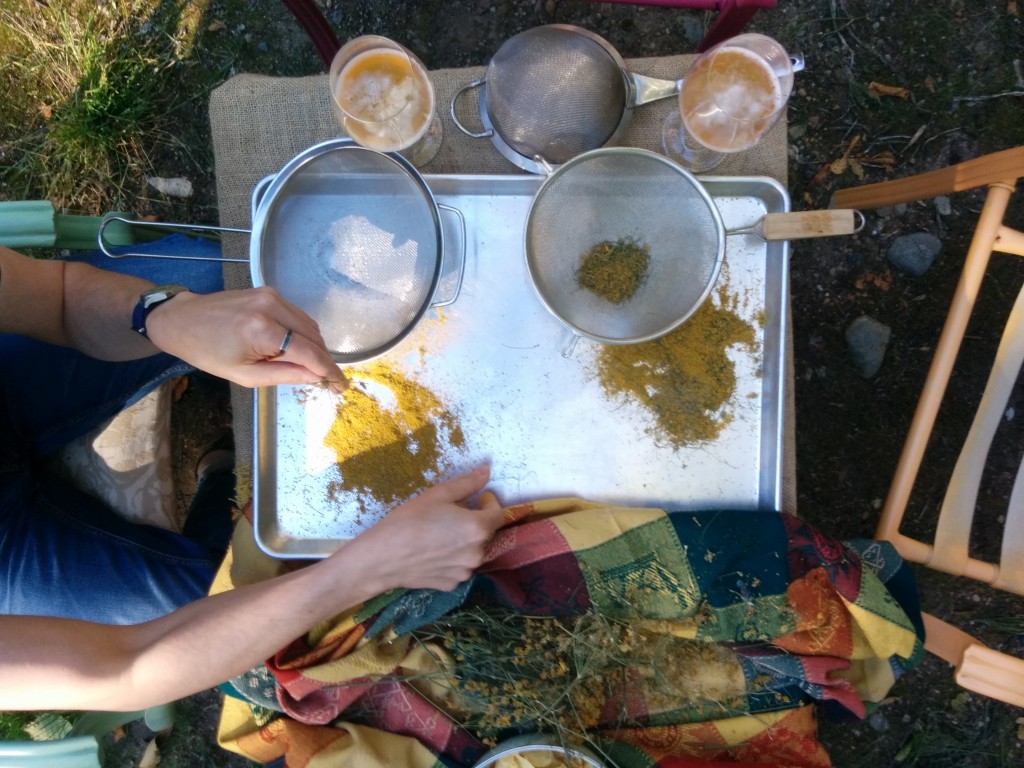 I made them promise that they had to leave some for the bees though, who need all the support they can get after such a wet July. Our bees made such a small amount of honey this year (due to all the rain early in the summer) that we left them with most of their harvest and just took a very small amount for ourselves. It was not a fantastic honey year, but the bees are healthy, and this is always the most important thing.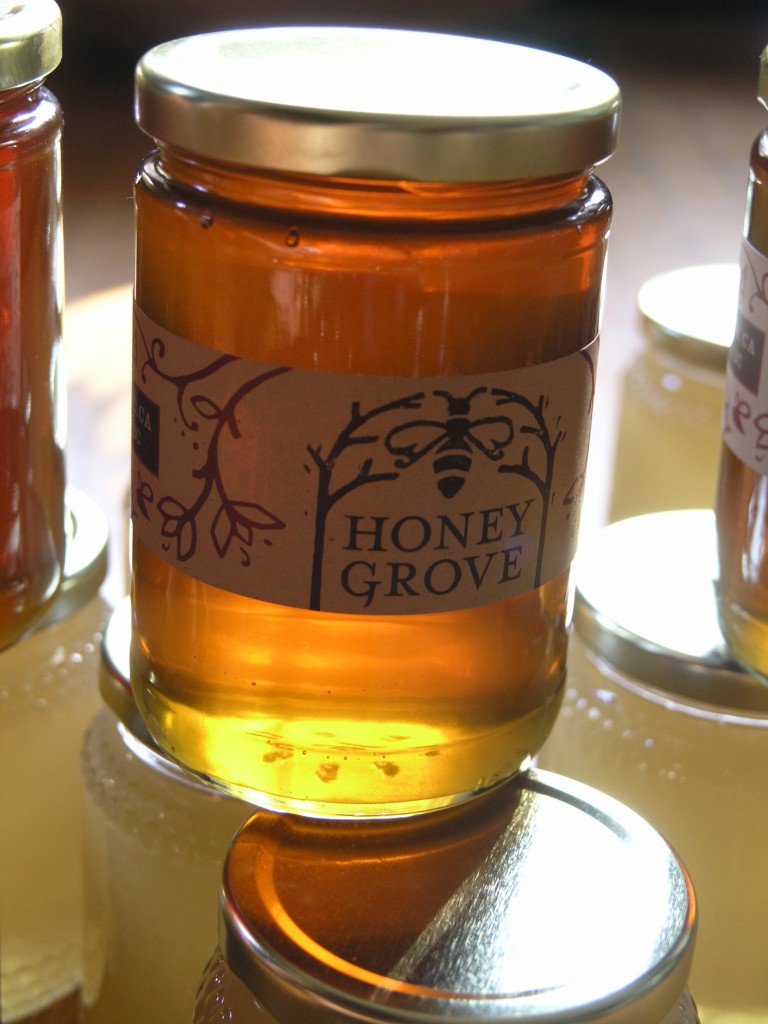 Still though, if the honey harvest was small, the potato harvest was enormous, and there are 200 pounds of potatoes stored away in the cellar now.
They are lined up in large paper feed bags next to the sauerkraut, which is bubbling away, after a phenomenal cabbage harvest.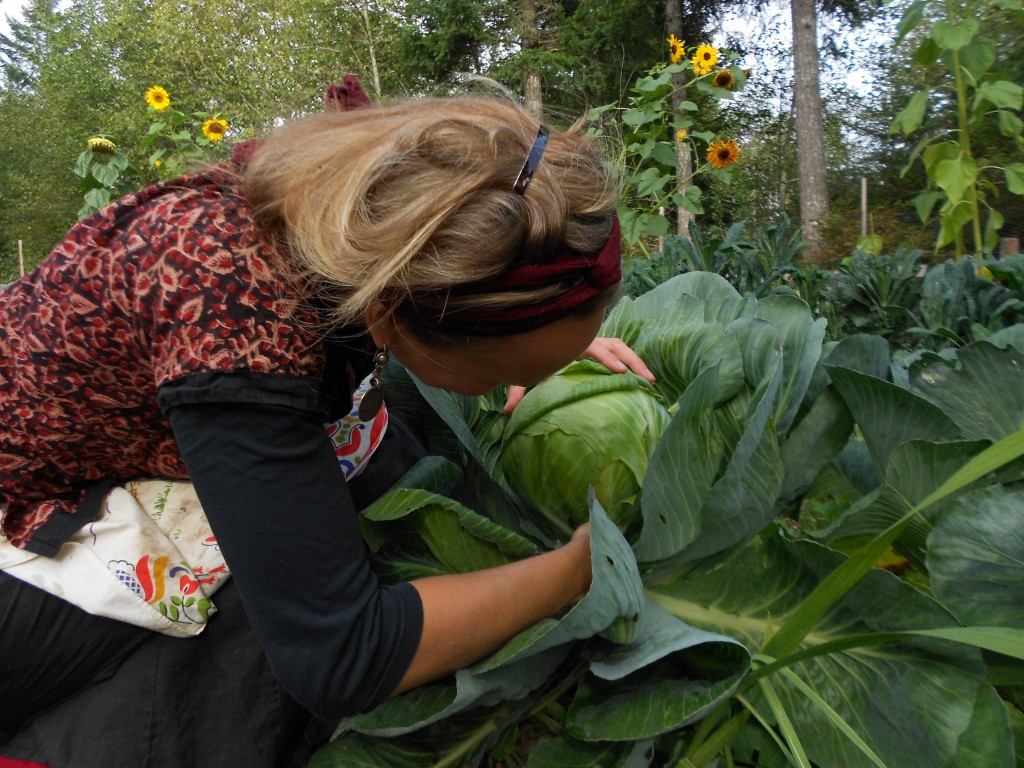 And while the sauerkraut ferments and I continue to can more tomatoes and Mark continues to knead bread, Cohen and Katie have just adopted a new kitten, who they have named Beemo! And so I introduce you to the newest member of Honey Grove, who is adapting tremendously well and keeping all of us highly entertained. Meet Beemo, and get ready to fall completely in love.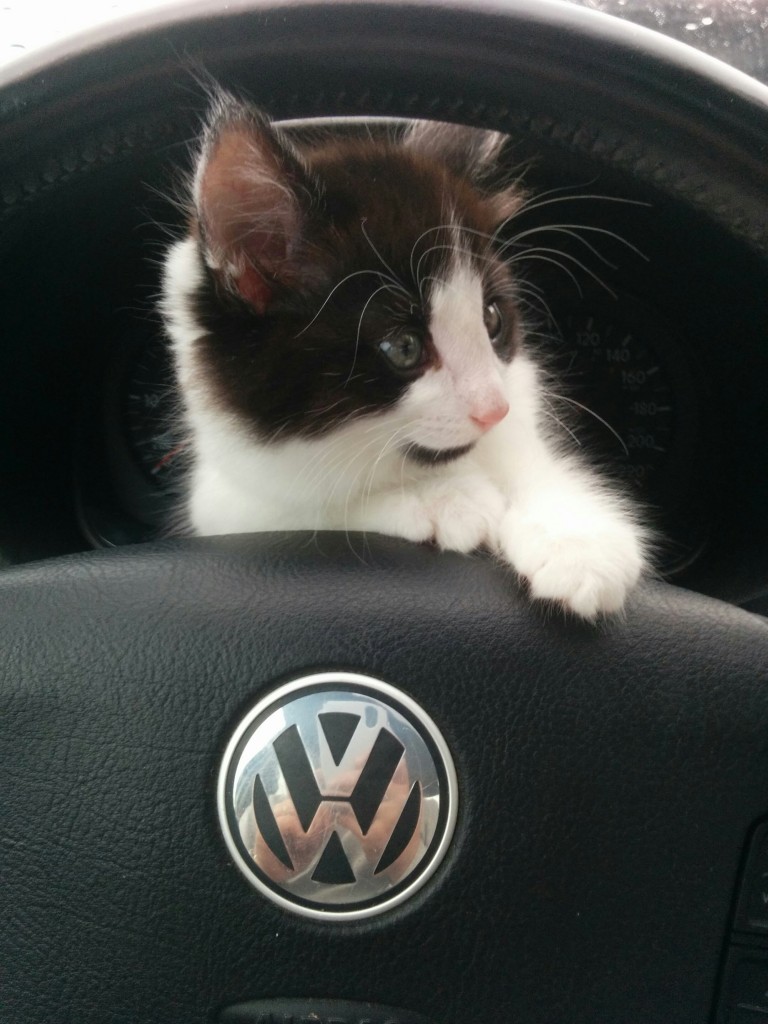 And now I bid you farewell, as I head out into the garden to gather a basketful of basil, for there is pesto to make and freeze~the harvest is not all in just yet.
Harvest Blessings from all of us at Honey Grove. May this find you in the midst of a beautiful day~
Nao, Mark, Cohen, Katie, Gus and All at Honey Grove.